Classical Action Celebrates its 20th Anniversary


Classical Action celebrated its 20th anniversary on April 11, 2013, with a star-studded gala benefit featuring performances by Grammy Award-winning soprano Renée Fleming, Tony Award winner Brian Stokes Mitchell and six other extraordinary artists.
The evening, which also honored Classical Action's founding director Charles Hamlen, raised a remarkable $280,900.
Fleming served as host of the lively evening, which also included performances by bass-baritone Eric Owens, pianists Natasha Paremski and Anne-Marie McDermott, jazz pianist and composer Fred Hersch, violinist Nadja Salerno-Sonnenberg and acclaimed cabaret singer Karen Akers.
Fleming capped off her hosting duties for the evening with an emotional rendition of John Lennon and Paul McCartney's "In My Life," arranged and performed by Fred Hersch on piano.
Mitchell delivered a moving and passionate interpretation of "This Nearly Was Mine" from Rodgers and Hammerstein's South Pacific.
Fred Hersch performed two original works: a wistful jazz melody "Pastorale," inspired by the composition's of Robert Schumann's "Scenes from Childhood," and a lilting piece dedicated to Hamlen called "Valentine."
Nadja Salerno-Sonnenberg and Anne-Marie McDermott collaborated on two distinct pieces, the haunting "Midnight Bells" by Fritz Kreisler and a lively performance of "It Ain't Necessarily So" from George and Ira Gershwin's Porgy and Bess. McDermott also gave a passionate interpretation of Schumann's ode to love "Widmung" on piano.
Eric Owens gave a stirring performance of Mozart's "Mentre di lascio, in E-flat Major, K. 513" depicting a grief-stricken father as he is being parted from his daughter. Owens was accompanied by Natasha Paremski on piano, who also gave an expressive solo performance of Chopin's "Barcarolle in F-sharp Major, Op. 60."
Acclaimed cabaret singer Karen Akers offered an intoxicating rendition of "Padam, Padam" by Norbert Glanzberg and Henri Content, accompanied by Luke Frazier. This French cabaret song, originally performed by Edith Piaf, was a sly warning against breaking the hearts of those who have loved you.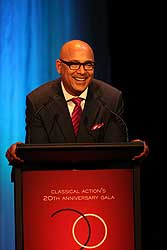 Hamlen founded Classical Action in 1993 after a successful career in artist management. He served as co-director of IMG Artists from 1984 to 1992. There he oversaw the careers of artists including violinists Joshua Bell and Leila Josefowicz; flutist James Galway; pianists Stephen Hough, Evgeny Kissin and Jean-Yves Thibaudet; and the Emerson String Quartet. In 1993, Hamlen left IMG Artists to found Classical Action: Performing Arts Against AIDS. After 16 years at the helm of Classical Action, Hamlen returned to IMG Artists where he served as chairman until 2012. He is currently Vice President for Artists and Programs at the Orchestra of St. Luke's.
Photo credit: Steve J. Sherman
Back to Top