Broadway Cares/Equity Fights AIDS
What we do together, makes a difference

Organizations Offer Support to People Without Access to Resources
During these increasingly troubling times when access to health care continues to be threatened, individuals with HIV, AIDS and other life-threatening illnesses increasingly are turning to social service organizations for vital assistance. When those in need live in remote areas, accessing these crucial resources becomes even more difficult.
In rural Alabama, devastating stigmatization and a lack of HIV education creates significant isolation for HIV-positive residents.
"It's one of those things people don't want to talk about," said Lanita Kharel, executive director of AIDS Alabama South. "They simply don't want to discuss the disease, especially in our conservative communities. There's a lot of denial about HIV."
AIDS Alabama South, which received a $12,500 grant from Broadway Cares in 2017, serves a severely underrepresented community of 12 counties across 12,545 square miles. The organization works to lessen the disease's stigma in the region, as well as reverse the effects of poor, or nonexistent, sex education.
"One of the things that we advocate for very strongly is for comprehensive sex education programs at public schools," Kharel said. "It does not exist in the state of Alabama. We talk about abstinence, but people are not being abstinent. The proof is in the statistics around sexually transmitted diseases in Mobile and around the new cases of HIV, and the people who are becoming infected."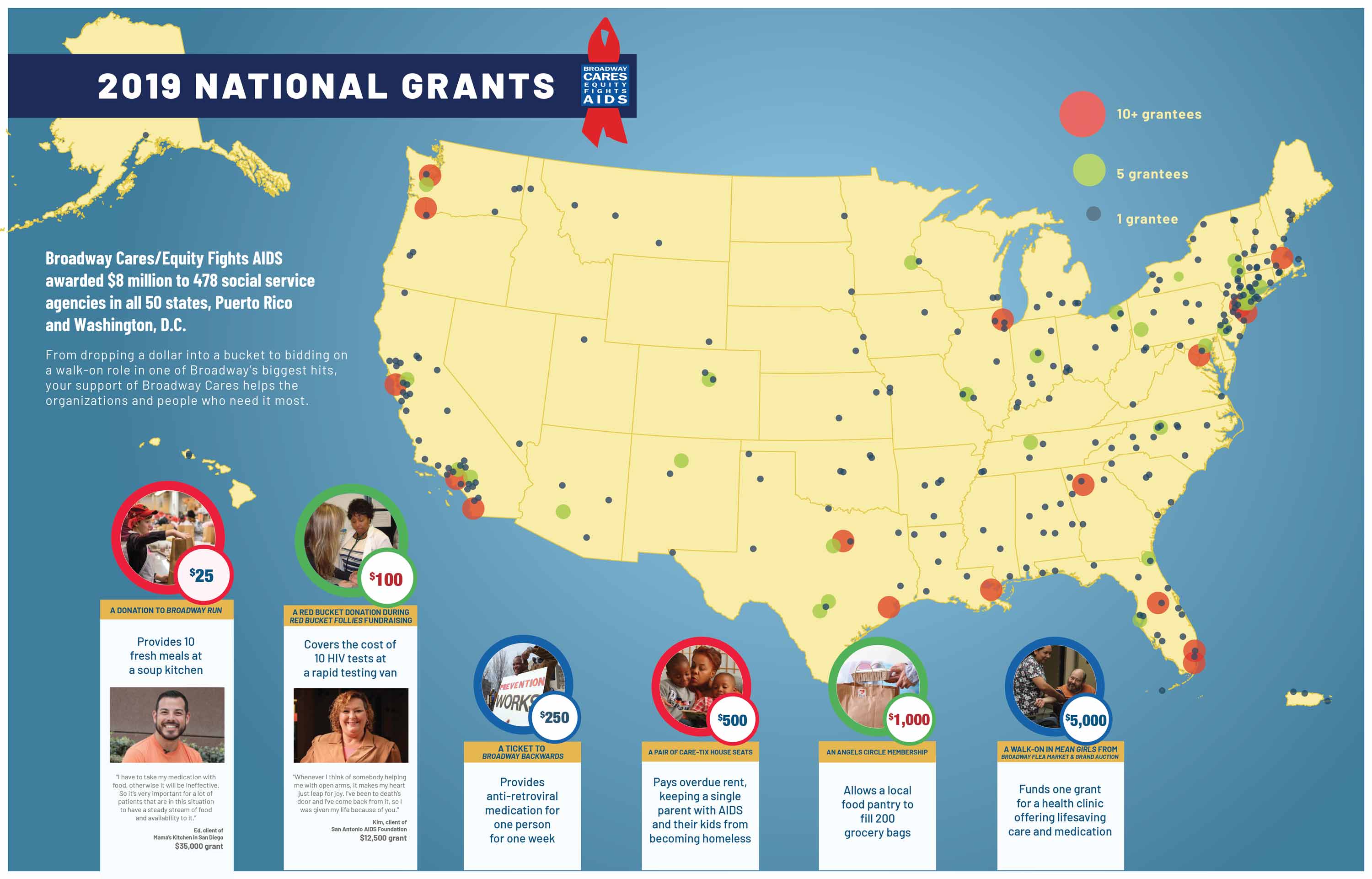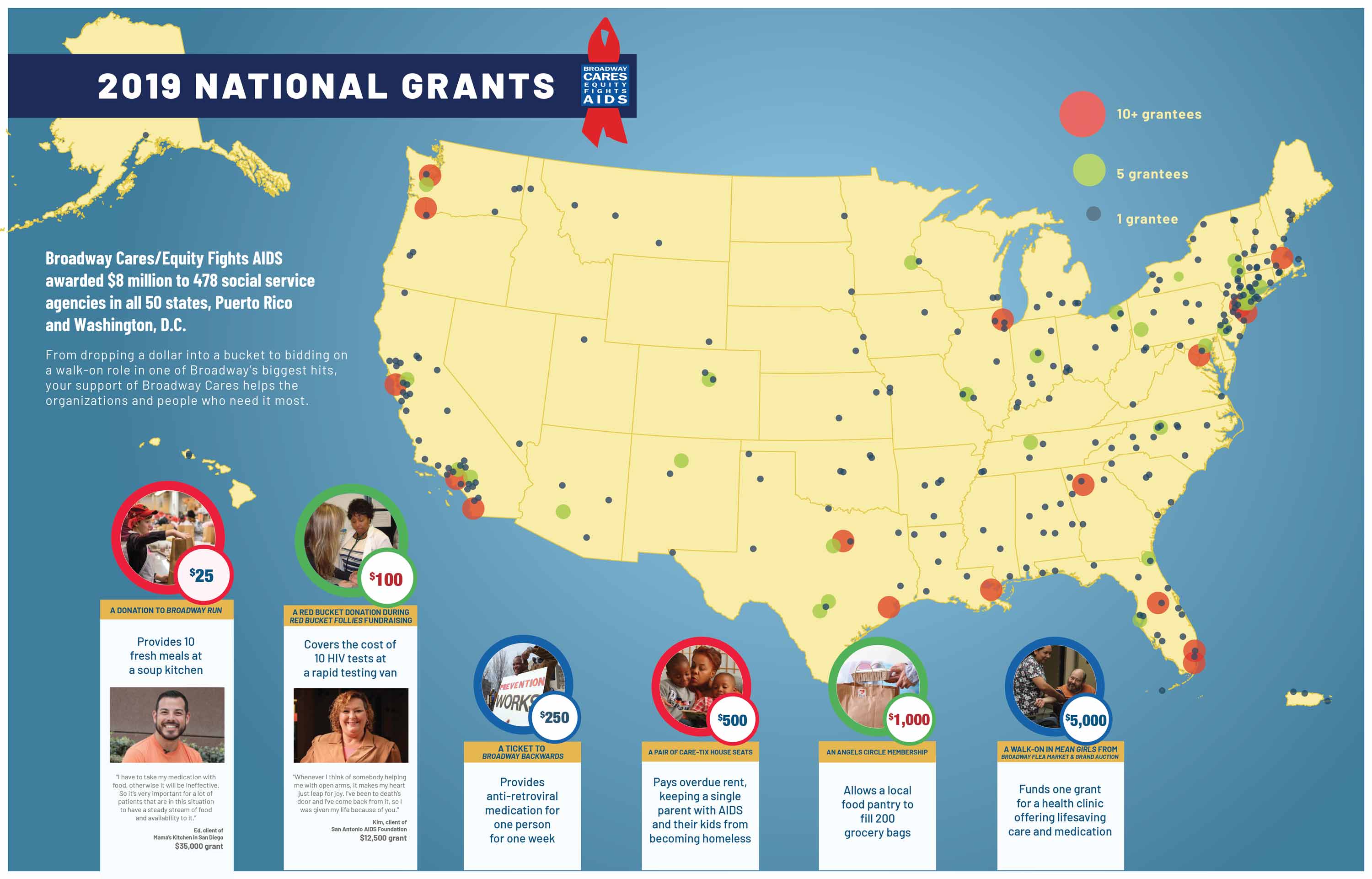 In the region, there are 2,623 confirmed individuals living with HIV and AIDS, with untold more unaware of their status. Without AIDS Alabama South, these people would not have access to essential, life-sustaining services.
AIDS Alabama South is one of the 461 organizations receiving grants from Broadway Cares/Equity Fights AIDS in 2017. Broadway Cares awarded a record $6,749,522 to AIDS and family service organizations in all 50 states, Puerto Rico and Washington, DC.
In addition to giving hope and opportunity to people in major metropolitan areas, Broadway Cares supports those living far from other resources. The stigma and marginalization seen by AIDS Alabama South are not unique to the south. Limited access to lifesaving medicine and necessities are common challenges from Alabama to Alaska.
For Kaylee and her son, Dawson, who live in rural Alaska, obtaining everything from necessary medication to everyday items is a challenge. "It's not just the HIV medicine," Kaylee explains. "It's getting transportation to cities for checkups and routine surgeries. It's having food on the table for my son. When you live far from everything, it gets so much harder."
Recognizing the unique challenges of Kaylee and other Alaska residents living in isolated regions, Alaskan AIDS Assistance Association in Anchorage assists clients across 91 percent of a state that's twice as large as Texas. The association offers a full range of services that help even the most secluded of Alaskans, including a telephone hotline, financial assistance, providing vital supplies to local organizations and paying for medical visits to Anchorage or Juneau.
"After helping me get to Anchorage for a routine medical procedure, my son and I returned home to find a backpack full of school supplies and four boxes of healthy food while I recover," Kaylee said.
Alaskan AIDS Assistance Association's 2017 grant of $7,500 from Broadway Cares was part of this summer's largest grant round, which awarded more than $2.1 million to 302 organizations. This round's funding covers direct services and case management, supportive housing programs, emergency financial assistance, harm reduction programs and quality of life services.
Earlier in 2017, Broadway Cares/Equity Fights AIDS awarded $1.9 million to 117 organizations in 38 states for food service and meal delivery programs. Helping ensure the supply of nutritious meals to those in need remains a high priority for Broadway Cares because healthy meals are an essential part of a lifesaving regimen.
In March, $880,000 was awarded to 42 nationally recognized AIDS service and advocacy agencies. The work of these agencies directly impacts the hundreds of service providers Broadway Cares funds.
The stigma that still permeates all communities prevents some people from getting the vital help they need to thrive. For Jeff in Coeur d'Alene, Idaho, his fear of confronting his disease made his outlook on life bleak.
"I should have gotten help years ago, but pride gets in the way," Jeff said. "You'd rather take care of yourself than ask for help. By the time I was referred to North Idaho AIDS Coalition, I was on my death bed. I'd given up."
While Idaho's capital city of Boise has more resources for people with HIV and AIDS, less populated north Idaho – some 450 miles away – lacks this fundamental support. North Idaho AIDS Coalition helps people within 19,878 square miles that would otherwise not receive the help they so desperately need. For Jeff, that meant the medicine that kept him alive.
"I've been good for a year and a half now, I've taken my medication," Jeff said. "I sit there and I give thanks for the people who donate, because I know they don't have to and out of the goodness in their heart they do it. I really appreciate their help in doing that."
Thanks to area organizations fueled by Broadway Cares' grants, individuals across the country, like Kaylee and Jeff and hundreds of thousands of others, are able to receive the basic care they deserve, regardless of how remote the region or heavy the stigma.
"I'm not sure where I'd be today without that assistance," Kaylee said. "I am so thankful people care enough to help me."

---
National Grants By Fiscal Year
2018
National Grants
Food Service and Meal Delivery Programs
$2,015,000
Nationally Recognized AIDS Service and Advocacy Organizations
$1,150,000
Local AIDS Service Organizations
$2,227,500
Theatre Social Service Organizations
$152,500
Hurricane Relief Grants to Hispanic Federation
$350,000
Research, Special One-time Grants and Shared Suppor
$865,550
Supplemental Emergency Grants
$488,191
Physician Volunteers for the Arts
$85,000
Total: $7,333,741
2017
National Grants
Food Service and Meal Delivery Programs
$1,915,000
Nationally Recognized AIDS Service and Advocacy Organizations
$880,000
Local AIDS Service Organizations
$2,133,500
Supplemental Emergency Grants
$462,404
Theatre Community Service Organizations, Research Grants, Special One-time and Share Support
$858,618
Hurricane Relief
$425,000
Physician Volunteers for the Arts
$75,000
Total: $6,749,522
2016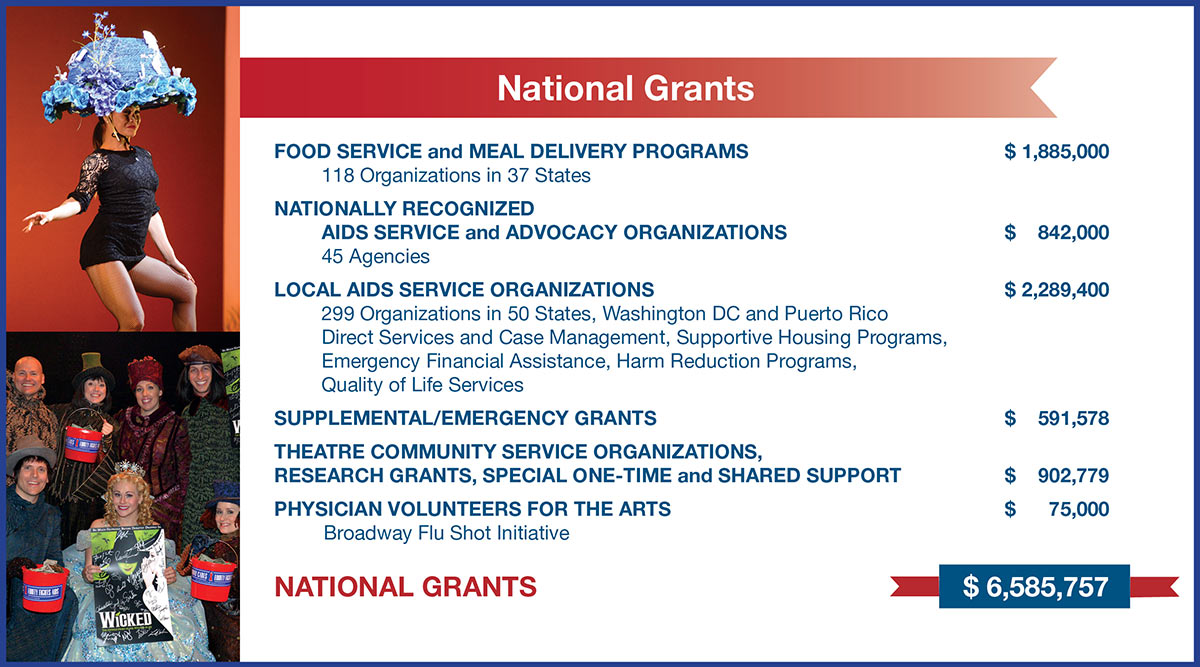 2015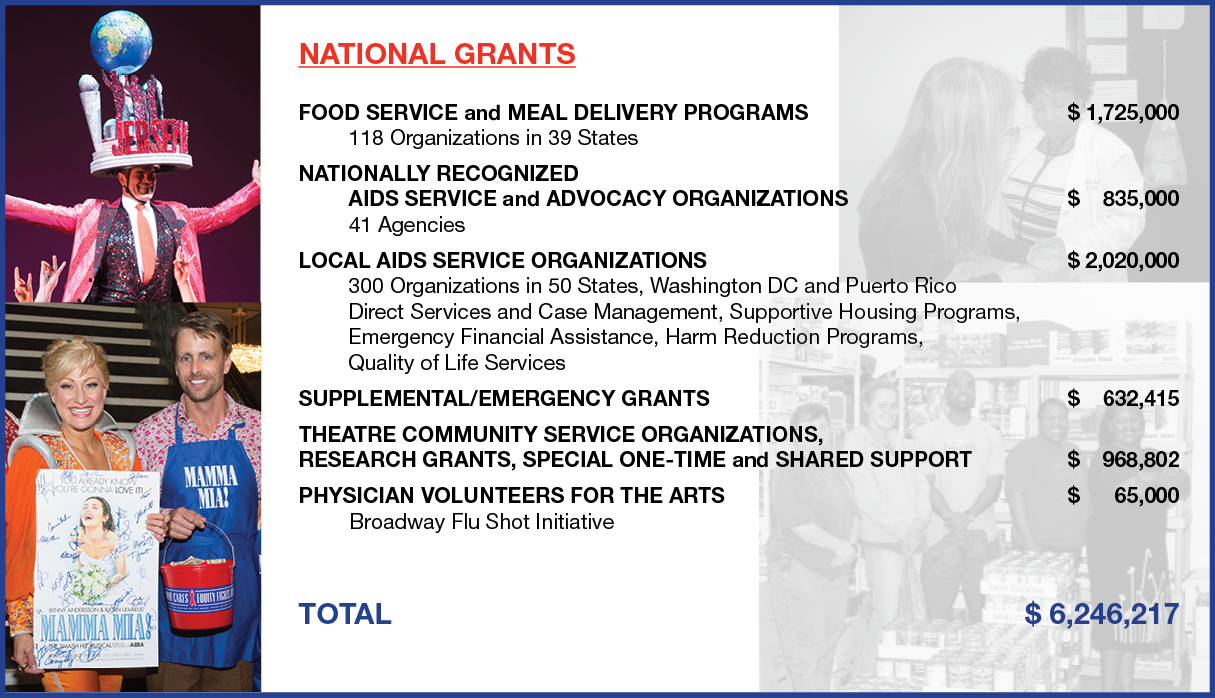 2014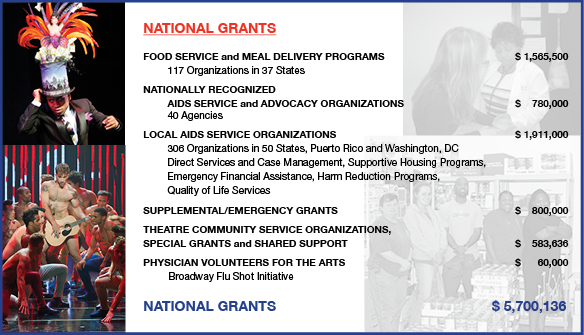 2013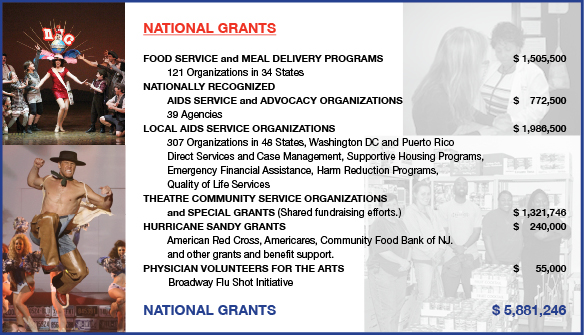 2012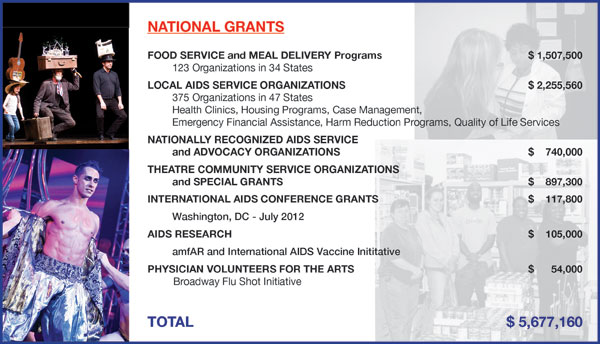 2011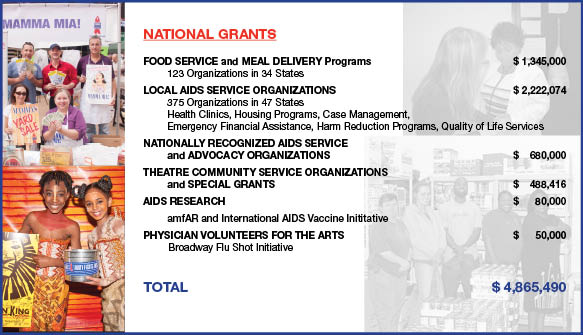 2010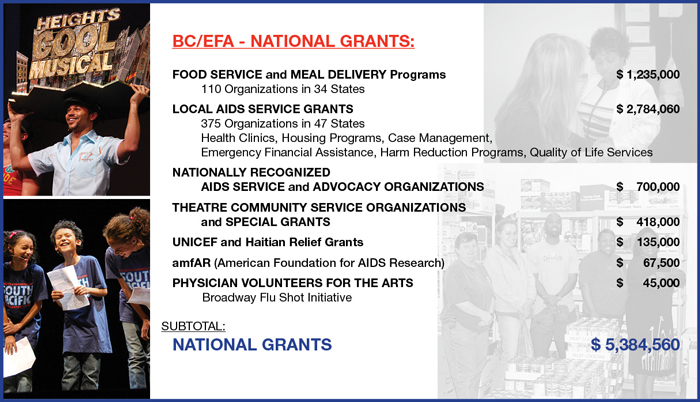 2009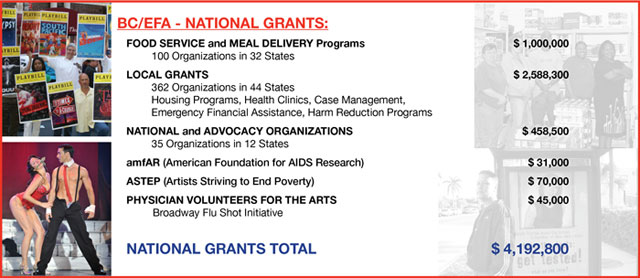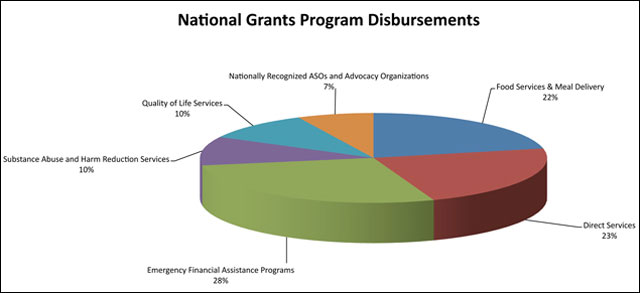 2008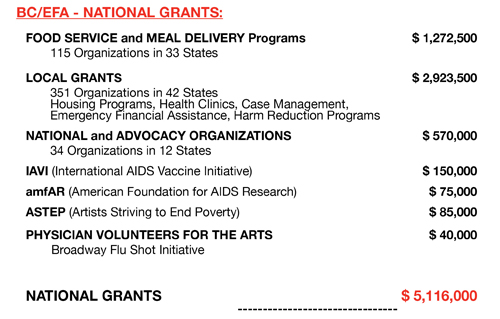 2007
BC/EFA NATIONAL GRANTS:

Food Service and Meal Delivery Programs
115 Organizations in 33 States

$1,149.000

Local Grants
351 Organizations in 42 States:
Housing Programs, Health Clinics, Case Management, Harm Reduction Programs

$2,568,000

National and Advocacy Organizations
34 Organizations in 12 States

$600,000

IAVI (International AIDS Vaccine Initiative)

$150,000

Total National Grants $4,502,000
Learn More about National Grants
✛ 2020 Grant Rounds
✛ History