Broadway Cares/Equity Fights AIDS
What we do together, makes a difference

Organizations Across Country Share Thanks with Broadway Cares Supporters
Tom Viola stepped into his office one morning this summer and was greeted with unexpected gratitude delivered in a surprising manner.
Stacked on his desk, the Broadway Cares/Equity Fights AIDS' executive director found more than two dozen letters with postmarks from Alabama to Minnesota, Connecticut to California. They came from organizations in a dozen states that received support and hope through Broadway Cares' grants that had just been awarded in June in the third round of the annual National Grants program.
Earlier in 2019, Broadway Cares/Equity Fights AIDS awarded $2.1 million to 125 organizations in 34 states, Washington, D.C., and Puerto Rico, for food service and meal delivery programs. In April, $1.2 million was awarded to 49 nationally recognized AIDS service and advocacy agencies.
"There are approximately 1,000 people needing a safe place to sleep tonight in the state of Minnesota," read the letter from Clare Housing in Minneapolis, which received a $10,000 grant again this year thanks to Broadway Cares' supporters. "And, for individuals living with HIV, the barriers to housing faced on a daily basis are too numerous, including HIV stigma, racism, poverty and generational trauma. Your commitment ensures that each resident has a stable home with the support they need to live an independent and dignified life."
While it's common for those receiving grants to share their thanks and appreciation, this one day's volume of gratitude was particularly striking.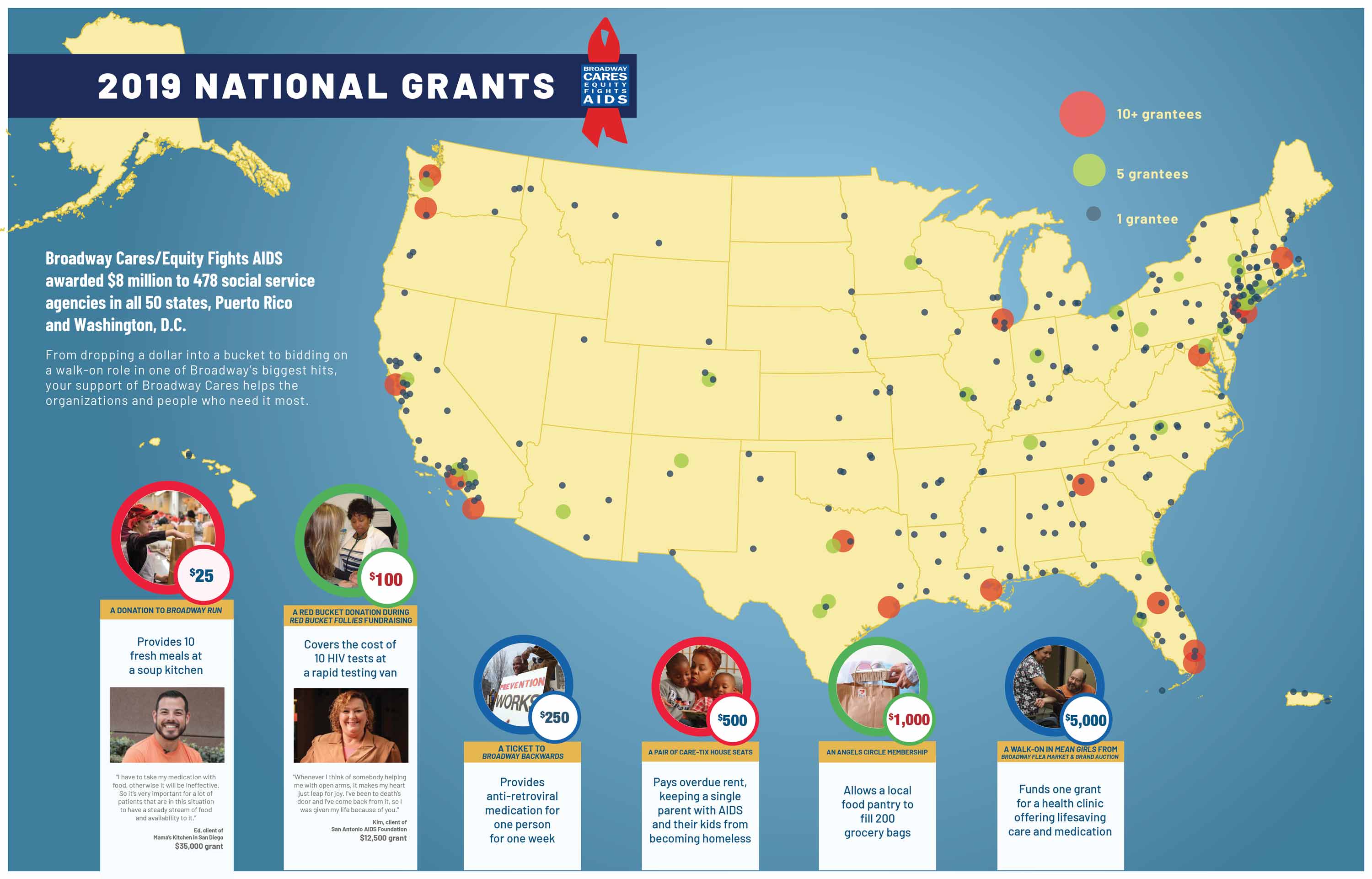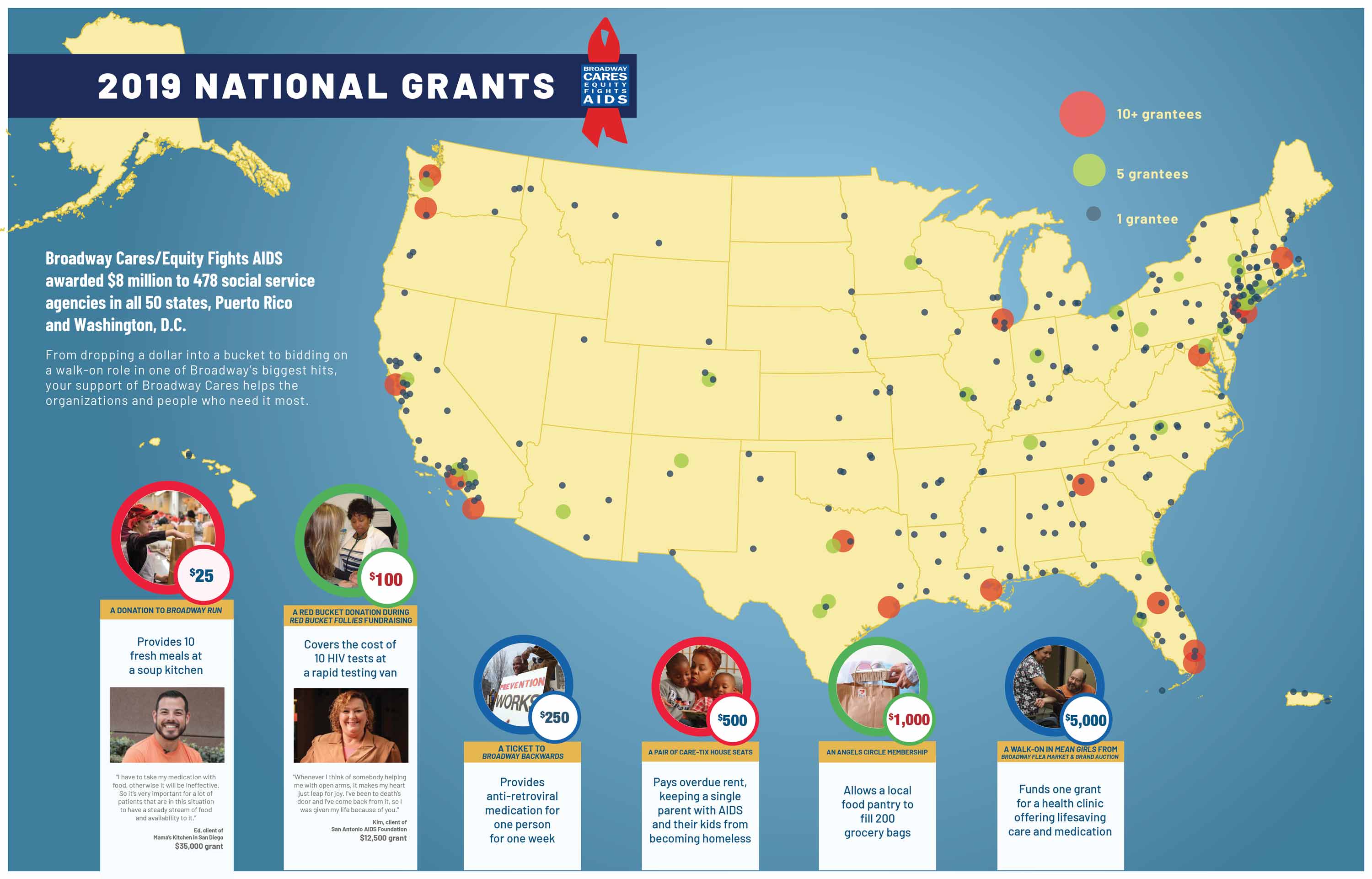 "To arrive to all these letters from organizations coast to coast, doing groundbreaking work in supporting the most vulnerable among us, was deeply and quietly moving," Viola said. "It's such an important reminder of the difference we make together. Just a few weeks earlier, our National Grants committee had awarded $2.5 million to 303 organizations in our largest grant round of the year. Thanks to Broadway Cares supporters, we'll cover direct services and case management, supportive housing programs, emergency financial assistance, harm reduction programs and quality of life services for these lifesaving organizations."
And the services and programs powered by Broadway Cares supporters are diverse and vital for so many individuals living with HIV/AIDS and other critical illnesses.
A $7,500 grant from Broadway Cares to Thrive Alabama in Huntsville helps cover the ongoing operating costs of its mobile HIV- and STI-testing program called ThriveMobile. Corporate and foundation relations specialist Jennifer Deermer explained in the letter that testing people and quickly linking them to care is integral in slowing the spread of HIV and STIs within their community.
A letter from Shelley Starr, executive director of Casa de Esperanza de los Niños in Houston , explained that every dollar of its $10,000 grant will go toward services for HIV-affected children, providing safety for them and hope for families in crisis situations.
Starr also shared a quote from someone helped by the grant: "Knowing that each day my children are shown that they are loved, are given the ability to live without fear and are able to sleep peacefully makes every difficult moment worth it."
In all, thanks to Broadway Cares supporters and donors, more than $8 million in grants was awarded 478 medical and social service organizations in 2019.
In the corner of the letter from Covenant House in Charleston, West Virginia, was a handwritten note from Executive Director Ellen Allen: "We are deeply grateful for your generous support of our work. You can't imagine what it means to us here, far from New York."
So much of this work and so many of these stories wouldn't be told without the generosity and kindness of Broadway Cares supporters.
---
National Grants By Fiscal Year
2020
National Grants
Food Service and Meal Delivery Programs
$2,317,000
Local AIDS Service Organizations
$2,023,000
Emergency Grants for Pandemic Relief
$955,775
Supplemental grants and Shared Support
$942,000
Natural Disaster Relief in name of Broadway community
$200,000
Total: $6,437,775
2019
National Grants
Food Service and Meal Delivery Programs
$2,143,000
Nationally Recognized AIDS Service and Advocacy Organizations
$1,157,500
Local AIDS Service Organizations
$2,305,500
Theatre Social Service Organizations
$189,500
Natural Disaster Relief
$500,000
Research, Special One-time Grants and Shared Support
$951,261
Supplemental Emergency Grants
$695,871
Physician Volunteers for the Arts
$90,000
Total: $8,032,632
2018
National Grants
Food Service and Meal Delivery Programs
$2,015,000
Nationally Recognized AIDS Service and Advocacy Organizations
$1,150,000
Local AIDS Service Organizations
$2,227,500
Theatre Social Service Organizations
$152,500
Hurricane Relief Grants to Hispanic Federation
$350,000
Research, Special One-time Grants and Shared Suppor
$865,550
Supplemental Emergency Grants
$488,191
Physician Volunteers for the Arts
$85,000
Total: $7,333,741
2017
National Grants
Food Service and Meal Delivery Programs
$1,915,000
Nationally Recognized AIDS Service and Advocacy Organizations
$880,000
Local AIDS Service Organizations
$2,133,500
Supplemental Emergency Grants
$462,404
Theatre Community Service Organizations, Research Grants, Special One-time and Share Support
$858,618
Hurricane Relief
$425,000
Physician Volunteers for the Arts
$75,000
Total: $6,749,522
2016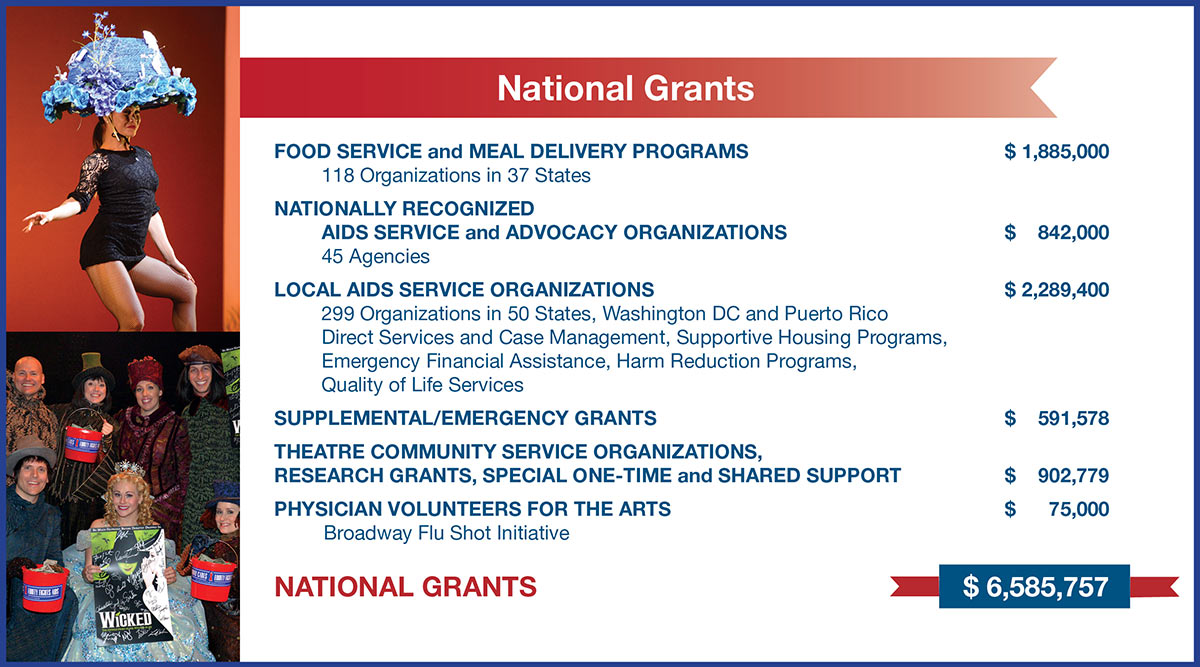 2015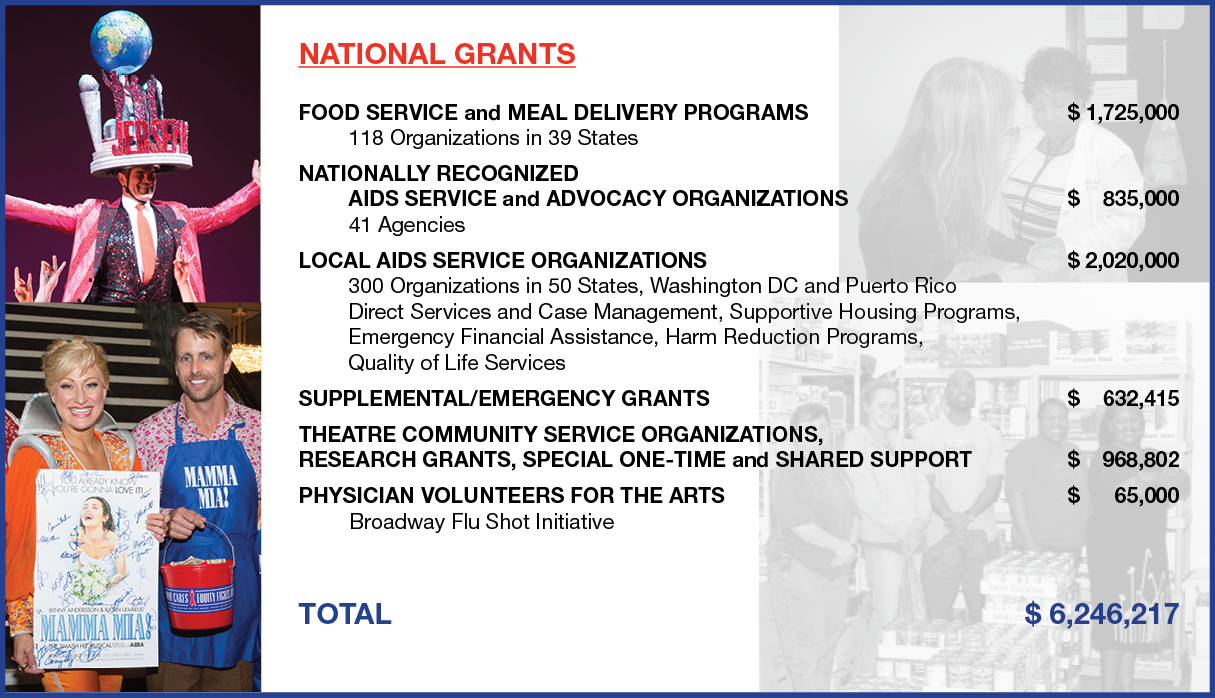 2014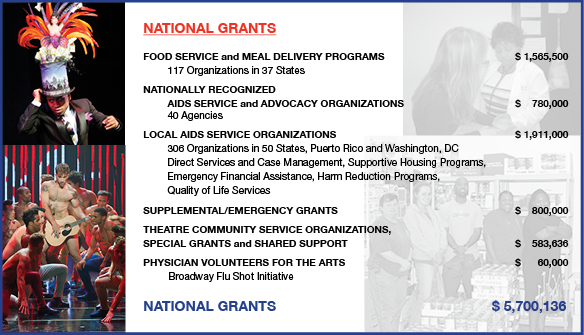 2013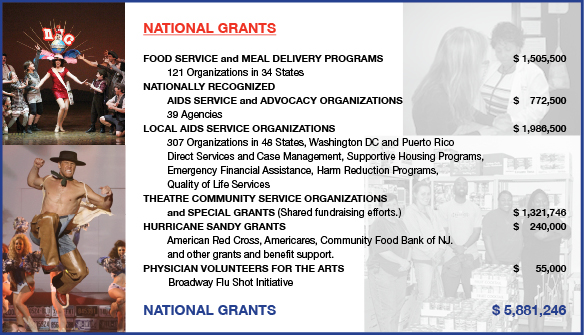 2012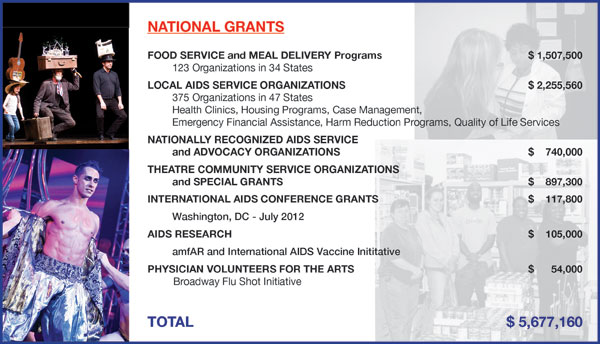 2011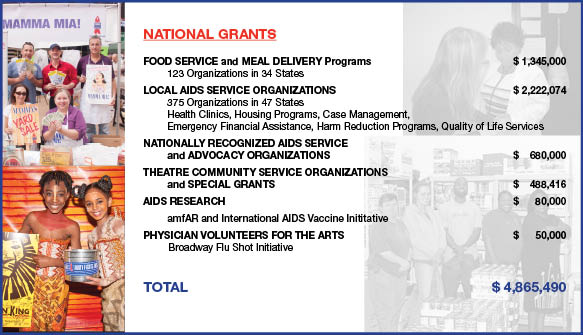 2010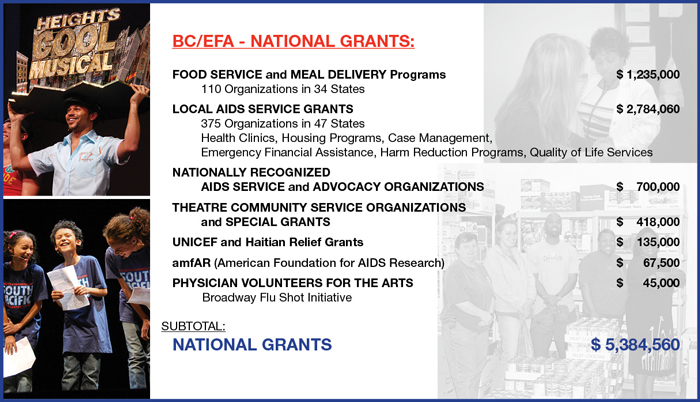 2009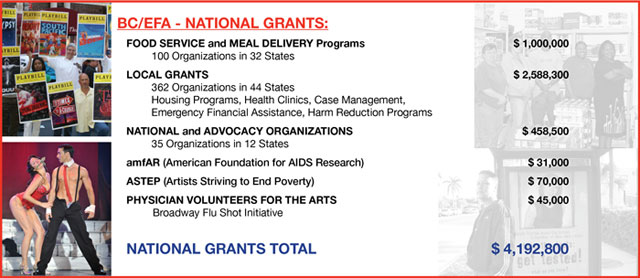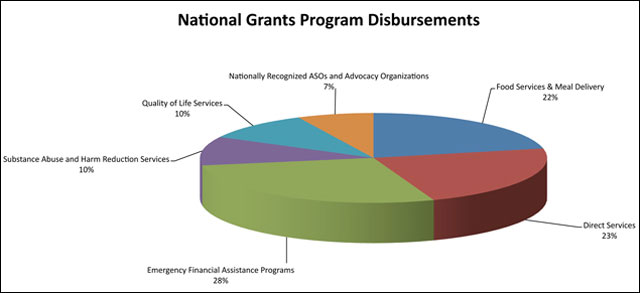 2008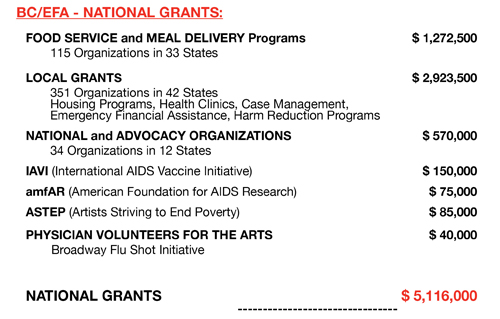 2007
BC/EFA NATIONAL GRANTS:

Food Service and Meal Delivery Programs
115 Organizations in 33 States

$1,149.000

Local Grants
351 Organizations in 42 States:
Housing Programs, Health Clinics, Case Management, Harm Reduction Programs

$2,568,000

National and Advocacy Organizations
34 Organizations in 12 States

$600,000

IAVI (International AIDS Vaccine Initiative)

$150,000

Total National Grants $4,502,000
Learn More about National Grants
✛ 2020 Grant Rounds
✛ History