Broadway Cares/Equity Fights AIDS
What we do together, makes a difference

Health Care and Hope Reach Those Struggling Nationwide in 2021
While theaters on Broadway and across the country were darkened because of the COVID-19 pandemic, Broadway Cares/Equity Fights AIDS supporters shined brightly, fueling an extraordinary $4.98 million in grants to 424 social services agencies across the country during fiscal year 2021.
Across the country, these organizations quickly pivoted to address the challenges of the expanding crisis.
From the earliest days of the pandemic, Birmingham AIDS Outreach committed to remaining open to serve 1,055 individuals living with HIV/AIDS in Alabama. "We recognized the kinds of efforts required and created an agency-wide effort to quickly restructure procedures," Karen Musgrove, CEO of Birmingham AIDS Outreach, said. The delivery of healthy food boxes, supported by a $10,000 grant from Broadway Cares, shifted from in-office pick-up to drive-thru delivery, providing more than 5,000 meals.
During the first 12 months of the pandemic, Golden Rainbow in Las Vegas saw requests for financial assistance increase 100%. "With utilities being disconnected for those who were delinquent in their payments, we also received an increased number of requests for utility assistance," Golden Rainbow Executive Director Gary Costa said. "While we do receive federal funds to assist clients, many exceeded their limits due to COVID-19 and were at risk of utilities being shut off or eviction."
To address this growing need, Golden Rainbow channeled its $10,000 grant from Broadway Cares to support its Financial Assistance Program, which assists with emergency short-term needs to prevent evictions, termination of utility services and essential short-term medical costs not covered by insurance. More than 500 people were served by the program thanks to Broadway Cares supporters.
Beyond the emergency needs that required organizations to pivot, the COVID-19 pandemic has exacerbated challenges for those most vulnerable. Nearly 90% of the clients at Bill's Kitchen in San Juan, Puerto Rico, survive on a yearly income less than $12,000. That means they have about $200 a week to cover all their expenses – including housing, utilities, clothing, medications, transportation and food.
"Providing clients with healthy, nutritionally appropriate food is the heart of our mission," said Sandra Torres-Rivera, executive director of Bill's Kitchen. "However, as an island where most of the food is imported, the price of fresh food and the costs of transporting it are ever on the rise." In response to these compounding challenges, Bill's Kitchen received $35,000 in support from Broadway Cares donors this year to provide more than 12,000 grocery bags through its pantry bag program.
Food and well-being are especially important for the growing and developing youth throughout the country. "While all of us have been impacted by COVID-19, the highly vulnerable children and families our organization helps have been particularly hard hit by this pandemic," said Marci Finegood of Children's Place, which provides support to families in Chicago experiencing crises or barriers affecting family safety and stability.
A $7,500 grant from Broadway Cares in June allowed Children's Place to provide utility and rental assistance, food and transportation for families across the city. "Having the resources for emergency assistance will enable us to create safe and healthy environments for families, and keep children in child care or preschool without disruption," Finegood said.
Overall, the $4.98 million in grants from Broadway Cares' National Grants Programs was provided to 424 social and medical service agencies in all 50 states, Washington, D.C., and Puerto Rico. These agencies were supported in three rounds: $2,452,500 in grants to 131 food service and meal delivery programs in January; $925,000 to 41 nationally recognized AIDS service and advocacy organizations in March; and $1,604,000 to 252 direct service programs in June.
The National Grants support is on top of the $7.7 million donated this year to the Entertainment Community Fund (formerly The Actors Fund), which provides a safety net of social services for everyone in entertainment and the performing arts. Overall, Broadway Cares provided $13,024,000 in grants during fiscal year 2021.
"Even with theaters closed and in-person events canceled, our fundraising work continued at remarkable levels thanks to our generous donors and the ingenuity and compassion of theater artists," said Tom Viola, executive director of Broadway Cares/Equity Fights AIDS. "Broadway may have been dark, but Broadway Cares' supporters helped keep the lights on, brighter than ever, for organizations providing meals, medication and emergency assistance to the most vulnerable across the country."
Torres-Rivera, from Bill's Kitchen, summed up the gratitude for the annual grants: "Thanks to the support from Broadway Cares, we have had no waiting list for the last three years. From the bottom of our heart, again and again, thank you!"
---
National Grants By Fiscal Year
2021
National Grants
Food Service and Meal Delivery Programs
$2,452,500
Local AIDS Service Organizations
$2,539,000
Emergency Grants for Pandemic Relief
$1,010,077
Supplemental grants and Shared Support
$793,125
Theater Organizations Social Service Grants
$317,500
Total: $7,112,202
2020
National Grants
Food Service and Meal Delivery Programs
$2,317,000
Local AIDS Service Organizations
$2,023,000
Emergency Grants for Pandemic Relief
$955,775
Supplemental grants and Shared Support
$942,000
Natural Disaster Relief in name of Broadway community
$200,000
Total: $6,437,775
2019
National Grants
Food Service and Meal Delivery Programs
$2,143,000
Nationally Recognized AIDS Service and Advocacy Organizations
$1,157,500
Local AIDS Service Organizations
$2,305,500
Theatre Social Service Organizations
$189,500
Natural Disaster Relief
$500,000
Research, Special One-time Grants and Shared Support
$951,261
Supplemental Emergency Grants
$695,871
Physician Volunteers for the Arts
$90,000
Total: $8,032,632
2018
National Grants
Food Service and Meal Delivery Programs
$2,015,000
Nationally Recognized AIDS Service and Advocacy Organizations
$1,150,000
Local AIDS Service Organizations
$2,227,500
Theatre Social Service Organizations
$152,500
Hurricane Relief Grants to Hispanic Federation
$350,000
Research, Special One-time Grants and Shared Support
$865,550
Supplemental Emergency Grants
$488,191
Physician Volunteers for the Arts
$85,000
Total: $7,333,741
2017
National Grants
Food Service and Meal Delivery Programs
$1,915,000
Nationally Recognized AIDS Service and Advocacy Organizations
$880,000
Local AIDS Service Organizations
$2,133,500
Supplemental Emergency Grants
$462,404
Theatre Community Service Organizations, Research Grants, Special One-time and Share Support
$858,618
Hurricane Relief
$425,000
Physician Volunteers for the Arts
$75,000
Total: $6,749,522
2016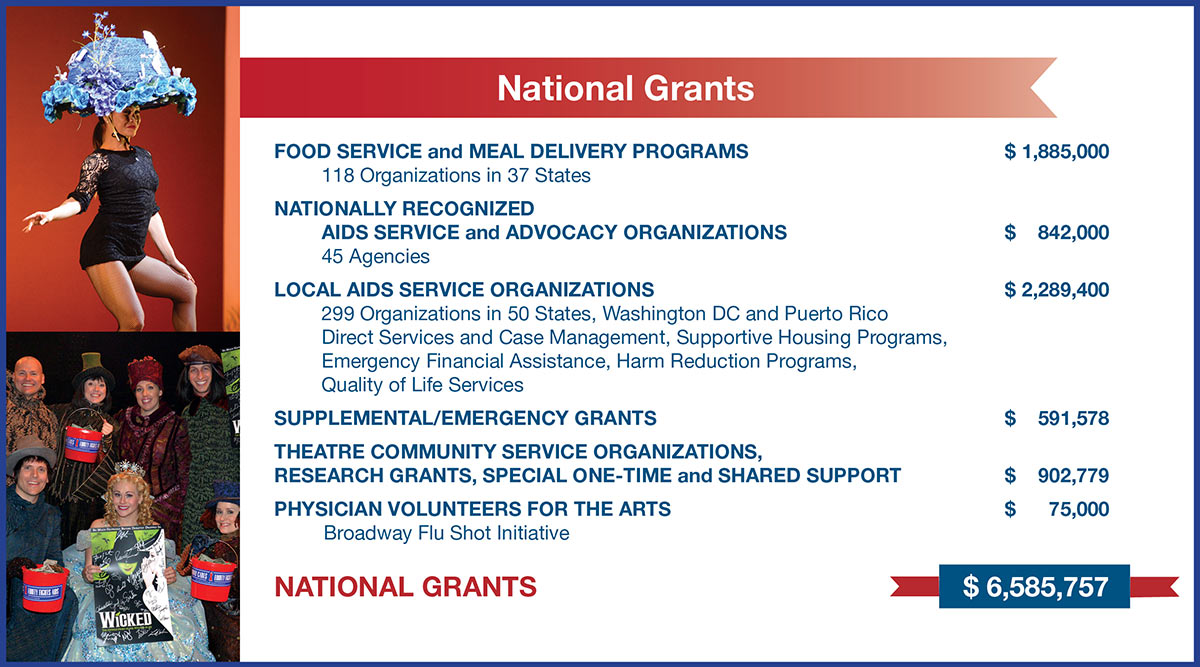 2015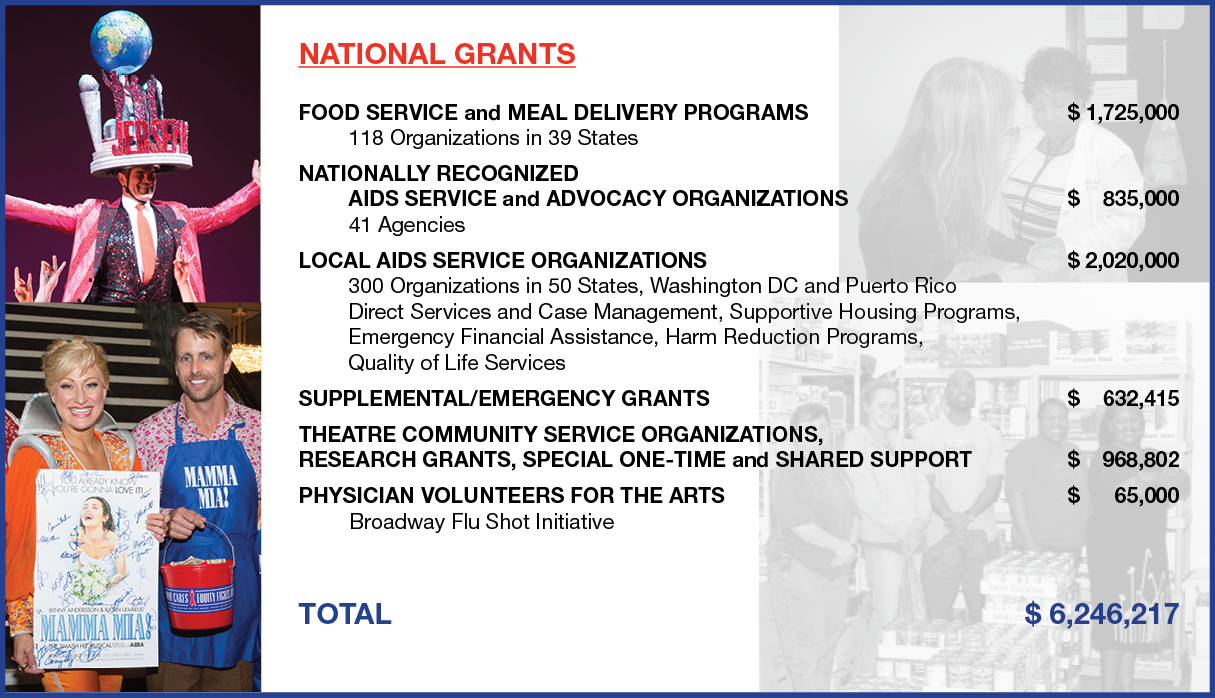 2014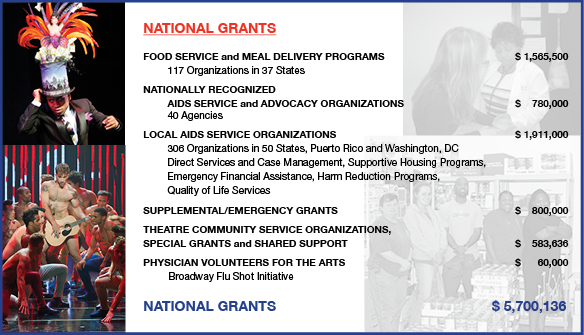 2013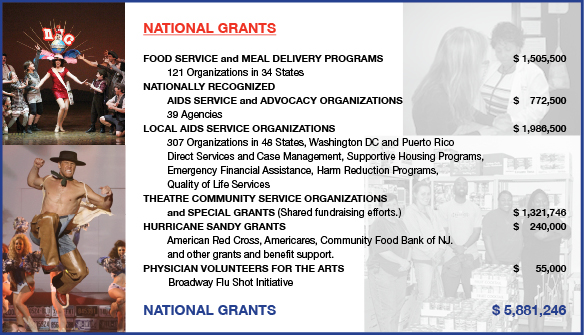 2012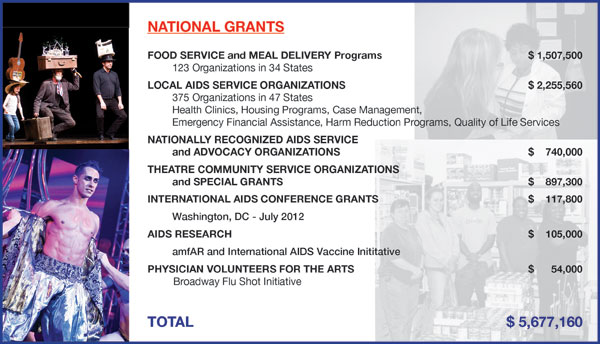 2011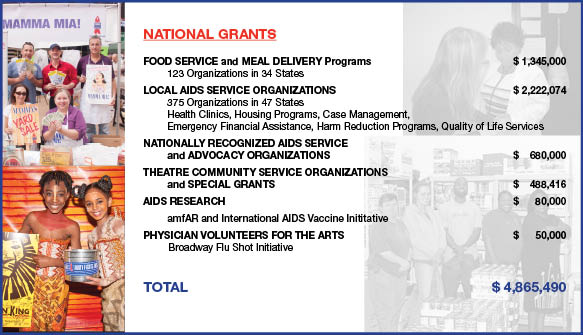 2010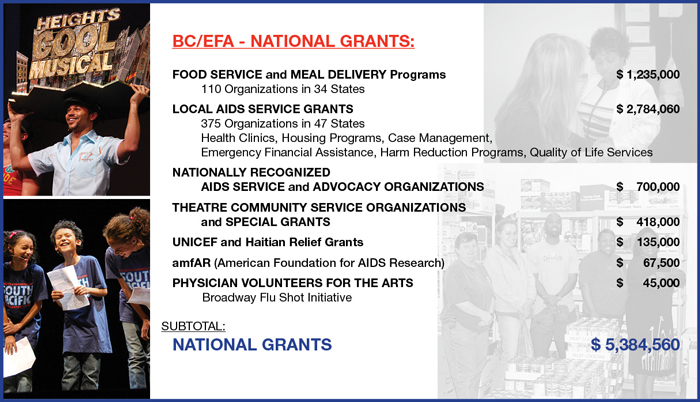 2009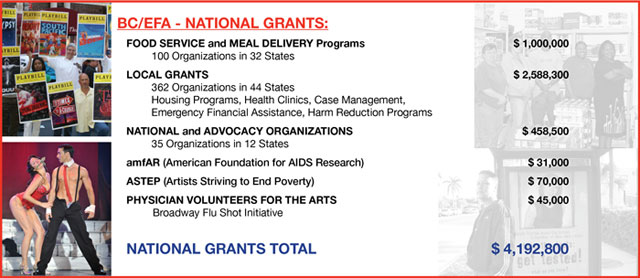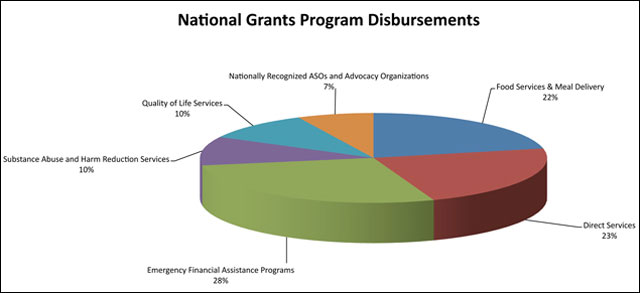 2008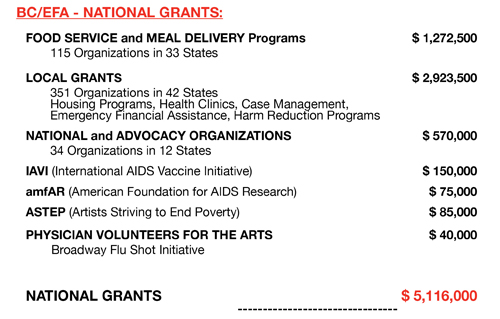 2007
Broadway Cares/Equity Fights AIDS NATIONAL GRANTS:

Food Service and Meal Delivery Programs
115 Organizations in 33 States

$1,149.000

Local Grants
351 Organizations in 42 States:
Housing Programs, Health Clinics, Case Management, Harm Reduction Programs

$2,568,000

National and Advocacy Organizations
34 Organizations in 12 States

$600,000

IAVI (International AIDS Vaccine Initiative)

$150,000

Total National Grants $4,502,000
Learn More about National Grants
✛ 2022 Grant Rounds
✛ History