Broadway Cares/Equity Fights AIDS
What we do together, makes a difference

Organizations Nationwide Receive Support Despite 2020 Pandemic Setbacks
In the face of the coronavirus pandemic, Broadway Cares/Equity Fights AIDS was forced to change our fundraising and grant-making in 2020, both to adapt to a socially distant world and to support the growing number of people within the entertainment industry and beyond needing help.
In January, prior to the pandemic, the Broadway Cares' grants committee provided $2.1 million to 135 organizations nationwide as part of its annual food grants round. These grants ensured healthy meals would continue being served to the most vulnerable and marginalized. This was a $174,500 (or 8 percent) increase above what was awarded in 2019.
Then, in March, the pandemic forced the shutdown of Broadway and theaters across the country. Broadway Cares' ability to raise funds – through traditional in-theater appeals and events, and all variety of other initiatives – was cut short and thrown into severe jeopardy.
What initially looked to be a short hiatus became, of course, months of disruption.
The pandemic and work shutdown struck just as Broadway Cares was beginning its spring in-theater fundraising efforts. With those efforts halted, so was the year's remaining grant-making for hundreds more organizations across the country.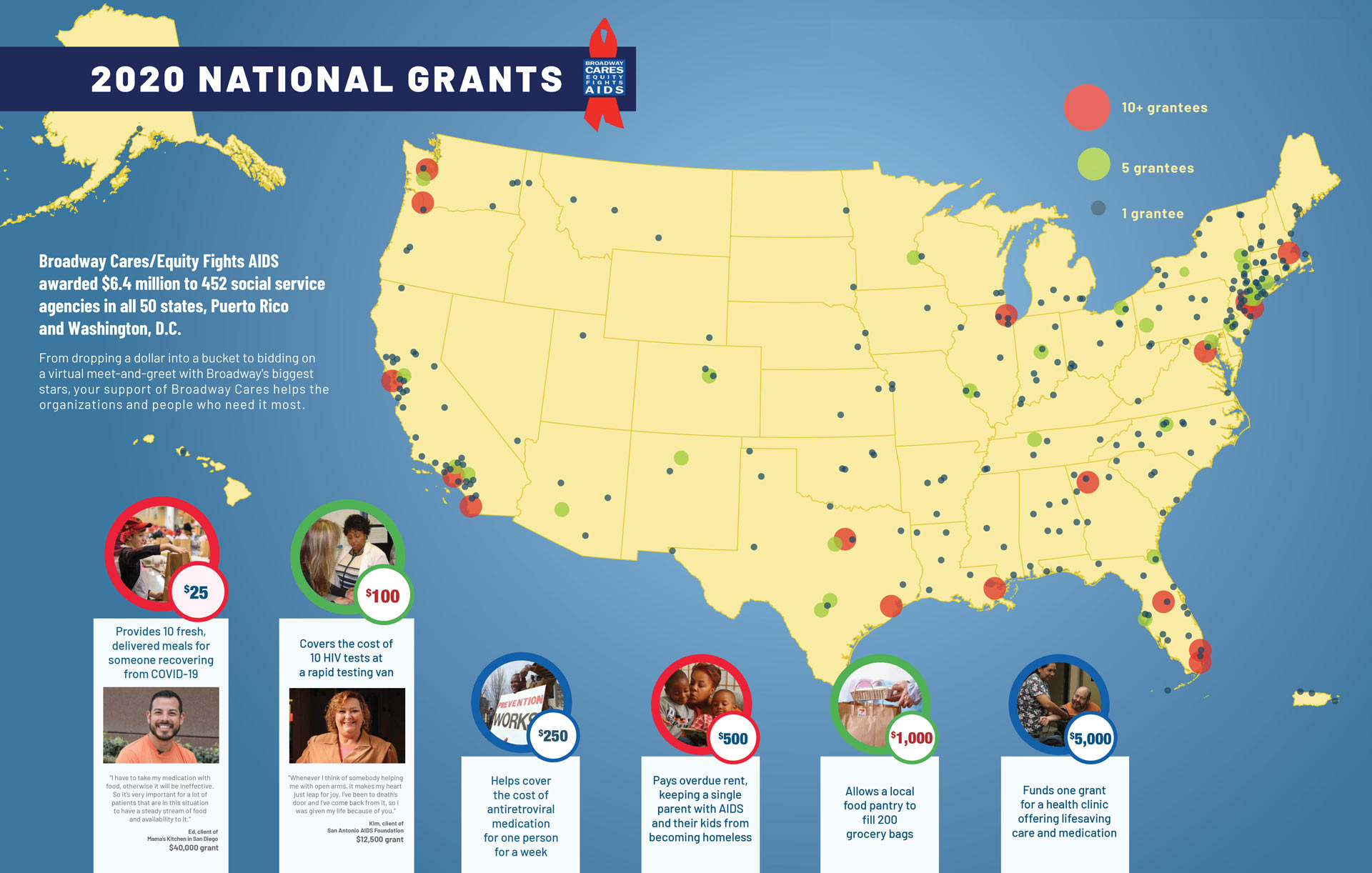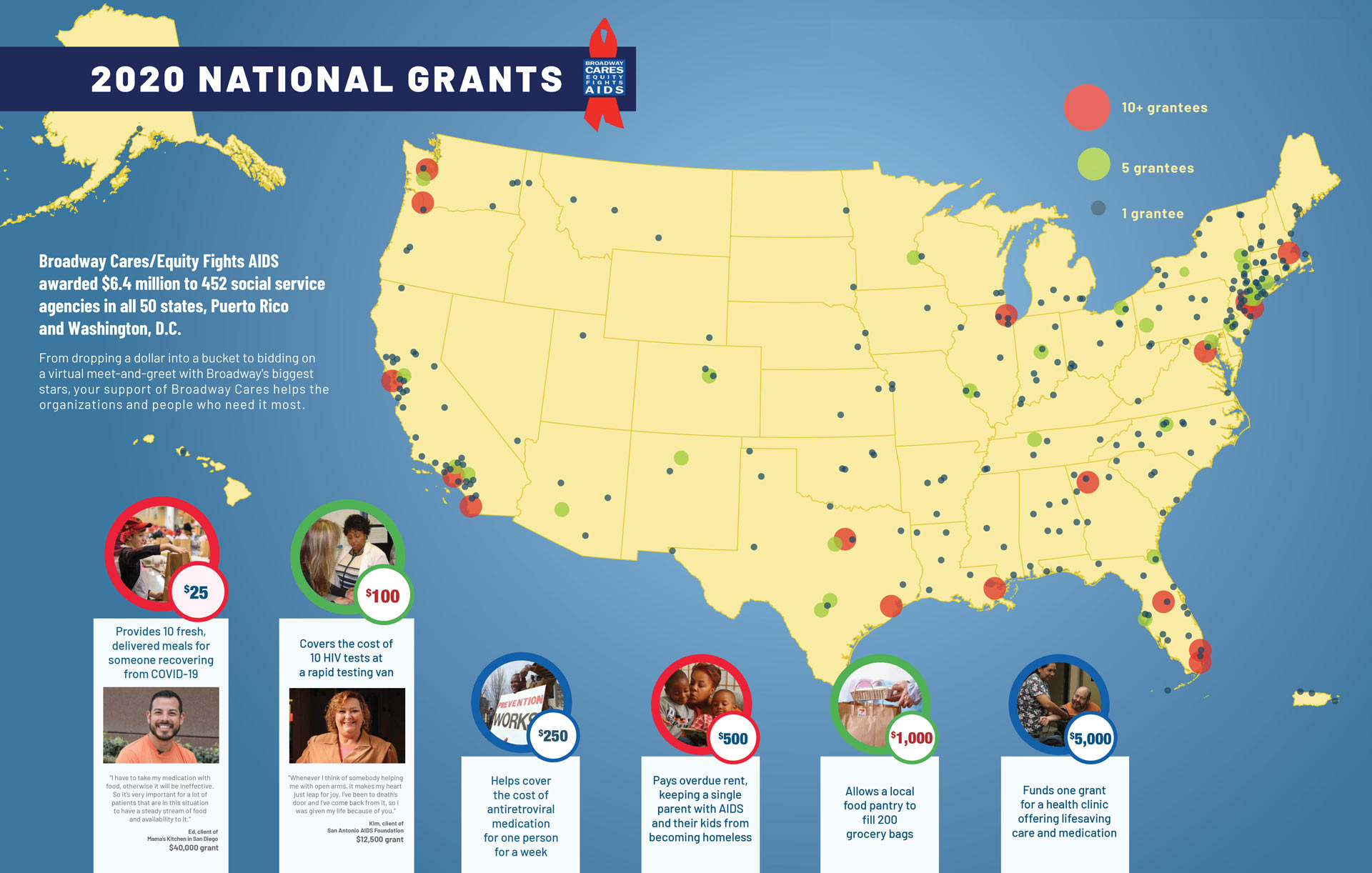 After consulting with our March grants committee – made up of Broadway Cares Trustees Cornelius Baker, Joe Baker, John Barnes, Jay Laudato, Paul DiDonato and Channing Wickham – we sought support from pharmaceutical giants who regularly fund HIV/AIDS research and social service providers but had not been approached previously by Broadway Cares.
Ultimately, Gilead Sciences offered $1 million to help us create Emergency Grants for Pandemic Relief. They were quickly joined by M‧A‧C Viva Glam and ViiV Healthcare. These three giants were joined by the P. Austin Family Foundation and 459 other Broadway Cares donors, raising $536,610 to get to $2.1 million raised.
In April, checks were sent to 319 grantees, surprising them with an unexpected grant equal to 50%-65% of what they had received in 2019. As the checks landed on development desks across the country, the email response was a mix of thank you and tears.
"Our clients are on the front lines and so many have lost their jobs and are wondering how they are going to pay for food and rent," Bradley D. Childs, deputy executive director at Palmetto Community Care in Charleston, S.C., said in an email. "We are changing the way we work by delivering food, food gift cards, hygiene supplies and medications to clients directly. We are offering mental health support to combat the extreme anxiety and panic that many are feeling. We appreciate your generosity and your compassion."
In addition to these initiatives, another $945,500 was awarded in one-time emergency grants to 67 organizations needing support. These grants included the Costume Industry Coalition, mobilizing efforts to support Broadway costume shops while the industry is dark; three organizations helping artists who might otherwise be overlooked through other programs – The Indie Theater Fund, the NYC Dancers Relief Fund and the NYC Low-Income Artist + Freelancer Relief Fund; and a series of social justice grants to Broadway Advocacy Coalition, The Bail Project, the NAACP Legal Defense Fund and Color of Change in solidarity with and support of the Black Lives Matter movement.
By the end of fiscal year 2020, $6.4 million was awarded to 491 organizations in all 50 states, Puerto Rico and Washington, D.C.
"In March, thinking of any kind of grant-making seemed impossible," Broadway Cares Tom Viola said. "And while we understand that these grants cannot nearly make right all that has been lost, Broadway Cares can offer an often unexpected hand in hope and solidarity. This is proof that impossible is not in the vocabulary of our generous, resourceful and talented community. This is proof that what we do together makes a difference."
---
National Grants By Fiscal Year
2020
National Grants
Food Service and Meal Delivery Programs
$2,317,000
Local AIDS Service Organizations
$2,023,000
Emergency Grants for Pandemic Relief
$955,775
Supplemental grants and Shared Support
$942,000
Natural Disaster Relief in name of Broadway community
$200,000
Total: $6,437,775
2019
National Grants
Food Service and Meal Delivery Programs
$2,143,000
Nationally Recognized AIDS Service and Advocacy Organizations
$1,157,500
Local AIDS Service Organizations
$2,305,500
Theatre Social Service Organizations
$189,500
Natural Disaster Relief
$500,000
Research, Special One-time Grants and Shared Support
$951,261
Supplemental Emergency Grants
$695,871
Physician Volunteers for the Arts
$90,000
Total: $8,032,632
2018
National Grants
Food Service and Meal Delivery Programs
$2,015,000
Nationally Recognized AIDS Service and Advocacy Organizations
$1,150,000
Local AIDS Service Organizations
$2,227,500
Theatre Social Service Organizations
$152,500
Hurricane Relief Grants to Hispanic Federation
$350,000
Research, Special One-time Grants and Shared Support
$865,550
Supplemental Emergency Grants
$488,191
Physician Volunteers for the Arts
$85,000
Total: $7,333,741
2017
National Grants
Food Service and Meal Delivery Programs
$1,915,000
Nationally Recognized AIDS Service and Advocacy Organizations
$880,000
Local AIDS Service Organizations
$2,133,500
Supplemental Emergency Grants
$462,404
Theatre Community Service Organizations, Research Grants, Special One-time and Share Support
$858,618
Hurricane Relief
$425,000
Physician Volunteers for the Arts
$75,000
Total: $6,749,522
2016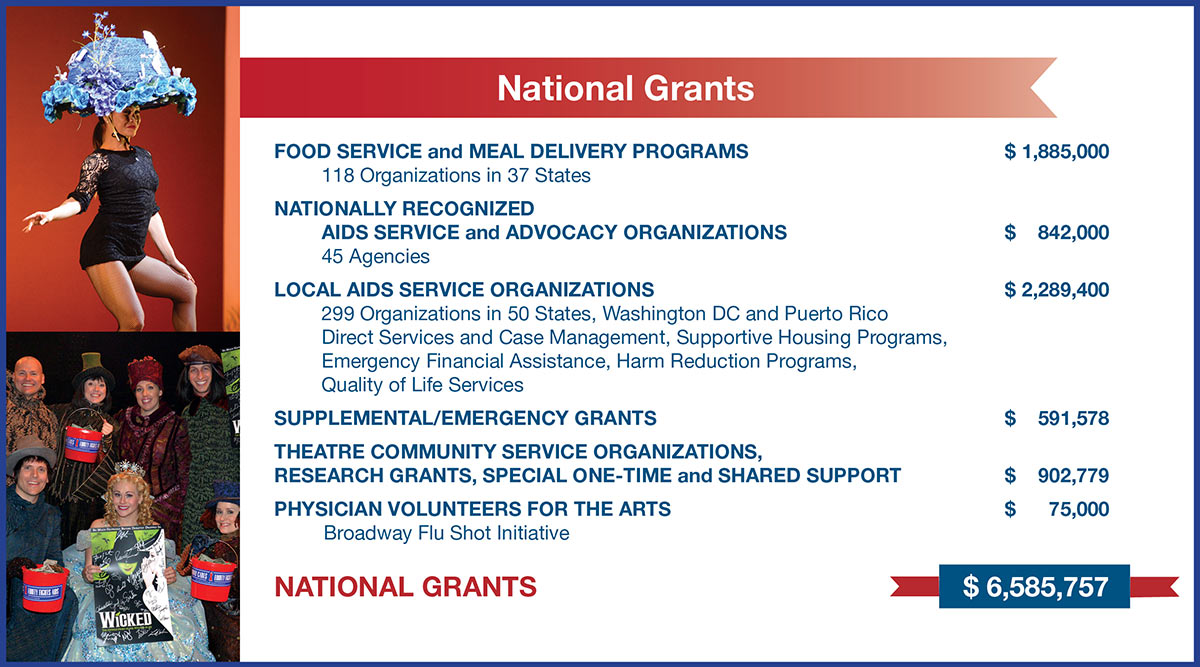 2015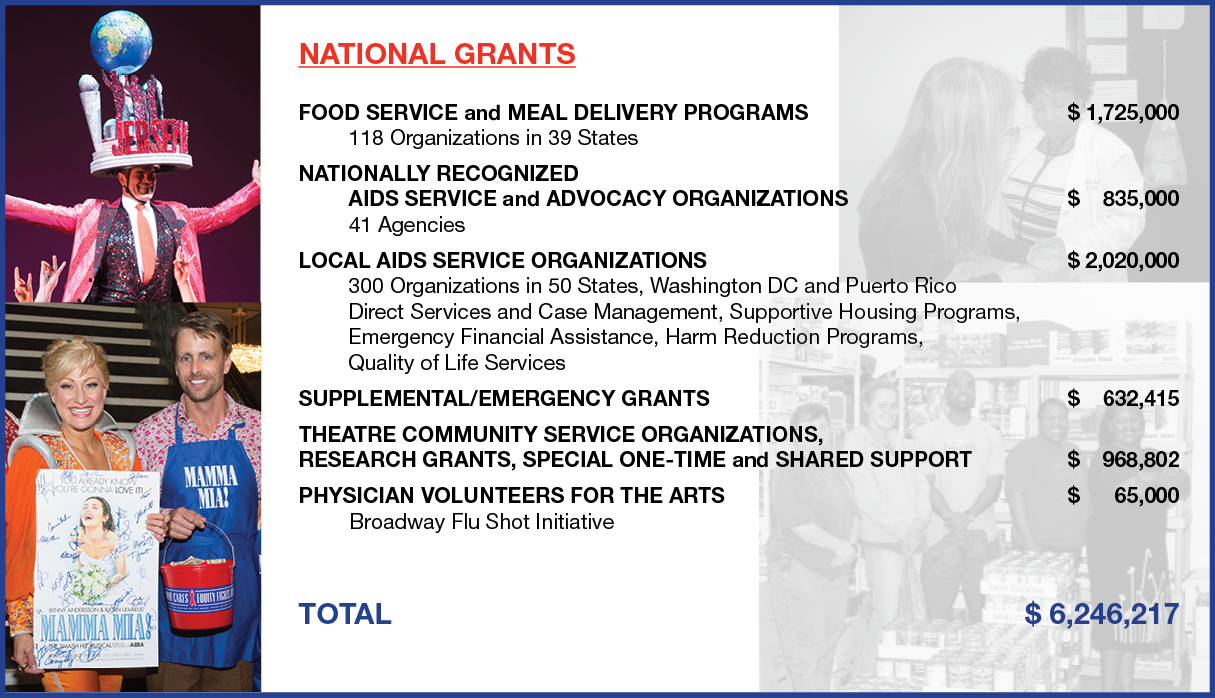 2014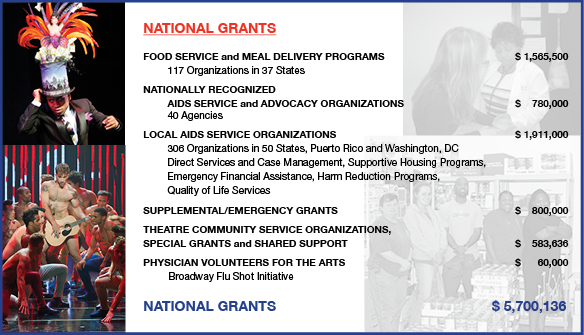 2013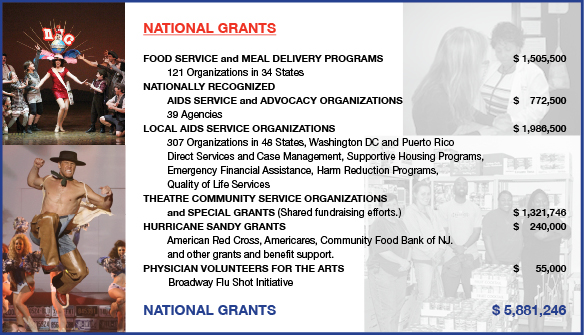 2012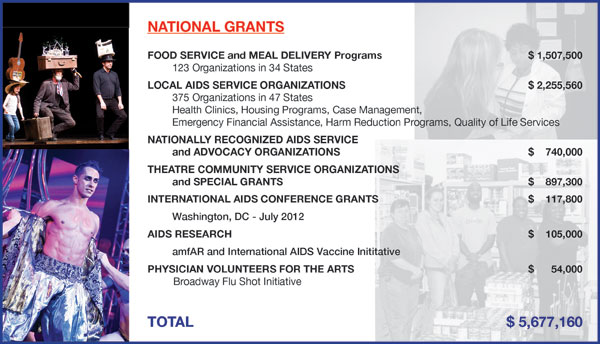 2011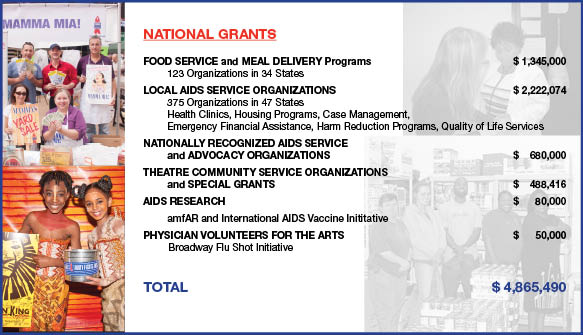 2010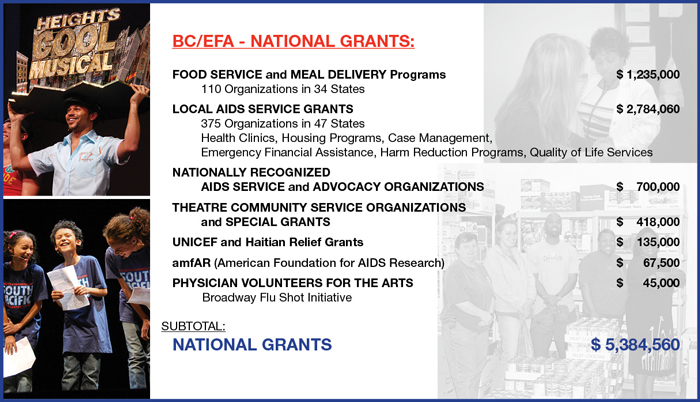 2009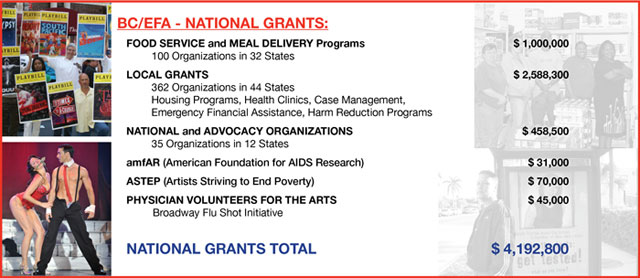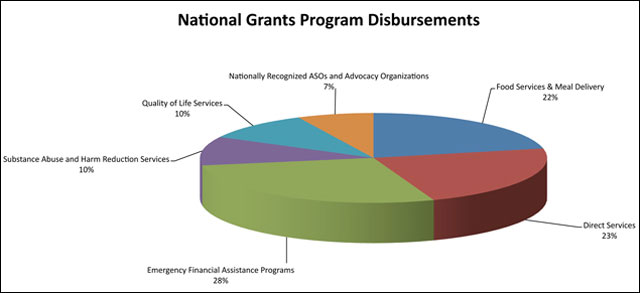 2008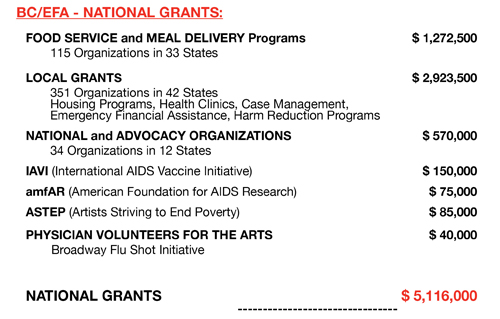 2007
BC/EFA NATIONAL GRANTS:

Food Service and Meal Delivery Programs
115 Organizations in 33 States

$1,149.000

Local Grants
351 Organizations in 42 States:
Housing Programs, Health Clinics, Case Management, Harm Reduction Programs

$2,568,000

National and Advocacy Organizations
34 Organizations in 12 States

$600,000

IAVI (International AIDS Vaccine Initiative)

$150,000

Total National Grants $4,502,000
Learn More about National Grants
✛ 2021 Grant Rounds
✛ History