Broadway Cares/Equity Fights AIDS
What we do together, makes a difference

Agencies Adapt to Unique Challenges with Unmatched Care
Darryl Cannady will stop at nothing to keep his community healthy. For more than 30 years, the executive director at South Central Educational Development in Bluefield, WV, has been doing vital work supporting people living with HIV/AIDS in a rural and remote region. And with the closest infectious disease doctor at least 50 miles away from so many he serves, Cannady is powered by a scrappy and adaptable energy that ensures safety for his clients.
"We have the food pantry and we offer emergency services," Cannady said. "We'll help with electrical bills and rent. We've purchased batteries and tires for cars. We will pretty much try to provide the client whatever they need to ensure they can make it to their medical appointments or have a healthy meal."
During these particularly unprecedented past few years, agencies across the country have had to be like Cannady, staying agile and responsive to their communities. Broadway Cares' donors play a vital role in making sure those organizations stay funded and supported so they can continue to provide lifesaving, critical care – like South Central Educational Development, which received a $10,000 grant from Broadway Cares in 2023. They've been a grantee of Broadway Cares for 27 years.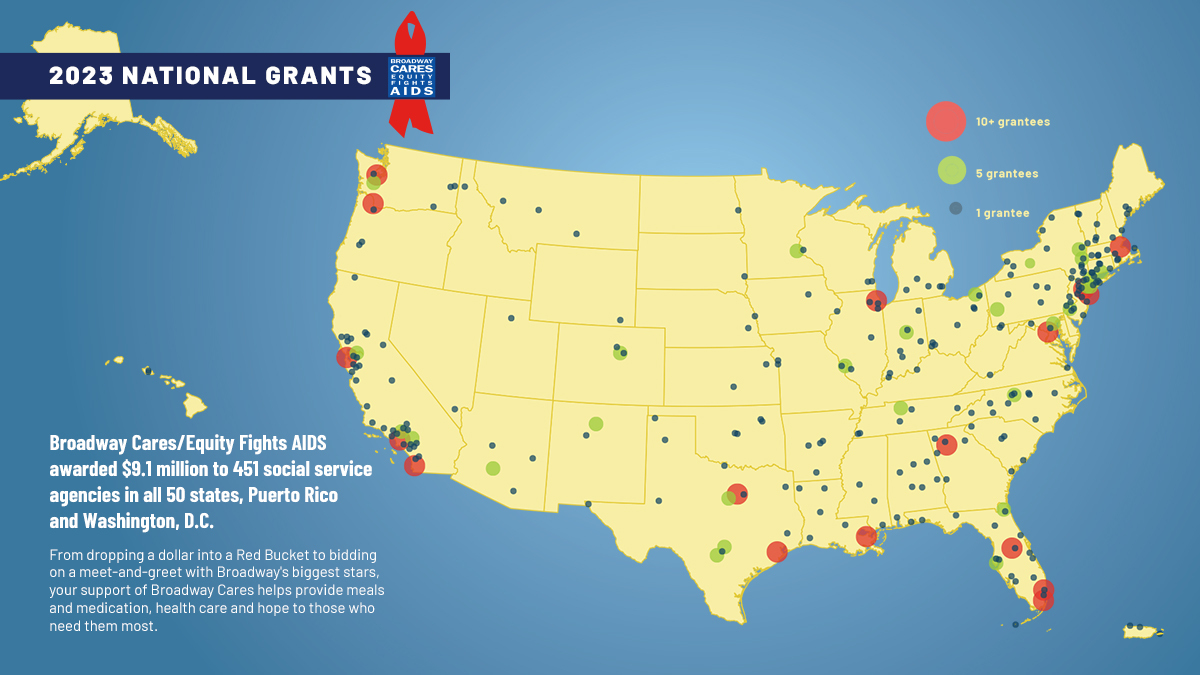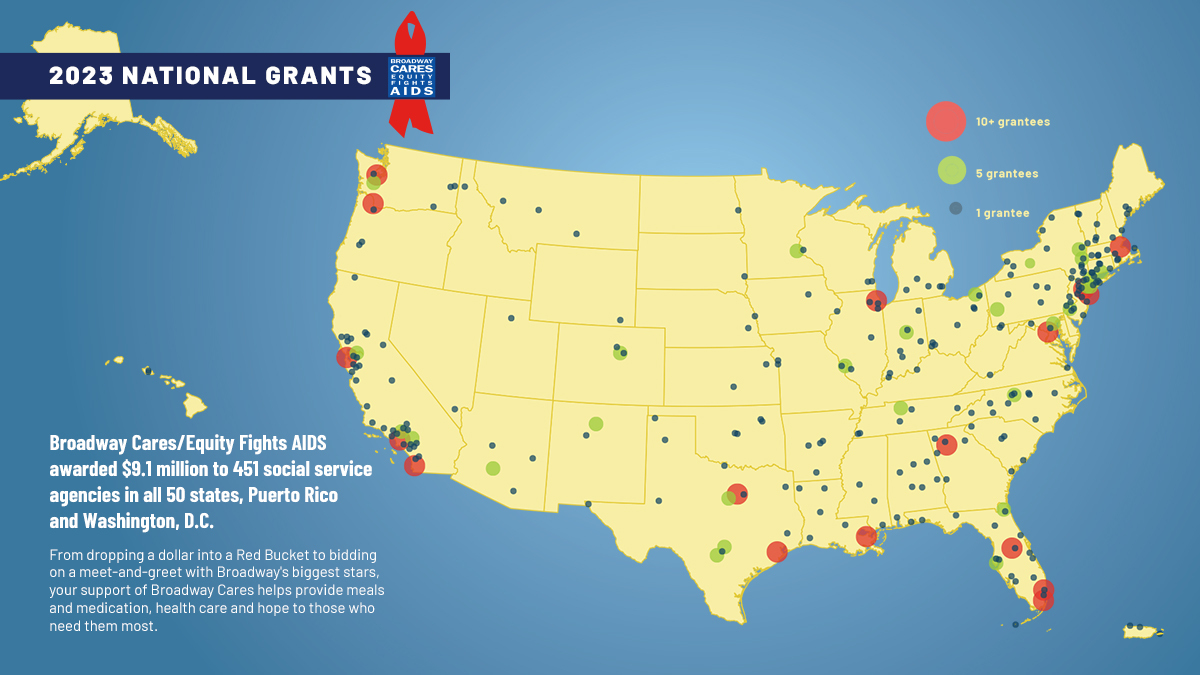 Broadway Cares' 2023 National Grants Program awarded $9.1 million to 451 social service organizations in all 50 states, Washington, D.C., and Puerto Rico.
The grants are awarded in three rounds each year. The final round of grants in the summer, which included South Central Educational Development, helped organizations that provide direct client services, emergency assistance, harm reduction and quality of life services. These latest grants were awarded by a National Grants Committee of 21 actors and stage managers who helped lead their shows' efforts in the Spring Fundraising Campaign.
Some 650 miles from West Virginia, Liberty Community Services in New Haven, CT, adapted its housing program to aid the rapidly increasing number of unhoused people seeking help.
"These last three years have overflowed with challenges to our community," Executive Director Jim Pettinelli said. "From the ongoing COVID-19 epidemic to a double digit increase in the number of people experiencing homelessness and an ever-present opioid epidemic – every day, each of these impacts, disrupts and endangers the lives of the people we serve."
Despite the endless barrage of challenges, the Liberty team has opened new lines of services and scaled up existing ones, buoyed by a $10,000 grant from Broadway Cares.
"We're serving more people today than ever before," Pettinelli said. "Our work will continue to evolve to find the best ways to respond to our clients' needs."
Earlier in 2023, a record $2.8 million was awarded to 141 food service and meal delivery programs in January and $1.13 million to 43 of the largest AIDS service and nationally recognized advocacy organizations in April.
The generosity of Broadway Cares donors has made it possible for agencies like South Central, Liberty and N Street Village in Washington, D.C., to adapt and provide on-the-ground care that is responsive to today's challenges.
"Because of you, we have reimagined our services and adapted to the ever-changing needs of the women we welcome every day," Kenyatta T. Brunson, N Street Village chief executive officer, said.
Broadway Cares awarded N Street a $7,500 grant. This support means Iva, a woman who has been unhoused for more than a decade, was able to move into permanent housing.
"N Street Village gave me the resources and tools to reclaim my life," Iva said. "I am so grateful for that, and I know it would not have been possible without you."
---
National Grants By Fiscal Year
2023
National Grants
Food Service and Meal Delivery Programs
$2,827,500
Local Social Service Organizations
$3,340,000
Emergency Relief Grants
$550,000
Supplemental grants and Shared Support
$944,000
National Grants Program – Additional Support
$449,500
Theater Organizations Social Service Grants
$395,000
Broadway Community Emergency Response Grants
$600,000
Total: $9,106,000
2022
National Grants
Food Service and Meal Delivery Programs
$2,532,500
Local AIDS Service Organizations
$3,180,000
Emergency Relief Grants
$1,000,000
Supplemental grants and Shared Support
$1,798,060
Theater Organizations Social Service Grants
$367,500
Total: $8,878,060
2021
National Grants
Food Service and Meal Delivery Programs
$2,452,500
Local AIDS Service Organizations
$2,539,000
Emergency Grants for Pandemic Relief
$1,010,077
Supplemental grants and Shared Support
$793,125
Theater Organizations Social Service Grants
$317,500
Total: $7,112,202
2020
National Grants
Food Service and Meal Delivery Programs
$2,317,000
Local AIDS Service Organizations
$2,023,000
Emergency Grants for Pandemic Relief
$955,775
Supplemental grants and Shared Support
$942,000
Natural Disaster Relief in name of Broadway community
$200,000
Total: $6,437,775
2019
National Grants
Food Service and Meal Delivery Programs
$2,143,000
Nationally Recognized AIDS Service and Advocacy Organizations
$1,157,500
Local AIDS Service Organizations
$2,305,500
Theatre Social Service Organizations
$189,500
Natural Disaster Relief
$500,000
Research, Special One-time Grants and Shared Support
$951,261
Supplemental Emergency Grants
$695,871
Physician Volunteers for the Arts
$90,000
Total: $8,032,632
2018
National Grants
Food Service and Meal Delivery Programs
$2,015,000
Nationally Recognized AIDS Service and Advocacy Organizations
$1,150,000
Local AIDS Service Organizations
$2,227,500
Theatre Social Service Organizations
$152,500
Hurricane Relief Grants to Hispanic Federation
$350,000
Research, Special One-time Grants and Shared Support
$865,550
Supplemental Emergency Grants
$488,191
Physician Volunteers for the Arts
$85,000
Total: $7,333,741
2017
National Grants
Food Service and Meal Delivery Programs
$1,915,000
Nationally Recognized AIDS Service and Advocacy Organizations
$880,000
Local AIDS Service Organizations
$2,133,500
Supplemental Emergency Grants
$462,404
Theatre Community Service Organizations, Research Grants, Special One-time and Share Support
$858,618
Hurricane Relief
$425,000
Physician Volunteers for the Arts
$75,000
Total: $6,749,522
2016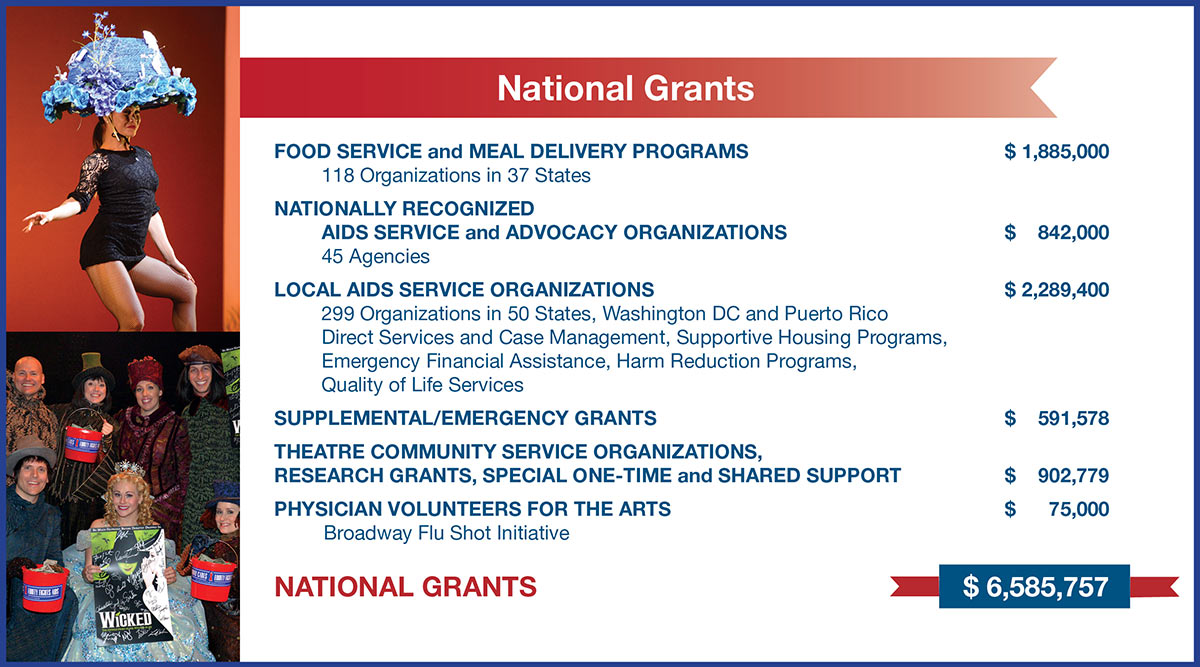 2015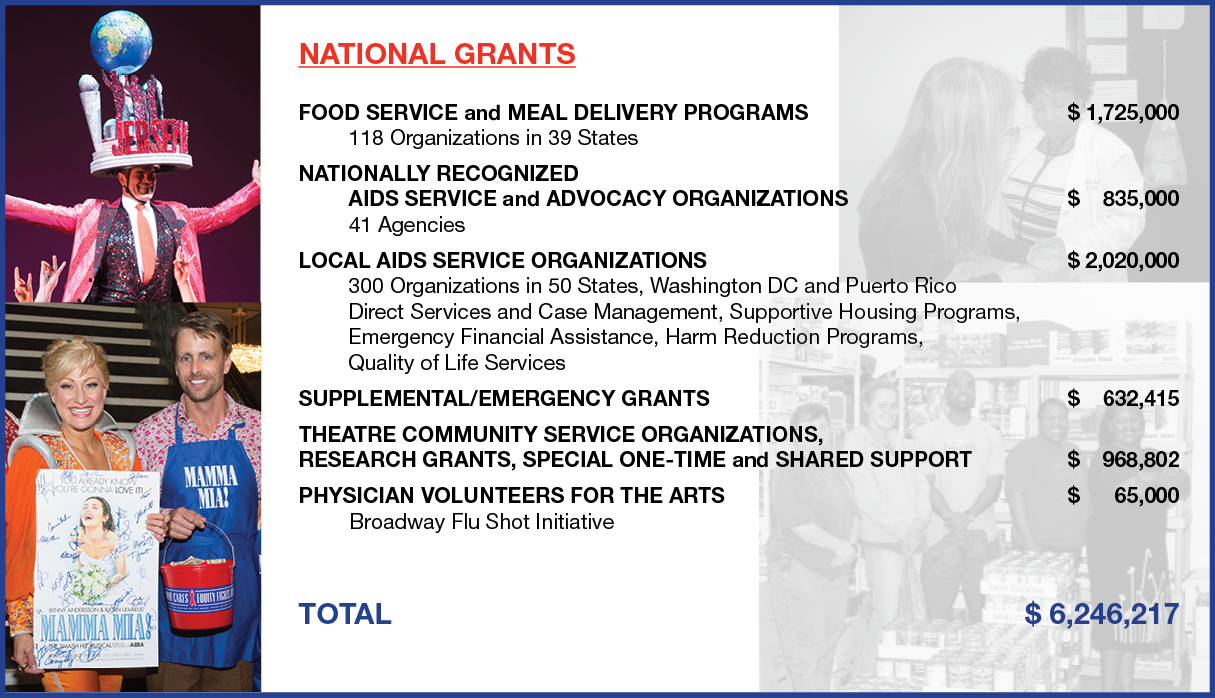 2014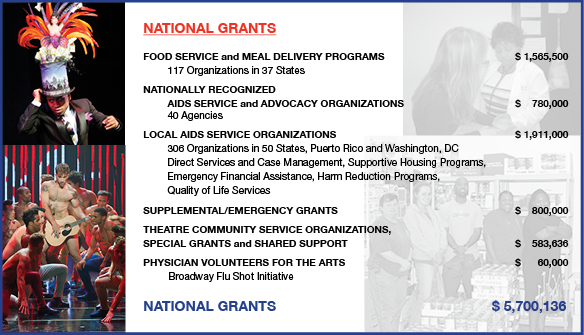 2013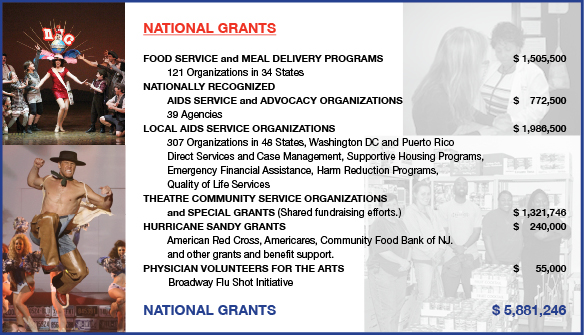 2012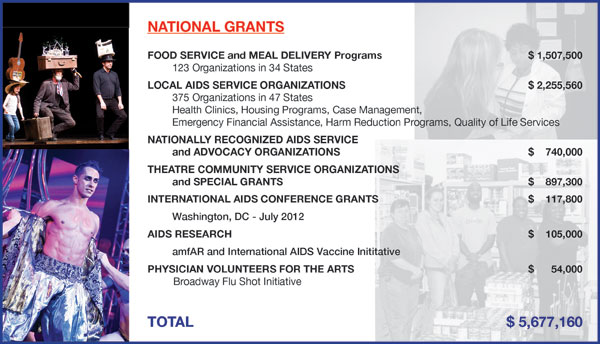 2011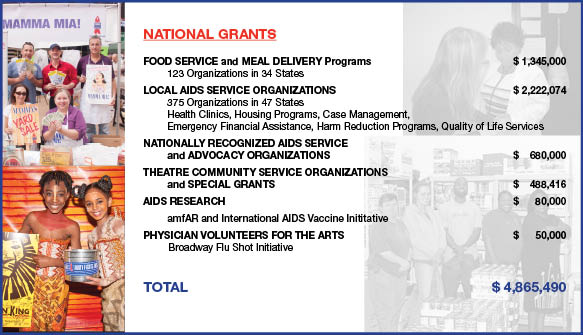 2010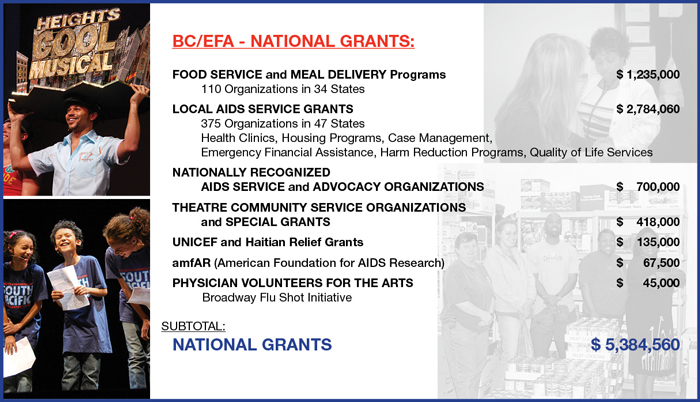 2009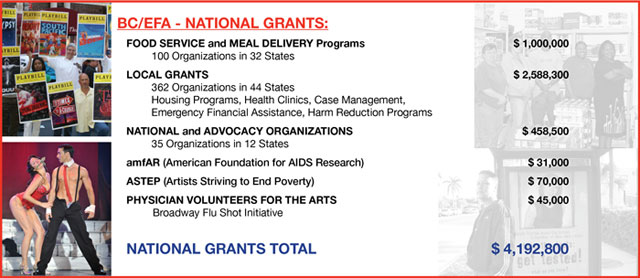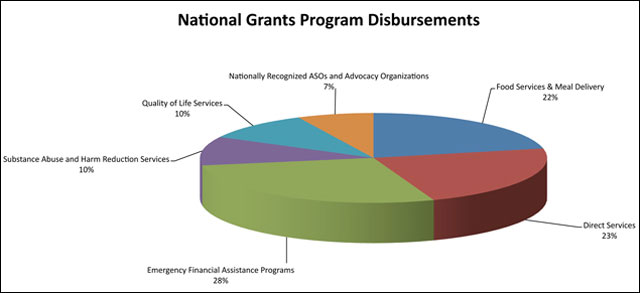 2008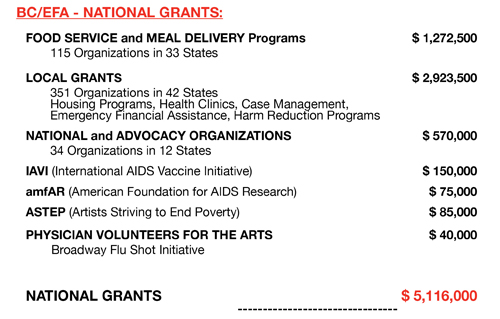 2007
Broadway Cares/Equity Fights AIDS NATIONAL GRANTS:

Food Service and Meal Delivery Programs
115 Organizations in 33 States

$1,149.000

Local Grants
351 Organizations in 42 States:
Housing Programs, Health Clinics, Case Management, Harm Reduction Programs

$2,568,000

National and Advocacy Organizations
34 Organizations in 12 States

$600,000

IAVI (International AIDS Vaccine Initiative)

$150,000

Total National Grants $4,502,000
Learn More about National Grants
✛ 2024 Grant Rounds
✛ History