Food Programs Nationwide Receive $1.9 Million in Grants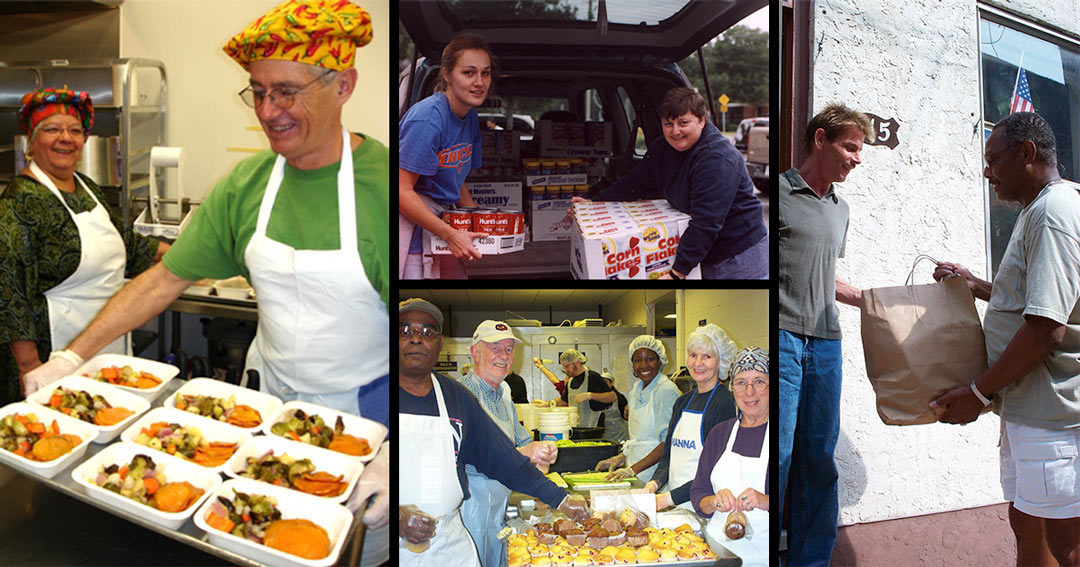 They are teenagers in Florida searching for a healthy meal and low-income families in southern California needing basic groceries. They are the stigmatized in Alabama simply wanting access to social services and refugees who've settled in Maine seeking a new start.
From coast to coast, they are men and women facing uncertain futures. They're turning to social service agencies for help managing their HIV diagnosis or other critical illness, feeding their families and taking the challenge-laden path from being marginalized to being empowered to care for themselves.
Every January, thanks to the generosity of donors and supporters, Broadway Cares/Equity Fights AIDS helps them move down that path with grants to food pantries, congregate meal services and meal delivery programs. This year, a record $1,926,500 was awarded to 117 organizations in 37 states, Washington, D.C., and Puerto Rico.
An essential part of Broadway Cares' mission is to help provide nutritious meals to the most vulnerable among us, including their families. For those receiving the benefits of these grants, a healthy meal can be the difference between life and death. Nutritious, balanced meals are crucial to the effectiveness of any medical treatment plan and getting on a road to recovery.
In southern California, the nutrition services program at AIDS Services Foundation Orange County provides groceries, vitamins and nutritional supplements for low-income individuals with HIV. For 83 percent of those served, half of the food they receive every month comes from the program. In addition to providing meals, the program includes ongoing education and referrals to other nutrition resources.
The program is more important than ever. The percentage of people in Orange County diagnosed and living with HIV/AIDS rose 66 percent over the past decade. To reach these at-risk individuals, AIDS Services Foundation Orange County assists individuals living with HIV/AIDS who are at or below 150 percent of the federal poverty line of $11,880 earned per year. Their low-income or fixed-income status in this affluent locale make it virtually impossible to afford housing and other basic needs, including the nutritious food they need to optimize their health.
Sharon, a longtime client of the organization, would not be where she is today without the help of AIDS Services Foundation.
"I have been a client since 1999 and they were like my family when I was left alone to deal with so many health issues," Sharon said. "They were my family during this painful journey in my life. After being alone for so long and without help, getting sicker and sicker every year, it was so wonderful to have this amazing resource."
Broadway Cares' $10,000 grant this year to AIDS Service Foundation Orange County helps fund a vital lifeline for these at-risk individuals.
On the opposite side of the country, the charming seaside city of Portland, Maine, is known to many as a summer getaway and the cultural epicenter of the region. It's also home to growing refugee resettlement community seeking a safe haven.
These individuals often struggle with receiving proper health care, a situation further exacerbated when the person is living with HIV/AIDS. Because Maine state policies deem refugees and asylum seekers ineligible for nutrition programs, those living with HIV/AIDS are not receiving adequate nutritional support.
The Frannie Peabody Center, which provides services to more than half of Maine's HIV-positive residents, serves more than 100 immigrants, refugees and asylum seekers with HIV/AIDS from Burundi, Somalia, Congo, Vietnam and Cameroon, among others. Recognizing the unique needs of these refugees, the organization offers a food program which enables clients to purchase the food of their choosing at the grocery store. The annual $10,000 grant from Broadway Cares/Equity Fights AIDS covers two-thirds of the organization's overall food program budget
"The emotional impact of living a life with the expectation of an early death takes a significant toll," Executive Director Megan Hannon said. "The stigma of HIV is very real, even after years of progress. Stories of the survival and resilience of older adults living with HIV are all around us, but seldom told, at least outside of family and close friends. We're working to reduce that stigma."
For many areas and groups at high risk, the annual grants from Broadway Cares are what keep the doors open for crucial organizations. In northern Florida's Duval County, there was a 58 percent increase in new HIV cases in 2016 over 2015. The rate of AIDS diagnoses among Floridian youth ages 13-19 was almost double the national rate. In reaction to these startling numbers, JASMYN Inc. in Jacksonville provides full-service case management to support the growing number of young people living with HIV/AIDS. Among the services provided, JASMYN offers nutritious meals through the organization's food pantry.
For young people like Dante, a client of the organization, acceptance and access to resources is invaluable. "What I like most about JASMYN is just the fact we can come to a safe space," he said. "It's a place where we can be who we truly are and be around friends just as we are and hang with staff that love us."
For organizations like JASMYN, every dollar truly does make a difference. Support from Broadway Cares in 2016 more than doubled JASMYN's ability to serve the community. Food pantry visits increased from 350 in 2015 to 778 last year. Broadway Cares awarded a $10,000 grant to JASMYN in January to continue growing its program.
Some 360 miles away in Montgomery, AL, HIV-positive residents face intense discrimination in addition to extreme poverty and disease prevalence. Montgomery faces one of the most dire situations in Alabama, with 1.5 in every 200 residents living with the disease, the highest rate in the state.
Medical AIDS Outreach in Montgomery strives to provide a safe haven to those with HIV/AIDS in this stigma-stricken environment. Offering a wealth of programs, including medical care, social services and mental health counseling, the food pantry program is one of the organization's most successful and beneficial initiatives. To spread its reach beyond Montgomery and into more remote areas, Medical AIDS Outreach is opening an office in rural Dothan, AL. With Broadway Cares' $15,000 grant, the organization will be able to expand its food pantry programs into the southern portion of the state.
In Washington, D.C., Food & Friends, a longtime grantee of Broadway Cares founded at the height of the HIV/AIDS epidemic, expanded its mission to also meet the growing needs of people living with cancer. For Connie, it helped saved her life. "I was living on the edge until Food & Friends came along," she said. "I couldn't afford to buy food. Your self-esteem is low. You are living with uncertainty about the future. A good meal is not only a boost to your confidence, but a comfort like nothing else."
Broadway Cares' food grants would not be possible without tireless commitment and achievement from the men and women onstage, backstage and behind the scenes at Broadway, Off-Broadway and national touring productions, in addition to countless Broadway Cares supporters. Broadway Cares' grants committee consists of members of the theatre community who champion the fundraising efforts at their shows. Twenty actors and stage managers came together in the Broadway Cares office to review January's grant applications.
"These food service grants from Broadway Cares/Equity Fights AIDS will reach hundreds of thousands of men, women and children across the country facing serious challenges living with HIV/AIDS and other debilitating illness," Executive Director Tom Viola said. "They struggle with diminished community resources, personal crises and economic uncertainty. And they are assisted by agencies, large and small, in city, suburban and rural areas that face the anticipation of devastating reductions in federal support for social services in these uncertain political times. The extraordinary generosity of spirit, leadership and kindness that all of our supporters – those working in the theatres and attending in the audiences – are making a difference every day."
Two additional grant rounds will occur this spring provided support to nationally recognized service and public policy programs, emergency assistance programs, direct services, substance abuse and harm reduction services, and quality of life programs.
Since 1988, more than $98 million has been awarded by Broadway Cares/Equity Fights AIDS through the National Grants Program.
Back to Top