Haunted Host of Villains Materialize for I Put a Spell on You: The Sanderson Variant


The bewitchingly cinematic extravaganza I Put a Spell on You, the annual over-the-top homage to the cult classic film Hocus Pocus, raised $175,543 for Broadway Cares/Equity Fights AIDS over the 2021 Halloween weekend.
Shifting from an in-person event to an online stream in 2020 because of the pandemic, this year's I Put a Spell on You: The Sanderson Variant built on that original virtual show by adding new numbers and special guests to an already spooktacular evening. It premiered on October 28, 2021, and was available through November 1.
The annual sold-out Halloween concert-meets-party was created in 2016 by Broadway's Jay Armstrong Johnson, who also stars as Winifred Sanderson. Each year, he's been joined by Allison Robinson and Amanda Williams Ware as sisters Sarah and Mary Sanderson.


The Sanderson Variant opened with Gavin Creel onstage at New York's Feinstein's/54 Below, a nod to I Put a Spell on You's live performance roots. However, the stream of Creel and his Skeleton Band was interrupted by the beloved sisters in an attempt to put a spell on their audience.
However, when it's revealed that the nightclub's tables were filled solely of silent skeletons, the Sandersons flew to "the furthest reaches of the interweb" to spread the Sanderson variant among the world's children.
Returning to guide the sisters along their journey were a nefarious cast of characters. Playing a haunted host of pop culture villains were Nick Rashad Burroughs as Gaston from Beauty and the Beast; J. Harrison Ghee as The Master from Hocus Pocus; Todrick Hall as the title character in Maleficent; Robyn Hurder as a modern-day Lady Tremaine from Cinderella with Alanna Saunders and Claire Saunders as Cinderella's stepsisters, Anastasia and Drizella; Ilda Mason and Skizzo Arnedillo Arteaga as Yzma and Kronk from The Emperor's New Groove; Eva Noblezada as Cruella de Vil from 101 Dalmations; and Will Swenson as The Joker from the DC Comics universe. Making appearances in new numbers were recording artist Mila Jam as Hexxus and Broadway's Jonathan Burke as Billy Butcherson.
Rounding out the stellar cast were Jasha Benedicto, Jimmy Brewer, Brittany Bohn, Cemiyon, Hayden Clifton, Jai'Quin Coleman, Cara Diaz, Brian Duke, Tyler Eisenreich, Taurean Everett, Zachary Flores, Zuri Noelle Ford, Lili Froehlich, Taylor Isaac Gray, Allison Griffith, Gabriel Hyman, Brittany Jenkins, Karma Jenkins, Erin Kei, Sarah Kleist, Kourtni Lind-Watson, Danny Marin, Emilio Ramos, Jennifer Reed, Austin Reynolds, Ana Riley-Portal, Kellie Rodriguez, Sydnie Roy, Alanna Saunders, Claire Saunders, Cassy Surianello, Michael Sylvester and Kris Ward.


"This autumn is a time of rebirth and grave uncertainty for members of the entertainment community," Johnson said during the stream. "Some are carefully headed back to their theaters after over 18 months of grueling financial, physical and emotional struggle, but there are still many who are waiting to get called to return to work. The stakes have never been higher." Tickets and donations made toward I Put a Spell on You helped those across the country affected by HIV/AIDS, COVID-19 and other critical illnesses receive healthy meals, lifesaving medication, emergency financial assistance, housing, counseling and more.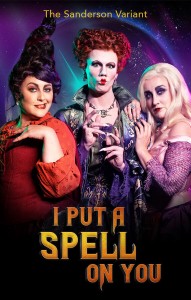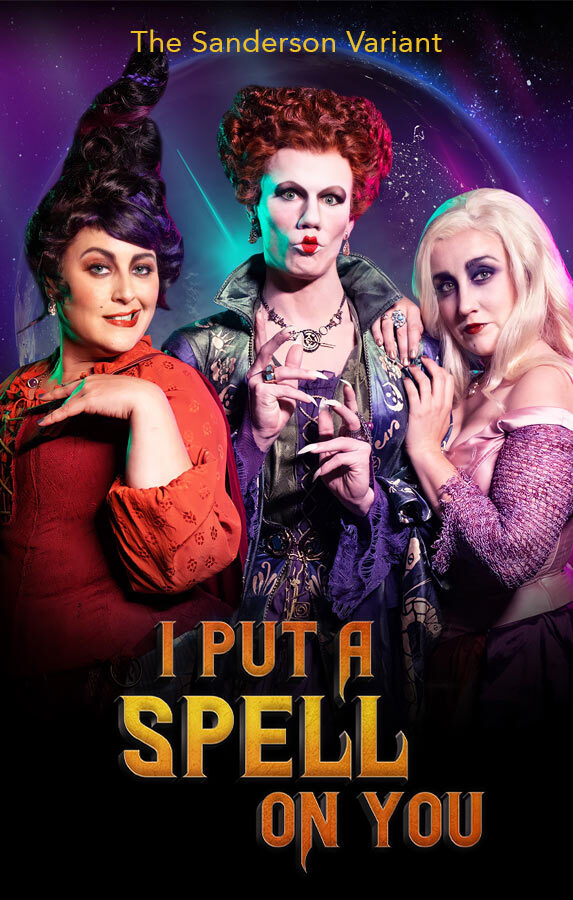 I Put a Spell on You: The Sanderson Variant was presented by Jay Armstrong Johnson and produced by Katie Rosin in association with Jamie Kiliany, Con Limón Productions and DW. The digital film was written by Johnson and Nate Raven, directed by Johnson, Eamon Foley, Ahmad Simmons and Catriona Rubenis-Stevens with choreography by Simmons, Johnson, Foley and Kellen Stancil. The music director was Emily Marshall with music supervision and production by Will Van Dyke.
The creative team also included costume design and art direction by DW with additional costumes by Brian Hemesath, wigs and hair by Bobbie Cliffton Zlotnik and Daniel Koye, lighting design by Rocky Noel, makeup led by Alcone Company's Kyle Krueger with Ruthie Weems and Christina Vida, line producing by Rosin, production coordination by Emily Ballou, set decoration by Michael Lee Scott and Ty Hunter Taylor and props by Alec Addalia. Roberto Araujo, Ling Mai, Juan Roque, Nelson Smith and David Spadora served as directors of photography. Dancer casting by Jason Styres. Associate produced by Allison Robinson, Jamie Kiliany and Simmons. Catering provided by Chef Rick Bieber, Grady Keefe, La Palapa, Promobile Kitchen and Melissa Tung.
Back to Top