Broadway and pop star Heather Headley, best known to New York audiences for her performance as Nala in THE LION KING and her Tony-winning work in AIDA and a long-time friend of Broadway Cares, returned to the New Amsterdam Theatre May 24 for a one-night-only concert event entitled "Home".
Before a full house of eager and cheering family, friends and fans, the curtain came up on Heather in silhouette in front of musical director Rob Mathes and an 18 piece orchestra. Slowly launching into the evening's signature song, "Home" from THE WIZ musically assuring the audience that in the three years since she played her last performance in AIDA, she had lost none of the shimmering sound that had made her a Broadway favorite. The first act continued with Headley's superb versions of such Broadway favorites as "Nothing" "My Heart Belongs to Daddy" and "His Is the Only Music That Makes Me Dance". Before the "Broadway act" was over, Norm Lewis had joined Heather for "Sarah Brown Eyes" from RAGTIME and Adam Pascal did the same for "Written in the Stars" from AIDA. Heather and Clay Aiken, fellow RCA recording artist and American Idol winner, brought the act to a close with the duet "Can You Feel the Love Tonight" from THE LION KING.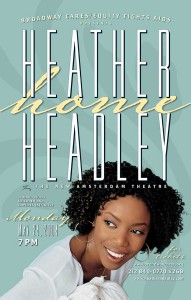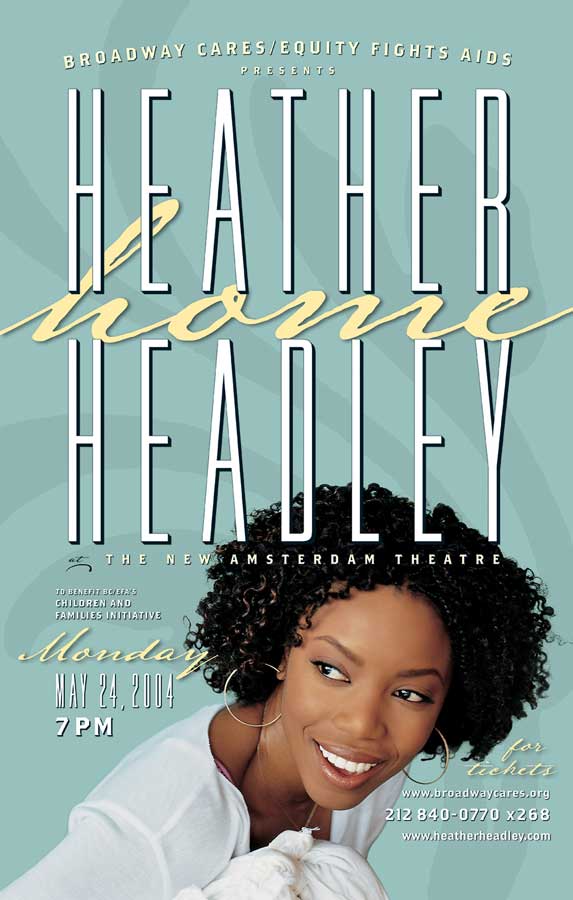 The second act broke out of the Broadway mold and opened with a smoking version of Aretha Franklin's 'Chain of Fools" and featured four numbers from Heather's gold CD "This is Who I Am" for which she was nominated for two Grammy Awards this past year, Best New Artist and Best Female R&B Vocal Performance. These were followed with Motown favorites "As" and "Neither One of Us".
Michael McElroy and The Broadway Inspirational Voices brought the audience to its feet with a solo "Song of Praise" before joining Heather on the rousing gospel numbers, "Someway, Somehow" and "Never Leave Me Alone". After bringing out her guests and thanking Rob Mathes and Broadway Cares, Heather closed the show with a very emotional encore of "If It Wasn't for Your Love" from her CD.
Friends, family and VIP guests joined Heather at the Broadway Lounge on the 8th Floor of The Marriott Hotel overlooking a brought lighted Times Square for the after-party.
Back to Top