Raises a record $5,609,211
Yuja Wang 2014-2015 Michael Palm Series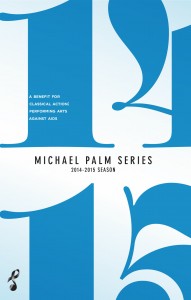 Yuja Wang kicked off the 11th season of the series on December 9 with a thrilling performance of classical prowess. The 27-year-old piano sensation's rendering of Franz Schubert's penultimate "Sonata in A major, D.959" – with a running time of more than 40 minutes – enthralled the audience and left everyone breathless.
Rather than taking her scheduled intermission, Wang continued with six Alexander Scriabin compositions and closed her recital to a standing ovation for Mily Balakirev's fast-as-lightening and technically difficult Islamey. Wang earned a second thunderous standing ovation after her encore of Vladimir Horowitz's equally explosive "Variations on a Theme" from Georges Bizet's Carmen.
The performance was made all the more special by the 9-foot concert grand she played, a prize of the Steinway & Sons basement that has been played by some of the world's greatest pianists for their Carnegie Hall appearances. Wang coaxed every emotion from both the instrument and the audience.
Photo by Steve J. Sherman
Back to Top