24th Annual Gypsy Of The Year Raises $3,902,608
In the words of celebrated lyricist Fred Ebb, "We're a special kind of people known as show people." And for the 24th year, the best and brightest Broadway show people showed just how special they are with a rousing, emotional and heart-pounding edition of Gypsy of the Year.
The annual event is the culminating celebration of six weeks of fundraising by 51 participating Broadway, Off-Broadway and national touring companies, which this year raised $3,902,608 for Broadway Cares/Equity Fights AIDS.
The grand total was announced Tuesday, December 4, after an exciting Gypsy of the Year competition that included songs, original skits and dances performed by more than 200 of New York's best singers, dancers and musicians.
Since 1989, the 24 editions of Gypsy of the Year have raised a total of $52,934,581 to benefit Broadway Cares/Equity Fights AIDS.
Two-time Tony Award winner Chita Rivera joined Katie Holmes and Ricky Martin in announcing the grand total to a standing-room-only audience at the New Amsterdam Theatre, home to Disney's Mary Poppins. The three presented awards to the top fundraising companies and to the best performances in this year's show.
This year's Gypsy of the Year was again hosted by noted Broadway personality Seth Rudetsky ("Seth's Big Fat Broadway" on Sirius/XM Satellite Radio), who presented his trademark over-the-top "deconstructions" of unforgettable musical moments. Rudetsky shared one of his own over-the-top moments: a recording of a 12-year-old Seth performing a unique version of "Tomorrow" from Annie. He was joined by surprise guests Andrea McArdle, the original Annie, and Lilla Crawford, who stars as Annie in the current hit Broadway revival.
The show's opening number celebrated the history of Broadway dance, spotlighting iconic choreography from West Side Story, Fosse, 42nd Street, The Will Rogers Follies, Crazy for You, Legally Blonde and A Chorus Line. It was directed and choreographed by Rommy Sandhu with music arrangements by Ben Cohn and lyrics by Stacia Fernandez.
Gypsy of the Year always offers a healthy dose of breathtaking dance and amusing skits.
The singing – also known as the "non-dancing" – ensemble members of Disney's hit Newsies comically lamented their plight, wishing they could "dance like the Newsies," the high-kicking, gymnastic, attention-getting young newsboys of the show's title. The "Island of Misfit Shows" came to life through the cast of Mary Poppins, who poked fun with misfits like "Grannie" (America's favorite little orphan all grown up) and "The Book of Merman," starring the bold belter herself.
The cast of Chicago saluted the groundbreaking work of that show's legendary choreographer, Bob Fosse, with two numbers recreated from the 1999 Broadway show Fosse. Grammy Award nominee Billy Ray Cyrus, who currently plays Billy Flynn in the Broadway production, started the tribute with an a capella version of "Bye Bye Blackbird" before turning the stage over to his castmates, who delivered a high-energy recreation of Fosse's legendary choreography of "Sing, Sing, Sing."
With younger cast members from Mamma Mia! texting feverishly around him, Brian Scott Johnson and special guest Len Cariou remembered – to the tune of "Yesterday" – the "old days" when people talked to each other backstage rather than today's constant obsession with tweeting and texting.
The company of The Lion King, choreographed by Ray Mercer, transformed a spoken word introduction written by cast member L. Steven Taylor into a graceful, powerful dance metaphor for being emotionally tossed "like a leaf in a windstorm … but I would rather be tossed than never be moved at all".
The cast of Broadway's Bring It On: The Musical took dance in a different direction as an overly sequined, spike-heel-wearing "Fierce Fairy" saved a down-on-her-luck actor by reminding her "you are never beaten as long as you can fell your beat." That led to a high-flying, acrobatic hip-hop routine. The cast of Rock of Ages condensed their entire hit musical into a remarkably succinct mash-up entitled "Rock of Ages in 3 Minutes" and featured every '80s rock anthem performed in the show.
Members from the cast of Broadway's ill-fated Rebecca, which never opened this season despite several attempts, grieved their almost-run on Broadway in a tune that poked fun at the production's well-publicized missteps. Once production assistants Ryan McCurdy and Eric Love shared in song their unique behind-the-scenes perspectives of a day-in-the-life of the Tony Award-winning musical.
Evita's Rachel Potter invited two of that show's youngest cast members, Ava DeMary and Mavis Simpson-Ernst, to join her for "Live the Dream," which she dedicated "to all the kids who are dreaming big and all those who are still young at heart." And representing Off-Broadway, Christine Pedi of NEWSical The Musical mastered dead-on impersonations of alternative casting for Les Miserables, including Bernadette Peters as Young Cosette and Eartha Kitt as Javert.
In a spirited number, choreographed by David Marquez, 21 dancers swinging 42 of the well-recognized red BC/EFA collection buckets saluted the 17 national touring shows that – together – raised $1.9 million of the event's grand total.
Tony winners Katie Finneran and Steve Kazee shared BC/EFA's commitment to helping victims of Hurricane Sandy. Broadway Cares has donated $200,000 to The Actors Fund to help them continue providing emergency financial assistance for temporary shelter, food, clothing and transportation for members of our theatrical family. Broadway Cares also donated $50,000 each to three relief agencies providing immediate assistance for those in New York, New Jersey and Connecticut affected by the storm's devastation. Read more about the Hurricane Sandy relief donations.
Tony Award winner Judith Light returned to again lead a poignant moment of silence. And introducing shows that helped fundraise but did not perform at Gypsy of the Year were Wayne Alan Wilcox, Billy Magnussen and Genevieve Angelson.
The 24th Annual Gypsy of the Year Competition closed with a tribute to renowned lyricist Fred Ebb, led by Tony Award winners David Hyde Pierce and Debra Monk. Ebb is best known for his legendary collaborations with composer John Kander. Together, Kander and Ebb created some of the most delightful, smart and hilarious songs in more than a dozen groundbreaking and acclaimed musicals of the last 50 years, including Zorba, Cabaret,Chicago, Kiss of the Spider Woman and The Scottsboro Boys, winning three Tony Awards. Ebb died in 2004. As a stipulation in his will, Ebb created the Fred Ebb Award of $50,000 to be given annually to an aspiring musical theatre songwriter and generously left Broadway Cares/Equity Fights AIDS the remaining portion of royalties earned on his collective works – a donation totaling an astonishing $6.95 million since 2005. In 2012, the Fred Ebb Foundation's gift to BC/EFA was $1.3 million, the largest single donation in Broadway Cares history.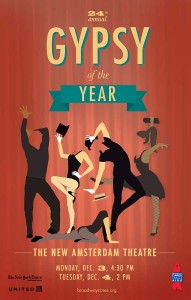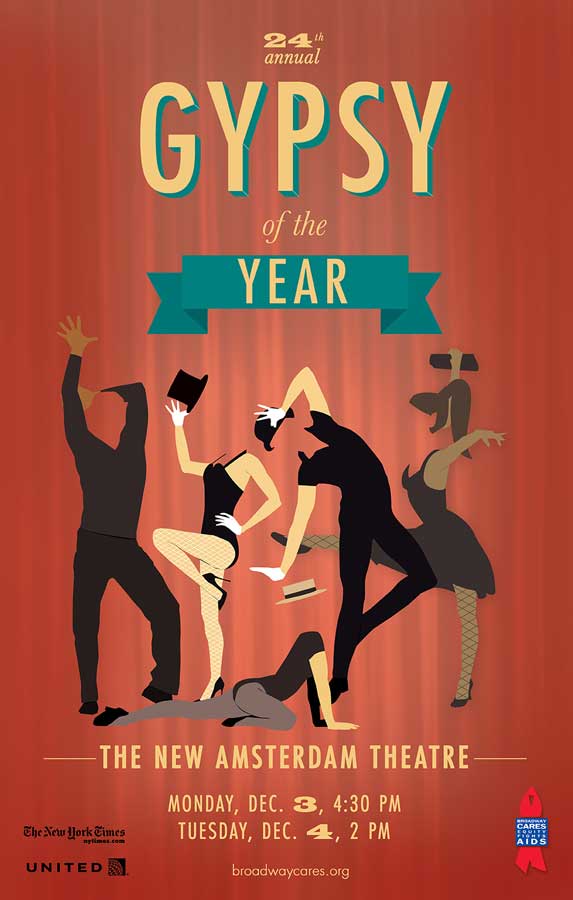 This year's Gypsy of the Year tribute to Ebb featured Hyde Pierce and Monk leading a reunion of the cast ofCurtains and alumni from Chicago in a stirring finale tribute of "Show People," staged and choreographed by JoAnn M. Hunter, based on the original Broadway choreography by Rob Ashford.
Judges included John Bolton, Judith Ivey, composer John Kander, Judy Kaye, producer Hal Luftig, Laura Osnes, Adam Pascal and Michael Shannon. Also joining the panel were Hollis Stern and Peg Wendlandt, who both won spots by being high bidders on exclusive VIP packages at the 26th Annual Broadway Flea Market & Grand Auction in September. The judges were introduced by Peter and the Starcatcher stars Adam Chanler-Berat and Celia Keenan-Bolger. Kander's introduction triggered a spontaneous standing ovation from the admiring crowd.

This year's show was directed by Kristin Newhouse with Jason Trubitt serving as production stage manager, leading a team of 11 expert stage managers.
Gypsy of the Year is sponsored by United Airlines and The New York Times.
Photos by Kevin Thomas Garcia, Michael Portantiere, Danny Roberts, Monica Simoes and Stephen Sorokoff
This year's program
Back to Top