25th Annual Gypsy Of The Year Raises $4,343,234
From humorous solo skits to thrilling original dances, the 25th anniversary of Gypsy of the Year celebrated past and present gypsies with verve, vigor and heartfelt appreciation for those who give it their all eight shows a week.
More than 250 gypsies, the most talented singers and dancers in the ensembles of Broadway and Off-Broadway shows, performed dances, songs and skits at Gypsy of the Year, the culminating celebration of six weeks of extraordinary fundraising.
This year, 56 participating Broadway, Off-Broadway and national touring companies raised an amazing $4,343,234 for Broadway Cares/Equity Fights AIDS.
The grand total was announced Tuesday, December 10, 2013, by surprise guest Daniel Craig, who joined Cherry Jones, Ian McKellen and Patrick Stewart to share the welcome news.
Since 1989, the 25 editions of Gypsy of the Year have raised a total of $57,277,815 to benefit Broadway Cares/Equity Fights AIDS.
A standing-room-only audience at the Minskoff Theatre, home to Disney's The Lion King, erupted with thunderous applause as the actors also presented awards to the top fundraising companies and for the best performances in this year's show.
This year's top fundraiser was Kinky Boots, which raised $377,301. The company of The Lion King took honors for the best onstage presentation for a captivating dance of couples who skillfully integrated ropes to spin, twirl and jump to original music by cast member Bongi Dumas and directed by Ray Mercer.
The cast of Newsies was runner-up as 16 exuberant young men from the show took to the air with explosive leaps in a contemporary dance piece choreographed by five members of the cast – Julian DeGuzman, David Guzman, Jacob Guzman, Evan Kasprzak and Jess LeProtto.
The 2013 edition of Gypsy of the Year, which was presented in two shows December 9 and 10, was an opportunity for the entire theatre community to gather for the competitive variety show and celebrate their fundraising efforts.
In 1989, the first Gypsy of the Year was hosted by Tyne Daly and Jonathan Hadary, who welcomed the show onto their stage at the St. James Theatre just days after they opened the hit revival of Arthur Laurents, Jule Styne and Stephen Sondheim's classic Gypsy. This year, Daly and Hadary returned as special guests hosts.
Daly and Hadary were welcomed by noted Broadway personality Seth Rudetsky, who hosted his sixth consecutive Gypsy of the Year.
The show's energetic opening number featured Klea Blackhurst as Ethel Merman comparing gypsies of her day with 18 high-kicking, modern-day gypsies resembling Newsies, or as Merman called them "newsboys." The number was directed and choreographed by Devanand Janki and Robert Tatad with lyrics and script by Rudetsky and arrangements and music direction by Ben Cohn. Watch the opening number.
The 25th Annual Gypsy of the Year celebrated three memorable numbers from past incarnations of the ceremony. An intimate and physically demanding dance originally presented in 1995 by Pascale Faye and Arte Phillips of Victor/Victoriawas beautifully recreated by Kristine Bendul and Waldemar Quinones-Villanueva. From that same year, Kristi Lynes and William Ryall from How to Succeed in Business Without Really Trying "borrowed" the Victor/Victoria number's choreography for their own comical, uncoordinated twist. Ryall returned this year to recreate the number to perfection with Broadway favorite Jen Cody. And from the Beauty and the Beast cast, John Salvatore performed an encore of his 2002 amusing solo, a conversation between two dancers that was cleverly written to integrate dance moves into the script.
This year's Gypsy of the Year also featured a variety of other appearances that left the sold-out crowd cheering.
Broadway's newest sensation, After Midnight, blended jazz, dance and spoken word to honor Cotton Club performers off the past "too brown for Broadway but too great to be forgotten cool." The number featured Bahiyah Hibah, T. Oliver Reid, Desmond Richardson and Daniel J. Watts.
The gypsies of Chicago and Spider-Man: Turn Off the Dark performed captivating original dance numbers, each displaying unique style and showcasing masterful technical ability. Chicago delivered highly synchronized, intricate movement in a dance choreographed by cast member Nathan Madden. Fourteen gypsies from Spider-Man elevated the art of acrobatic dance to "Demons" by Imagine Dragons, sung onstage by cast members Cass Christopher, Jason Gotay, Jessica McRoberts and Adam Roberts.
Two Broadway shows performed humorous abbreviated versions of their productions. The company of Pippin truncated their high-flying revival into a frenzied, three-minute experience, while Eric Love and Ryan McCurdy, production assistants fromOnce, returned for a third BC/EFA show to suggest how their show might condense its first act.
Stephen Fry, from the recently extended run of two Shakespeare plays in repertoire, Twelfth Night and Richard III, performed a witty retelling of the story of Dracula.
The Tony Award-winning hit Avenue Q, now in its 10th year, paid homage in their own comedic and touching way to 1990'sGrand Hotel and its Tony-winning choreography and featured actor, the late Michael Jeter.
Gypsy of the Year also featured a performance by Eric Ankrim of First Date with a humorous rap about their show's impending closing notice and his life as star Zachary Levi's stand-by. In a skit from the company of Kinky Boots, Eric Leviton and Ellyn Marie Marsh shared their hidden desires to play their show's pivotal role of Lola, only to be outshined by their young castmate Douglas Baldeo.
Mamma Mia! cast members Zak Resnick and Blake Whyte led members of their company in a live version of their track from this year's Carols for a Cure CD: "Soul Cake," an English folk song made famous by Sting. Gypsy of the Year host Rudetsky was joined by Jack Plotnick, his co-writer for the Off-Broadway hit Disaster!, in an unbelievably true telling of disastrous moments from each of their childhoods.
In a number directed and choreographed by Shea Sullivan honoring all the national tours that collect for Broadway Cares, 12 talented dancers were joined by Marty Thomas and his "Divas," – Alexa Green, Kat Hennessey and Marisa Rosen – showing the emotional turmoil of putting "Real Life on Pause".
The show included "Only the Beginning," a piece representing Dancers Responding to AIDS, a program of Broadway Cares/Equity Fights AIDS, that was choreographed by Jeremy McQueen and first performed at the summer's Fire Island Dance Festival.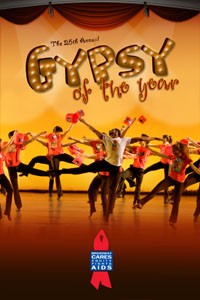 Other celebrity presenters included Jones' co-stars in The Glass Menagerie, Celia Keenan-Bolger, Zachary Quinto and Brian J. Smith. Introducing shows that helped fundraise but did not perform were Stephen DeRosa, Rick Holmes and Lindsay Mendez.
Daly and Hadary, reminding the audience of the countless lives lost and impacted by HIV/AIDS, led a poignant moment of silence.
This year's presentation judges were Graciela Daniele, Mary Bridget Davies, Brandon Victor Dixon, Zachary Levi, Rebecca Luker, Hugh Panaro, Roger Rees and Krysta Rodriguez. Also joining the panel were Eric Forst and Peg Wendlandt, who won their judging spots by being high bidders on exclusive VIP packages at the 27th Annual Broadway Flea Market & Grand Auction in September. The judges were introduced by Fry and two of his current co-stars, Mark Rylance and Samuel Barnett.
Here's how this year's fundraising competition ended:
Broadway (Musical)
Top Fundraiser
Kinky Boots
$377,301
1st Runner-Up
Wicked
$273,940
2nd Runner-Up
The Book of Mormon
$209,943
3rd Runner-Up (tie)
Newsies
$125,469
The Phantom of the Opera
$125,373
Broadway (Play)
Top Fundraiser
The Glass Menagerie
$161,218
1st Runner-Up
Twelfth Night/Richard III
$116,653
Off-Broadway (Play or Musical)
Top Fundraiser
Avenue Q
$ 27,066
1st Runner-Up
Peter and the Starcatcher
$ 23,360
National Tours
Top Fundraiser
Wicked – Munchkinland
$333,086
1st Runner-Up
The Book of Mormon – Latter Day
$314,133
2nd Runner-Up
The Book of Mormon – Jumamosi
$296,279
3rd Runner-Up
Wicked – Emerald City
$182,926
This year's show was directed by Kristin Newhouse with Valerie Lau-Kee Lai serving as production stage manager leading a team of 10 expert stage managers.
Gypsy of the Year is sponsored by The New York Times and United Airlines.
Photos by Kevin Thomas Garcia, Daniel T. Gramkee and Monica Simoes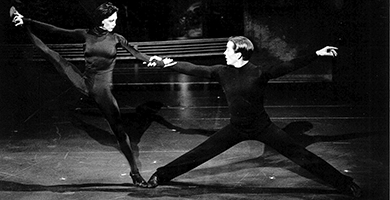 From 1995's Gypsy of the Year, Pascale Faye and Arte Phillips (left), Kristi Lynes and William Ryall
In memory of Arte Philips
This year's program
Back to Top