26th Annual Gypsy Of The Year
From a 40th anniversary celebration of the groundbreaking show The Wiz to poignant social commentary on today's headlines expressed through dance, the 26th annual edition of Gypsy of the Year showcased the immense talent displayed eight times a week by the gypsies of Broadway, Off-Broadway and national touring productions. More than 200 gypsies came together December 8 and 9, 2014, for Gypsy of the Year, the culmination of six weeks of fundraising for Broadway Cares/Equity Fights AIDS.This year, 64 participating Broadway, Off-Broadway and national touring companies raised a record-breaking $5,229,611. The grand total was announced Tuesday, December 9, 2014, by special guests Hugh Jackman, Nathan Lane and Judith Light after two stellar performances of original dances, songs and skits.Since 1989, the 26 editions of Gypsy of the Year have raised $62.4 million to benefit Broadway Cares/Equity Fights AIDS.
A standing-room-only audience at the New Amsterdam Theatre, home to Disney's Aladdin, erupted with cheers and applause as Jackman, Lane and Light also presented awards to the top fundraising companies and for the best performances in this year's show.
This year's top overall fundraiser was The River, which stars Jackman and raised $549,725. For the first time in history, the top two fundraising plays – The River and It's Only a Play – raised more than $1 million.
The company of The Lion King took honors for the best onstage presentation for an emotional, socially charged dance, created by Ray Mercer. The number started with the word "Justice" written on a chalkboard wall. In a flurry of arm movements and flying chalk dust, artist Clarione Gutierrez transformed the wall into a dove of peace as dancers personified the struggles of racism and fairness which continue to capture today's headlines.
The cast of Pippin, who will play their final Broadway performance in January, earned runner-up honors. Nicolas Jelmoni and Charlotte O'Sullivan mesmerized the audience with incredible feats of strength and hand acrobatics as Syndee Winters sang Selah Sue's "This World".

Gypsy of the Year, which was presented this year on December 8 and 9, is an opportunity for the theatre community to celebrate their fundraising efforts and gather for the competitive variety show.
The show's spirited opening number celebrated the 40th anniversary of The Wiz, one of the first large-scale, big-budget Broadway musicals to feature an all-black cast and winner of seven Tony Awards in 1975.
Triumphantly returning to the yellow brick road, Dee Dee Bridgewater, André De Shields and Ken Page were met with rapturous applause from the energized audience. They were joined for the special performance by Charl Brown, Carly Hughes , Christina Sajous, Ashley Stroud, Alton Fitzgerald White and Lillias White. The opening number was directed by T. Oliver Reid and choreographed by Brian Harlan Brooks with music direction by Ben Cohn.
In a fitting tribute to the groundbreaking show, White and her cast mates returned to close Gypsy of the Year with a powerhouse rendition of "Home," the finale from The Wiz.
Noted Broadway and SiriusXM personality Seth Rudetsky served as host for his seventh consecutive Gypsy of the Year. Rudetsky welcomed a special appearance by James Monroe Iglehart, who performed an impressive freestyle rap based on a random topic yelled out by audience members.
In addition to Pippin, four other shows playing their final Broadway performances in January joined the festivities for one last time.
With a starry night sky as their backdrop, the company of Once performed a hauntingly beautiful acoustic version of the show's Act One finale, "Gold."
After getting word that Justin Bieber might join Rock of Ages for its final week, the show's Frankie J. Grande broke loose with "I Beliebe," a parody of "I Believe" from The Book of Mormon dedicated to the teen heartthrob.
With the help of 16 nimble-legged dancers, Nathan Lucrezio from Rodgers + Hammerstein's Cinderella fulfilled two of his boyhood dreams in number called "The Rifferdancer," combining Michael Flatley-inspired Irish step dancing with Mariah Carey-inspired vocal riffing.
The cast of Motown: The Musical used their final Gypsy of the Year appearance as an opportunity to amusingly beg for work after their show closes, concluding with the plaintive plea, "Hire me please." Giving a 21st century spin on the Broadway production of Love Letters, young Luca Padovan, Brooklyn Shuck, Sadie Sink, Eli Tokash and Alexa Nizkiak brought a play about a love affair shared over decades with pen on paper into the digital age with LUV TXTS before wrapping it all up in a bit of Charlie Brown's Christmas.
This year's Gypsy of the Year also featured the cast of Mamma Mia! being forced to re-audition for their roles in a take off of the opening scene of A Chorus Line and a parody of the heart-wrenching ASPCA public service announcements presented with a Avenue Qspin seeking help for puppets who are "suffering alone, waiting for you to help".
The cast of Kinky Boots performed their show as if it were directed by John Doyle, who famously has reinterpreted classic musicals with actors serving as the show's orchestra by playing instruments.
The cast of Aladdin delivered a poignant performance about love and loss, set to Beyoncé's "Halo" with live singers and a three-piece onstage band.
The gypsies of Chicago celebrated the production's place as the second-longest running show in Broadway history and the company of Wicked poked fun at the recent TV airing of Peter Pan Live by suggesting a Lady Gaga-as-Tinkerbell alternative.
Gypsy of the Year also featured special numbers recognizing national touring productions and the volunteers who help fundraise during Gypsy of the Year. In a number choreographed by Adam Fleming, Allyson Carr and Jakob Karr led 14 other dancers in a moving tribute to the 16 national tours that helped fundraising this season. The other special number, choreographed by Shea Sullivan, honored the 210 volunteers of the Broadway Cares "bucket brigade" who held buckets 3,778 shifts at Broadway theaters over the course of six weeks of audience appeals. Five of this year's most active bucket brigade volunteers were welcomed onto the stage: Steve Bratton, Francois Conradie, Esi Sogah, Katherine Sulenski and Marivic Tagala.
Celebrity presenters included Lena Hall and Michael C. Hall, who are currently starring in Hedwig and the Angry Inch, and Kevin Duda, Anika Larsen and Jarrod Spector from Beautiful – The Carole King Musical.
The esteemed panel of judges that selected the best presentation award winners was introduced by Lane and Matthew Broderick, who are starring together in the hit comedy It's Only a Play.
All the excitement and carrying on, the incredible performances and kidding around came together in a simple, resonant "Moment of Silence" delivered by Judith Light. "It's been many years since we came together for the first Gypsy of the Year competition in 1989," Light spoke.  "At that time, the AIDS epidemic had taken from us a staggering number of people in just our community alone. Those of us who remember the early days surely recall the frustration and anger that spread as we faced an epidemic head on and fought to be heard.  It would have been impossible to gather for such an afternoon and not remember what brought us all together. So we observed a moment of silence. It is the only one included in any BC/EFA event.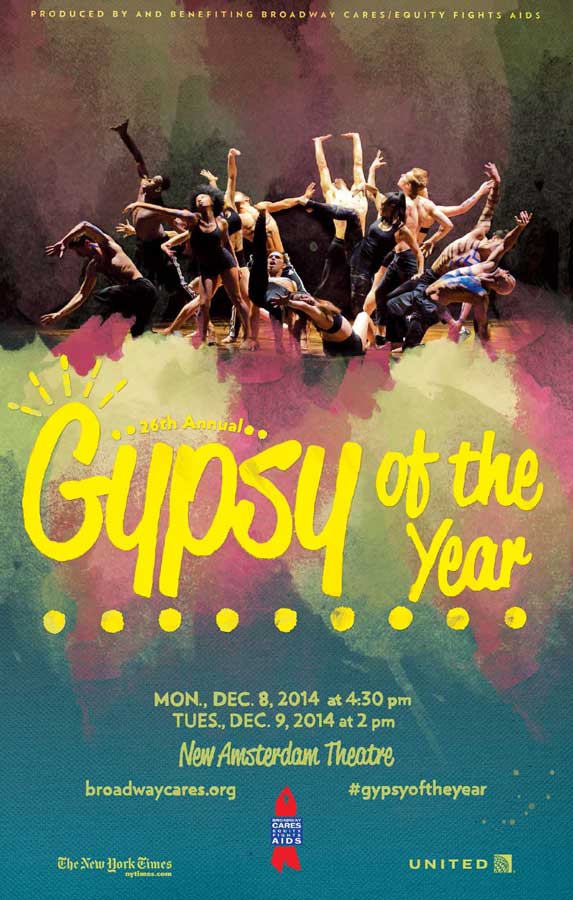 "Today," she continued, "26 years since that first GYPSY OF THE YEAR, we take a moment to reflect on those we love who cannot be here and those whose voices still cannot be heard – not just because of AIDS but for a variety of reasons and a multitude of challenges. Let us now, together, take a moment to recommit to reaching beyond ourselves, to those who need us most – and to each other – to ensure that all are embraced in times of crisis, isolation or injustice."
The judges were Julie Halston, Adam Jacobs and Courtney Reed, NeNe Leakes, Alex Sharp, Micah Stock, Jujamcyn Theaters Executive Vice President and BC/EFA Board of Trustees President Paul Libin and original Broadway Cares/Equity Fights AIDS staffer Yvonne Ghareeb, who is retiring in January after 26 years with the organization. Also joining the panel are Lee Perlman and Peg Wendlandt, who won their judging spots by being high bidders on exclusive VIP packages at the 28th Annual Broadway Flea Market & Grand Auction in September.
Here's how this year's fundraising competition ended:
Broadway (Musical)
Top Fundraiser
Kinky Boots
$233,544
1st Runner-Up
Cabaret
$217,699
2nd Runner-Up
Beautiful – The Carole King Story
$195,773
3rd Runner-Up
The Book of Mormon
$193,181
Broadway (Play)
Top Fundraiser
It's Only a Play
$464,558
1st Runner-Up
The Curious Incident of the Dog in the Night-Time
$115,980
Off-Broadway (Play or Musical)
Top Fundraiser
Avenue Q
$19,237
National Tours
Top Fundraiser
Kinky Boots
$329,734
1st Runner-Up
Wicked – Munchkinland
$257,880
2nd Runner-Up
The Book of Mormon – Latter Day
$242,756
3rd Runner-Up
Wicked – Emerald City
$205,386
This year's show was directed by Kristin Newhouse with Jason Trubitt serving as production stage manager leading a team of nine expert stage managers and Ben Cohn as music supervisor, leading a 15-piece live orchestra Lighting design was by Michael Jones and sound by Marie Renee Foucher.
Gypsy of the Year is sponsored by The New York Times and United Airlines.
Photos by Kevin Thomas Garcia and Monica Simoes
Video by Reel Time Video Production; Video editing by Mo Brady
This year's program
Back to Top