28th Annual Easter Bonnet Competition
The generosity of theatre fans during six weeks of fundraising by 57 Broadway, Off-Broadway and national touring companies helped push the 28th Annual Easter Bonnet Competition to another record high, raising $4,532,129 for Broadway Cares/Equity Fights AIDS.Broadway veterans Idina Menzel and Denzel Washington joined newcomers Bryan Cranston and Fran Drescher on April 21, 2014, to announce the final total following two stunning Easter Bonnet Competition shows filled with song, dance, comedy and 17 elaborate, creative, custom-made bonnets.
The Minskoff Theatre, home to Disney's The Lion King, was packed as a standing-room audience cheered the awards presented to the companies that raised the most for Broadway Cares as well as the winner for outstanding bonnet design and best presentation.
The company of The Lion King won best bonnet presentation for an uproarious take-off of their own frequently winning presentations, this time featuring the booty-short wearing "two white guys" from their show aerobically dancing to Frank Stallone's "Far from Over."
After Midnight took runner-up honors for a sultry, crowd-pleasing number set in a speakeasy with gorgeous flappers, their gentlemen callers and two lounge singers who delivered a steamy, jazz-infused take on Beyonce's "Crazy in Love."
This year's original opening number featured Rory O'Malley making a deal with devil, played with flair by New York Post theatre writer Michael Reidel. Reidel promised O'Malley "Broadway's greatest award" – the coveted Easter Bonnet Competition winner's trophy – but only if he completed an exhaustive Into the Woods-inspired scavenger hunt for unique memorabilia snatched from all of Broadway's shows. The number was directed and choreographed by Al Blackstone with music direction by Ben Cohn and lyrics by Vanessa Brown.
In a number honoring the hard-working companies of national touring shows, television and stage actress Kim Zimmer, who recently finished 15 months on the road with Wicked, helped grumbling tour performers appreciate life on the road in a fun send-up of Avenue Q's "It Sucks to Be Me," directed and choreographed by Adam Fleming and written by Tim Fitz-Gerald.
Comedy took center stage with the youngest stars of Disney's Newsies, Luca Padovan and Zachary Unger, offering a spot-on Broadway version of the legendary Abbott & Costello act "Who's on First?" Watch the video.
Other comedy skits included a slapstick routine between the cast of Murder for Two – Brett Ryback and Jeff Blumenkrantz; a farcical take on the Once audition process performed by production assistants Eric Love and Ryan McCurdy; jokes about the trials and tribulations of Jewish mothers from Seth Rudetsky and Judy Gold, the stars of Off-Broadway's Disaster!; and a monologue by Adinah Alexander of Kinky Boots as an Italian fashion designer dressed in a unitard.
The special award for bonnet design was given to the company of Once for its bonnet, created by Becky Bodurtha.
With an introduction by playwright Terence McNally and a surprise appearance by Tyne Daly, the cast of Mothers and Sons shared a comedic glimpse into the first run-through of a sketch about two gay fathers attempting to raise their son to be gay among Broadway culture.
The cast of Off-Broadway's Avenue Q performed "One More Tour," parodying the classic Act One finale from Les Misérables, complete with a cameo by original cast member Ann Harada. Ensemble members from Mamma Mia!adapted Miley Cyrus' "The Climb" to lament the discovery that their new home in the Broadhurst Theatre includes four long flights of steps to their dressing rooms.
Eight cast members from Rodgers + Hammerstein's Cinderella set a more sentimental tone with a dance in memory of those who are no longer with us. Cast member Joe Carroll sang Air Supply's "I'll Find You," accompanying himself on acoustic guitar with Jeffrey Pew on piano. The piece featured pairs of dancers who delicately tossed what appeared to be a dilapidated fedora until – in true Cinderella fashion – it transformed into a BC/EFA collection bucket.
ASTEP, an affiliate organization of Broadway Cares, shed light on its mission to connect artists with underserved youth in a piece performed by Nathan Madden and Phoebe Pearl. The consistently innovative dance troupe MOMIX presented the visually stunning "Man Fan" on behalf of Dancers Responding to AIDS, a program of Broadway Cares.
Dancers Kile Hotchkiss and Emily Schoen from Keigwin + Company, which was founded by If/Then choreographer Larry Keigwin, performed the highly romantic and sensual "Straight Duet," finding innovative ways to use a mattress as their prop.
The Easter Bonnet Competition also featured special bonnets by BC/EFA's other affiliate organizations: Broadway Green Alliance, Broadway Impact, Broadway Serves and R.Evolución Latina.
Longtime BC/EFA supporter and friend Sutton Foster joined Executive Director Tom Viola for a special tribute to Producing Director Michael Graziano. Foster and Viola recognized the extraordinary work, commitment, passion and creativity Graziano has shared with Broadway Cares and the entire theatre community for the past 20 years. Graziano is leaving BC/EFA at the end of the summer.
Jeremy Stolle from The Phantom of the Opera concluded each performance with David Friedman's "Help is on the Way," BC/EFA's traditional Easter Bonnet finale, in a salute to the show's longtime production stage manager, Craig Jacobs.
Hosts for the show included Andy Karl and Jessie Mueller, Jerry Dixon and Brandon Victor Dixon, Karen Ziemba and Ramin Karimloo, Tshidi Manye and Ron Kunene, Jefferson Mays and Bryce Pinkham, and Christopher Sieber, Cass Morgan and Hunter Foster.
This year's top fundraisers were:
Broadway Musicals
Top Fundraiser
Kinky Boots
$284,170
First Runner-up
Beautiful
$208,697
Second Runner-up
Rodgers + Hammerstein's Cinderella
$206,941
Third Runner-up
The Book of Mormon
$181,065
Broadway Plays
Top Fundraiser
All the Way
$186,424
First Runner-up
Mothers and Sons
$100,102
National Touring Shows
Top Fundraiser
The Book of Mormon – Latter Day Company
$405,009
First Runner-up
Wicked – Munchkinland
$277,109
Second Runner-up
The Book of Mormon – Jumamosi Company
$209,023
Third Runner-up
Wicked – Emerald City
$182,704
Off-Broadway
Top Fundraiser
Avenue Q
$28,577
First Runner-up
Heathers
$24,363
Since the Easter Bonnet Competition began in 1987, the event has raised more
than $58 million for Broadway Cares. Last year's event raised $4,250,542.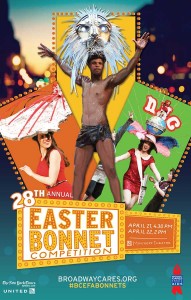 This year's Easter Bonnet Competition judges were introduced by the stars of Of Mice and Men: James Franco, Chris O'Dowd and Leighton Meester. The judges were costume designer Gregg Barnes and actors Christopher Hanke, Carly Rae Jepsen, Michael McKean, Jim Norton, Patrick Page, Annie Potts and Anthony Rapp. Also joining the judging panel were Eric Forst and Peg Wendlandt, who both won their spots by being high bidders on exclusive VIP packages at the 27th Annual Broadway Flea Market & Grand Auction in September.
This year's Easter Bonnet Competition was directed for the eighth time by Kristin Newhouse, with music supervision by Ben Cohen, sound design by Alain Van Achte and lighting design by Martin E. Vreeland. Jason Trubitt served as production stage manager.
The Easter Bonnet Competition is generously sponsored by The New York Times and United Airlines.
Photos by Daniel Roberts, Monica Simoes and Tomas Vrzala
This year's program
Back to Top