36 Shows Energize Red Bucket Fall Fundraising Efforts
Thirty-six Broadway, Off-Broadway and national touring productions enthusiastically raised $5,107,791 during six weeks of the 2022 Red Bucket Fall Fundraising Campaign.
The traditional in-theater appeals ran from October 21 to December 4, 2022. Each donation helps provide meals and medication, health care and hope for those living with HIV/AIDS, dealing with COVID-19 or facing other debilitating illnesses.
Broadway's The Music Man topped all fundraisers, raising an exuberant $2,002,612. Stars Hugh Jackman and Sutton Foster enlivened the show's efforts once again with post-show auctions and nearly equaled the single-show record they set earlier in 2022 during the Spring Fundraising Campaign.
Broadway's longest-running musical, The Phantom of the Opera, made sure its final fall Red Buckets campaign ended on a high-note ahead of its announced April 2023 closing. The show snagged the top musical fundraiser crown thanks to their enthusiastic efforts, which included a post-show offering of that performance's iconic monkey music box prop, signed by current Phantom, Ben Crawford, for a $1,000 donation.
During the six-week campaign, New York's Theater District was bustling with other unique items being offered at shows for donations, from prop roses at Hadestown to Aladdin's custom aprons, from reusable tote bags at Wicked to A Strange Loop sheet music signed by the musical's cast and creator, Michael R. Jackson.
And at The Music Man every night, Jackman – against the backdrop of the full cast in their red, gold and cream-colored band uniforms – directly addressed the audience, explaining the impact they can have for those in need and inviting them to participate in the auction. Cast member Nicholas Ward joined in as auctioneer as Jackman engaged audience members in donating for signed costume pieces and props used in the show. One memorable auction took place November 26 when Academy Award winner Nicole Kidman theatrically revealed herself in the audience as she bid $100,000 for Jackman's boater hat. It was the largest donation for any one auction item in Broadway Cares history.
"The spirit of giving was with so many audience members and shows who again readily and creatively embraced the decades-long tradition of Red Bucket fundraising," Broadway Cares Executive Director Tom Viola said. "We are tremendously thankful to the theater owners, producers, casts, crews, musicians and, most especially, the stage managers who strategized behind-the-scenes and onstage efforts to engage audiences in appeals."
Because of those efforts, Broadway Cares' support of the Entertainment Community Fund will continue to help build a safety net of essential services for those in the industry. And the National Grants Program will continue reaching hundreds of organizations providing meals and medication to those facing hardship and debilitating illnesses.
Here are the leaders from this year's Red Bucket Fall Fundraising Campaign:
All-Time Record-Breaking Champion
Broadway Musicals
| | | |
| --- | --- | --- |
| Top Fundraiser | The Phantom of the Opera | $416,379 |
| 1st Runner-up | Hamilton | $217,652 |
| 2nd Runner-up | A Strange Loop | $200,019 |
| 3rd Runner-up | Six | $192,778 |
Broadway Plays
| | | |
| --- | --- | --- |
| Top Fundraiser | The Piano Lesson | $108,883 |
| 1st Runner-up | Death of a Salesman | $69,579 |
Off-Broadway
| | | |
| --- | --- | --- |
| Top Fundraiser | Little Shop of Horrors | $31,379 |
| 1st Runner-up | The Play That Goes Wrong | $23,216 |
National Tours
| | | |
| --- | --- | --- |
| Top Fundraiser | Six – Aragon company | $160,043 |
| 1st Runner-up | Wicked – Munchkinland company | $116,420 |
| 2nd Runner-up | Hamilton – Philip company | $61,431 |
The Broadway companies participating in the Red Bucket Fall Fundraising Campaign were 1776, Aladdin, Beetlejuice, The Book of Mormon, Chicago, The Collaboration, Death of a Salesman, Funny Girl, Hadestown, Hamilton, Harry Potter and the Cursed Child, Into the Woods, Kimberly Akimbo, Leopoldstadt, The Lion King, MJ, Moulin Rouge! The Musical, The Music Man, The Phantom of the Opera, The Piano Lesson, Six, A Strange Loop, Take Me Out and Wicked.
The Off-Broadway productions of Little Shop of Horrors and The Play That Goes Wrong rallied support through audience appeals.
Ten national tours also joined: Ain't Too Proud: The Life and Times of The Temptations, Come From Away, Dear Evan Hansen, Frozen, Hadestown, Hamilton's Philip company, Moulin Rouge! The Musical, Six's Aragon company, Tina: The Tina Turner Musical and Wicked's Munchkinland company.
The national touring productions raised $432,206, relying almost exclusively on QR codes and online donations after curtain appeals rather than in-person Red Bucket donations. Broadway Cares can not provide volunteers to hold buckets in the tours' 36 cities on the road as done in New York City. To help in the fundraising, some productions also created personalized video greetings in exchange for donations through the Cameo app.
For New York City productions, lobby buckets were held exclusively by Broadway Cares volunteers and staff. Traditionally, cast members also appear at the exits, but current COVID-19 safety measures prevented direct interaction. A Red Bucket brigade of 219, the largest corps in Broadway Cares history, offered opportunities to make donations and thanked audiences leaving performances. The two-day Red Bucket Follies, which features songs, dances and skits by shows that fundraised and champions the fall fundraising efforts, were placed on hiatus until 2023 because of COVID-19 concerns.
In lieu of Red Bucket Follies, Broadway Cares presented the special event A Toast to You, a celebration for members of the Visionary Circle and Angels Circle, donors who generously support Broadway Cares year-round and traditionally attend Red Bucket Follies.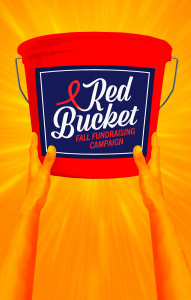 The evening was led by the host of SiriusXM's "On Broadway" channel and longtime friend of Broadway Cares Seth Rudetsky. Rudetsky shared his infamous and hysterical deconstructions, then accompanied a captivating set by Broadway's Jessica Vosk, who's returning next week to Carnegie Hall with her solo show.
Choreographer Jonathan Lee presented his Before the Fall, which premiered in October at Hudson Valley Dance Festival. The piece featured dancers Sarah Botero-Ramirez, Yancy Greene, Yusaku Komori, Giuseppe Little and Juan Zapata.
Special guests Jewelle Blackman from Hadestown and Ann Harada from Into the Woods shared the impact of the donors and volunteers' efforts. Since 1989, the fall fundraising efforts have raised $91.4 million for Broadway Cares/Equity Fights AIDS.
Back to Top