ABC Daytime Salutes BC/EFA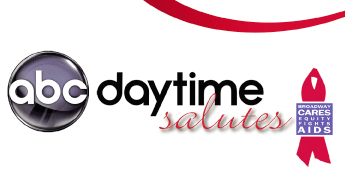 In just its fourth year, ABC Daytime Salutes BC/EFA generated more than $300,000 in sponsorship, ticket sales and auction bids, bringing the event's grand total to over $1 million!
Held on the evening of March 2, 2008 at New York's historic Town Hall, the event featured beloved stars from ABC Daytime's Emmy® Award- winning shows All My Children, One Life to Live, General Hospital and The View who delighted fans with musical numbers and skits, some involving onstage fan participation.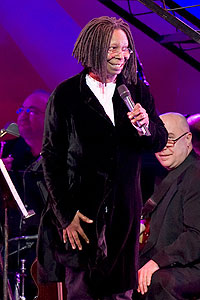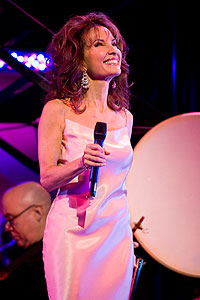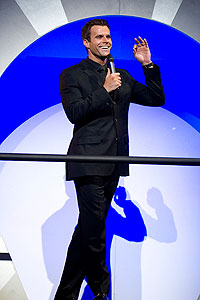 Emmy® award-winner Susan Lucci (All My Children's Erica Kane) and Oscar® winner Whoopi Goldberg (The View) joined third-time emcee Cameron Mathison (All My Children) – 2007 runner-up on ABC's nighttime sensation Dancing with the Stars–  who had the opportunity to show off his well-honed ballroom skills.
"In 2005, the producers and cast of All of Children made the generous decision to celebrate their 35th Anniversary with a special show here at Town Hall to benefit Broadway Cares/Equity Fights AIDS. Susan Lucci, Jacob Young, Alicia Minshew, Aiden Turner and Bobbie Eakes were joined by over two dozen All My Children cast members and others together raising more than $200,000," says BC/EFA Executive Director Tom Viola. "Each year since, we've raised the bar and met our goals in terms of quality and fundraising totals. This year, with the incredible support of ABC Daytime and all your wonderfully supportive fans, we raised over $300,000."
In addition to Lucci and Mathison, other All My Children stars who performed this year include: Amanda Baker, Rebecca Budig, Bobbie Eakes, Melissa Claire Egan, Colin Egglesfield, Billy Miller, Leven Rambin, Chrishell Stause, Sterling Sulieman, Aiden Turner and Walt Willey.
One Life to Live stars were: Kristen Alderson, Justis Bolding, BethAnn Bonner, John Brotherton, Brandon Buddy, Kathy Brier, Kamar de los Reyes, Kassie DePaiva, Farah Fath, Catherine Hickland, Brian Kerwin, John-Paul Lavoisier, Hillary B. Smith, Tika Sumpter, Jason Tam and Bree Williamson. LA-based General Hospital was represented by Kimberly McCullough, Sonya Eddy and Bradford Anderson.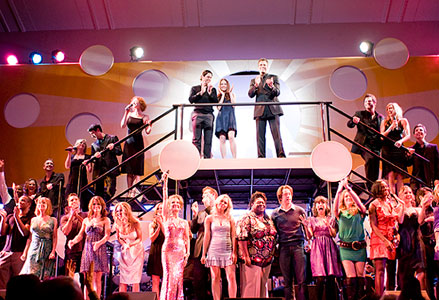 Like You've Never Seen Them Before…
"The annual ABC Daytime Salutes Broadway Cares/Equity Fights AIDS benefit was created as a way for us to give back to the community and support a great organization," said Brian Frons, President, Daytime, Disney-ABC Television Group. "This event also provides a unique outlet to extend our brand while providing our loyal viewers the opportunity to see their favorite stars perform live on Broadway."
The event featured two acts with 24 total performances. Highlights included:
Whoopi Goldberg greeting the audience and thanking everyone in the house on behalf of thousands of people they would never meet who were helped by money raised from this event;
The opening number featuring headliner Susan Lucci and a chorus of 10 women of ABC Daytime singing "Omigod!" fromLegally Blonde in the elaborate Laugh In-style set designed by BC/EFA's own David Masenheimer;
Kimberly McCullough singing the Shirley Bassey arrangement of "Big Spender" backed by BethAnn Bonner, Bree Williamson, and Jason Tam dancing some very racy choreography created by Broadway Bares favorite Rhonda Miller;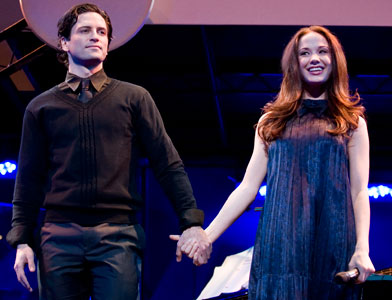 Broadway's own Ariel and Prince Eric – Sierra Boggess and Sean Palmer –  bringing down the house with "In Only" and "Part of Your World" from Disney's hit new musical The Little Mermaid, now playing at Broadway's Lunt-Fontanne Theatre;
Brandon Buddy, David Chisum, Colin Egglesfield and Sterling Sulieman raising the temperature in the room while disrobing to "Let it Go" from The Full Monty.
OLTL's Kathy Brier's brilliant-to-the-back wall belt-out on "The Music That Makes Me Dance," from Funny Girl
Long-time BC/EFA supporter Bobbie Eakes showing off her singing and dancing chops with a fully staged version of "All That Jazz" that blew the roof off of Town Hall;
General Hospital fan favorite Bradford Anderson giving voice to his powerful legit tenor with "She Was There" from "The Scarlet Pimpernel;"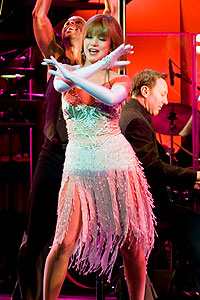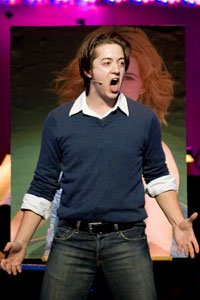 In addition to the star turns, surprise performances and production numbers that have become a signature of this event, the 2008 edition featured "Casting Call" – an interactive hybrid of live auction and onstage audition, where audience members placed bids for the opportunity to make their own daytime television debut on the set of All My Children or One Life to Live.
Online Auctions Boost Total
Expanding the event's online auctions certainly helped this year's event top the $300,000 mark, bringing in $50,252 of the grand total, including three very generous auction winners who won the right to appear onstage at the event with performers from AMC ($5,200) and with cast members from General Hospital ($15,000).
Meanwhile, other fans won the chance to spend a day on the set – and in some cases perform in a walk-on role – on their favorite shows:
The View  – $2250
General Hospital –  $3350
All My Children – $5850
One Life to Live – two winners at$6,000 a piece.
And, without a doubt, one of the evening's highlights was the opportunity to trade steps with Dancing with the Stars and All My Children's own Cameron Mathison for $5100!  An unforgettable experience at twice the price.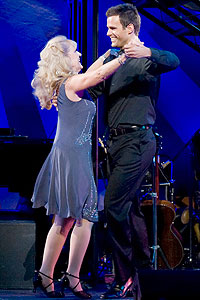 ABC Daytime Salutes Broadway Cares/ Equity Fights AIDS is made possible through generous corporate sponsorships from The New York Times, Continental Airlines, Disney and Soap Net.
Photo Credits: Steve Fenn
Back to Top