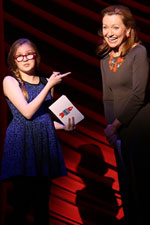 The best of Broadway wowed a sold-out house at the Al Hirschfeld Theatre on March 24, 2014, bringing laughter, tears and cheers to the unforgettable ninth annual edition ofBroadway Backwards.
The standing-room-only audience raised a record-breaking $423,182 to benefit Broadway Cares/Equity Fights AIDS and The Lesbian, Gay, Bisexual & Transgender Community Center. The staggering total surpassed the previous record of $347,060, set last year
Broadway Backwards is an annual celebration where gays and lesbians see their stories told through the great songs of musical theatre, sung by their favorite Broadway performers. The evening is produced by Broadway Cares.
Hysterical Tony Award winner Julie White and adorable newcomer Bebe Wood hosted this year's Broadway Backwards, which featured a 51-person cast and onstage orchestra.
The evening's music included songs from classics like Kiss Me, Kate and contemporary hits like Kinky Boots, and stretched musical boundaries from heartbreaking ballads to heart-stopping production numbers.




Audience members were moved by the stirring solos the night had to offer, including a rousing Act One finale by Norm Lewis. Lewis received a rapturous ovation for his rendition of "Home" from The Wiz, standing in a simple center stage spotlight and filling the house with his rich baritone voice.
Andrew Rannells lit up the room with a stunning rendition of "The Man That Got Away" from A Star is Born, while Stephanie J. Block showcased her famous vocals in "Finishing the Hat" from Sunday in the Park with George.
Billy Porter, currently burning up the Hirschfeld stage with his acclaimed Tony-winning performance in the smash hit Kinky Boots, turned the show upside down with his powerhouse rendition of Kander and Ebb's "But the World Goes 'Round."




Jonathan Groff showed his sentimental side and left audience members in tears with his tender performance of "I Got Lost in His Arms" from Annie Get Your Gun combined with "Goodnight My Someone" from Music Man. Roger Rees performed "Could I Leave You" from Follies, following a witty and heartfelt introduction from husband Rick Elice.
Kyle Dean Massey and Jose Llana delivered an intimate performance of "I Have Dreamed" from The King and I while Rachel Bay Jones and Uzo Aduba teamed for a fierce version of "Lily's Eyes" from The Secret Garden.
Other romantic numbers were more upbeat, including Cass Morgan and Debra Monk, longtime friends and original cast members and co-authors of Pump Boys and Dinettes who reunited as a humorously bickering couple singing "I Still Get Jealous" from High Button Shoes. John Tartaglia was joined by ensemble members Anthony Festa, Sean McGee and Brandon Uranowitz for a delightfully playful version of "Freddy, My Love" from Grease.




With a hat tip to the Hirschfeld's year-round residents, Andrew Keenan-Bolger delivered a hilarious rendition of Kinky Boots' wildly popular "The History of Wrong Guys" complete with a guest appearance by Kinky Boots co-star Andy Kelso.
Beth Leavel was giddy with excitement at the prospect of sharing a common interest with a new love in a high-spirited version of "She Likes Basketball" from Promises, Promises.
Bryan Batt opened the show with "I Can Hear the Bells" from Hairspray, set in the all-too-familiar struggle of Times Square during the holidays. An adorable rendition of "Been a Long Day" from How to Succeed in Business Without Really Tryingfeatured Stephen Bienskie, Colin Hanlon and Max von Essen, all cast members of the hit web-series Submissions Only. The trio used their comedic skills to demonstrate the stress of asking out a co-worker after a long day at the office.




Patricia Morison, the original "Kate" in Kiss Me, Kate, basked in the audience's adoration and stole hearts with her humility in her return to a Broadway stage after 60 years. Morison, who turned 99 just a few days before the show, shared a witty and flawless take on "Brush Up Your Shakespeare."
Michael Berresse and Tony Yazbeck stopped the show with the classic "Nowadays/Hot Honey Rag" from Kander and Ebb's long-running Chicago. Robin de Jesús declared that modern man was not his cup of tea and promptly stripped six dapper-dressed dancers down to loin clothes for an rowdy "Prehistoric Man" from On the Town.
Ken Page, backed by the angelic voices of the ensemble, performed the moving finale "Hold On" from The Secret Garden, encouraging those who are struggling or discouraged to: "Hold on. It's this day, not you, that's bound to go away!"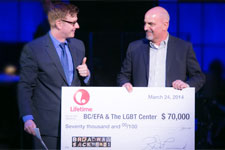 Prior to the evening's finale, Robert DeFrank, vice president of human resources at Lifetime Networks, joined Backwards' creator, director and choreographer Robert Bartley onstage to present a check from Lifetime, the evening's presenting sponsor. Lifetime increased its committment to Broadway Cares and The Center, donating $70,000 this year.
Mary-Mitchell Campbell served as music supervisor for Broadway Backwardswith Tim Rosser as music director. The creative team included additional choreography by Amy Jones and Melissa Rae Mahon, lighting designer Philip S. Rosenberg, costume designer Philip Heckman and sound designer Pitsch Karrer. As production stage manager, Peter Lawrence led an incredible stage management team of 14.
Broadway Backwards began as a grassroots concert performed at the Center in 2006. In subsequent years, the event grew quickly, performing Off-Broadway and in Broadway theaters the last four years.
Photos by Kevin Thomas Garcia, Daniel Gramkee and Daniel Roberts
Back to Top