An Incredible $480,287 Raised!
Broadway Backwards Exhilarates Sold-Out House


The sold-out audience at Broadway's Al Hirschfeld Theatre was dazzled March 21, 2016, by this year's stirring edition ofBroadway Backwards.
The annual celebration, where men sing songs originally written for women and vice versa offering this audience the chance to see LGBT stories told through the great songs of musical theatre, set a new fundraising record. The evening raised an incredible $480,287 to benefit Broadway Cares/Equity Fights AIDS and The Lesbian, Gay, Bisexual & Transgender Community Center in New York City.
Tony Award winner Julie White, a longtime friend of Broadway Cares, handled hosting duties with her characteristic wit and warmth. Stage and screen star Kathleen Turner made a special appearance to thank the audience for its support of the two organizations and to remind them of the challenges still faced daily by the LGBT community.
The evening featured 18 delightful numbers by an immensely talented 67-person cast and a live onstage orchestra, conducted by music director Tim Rosser.
Broadway legend and two-time Tony Award winner Chita Rivera razzle-dazzled the house with Kander and Ebb's "All I Care About is Love" from Chicago. Following prolonged cheers, whistles and applause when she appeared, Rivera delivered an unforgettable take on smarmy lawyer Billy Flynn. She was surrounded by a bevy of feathery beauties, many from the original 1996 Chicago revival cast. Watch the full number.


Tony nominee Tony Yazbeck showed off impressive tapping skills in a high-spirited "Forget About the Boy" from Thoroughly Modern Millie, joined by Eddie Korbich and the show's brilliant ensemble dancers. Watch the full number.
Jay Armstrong Johnson let his inner Marilyn Monroe fly in a glittery production of "Diamonds are a Girl's Best Friend" fromGentlemen Prefer Blondes. Effortlessly thrown in the air by a huddle of hunky men, Johnson shined as the audience roared with approval. The number also featured Jamison Stern. Watch the full number.
Channeling Elizabeth Taylor's Cleopatra, Kenita R. Miller took the audience and her sexy female attendants on a journey down the Nile with a delicious "Too Darn Hot" from Kiss Me, Kate, complete with cameo appearances by Adams as the Egyptian king and Dave August as his loyal, shirtless servant.
As always-accommodating hotel receptionists, Nick Adams, Nathan Lee Graham and Telly Leung opened the show with a sexy and playful "Welcome to Holiday Inn" from Seesaw.




Danielle Brooks brought the first act to a close with her heart-wrenching rendition of "Hold Me in Your Heart," from the Tony Award-winning smash hit Kinky Boots, the longtime resident at the Hirschfeld.
A casual trip to the supermarket turned much more interesting when limber grocery boy Ricky Ubeda garnered the attention of the store's shoppers: August, Ward Billeisen, Joshua Buscher-West, Peter Nelson and Waldemar Quinones-Villanueva. Under the skeptical eye of manager Jerry Gallagher, they quickly tossed aside their shopping carts in favor of a delectable "Can That Boy Foxtrot!" from Side by Side by Sondheim.
Emmy Award nominee Tituss Burgess, joined by Jonathan Hadley, provided a touching glance into the world of an expectant parent with a rich rendition of "The Story Goes On" from Baby.
The perfectly mismatched duo of Olivier winner Lesli Margherita and Tony nominee Beth Malone completed each other in an adorable take on "Opposites" from Skyscraper.




Kinky Boots star Wayne Brady, backed up by singers Philippe Arroyo and Lauren Wright, thrilled the house with a rhythmic "Let's Hear It for the Boy" from Footloose.
Broadway trio Apollo Link, featuring Jake Odmark, Roberts and Brandon Rubendall, transformed the classic "Gimme Gimme" from Thoroughly Modern Millie into a tightly harmonized contemporary crowd-pleaser.
The evening also featured several powerful solos, including Broadway Backwards veteran and Tony winner Len Cariou with a moving rendition of "The Party's Over" from Bells Are Ringing, the incomparable Karen Mason with a heart-rending "I've Grown Accustomed to Her Face" from My Fair Lady, two-time Tony nominee Brad Oscar with a playful rendition of Stephen Sondheim's "That Dirty Old Man" from A Funny Thing Happened on the Way to the Forum, Krysta Rodriguez with a touching version of "She Touched Me" from Drat! The Cat, Tony nominee Tony Sheldon with a charmingly elegant "No Man is Worth It" from Dance a Little Closer and Treat Williams with an intimate and amusing exploration of "Frank Mills" from Hair.
In the spirit of Turner's speech, Olivier Award winner Laura Michelle Kelly brought the show to an emotional close with an inspiring version of "Everybody Says Don't" from Anyone Can Whistle, singing "Maybe you're going to fall, but it is better than not starting at all."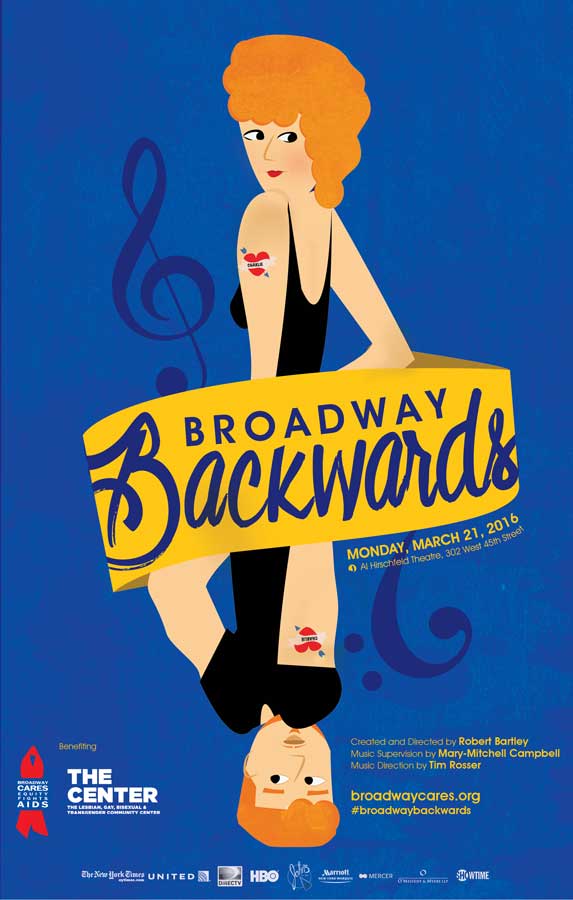 This year's Broadway Backwards ensemble included Philippe Arroyo, Dave August, Nili Bassman, Diana Becker, Thomas Bevan, Ward Billeisen, Joshua Buscher-West, Stephen Carrasco, Alicia Charles, Mindy Cooper, Seth Danner, Mallory Davis, Alexa De Barr, Amy Decker, Karli Dinardo, Michael Fatica, Jerry Gallagher, Gabriela Garcia, Mamie Duncan Gibbs, Callie Gullickson, Jonathan Hadley, Drew Humphrey, Bryan Thomas Hunt, Troy Iwata, Drew King, Mary Ann Lamb, Jess LeProtto, Paul Louis Lessard, Kourtni Lind, Colby Q. Lindeman, Cory Lingner, Dana Moore, Melanie Moore, Mary Page Nance, Peter Nelson, Emily Palmquist, Khori Petinaud, Waldemar Quinones-Villanueva, Christopher Rice, Solange Sandy, Clinton Sherwood, Jamison Stern, Nate Suggs, Jacob Ben Widmar and Lauren Wright.
Broadway Backwards began as a small, grassroots concert performed at The Center in 2006, quickly grew into an highly anticipated event presented in Broadway's best theatres. In its 11 editions, Broadway Backwards has raised more than $2.4 million for Broadway Cares and The Center.
Video by Reel Time Video Production; highlights edited by Mo Brady
✛ View Host Committee
This Year's Program

Back to Top