Broadway Bares Fire Island Breaks Records and Celebrates Broadway

Twenty-six delectable dancers brought Broadway-inspired moves and record-shattering fundraising totals to Fire Island Pines, NY, at this year's tantalizingly theatrical Broadway Bares Fire Island on June 1, 2019.
This year's event raised an incredible $78,227 for Broadway Cares/Equity Fights AIDS, surpassing last year's then-record of $59,207.
In an opening number brimming with theatre-themed innuendo, Lauren Gemelli and the alluring women of Broadway Bares Fire Island invited the audience to let loose while they "Show Off" their masterful moves and bodacious bodies. The opening set the stage at Whyte Hall for an evening of paying tribute to Broadway shows with a titillating twist.
Fosse got the Bares treatment when legendary choreographer Bob Fosse's iconic isolations led to sultry, slinky striptease. The number was led by Ian Campayno and backed up by a jazzy Andrés Acosta, Joe Beauregard, Justin Henry, Beau Hutchings, Madison Ingles, Frankie Morgan, Mitchell Wayne and Sidney Erik Wright.
A trio of Australian outback wanderers transformed into fierce and fabulous drag queens in an homage to Priscilla Queen of the Desert. Josh Cotham, Shannon Giles and Mark Osmundsen stripped away their desert attire to don show-stopping peek-a-boo frocks and sky-high headpieces.


In a killer play on Sweeney Todd, Emily Larger's Miss Lovett seduced innocent Londoners as the first step in her master plan to mince them into meat pies. Larger ultimately stripped down Sweeney Todd himself, played by Michael Scott Gomez, after laying claim to virile victims Campayno, Cotham and Giles.
Cher, as portrayed by Heather Lea Bair, truly "Turned Back Time" when she summed the historically hot men of 1776. The randy revolutionaries – played by Cesar Abreu, Dave August, Cotham, Judah Frank, Giles, Henry, Ingles, Osmundsen and Wright – got a delightful dose of feminism when Bair changed "We the People" to "She the People."
As three sailors fresh off their ship, Anthony Crouchelli, Beau Hutchings and Zachary Morris went On the Town in New York City and made the most of their brief shore leave. The trio fell head-over-heels in love with New Yorkers Jason Garcia Ignacio, Ted Keener and Wayne.
More traditional dance-driven performances also shared the spotlight at the show. In a tribute to The Phantom of the Opera, Joseph Rivera and Acosta vied for the attention of Sasha Isaeva, who impressively danced on pointe to open the number. Frightened when the Phantom's mask revealed his face, Isaeva fled, leaving Rivera and Acosta to their own passionate and steamy pasodoble.
Ingles led a romantic tribute to Camelot. As king, he set aside his crown to poetically and impressively explore the more carnal side of medieval life, slowly and chivalrously embracing a welcoming Henry and Rivera.
Comedy permeated a few of the evening's performances, as well. The Hunchback of Notre Dame, humorously portrayed by Frank, was joined in sensationally silly choreography by a chorus of bell-tolling priests including Crouchelli, Gomez, Keener and Wayne. Frank wooed Esmeralda, played by Maci Arms, with his fancy footwork, as she swooned over his comically large humpback.
As Prince Charming, Beauregard searched for the foot that fit his glass slipper but instead found only three outrageously exaggerated stepsisters, humorously played by Morgan, Osmundsen and Wright. Though the prince never found his Cinderella, he did find three royal hopefuls serving side-splitting slapstick performances.
A sweet and sassy Willy Wonka, played by Morris, invited a Golden Ticket-bearing visitor, August, to his "candy shop" as a pair of Oompa Loompa-inspired assistants, played by Abreu and Ignacio, helped him strip down to his gumdrops.


Taylor Latrowski was invited onstage as part of the Broadway Bares Fire Island "Walk-on Spectacular" package. He participated in a rousing game of "Truth or Bares," in which each correct question resulted in a dancer removing an article of clothing. The comedic questions included, "Which animal is heavily featured in the hit musical Cats?"
The show's finale featured Gemelli and the women of Bares Fire Island seducing the cowboys at The Best Little Whorehouse in Texas' chicken ranch. The full cast joined them to wrap up the show and were greeted by enthusiastic applause and a standing ovation.
The evening concluded with Bares' legendary "rotation," in which the cast freestyle danced as thrilled audience members tucked donations into what remained of their costumes.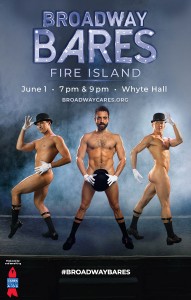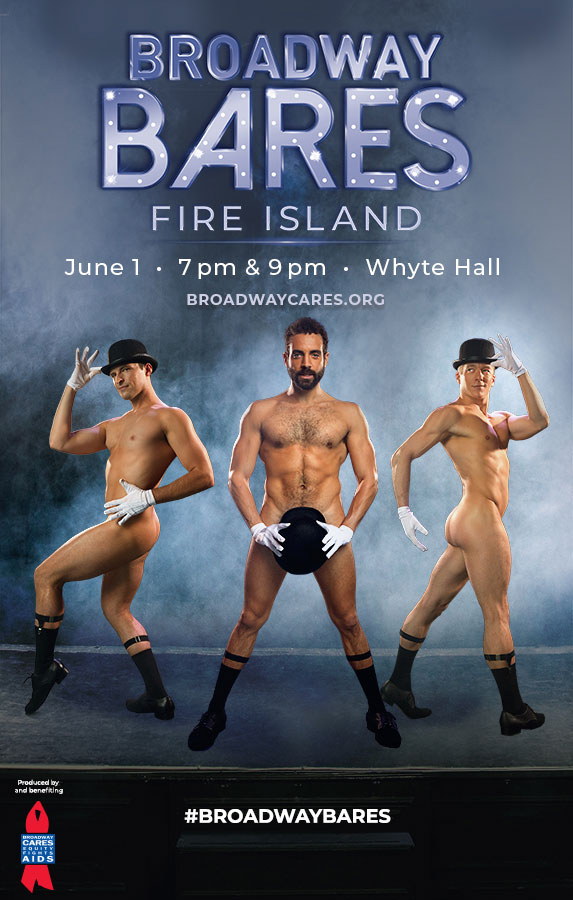 Broadway Bares Fire Island was directed and choreographed by Michael Lee Scott, who was joined by associate choreographers Abreu, Acosta, Henry and Wright. The creative team also included Assistant Director Chris Siretz; Lighting Designer Kirk Fitzgerald; Costume Designers Sam Brooks, Matthew Hampton, Jeff Johnson-Doherty, Eden Tayar and Jeffrey Wallach; Hair and Wig Designer Michael Serapiglia; and makeup design by The M•A•C Pro Team. Richard Leigh-Nilsen served as production stage manager.
Broadway Bares Fire Island served as an intimate preview for this summer's 29th edition of Broadway Bares, which will take over NYC's Hammerstein Ballroom for two performances on June 16. This year's show is dubbed Broadway Bares: Take Off, fueling your wanderlust with tempting, travel-inspired striptease.
Photos by Michael Kushner
Video by Mo Brady and Víctor Rodríguez
Back to Top