Broadway Bares: Pleasure Park Packs Irresistible Rides and Grand Reveals
Neon lights and thrilling heights filled the night as nearly 200 of NYC's sexiest dancers and special Broadway guests delighted two standing-room-only audiences at Broadway Bares: Pleasure Park on Sunday, June 18, 2023, at New York City's Hammerstein Ballroom.
This year's Broadway Bares was a rousing twist on theme parks and raised an astounding $1,887,014. Broadway Bares is produced by and benefits Broadway Cares/Equity Fights AIDS.
Pleasure Park-goers perused and cruised through worlds of wizardly wonder, dynamic drag, sweet confections, animal queendom and a fantastical waterpark among other tantalizing rides and attractions that gushed with LGBTQ+ pride.
Jay Armstrong Johnson and Jonathan Burke starred as a couple at the "grind opening" of Pleasure Park. On their excursion through the theme park like no other, they encountered the sexiest collection of characters, plus trailblazing 2023 Tony Award winners J. Harrison Ghee and Alex Newell, and platinum-selling recording artist Joanna "JoJo" Levesque.
Stripathon, the online fundraiser led by the show's cast and crew, raised $1,011,499.
At Pleasure Park's opening, the eager Johnson and risk-averse Burke were welcomed to the "world of glitter" and "world of pecs" by a powerhouse vocal performance by Jessica Vosk who urged the audience to "get ready for the ride of your life."
The opening number of Broadway Bares was choreographed by this year's co-directors Laya Barak and Kellen Stancil and associate director Jonathan Lee. The number was written by Lynne Shankel and Amanda Green.
The evening adventure reached heart-racing heights with over-the-top attractions.
Backflipping, futuristic fun, ensued at the park's XTRONX ride, where Alec Varcas and an electric all-male ensemble flexed to a pulsing club beat in skin-tight, sci-fi-inspired regalia costumes. The high-octane number, complete with neon red lightsticks set to stun, was choreographed by Lee.
Josh Drake portrayed the all-knowing animatronic Zoltar, who burst from the confines of his fortune-telling machine and traded his crystal ball for a disco ball when he joined a gang of (sexually) liberated dancers empowered by the choreography of Nicholas Cunningham.
A call to all dreamers was heard when the world of Wizard Magic brought graceful spins and levitating lifts created by choreographer Michael Lee Scott. A magically alluring Cameron Mitchell Jackson starred as the wizard, whose suit with butt-baring trousers vanished in the ultimate disappearing act thanks to Maci Arms and a host of cast members.
Flirtatious moves, aerial dancers and flag-twirling choreography hit the stage as Colin Cunliffe and Hector Maisonet discovered the Prince Charming Carousel. Dancers popped and locked in the adrenaline-pumped number and stripped Cunliffe and Maisonet down to metallic chest harnesses that would make anyone want to giddy-up. The number was choreographed by Chloe Davis with aerial choreography by Armando Farfan Jr. and his Living Art of Armando.
A delicious ensemble of dancers traipsed around the Pleasure Park candy shop that stocked tasty treats and everything Sugar and Sweet, following the rule of Jennifer Geller and her giant candy cane. Lollipops and gummy sweets galore were featured as they determined just how many licks it takes until "you hit the spot." The yummy number was choreographed by Bo Park.
More enticing exploits followed as sexy servers provided hot dishes at the Meat Rack restaurant. Jamie Patterson was waited on by Tyler Eisenreich, MiMi Scardulla and staff dressed in glittering black vests and little else in a spicy number choreographed by Billy Griffin.
A trip on the wild side took park-goers to a bird sanctuary where Sangeetha Santhebennur fiercely led her Animal Queendom. Santhebennur and Michael Graceffa paired well in a sensual mating dance as choreography by Monica Kapoor brilliantly drew a connection between Indian classical and folk dance and the movement of birds.
There was no shortage of chains, whips, stilettos or safe words in choreographer Amber Jackson's Fetishland. The risque number took the audience to a body shop of playmates who danced under the domination of Keely Beirne and Taylor Iman Jones.
An inspired Drag Storytime saw icons of queer liberation and protest – including Divine, the Sisters of Perpetual Indulgence and Stormé DeLarverie- honored on an elaborate gown worn by "Mother of Manhattan Drag" Kizha Carr. Carr and her army of fabulous drag queens, featuring Egypt and Ricky Schroeder, helped AJ Blankenship to "go where love is on your side" in the celebratory number choreographed by John Alix.
Davide Zongoli slipped and slid through flowing movements from daring heights with seven other aerialists choreographed by Armando Farfan Jr. Josh Daniel Green made a splash below them leading the grounded dancers in the fluid choreography by Stancil.
The dynamic finale featured Mykal Kilgore performing his high energy original song "Came Here for Love" with Bares-specific lyrics by Kyle Ewalt. The song encouraged all to "reach in and reach out" and "spread love to the world." Kilgore was joined by singers Aléna Watters and Marty Thomas before the stage was flooded with the entire Pleasure Park cast, guided by the choreography of Mike Baerga.
During the show, Johnson landed at the park's lost-and-found while in search of Burke. There, he met Stephen DeRosa who took him through a trove of boyfriends – and past Bares performers – who had been abandoned at the park. Nick Adams, Kyle Brown, Taurean Everett, Justin Prescott and Constantine Rousouli appeared as the boyfriends lost to wanderlust.
Broadway Bares creator Jerry Mitchell arrived on the heels of receiving his latest Tony Award, this time the Isabelle Stevenson Award. The philanthropic honor recognized Mitchell for his work on Broadway Bares, which he created in 1992. Mitchell serves as executive producer with Nick Kenkel.
After the show's finale, Ghee and Newell joined Mitchell onstage, where they thanked the audience and the evening's sponsors. "Amazing things happen when you show up," Mitchell said. "That's what all of you have done year after year, decade after decade. You've all shown up in the ways that only you can and only you know how to and it will always make a difference."
The three also accepted presenting sponsor M•A•C Viva Glam's check of $200,000 from André Branch, senior vice president and GM of M•A•C North America. Branch was accompanied by Sandy Joseph and Cesar Silva, who represented the production's more than 50 brilliant makeup artists. Over the years, M•A•C has donated more than $4.8 million to Broadway Cares.
Johnson returned to lead Bares' famous "rotation," where the entire cast ended each show dancing to encourage tips from the audience. This year's rotation raised $22,553.
In Stripathon fundraising, dancer Mark MacKillop raised $112,104, the most ever by an individual. He was followed by runners-up Steve Bratton at $32,286, Jennifer Geller at $27,618, Katie Thrasher at $20,001 and Brandon Antonio at $17,387. An inspiring 334 people joined in the online fundraising efforts this year.
The Pleasure Park cast of nearly 200 dancers represented 14 Broadway shows from this season including Aladdin; Bad Cinderella; A Beautiful Noise, The Neil Diamond Musical; Bob Fosse's Dancin'; Funny Girl; Hamilton; Harry Potter and the Cursed Child; Life of Pi; The Lion King; MJ; Moulin Rouge! The Musical; Six; Some Like it Hot and Wicked.
The book for this year's show was written by Hunter Bell, Steven Cutts and Troy Britton Johnson.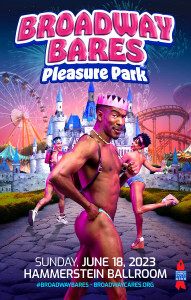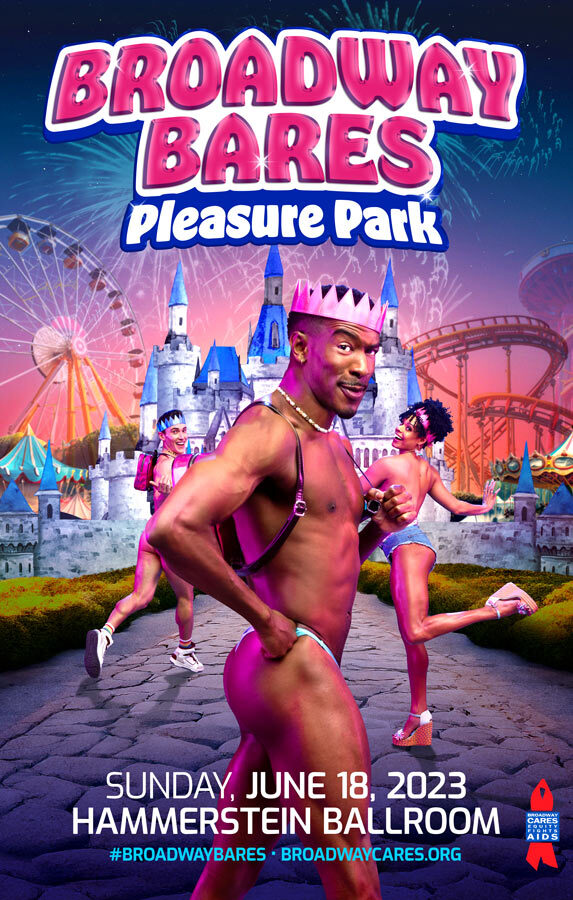 Production Stage Manager Johnny Milani with Sarah Helgesen and T.J. Kearney led a team of 42 stage managers with more than 600 volunteers behind the scenes to create the show.
Joel Shier was the production's lighting designer, with sound design by Nick Borisjuk and scenic design by Jason Lee Courson. Jeffrey Wallach was costume coordinator; Megan Burke and Ian Joseph coordinated hair and wig design; and Caite Hevner managed video design.
The rich history of Broadway Bares began when Mitchell, then a Broadway dancer, gathered seven of his friends to raise awareness and stop the stigma of HIV diagnoses by stripping and strutting on the bar at New York City's Splash. They raised $8,000 that first night to help those living with HIV/AIDS. Since then, Broadway Bares has raised $26.4 million for Broadway Cares/Equity Fights AIDS.
This year's program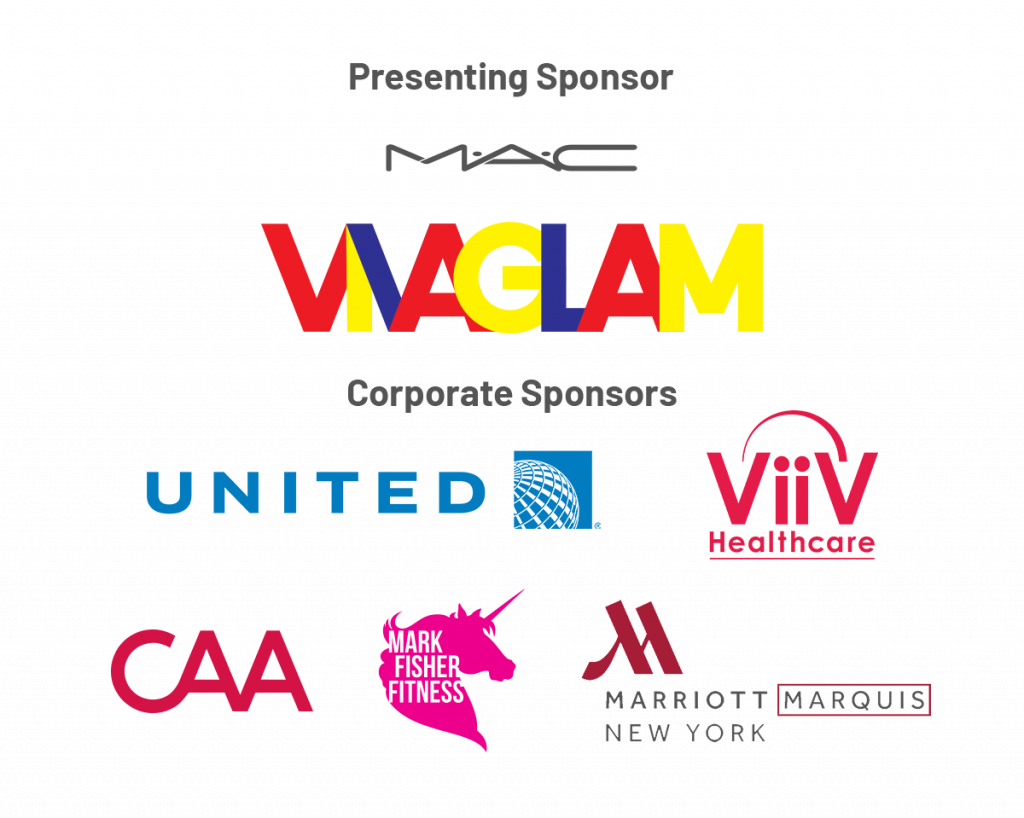 Back to Top