Record-Breaking $1,254,176 Raised!
Broadway Bares XXII Delivers a $1,254,176 Happy Ending

Broadway Bares XXII: Happy Endings, a fairytale evening of modern-day burlesque featuring 227 of New York's sexiest dancers, made history for the third year in a row breaking through the $1 million ceiling  and raising a record-breaking $1,254,176 to benefit Broadway Cares/Equity Fights AIDS.
This year's edition of Broadway Bares transformed our favorite fairytales into crazy-hot, come-to-life stories as told by a bevy of Broadway's best performers. From a saucy Snow White, an airborne Sleeping Beauty, an ornery Pinocchio and outrageous Pied Piper, Broadway Bares XXII spun the classics into contemporary fantasy as more than 6,000 people packed Roseland Ballroom for two sold-out performances on June 17, 2012.
With this year's record fundraising total, the 22 editions of Broadway Bares have now raised more than $9.8 million for Broadway Cares. Last year's 21st edition of Broadway Bares raised $1,103,072; the 20th anniversary edition in 2010 was the first to break $1 million.
No Bares fairytale could be complete without a bare-chested, tight-short-wearing, lovelorn protagonist. Taking command of that role was Next to Normal's Kyle Dean Massey, who was woven into this year's tale was a young man searching for his own happily-ever-after.
In the elaborate opening number, Miriam Shor from TV's GCB appeared as his fairy godmother. Backed by her "Damnettes" and singing the double-entendre-filled original song "Happy Endings," written by Chad Beguelin and Matthew Sklar, Shor turned to an "enchanted book" to show Massey that every fairy tale deserves a happy ending.Broadway Bares XXII director Lee Wilkins choreographed the opening with Kristen Beth Williams and Mark Myars.




And with that, the journey through the enchanted book began, first with Grasan Kingsberry portraying an "evil queen," surrounded by succulent sycophants and obsessed with his own rock-solid, glistening image in the hard-driving "Mirror Mirror," choreographed by Charlie Williams.
"Puss in Boots" celebrated woman power as Candice Monet McCall transformed into a cat-like diva leading an all-female gang that encountered a well-heeled posse of boot-wearing, shirtless men led by Charlie Sutton. The showdown, choreographed by Wilkins, John Alix and Derek Mitchell, turned into a fierce, sword-fighting dance off.
As "Goldilocks," an adorably sexy Andy Mills found more than just three bears as a stage full of hairy grizzlies surrounded him in a number choreographed by Michael Lee Scott. The naughty bears led Goldilocks to a floating love den that propelled him and his particularly frisky aerialist keeper Armando Farfan Jr. high above the stage as the grizzlies dipped into their honey pots.
After a whimsical introduction of seven badly behaved drawfs – including the addition of the lesser-known "Horny" dwarf – a leggy and sultry Snow White appeared in the form of Nikka Lanzarone, who strutted over her eager dwarfs in a sexy striptease choreographed by Lee Wilkins and Josh Rhodes.
The ultimate puppet master found himself on the wrong end of Pinocchio, whose nose was not the only appendage to grow. Bares favorite Matthew Skrincosky, as a playful and sexually mischievous Pinocchio, got everyone's attention in revealing half-jacket and bottom-less chaps as lead an army of chisled no-strings-attached puppets, choreographed by Lorin Latarro.
Reed Kelly brilliantly led 28 exuberant dancers in a show-stopping, Bollywood-inspired interpretation of "Aladdin." The high-energy number with bedazzled costumes and fast-paced, intricate choreography by Dontee Kiehn and Monica Kapoor, included three limber aerialists, choreographed by Ryan Lyons, spinning above the dancers from a giant genie bottle.
A playfully sexy version of "Rapunzel," choreographed by Stephanie Klemons, put big-haired but scantily clad buxom ladies center stage as they danced around long tresses of braids before a surprise appearance by notorious New York drag queen Lady Bunny arrived to chop their long, braided locks with an over-sized pair of scissors.
As the chorus of now-shorn Rapunzels left stage, a quartet of ornery, nearly naked and incredibly buff unicorns from Mark Fisher Fitness took to the stage, grabbing Lady Bunny's and the crowd's full attention.  Before they could be corralled, they proved that it's not only a solo horn that makes a unicorn a singular sensation.


The Broadway Bares' version of "The Pied Piper," played by Marty Lawson, rousted an all male, kilt-clad ensemble that teased the audience with a high-energy, high-jumping, bare-bottomed step dance, choreographed by Peter Gregus.
"Sleeping Beauty" became an intimate, exotic dance with three couples, draped in white swaths of fabric gliding romantically overhead, each in a breathtaking, aerial pas de deux. Marc Kimelman and aerialist choreographer Brandon Perayda
The story of "The Ugly Duckling" took on bullying as Brandon Rubendall helped Adar Wellington embrace both her inner and outer beauty in a moving piece choreographed by Nick Kenkel.
Evita's Rachel Potter led the full Broadway Bares company in the evening's high energy finale, "Happily Ever After," which offered its own storybook ending complete with John Carroll's magical entrance as Massey's Prince Charming.
Making a special appearance during the evening was Academy Award-nominee Jennifer Tilly as Massey's evil stepmother who tries to dash our wide-eyed boy's dreams of happiness.
Judith Light, this year's Tony Award-winner for Featured Actress in a Play for her role in Other Desert Cities, saluted the dancers and applauded the event's sponsors in the evening's finale. A longtime friend and supporter of BC/EFA, Light reminded the audience:  "Safe sex is hot sex. And we can best love each other by always remembering to protect each other."
A Letter from Executive Director Tom Viola to the Company of Broadway Bares XXII
Two-time Tony Award-nominee Christopher Sieber and Bares veteran Rachelle Rak led the show's famous "rotation" where the entire cast appears on stage to receive individual tips from audience members. The night-ending fundraising frenzy raised $26,874.
Broadway Bares started in 1992 and featured seven dancers stripping on a bar, raising about $8,000.  It was created by Tony Award-winning director/choreographer Jerry Mitchell who serves as executive producer. It is produced by Broadway Cares/Equity Fights AIDS led by Producing Director Michael Graziano. This year's edition was conceived by director Lee Wilkins with associate director Michael Lee Scott.
Presenting sponsor M•A•C VIVA GLAM delivered a $250,000 check, presented by Nancy Mahon, Senior Vice President of M•A•C Cosmetics and Global Executive Director of the M•A•C AIDS Fund. She also saluted the extraordinary skills of 91 M•A•C make-up artists who volunteered on the show.
More than 200 people participated in Strip-a-thon, an online fundraising competition among Bares XXII cast, crew and supporters, raising $302,022, with the team of dancers from "Aladdin" raising the most money, an impressive $56,675. Fundraising runners-up were the opening number team with $38,798 and the finale team with $36,134.
For the third year in a row, Reed Kelly was the top individual Strip-a-thon fundraiser, generating $30,001 in donations. Runners-up among the Strip-a-thon women were Paloma Garcia-Lee with $8,700 and Nikka Lanzarone with $6,515; among the men were Andrew Glaszek with $15,497 and stage manager Joshua Pilote with $13,440. A close runner-up was Ben Ryan, who raised $10,412.Broadway Cares thanks more than 900 volunteers of every stripe, variety and department whose generosity of time and talent make such an intricate and complicated event like Broadway Bares possible.
View video highlights from Broadway Bares XXII: Happy Endings by Daniel Robinson and Alex Pearlman.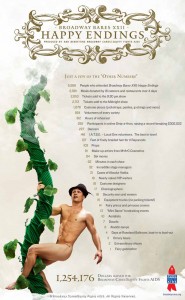 As production stage manager, BC/EFA's Kimberly Russell led an incredible stage management team of 32 men and women. Their tireless efforts were joined by an outstanding team of hundreds of choreographers, designers, technicians and volunteers onstage, backstage, under the stage, upstairs in the VIP area and front-of-house.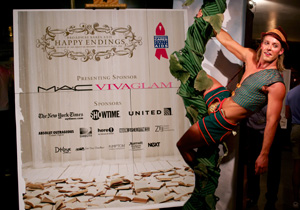 In addition to Broadway Bares XXII presenting sponsor M•A•C VIVA Glam, generous support came from corporate sponsors The New York Times and United Airlines, as well as Absolut Vodka, DIRECTV, Dkoye The Product, Get Gay Chauffeur, Here Media, Kimpton Hotels, Mark Fisher Fitness, Marriott Marquis New York, Next magazine, Showtime Networks and the Zarley Family Foundation.
Special thanks to this year's Broadway Bares photographers: Peter James Zielinski, Kevin Thomas Garcia, Ryan Mueller, Matthew Murphy, Tomas Vrzala and Greg Weiner.
Download photos by Peter James Zielinski and Tomas Vrzala from Broadway Bares XXII: Happy Endings
This year's program
Back to Top