Broadway Celebrates LGBTQ+ Community at Record-Breaking Broadway Backwards
The energy of a supportive and loving community filled Broadway's New Amsterdam Theatre on March 13, 2023, as distinguished and emerging stars from the worlds of stage and screen came together in celebration of LGBTQ+ stories and musical theater at Broadway Backwards.
The show raised a record $765,069 to benefit Broadway Cares/Equity Fights AIDS and The Lesbian, Gay, Bisexual & Transgender Community Center in New York City. The one-night-only, annual event is produced by Broadway Cares.
The evening is the only annual show on Broadway celebrating the LGBTQ+ community. This year's Broadway Backwards was packed with beloved musical theater numbers stretching from Broadway's Golden Age to more recent fan favorites, all reinvisioned as songs of love and affirmation through an LGBTQ+ lens.
Jenn Colella returned to host with her trademark charm and wit. Colella led a cast of 67 performers, a 13-piece orchestra and standing-room-only audience through a 17th edition of Broadway Backwards that few will forget.
Colella's exuberant "Willkommen" set the tone for the evening with her declaration "in here, life is beautiful," leading to a sultry opening performance of Cabaret's "Mein Herr," led by Corbin Bleu. Bleu and Broadway Backwards ensemble members Andrés Acosta, Lawrence Alexander, Joe Beauregard, Randy Castillo, Andrew Cheng, Nicholas Cunningham, Marshall Hagins, Waldemar Quiñones-Villanueva and Alec Varcas masterfully performed the original Bob Fosse choreography, restaged by Mimi Quillin.
Lea Salonga closed the evening with a stirring version of "Love Who You Love " from A Man of No Importance. Salonga's tender performance with the Broadway Backwards ensemble made the heartfelt lyric "everyone's heart does exactly the same" ring true.
Les Misérables' inspiring anthem "One Day More" was set among a modern-day, ragtag group of activists preparing for an equality march in Washington. Philippe Arroyo, Bradley Dean, Jeigh Madjus, Ellyn Marie Marsh, Chris McCarrell, Turner Riley, Alexandra Silber and Paul C. Vogt led the ensemble in an emotive rendition that ended with Les Misérables' iconic group march as a giant Pride flag behind them signaled the dawn of a new day.
Broadway star and former principal with New York City Ballet Robbie Fairchild led a seductive performance of "My Heart Belongs to Daddy" from Cole Porter's Leave It to Me. An ensemble of dancers including Acosta, Alexander, Alex Aponte, Beauregard, Cunningham, Christian Galvis, Henry Gendron, Michael Olarbigbe and Robbie Serrano clamored for Fairchild's attention. The electric, reggaeton-inspired choreography was created by Luis Salgado.
Robyn Hurder brought the house down with an interpretation of "Buddy's Blues" that featured her own choreography. With dazzling Follies-inspired costumes, Hurder, Samantha Gershman and Brinie Wallace delivered a girl-crazy romp about unrequited love to the absolute delight of the audience.
Innuendo and southern charm were piled high in Kyle Scatliffe and A.J. Shively's performance of "All 'Er Nothin'" from Rodgers' and Hammerstein's Oklahoma! as two who work in a barbeque joint with especially friendly service.
Anthony Rapp's performance of "I Can Do Better Than That" from The Last Five Years captivated the audience where his plea "You and you and nothing but you, no substitution will do" was a reminder of the motivational power of love.
Television and Broadway favorite Wayne Brady delivered a smooth and powerful interpretation of "There Are Worse Things I Could Do" from Grease.
"Queen of tap" Dormeshia toured a range of emotions in a stunning solo performance of "The Right Girl." The number represented a full-circle moment for Tony Yazbeck who restaged for Dormeshia the show-stopping Susan Stroman tap choreography he performed in Prince of Broadway.
Acclaimed operatic baritone and Broadway star Paulo Szot was a highlight with his passionate performance "Where is the Warmth?" from The Baker's Wife.
Adrianna Hicks transformed "I've Got Your Number" from Little Me into a powerhouse performance with vocals that brilliantly rang throughout the theater.
Bonnie Milligan beautifully recalled "the most beautiful sound" she ever heard in West Side Story's "Maria."
In a touching rendition of "Something Wonderful" from The King and I, longtime friend of Broadway Backwards Len Cariou shared a heart-filled version of the musical theater classic.
Broadway mainstay Beth Leavel's fiery performance style paired well with Alan Zachary and Michael Weiner's amusing, slightly profane tirade "In Love with You" from First Date.
"I'd Do Anything" from Oliver! was transferred from rough streets to a romantic and catty dinner when George Abud and Barrett Foa appeared as a seemingly humdrum, but resentful, couple celebrating their 20th anniversary.
Ali Stroker toasted to the single life in a solo "What Do I Need with Love?" from Thoroughly Modern Millie.
Eden Espinosa and Samantha Pauly shared the lament of unattainable love in a spirited duet of"Agony" from Into the Woods as they asked heartbreak's looming question, "how shall I regain the heart she has won from me?"
Academy Award winner F. Murray Abraham made a special appearance to share the impact of supporting the lifesaving work of Broadway Cares/Equity Fights AIDS and The Center.
Broadway Backwards creator Robert Bartley returned to direct the production. Bartley joined Lauren Gemelli, Robyn Hurder, Mimi Quillin, Adam Roberts, Luis Salgado and Tony Yazbeck as the show's choreographers. Music supervisors were Ted Arthur and Mary-Mitchell Campbell and music directors were Nick Wilders and Nicholas Connors. Jeff Brancato served as production stage manager. The creative team included lighting designer Nyle Farmer, sound designer Marie Renee Foucher and props designers Jenna Snyder and Alexander Wylie. Costume designers were Jess Gersz, Tyler Carlton Williams and Nicole Zausmer. Binder Casting's Mark Brandon and Chad Eric Murnane served as casting consultants.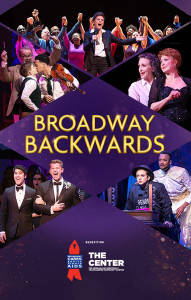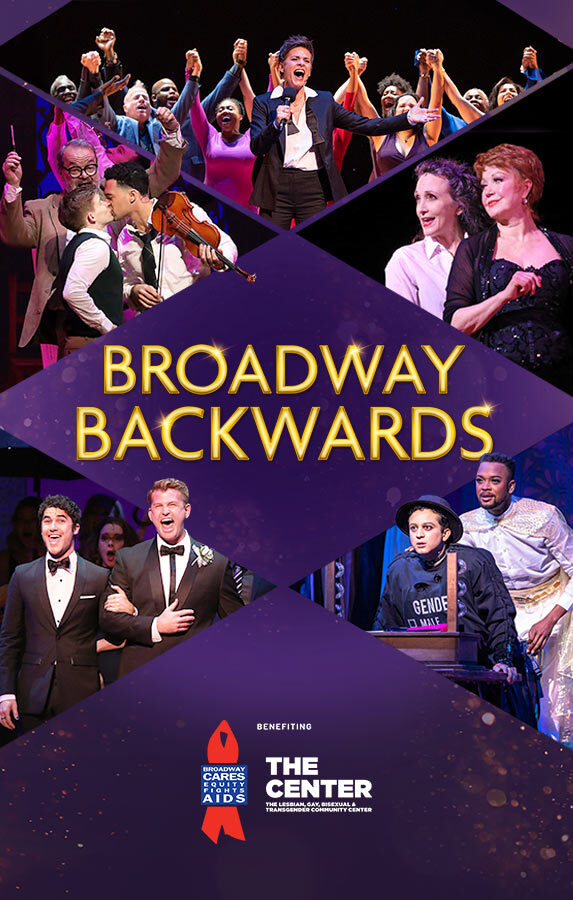 What began as a small, grassroots concert performed in the community room at The Center in 2006 has grown into a highly anticipated event presented in one of Broadway's most beautiful theaters. In its 17 editions, Broadway Backwards has raised more than $7 million for Broadway Cares and The Center.
The $765,069 record total topped the record set the previous year, which marked Broadway Backwards' return to the New Amsterdam Theatre after a two-year pause on in-person performances because of the COVID-19 pandemic.
Broadway Backwards is generously supported by lead corporate sponsors City National Bank, The New York Times and United Airlines, as well as lead individual sponsor Ted Snowdon.
Photos by Curtis Scott Brown and Rebecca J. Michelson
Video by Bardo Arts
This year's program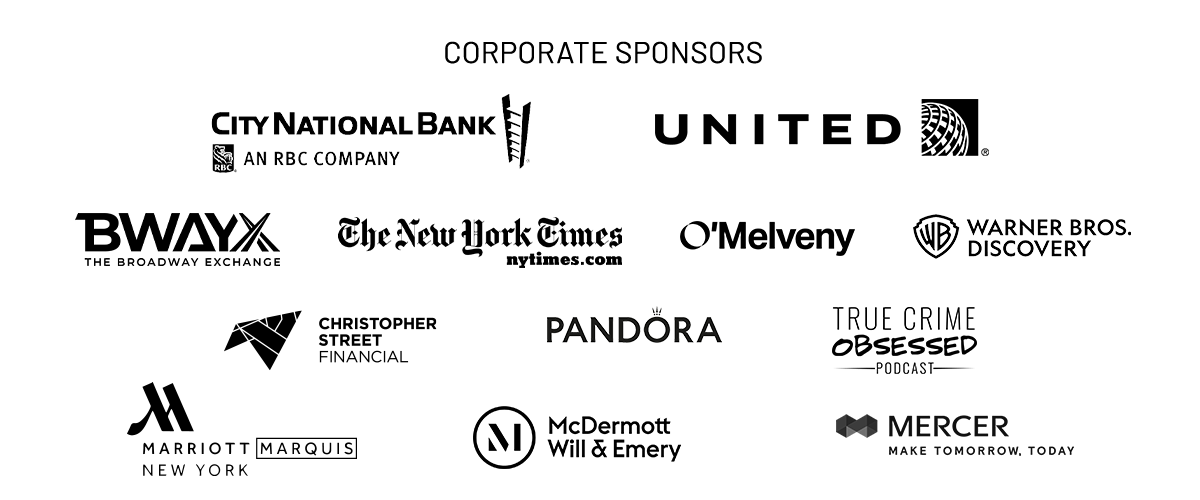 Back to Top