Broadway Community Goes "All In," Breaks Records at Broadway Bets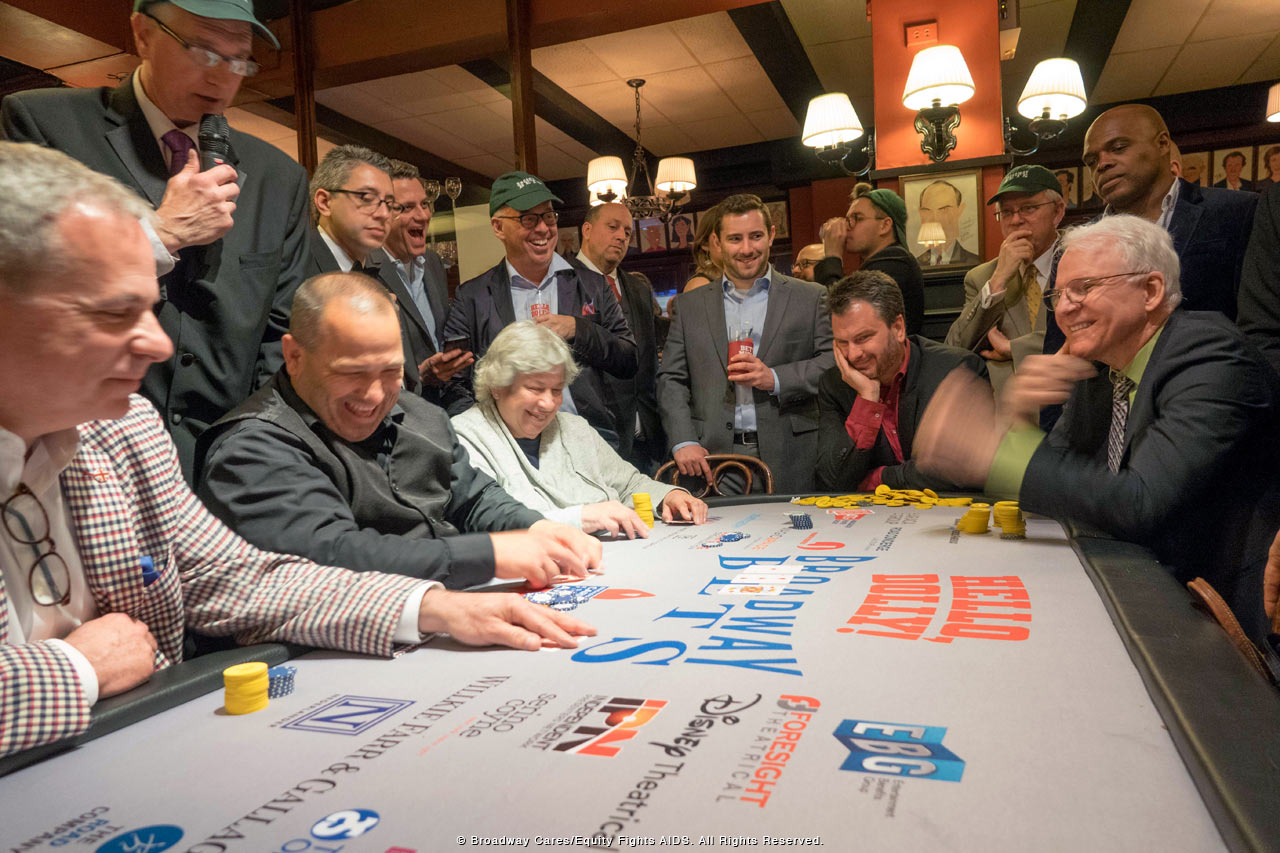 Exhilarating fun and incredible fundraising were in the cards as Broadway fans, stars and behind-the-scenes players raised a spectacular $286,900 on Monday, May 15, 2017, at the third annual edition of Broadway Bets, Broadway's official poker tournament.
The record-shattering total, more than double what was raised in the inaugural event in 2015, was revealed after a lively evening of Texas Hold 'em poker at Sardi's restaurant in the heart of New York City's theatre district. Broadway Bets gives theatre industry insiders and loyal Broadway Cares supporters a chance to play in a friendly poker tournament while raising money for those in need.
The revelry and rivalry drew players from across the industry, with Broadway's brightest talent, theatrical advertising agency executives, theatre owners and producers, and professional poker players stacking the deck.
Among the show business luminaries participating in the evening's excitement were Hank Azaria, Alex Brightman, Michael Cera, Brian Koppelman, Steve Martin, Michael Park, David Schwimmer, Lucas Steele, Dr. Ruth Westheimer and Tony Yazbeck. Also on hand were cast members from the Tony Award-nominated Hello, Dolly!, including Tony nominee Gavin Creel, the cast of the Tony-nominated A Doll's House, Part 2, including Tony nominees Chris Cooper, Jayne Houdyshell, Laurie Metcalf and Condola Rashad, as well as professional poker champions Erik Seidel, Vanessa Selbst and Ingrid Weber.
The 2017 edition of  Broadway Bets started with 24 Texas Hold 'em poker tables and more than 230 card players filling the two floors of the iconic restaurant before 10 final players perfected their poker faces and reached the championship table.
The ultimate face-off featured acclaimed actor, comedian and musician Steve Martin and  Broadway fans Ken Ruck and Joan Siegel. Surrounded by a cheering crowd, the trio played through a series of hands until Martin lost an all-in battle against Ruck. Then, Ruck bested Siegel with an Ace-high hand to become this year's Broadway Bets champion. As winner, Ruck received a round-trip flight and VIP accommodations in Tampa Bay to see the New York Giants play the Tampa Bay Buccaneers.


The final table also featured, in order of finish, Jack Eldon of Disney Theatrical Productions, Jenifer Thomas of Disney Theatrical Productions, James Murray of The Shubert Organization, Michael Barra of The Araca Group, Kim Hewski from Serino/Coyne, Sierra Duncan of The Road Company and Stephen Lindsay of The Road Company.
Those not ready to go "all in" purchased Broadway Bets social passes and enjoyed the spirit of the evening while playing blackjack, craps and roulette for prizes.
Last year's event raised $239,550. The three editions of Broadway Bets have raised a total of $653,250 for Broadway Cares.
"Royal Flush" Bar Sponsor
Hello, Dolly!
"Full House" Sponsors
AKA
The John Gore Organization (Broadway.com-Broadway Across America)
Serino/Coyne
Ambassador Theatre Group
Jujamcyn Theaters
The Shubert Organization
The Araca Group
MagicSpace Entertainment
Situation Interactive
Charlie and the Chocolate Factory
The Nederlander Organization
SpotCo
Entertainment Benefits Group
The Road Company
Ticketmaster
Foresight Theatrical
Road Concierge/ALTOUR
Willkie Farr & Gallagher LLP
"Two Pair" Sponsors
Disney Theatrical Productions
Independent Presenters Network
Sweet Hospitality Group
Broadway Bets Founding Co-chairs
Paul Libin
Executive Vice President of Jujamcyn Theaters
BC/EFA Board of Trustees President
Robert E. Wankel
President and co-CEO of The Shubert Organization
BC/EFA Executive Vice President
Broadway Bets Co-chairs
Elliot Greene
of The Shubert Organization
Marla Ostroff
of Ticketmaster
Broadway Bets Tournament Directors
Micah Hollingworth
of Jujamcyn Theaters
Mark Shacket
of Foresight Theatrical
Brett Sirota
of The Road Company
Back to Top