Broadway Stars Bewitch with I Put a Spell on You: ALIVE at Sony Hall
The Black Flame Candle was lit once more, summoning the Sanderson sisters back from the grave for Jay Armstrong Johnson's annual Halloween concert-meets-party, I Put a Spell on You: ALIVE at Sony Hall.
The spooky and spine-tingling event on October 23, 2022, benefited Broadway Cares/Equity Fights AIDS and raised $115,585.
After two virtual editions due to the COVID-19 pandemic, Broadway's ultimate Halloween party made a victorious in-person return, playing to a standing-room-only crowd at New York City's Sony Hall, with a streaming encore on Broadway on Demand for Halloween weekend.
The annual show pays tribute to the 1993 cult classic film Hocus Pocus, adding larger-than-life performances, sumptuous design and a healthy dose of theater magic. Every ticket purchased helped Broadway Cares provide healthy meals, lifesaving medication, emergency financial assistance and more to those across the country affected by HIV/AIDS, COVID-19 and other critical illnesses.
In their search to find beauty, youth and immortality, the bewitching and beloved Sanderson sisters, played by Johnson, Allison Robinson and Amanda Williams Ware, gathered their famous and villainous friends to lure the children of New York through song. Throughout the show, their attempts were thwarted by familiar characters from Hocus Pocus: Dennison siblings Max and Dani, played by Maddox Martin and Natalie Hinds; Kathryn Priest portrayed Allison Smith, Jimmy Larkin as Thackery Binx and Heath Saunders as Billy Butcherson.
Donning a top hat and white scarf, Gavin Creel kicked off the night with an homage to the Skeleton Band featured in Hocus Pocus, singing "The Monster Mash" and "Witchcraft/I Put a Spell on You," before the Sanderson sisters launched into their own spell-casting version.
Winifred, Mary and Sarah made appearances throughout the night, including "Euphoria" and a mischievous medley with a coven of fellow witches: Kiki Ball Change and Marti Gould Cummings, playing The Little Mermaid's Ursula and Wicked's Elphaba. The trio also performed alongside their Hocus Pocus nemeses for the Michael Jackson classic "Thriller" and "Bye Bye," a spoof of Six's "Ex-Wives." Adapted by Six's Tony Award-winning team Toby Marlow and Lucy Moss, the song gave each character a verse in the spotlight to share their own story.
Another fetch trio took the stage during the night — Mean Girls' infamous Plastics. Tamika Lawrence, Julia Mattison and Tomás Matos brought down the house with their passionate performance of "Power" as the evening's grand finale.
Cinderella's stepmother and stepsisters performed a mesmerizing "Evil Step Trio" medley. Real-life sisters Alanna Saunders and Claire Saunders pranced around as Anastasia and Drizella, led by Lady Tremaine, played by the captivating Robyn Hurder.
Things heated up when Alysha Umphress took the stage as 101 Dalmatians' Cruella de Vil to sing "Doggie Fever," a sizzling mashup of "(How Much Is) That Doggie in the Window?" and "Fever."
Major Attaway stepped out of the Aladdin genie lamp and into an Oogie Boogie costume from Tim Burton's The Nightmare Before Christmas for a menacing performance.
Nick Rashad Burroughs, in Gaston's signature yellow gloves, had the audience giving five hurrahs and 12 hip-hips during his seductive and striking performance of "Attention."
The audience was also enchanted by The Emperor's New Groove's Yzma and Kronk, played by Arianna Rosario and Matt Rivera, in a sultry performance of "Dinero," James Scully as the Joker in an eerie arrangement of "Make 'em Laugh" and Mila Jam, bedazzled in head-to-toe red sequins, with a fiery mashup of "Disco Inferno/Hot Stuff."
Rounding out the company were cast members Sydney Alie, Tanah Becker, Olivia Cece, Zachary Eisenberg, Tyler Eisenreich, Ava Esposito, Zachary Flores, Olivia Griffin, Natalie Hinds, Brittany Jenkins, Karma Jenkins, Darriel Johnakin, Erin Kei, Kolton Krouse, Markelle Leigh, Grace LeMieux, Hector Juan Maisonet, Maddox Martin, Nick Nazzaro, Kathryn Priest, Gabriel Andrew Reyes, Celeste Rose, Sydnie Roy, Jamal Shuriah, Michael Anthony Sylvester, Olivia Tarchick, Ahren Victory, Jamaal Wade, Erin Weinberger, Robyn Williams and Zach Williams.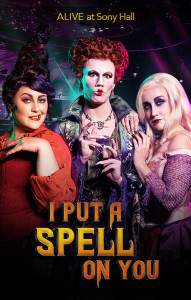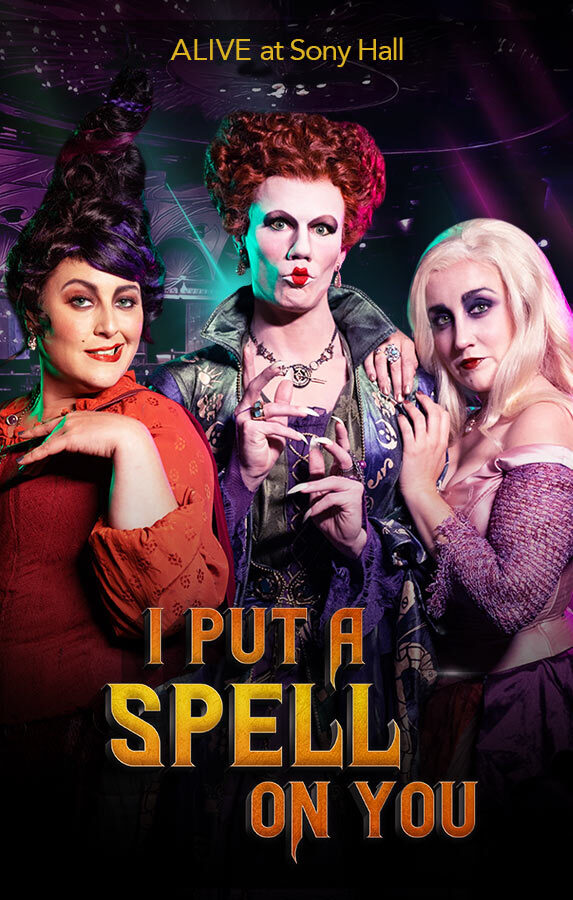 I Put a Spell on You was produced by Johnson, Katie Rosin and DW. The production was written by Johnson and directed by Ahmad Simmons, who was supervising choreographer. The creative team also included associate director/choreographer Lili Froehlich, assistant choreographers Brittany Jenkins, Kristopher Ward and Sydnie Roy and additional choreographers Mike Baerga, Phil Colgan, Chris Jarosz, Michael Anthony Sylvester and Jason Williams. The creative team also included music supervisor Will Van Dyke, costume designer and art director DW, multimedia producer Catriona Rubenis-Stevens, projection and video designer Jamie Kiliany, technical director Mido Francios, lighting designer William Succoso, makeup designer Alcone Company's Kyle Krueger, key makeup artist J Guerra, SFX makeup lead Christina Vida Roldos and set decorator Michael Lee Scott. The COVID compliance officer was ​​Natalia Enriquez.
Sponsors included Abracadabra, Alcone, The Costume Studio, Groove with Me, The Muse Hotel, Open Jar Studios, Pearl Studios, Schmackary's, Sony Hall and Veuve du Vernay.
*Key art photography by Roberto Araujo
Back to Top