BroadwayWorld interview with Tom Viola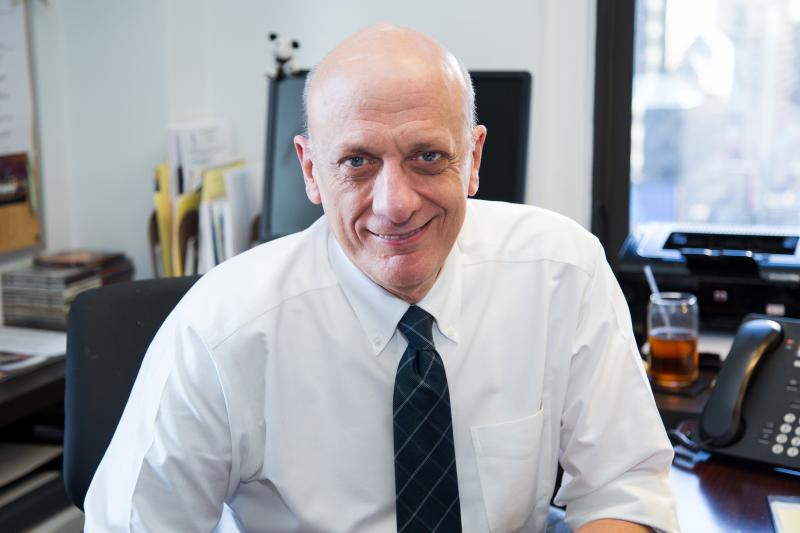 As Broadway Cares/Equity Fights AIDS reaches its 30th year in existence, Executive Director Tom Viola recently discussed the history of the organization with BroadwayWorld.com founder and editor in chief, Robert Diamond. Viola has been executive director since 1996 and has been a part of the organization since its inception in 1988.
BroadwayWorld.com: Going back to the beginning, how did it all get started? There were two organizations?
Yes, indeed there were. In 1988, with many of its members facing dire circumstances, Actors' Equity set out to fight HIV and AIDS specifically within our own theatre community. Equity Fights AIDS was created as a committee of Actors' Equity, led by its formidable president at the time, Colleen Dewhurst. The group was tasked with mobilizing the unique abilities of the entertainment industry to address the suffering of individuals affected by the epidemic by funding the support offered by the then-new AIDS Initiative program of The Actors Fund. Colleen was determined that the determination and effort of this fledgling committee to do something, anything, to address needs of our theatrical family and take root in the industry. At the same time – shortly after the death of director and choreographer Michael Bennett from AIDS – a group of producers joined together to establish Broadway Cares, raising funds and providing grants to then fledgling and often struggling AIDS service organizations in New York City and other large urban areas – some of the locations that were heaviest hit by the epidemic.
Both organizations sprung from the confusion and fear, the anger, anxiety and sorrow that was, by then, overwhelming so many. It was 1988, six or seven years since the virus had been first identified. People would literally watch friends in the business, outside the business, old friends, new friends get sick and die, sometimes in a matter of weeks. Often without benefit of services and facing the deliberate negligence of local and federal government, as well as the harsh judgment and sanctioning of stigma by the smug hierarchy of most every religion. People feared losing their jobs, being evicted from their homes, being ostracized by their employers and neighbors, some even by their own families due to fear, shame and bias. And if you think this is an overstatement, ask anyone who lived through it.
I met Rodger McFarlane when he came on board as Broadway Cares executive director in 1989. At that time there was some sense of competition between these two small groups, each trying to get establish themselves in the same neighborhood. I remember clearly the day Rodger met with me and simply said: "We cannot waste time jockeying for position, there's too much to do. You and I will work together and the others will come along or be left behind." So we chose not to compete. Instead, we shared turf for maximum impact, working closely together for the next three years; so much so that by the time we proposed a merger in 1992, many people thought we were, in fact, one and the same. Equity Fights AIDS and Broadway Cares merged, officially becoming a new 501C3 not-for-profit, Broadway Cares/Equity Fights AIDS. The new organization assumed the grant-making missions of both entities: ongoing support for the social service programs of The Actors Fund and allocating resources across the country though the National Grants Program.
When did that begin to grow to all that BC/EFA does today?
In 1996 with the establishment of the Phyllis Newman Women's Health Initiative. When Phyllis and The Actors Fund put this initiative together and asked us to help them produce the first Nothing Like a Dame show, it seemed clear to me that it was incumbent upon us to do more than that. We had a moral obligation to bring the Women's Health Initiative onboard as an additional program that Broadway Cares/Equity Fights AIDS would support at The Actors Fund. From the beginning, the women in our community, in every aspect of the business, stepped up to support our first efforts at a time when many would have told them, "This isn't your issue, why do you care?" We know that not to be the truth, but their gay friends were dying and rather than opting out, they stepped up. So when The Actors Fund established a program specifically aimed at women's health issues, how could we not do the same? It was both the right thing to do and a very important, strategic decision.
That was the beginning of the expansion of Broadway Cares/Equity Fights AIDS' mission. Today, Broadway Cares is a part of all that The Actors Fund does for everyone in the entertainment industry and performing arts. We fund its complete roster of social services, from the HIV/AIDS Initiative and the Phyllis Newman Women's Health Initiative to the Samuel J. Friedman Health Center for the Performing Arts, Artists Health Insurance Resource Center, Addiction and Recovery Services, The Dancers' Resource, The Career Center, The Stage Managers' Project, three supportive housing residences and more.
Last year, Broadway Cares/Equity Fights AIDS awarded The Actors Fund $5.6 million. Since 1988, we have provided more than $96 million, enabling The Actors Fund to reach out to thousands of men, women and children across the country in need or facing a variety of health, emotional and personal crises.
Does BC/EFA's support reach out beyond New York City?
Absolutely. First of all, The Actors Fund is a national organization with offices here in New York, Chicago and Los Angeles. But it is through our National Grants Program that Broadway Cares/Equity Fights AIDS offers support to hundreds of thousands outside of "the business" through annual support to social service organizations in all 50 states, Washington, D.C., and Puerto Rico. Last year, Broadway Cares/Equity Fights AIDS awarded more than $6.7 million to 461 AIDS and family service organizations. These grants are awarded through three distinct grant rounds each year.
More than $2.1 was awarded to 121 food service, food pantries and meal delivery programs this past January after Gypsy of the Year. Our second round, awarded in March, delivered $960,000 to health clinics, the largest urban AIDS service providers, and national advocacy organizations whose public policy work affects the abilities of all the organization we fund to deliver services. In June, a committee of stage managers and actors who lead their show's fundraising as part of the Easter Bonnet Competition met to award another $2.1 million to agencies providing direct services, emergency assistance, harm reduction and quality of life programs, as we did in 2017. And more.
Many of these organizations funded across the country by Broadway Cares have expanded their missions to include not only people with AIDS, but those with other debilitating illnesses. So, our support reaches more deeply into many neighborhoods and communities – inner city, urban, rural and suburban. Through these grants, Broadway Cares/Equity Fights AIDS promotes public support through education, fighting stigma, promoting testing and connection to treatment and building awareness. And all done because of the extraordinary efforts and the unique commitment and generosity of spirit of theatre community.
How do you evaluate what those 450 organizations across the country are doing?
We have a very simple application specifically written for each grant round. Many organizations we've now funded for 20 years or more. Some grant-making organizations will fund you for two or three years and then stop – they're onto the next new idea or program. But when a social service provider gets involved with Broadway Cares/Equity Fights AIDS as part of the National Grants Program, they don't get thrown off the train. Over the years, a good number have merged, something we actively encourage. A few have closed. But at the same time many new organizations find us online or are introduced to us by the national touring shows playing across the country and engaged in our spring and fall fundraising campaigns. All of these agencies talk to one another. Some hear of what we do and reach out for assistance. However they find us, being able to be relied on for annual support – and often growing support – year after year, is to my mind the responsible thing to do. For the agencies and most importantly their clients. I think it is the best way to responsibly steward the millions raised by the community year after year.
Was there even a dream of the organization reaching the size and budget that it has now hit?
I don't think so. We've survived, even flourished, by doing what's right in front of us. I'm not sure that anyone had any clue or could have ever imagined that Broadway Cares/Equity Fights AIDS would grow to the extent it has, now 30 years later. In the beginning, it was a very grassroots initiative, just looking to raise as much as we could for the HIV/AIDS Initiative of The Actors Fund and the maybe 100 agencies across the country. In 1993, the first full year after we merged in May 1992, BC/EFA awarded $2.8 million: $1.6 to The Actors Fund and another $1.1 through the National Grants Program. In 2017, that was $12.8 million total between the two.
How did these large scale events come about?
All of our now iconic, annual major events started very, very small.
The Easter Bonnet Competition began with folks putting dollar bills in mason jars placed in front of hats that the cast of La Cage aux Folles had created and displayed the basement of the Palace Theatre in 1986. The Broadway Flea Market & Grand Auction started accidentally with cast members from A Chorus Line putting some tables stacked with memorabilia and stuff taken off of dressing tables outside the stage door of the Shubert Theatre in 1987. So much fun was had in a couple of hours, a few other shows joined in the following year for the day. Both of these "events" occurred before Broadway Cares or Equity Fights AIDS even existed. Gypsy of the Year began in 1989 and raised maybe $70,000 at the St. James with Tyne Daly as host and 10 quick presentations for one performance with unreserved seating. Broadway Bares of course was Jerry Mitchell and six of his friends from the chorus famously taking it off and raising $8,000 dancing on the bar at Splash in 1992. All of our most successful events have that kind of genesis and trajectory.
Is there pressure to always be bigger than the previous year?
There is. But I think that can be a trap. You simply want to do the best you can, not compete with what you've done before. You want to be able to engage people in a way that fulfills their expectations and ensures that they have a good time and that they feel appreciated and a part of the process. Not used to reach some bottom line you determined without them.
Are there events that have run their course?
Sure, there always are. Any number of events we did eight, nine, 10 times that were very successful, but for one reason or another were retired, and we then found ourselves doing something else. Early on we did a Late Night Cabaret Series every Sunday night at Steve McGraw's (now The Triad) that run out of gas after five years or so, around 1996. But those nights really helped build our foundation of support in the community in those very first years. We did Nothing Like a Dame for 12 years and raised a lot of money for the Phyllis Newman Women Health Initiative. We still support the initiative programmatically, to the tune of more than $800,000 a year, but we don't do the event anymore. We did the ABC Daytime Salutes Broadway Cares events at Town Hall with all the ABC daytime stars. I think we did eight of those. And then situations changed with the ABC soaps, so that faded away. But they were a big hit for a while and reached an audience we had never seen before.
And new ones come along. We took on Broadway Backwards in 2009 with the Lesbian, Gay, Bisexual and Transgender Community Center. That's now become a huge success for us that in April raised $680,000, which we share with The Center, and introduced us to scores of new donors and supporters. Three years ago we began to do Broadway Bets, an evening at Sardi's of Texas hold 'em poker. This has grown into a very popular industry event, particularly for theatre owners, producers, managers, union leaders and others behind the scenes in the business who you won't necessarily see at Bares or Bonnets.
Is one more important than the others?
The most important component of our annual fundraising are the appeals. They're the heart, backbone and lifeblood of all we do. But even how those occur in the theatres, twice a year for six weeks, how we interact with the shows participating shifts, morphs and grows as we do it every year. They look deceptively simply but are a huge undertaking, based very much on relationships. The relationships we have with stage managers and casts, the producers. Everyone in the theatre, from backstage, in the pit and front of house who very generously agree to stop work to allow the appeal to be made from the stage and buckets, manned by cast members and scores of volunteers to appear in the lobby.
And it's been increasing on the road as well?
Absolutely, the tours are a huge piece of what we do. In the six weeks leading up to the recent Easter Bonnet Competition, 22 national tours raised $2.5 million of the $5.7 million raised through all the participation of all 62 Broadway, Off Broadway and national touring shows. That's a huge piece. Again, we work closely with them, we nurture them and engage them in a way that we hope allows them to want to continue to participate. It fuels the continued growth of the National Grants Program.
Do you have a favorite event personally?
I love different things about each one. I love being on Fire Island and seeing these incredible dancers on an outdoor stage on the Great South Bay at sunset each at the Fire Island Dance Festival. I love the rambunctious excitement so many young fans now bring to the Broadway Flea Market & Grand Auction. Social media has given that event a whole new life and profile. I love the brilliant, sexy energy of Broadway Bares and the incredible commitment that dancers now also bring to the online fundraising, proving their hearts are as enviable as their abs. There are inevitably parts of both Gypsy of the Year and Easter Bonnet Competition that will make me cry, or roll my eyes, laugh out loud and be delightfully surprised, all standing next to David Masenheimer at the "voice of God" mic just offstage while seeing the scores of folks in the show come on and off. I consider Gypsy of the Year's "moment of silence" to be our most resonant collective moment with the community every year, particularly when done so beautifully by Judith Light or Javier Muñoz. I love when the curtain goes up on "Bonnet Mountain" at the key change of "Help Is on the Way" at the Tuesday awards performance, just before the awards presenters enter. I always enjoy walking through Broadway Barks, knowing more than 100 animals will find forever homes that day because one afternoon Bernadette Peters said, "how can we do this?"
I love the inevitable surprises of Broadway Backwards when you hear some standard take on a new meaning in this new LGBT context. I like holding a bucket in different lobbies each fundraising cycle because it gives me a chance to say hello to folks involved at various shows, hear all variety of appeals and see all the ways that people give as they pass through. I especially love watching kids being taught to be generous by their parents and the occasional touch someone will give my arm as they whisper "thank you." I know they are remembering someone.
What are the biggest challenges you see facing BC/EFA right now?
The challenge is keeping people engaged when they feel like HIV/AIDS is no longer an issue and think that is all we are about. The idea of AIDS exceptionalism, which drove the desire to do something in the late '80s and into the '90s, has changed. Today, HIV/AIDS is seen as one of many contributing factors that allow people to become isolated, disadvantaged or left behind. We have had to expand our reach beyond a single issue.
If you think about the challenge of stigma, that, too, has morphed over time. When we first started fundraising in the theatre community, it was a tragic concern. As in many populations, people in our theatrical family and community were dying horrible deaths all around us. At the same time, people were facing terrific opposition, a lack of services, and institutionalized hatred from the government, church and others who might have had the ability and resources to respond. Thankfully, in many ways that has changed. But, today, we are facing a more insidious stigma, particularly in communities of color and even in the gay community itself. Quiet disdain persists. People are still crippled by shame.
In addition, the links between AIDS and poverty have become more entrenched. The disease has become part of the overall fabric of living with a lack of services and resources, institutionalized racism and governmental indifference. People most threatened by HIV/AIDS are often disconnected from the rest of the community, vulnerable to addiction, and experiencing job loss, as issues related to health care are significantly challenged by a Republican administration and congress looking to dismantle a historic safety net of social services and established support.
How has expanding the mission of your organization impacted the way you reach out for support?
Even in the early days, Broadway Cares/Equity Fights AIDS did not structure our "ask" as a public service announcement, but as an opportunity for people to do something kind, embodying a generosity of spirit. We offer both the folks making "an appeal" and those responding to it a way to express gratitude for and to share some of their good fortune. We offer them the ability to reach others who are ignored or without access to the same resources, influence and power.
Broadway Cares has a responsibility to reflect the emotional state of the Broadway theatre community. So, we keep our ear to the ground as to what the theatre community wants; what it is engaged or emotionally moved by at any one time. It might, for instance, be responding to a natural disaster, social justice concerns or any number of issues that fall outside the AIDS foundation of our mission.
In the next five years what would you like BC/EFA to have accomplished?
That we have stayed in the game. That we are always a responsive organization, doing the work that is right in front of us in order to get to the next day, engaging all who can be involved in order to help those affected or in crisis and expanding our embrace. That makes the difference, I think. That gets us through and to the next five years.
I'm not a big proponent of "strategic plans." It's at best guesswork, at worst wishful thinking and while you sit there in a room with a big white chalk board with scribbling all over it, you miss the opportunities that will address the challenges right in front of you.
To get to any kind of viable future, we must be present for now with just a finger in the wind to sense what's coming down the road.
How's the new house in the country and how has it changed your life and work week?
The house upstate is great. I never quite imagined that I would be a homeowner. I sort of surprised myself when I found this place two summers ago. In three short months, I graduated from a window box on Ninth Avenue to two acres of yard and a small, barn-like garage. I am slowly figuring it out. We do the Hudson Valley Dance Festival nearby in Catskill and fund 12 organizations in the Hudson Valley area, so it's been nice to get to know the neighbors and really feel connected to the place.
So, you're not working any less, you're just working a little further away on the weekends?
I don't know if I'm working any less, but I'm working a little less feverishly, perhaps. It's impossible to go up every weekend. But I get there. It's nice to realize that I can go up in August for the month or from mid-December to mid-January when we actually have a little bit of a slow period and stay connected remotely. I look forward to one day being the old guy with all those animals who's sitting at the counter of the Martindale Diner and always a sucker for another foster. "Just ask him. He can't say no. I think he used to do something on Broadway."
Photo by Jennifer Broski
Back to Top