Buckets Bring in $5.7 Million at 32nd Annual Easter Bonnet Competition


Humor, hope and heart were at the core of the performances at the 32nd annual Easter Bonnet Competition, which raised $5,721,879 for Broadway Cares/Equity Fights AIDS.
The near-record number was raised by 62 Broadway, Off-Broadway and national touring productions and was announced Tuesday, April 24, 2018, by Hello, Dolly!'s Victor Garber and Bernadette Peters and Angels in America's Andrew Garfield and Nathan Lane. It's the second-highest total in Easter Bonnet Competition history, eclipsed only by last year's astonishing $6.4 million.
This year's Easter Bonnet Competition, which celebrated six weeks of spring fundraising at theatres across New York City and across the country, took place on April 23 and 24 at Broadway's Minskoff Theatre, home to Disney's The Lion King. The production featured memorable performances and 20 exquisite, handcrafted bonnets, created and presented by many of Broadway and Off-Broadway's favorite shows.
This year's top fundraising award went to Broadway's Hamilton, which raised $402,083.


In addition to announcing the fundraising total, Garber, Garfield, Lane and Peters also presented awards for best presentation and best bonnet design.
The award for best presentation went to to the company of Wicked, who dedicated their performance to cast member Jerad Bortz and his husband Steven Skeels, who suffered a devastating car crash that left Bortz paralyzed from the chest down. Bortz donned the company's bonnet and led them in an emotional rendition of "Dear Old Shiz."
The company of Escape to Margaritaville was the runner up for amiably contrasting the easy-going beach life levity of their show with the subtlety of The Band's Visit, complete with guest appearances by three band members.
The award for best bonnet design went to SpongeBob SquarePants for its Bikini Bottom-inspired bonnet created by Martín Lara and Cate Goetschius.
The Easter Bonnet Competition is the culmination of six weeks of spring fundraising efforts by company members of Broadway, Off-Broadway and national touring productions. Casts, crews and volunteers at participating shows stood with Broadway Cares' signature red buckets in hand at theatre exits to accept donations, in addition to selling signed Playbills, posters and other special treasures. The donations become grants to The Actors Fund and social service agencies that provide lifesaving medication, healthy meals, counseling and emergency assistance in all 50 states, Puerto Rico and Washington, D.C.
Among the unforgettable performances at this year's Easter Bonnet Competition:




The talented young cast of School of Rock – The Musical joined forces with Marjory Stoneman Douglas High School students Sawyer Garrity and Andrea Peña to perform the students' inspiring original song, "Shine." Garrity and Peña wrote the song in response to the shooting at their Parkland, FL, school that killed 17 students and teachers in February. The stirring performance was dedicated to the victims lost in the senseless massacre.
The company of The Lion King shared a captivating interpretive dance, choreographed by Ray Mercer, that was set to spoken word written by cast member L. Steven Taylor and a moving rendition of "Worlds Apart" from Big River: The Adventures of Huckleberry Finn.
Although the Easter Bonnet Competition has a certain other holiday in its name, the cast of Avenue Q shared the story of Passover through a hilarious parody of "Let It Go" from Frozen, aptly named, "Let My Puppets Go: A Passover Tale." Seldom has a people's plight been told so humorously through puppetry.
The casts of Hamilton and Dear Evan Hansen united to share a mashup of "You Will Be Found" and "The Story of Tonight," iconic songs from both shows arranged by Alex Lacamoire. "Found Tonight" was first performed by Lin-Manuel Miranda and Ben Platt at the March for Our Lives on March 24, 2018, in Washington, D.C. That activist spirit was maintained as both casts proudly wore shirts that read, "Enough," echoing the mission of an ongoing campaign to share the stories of victims of gun violence.




Jacob Hoffman, from the recent benefit performance of Howard Crabtree's When Pigs Fly, delivered a playful torch song , in which he hilariously and facetiously confessed his love for Vice President Mike Pence, following Hamilton's presentation.
A Bronx Tale The Musical shared a new (and, unfortunately, fake) take on the next iteration of Chazz Palminteri's hit story: A Bronx Tale: On Ice!. The cast performed convincing salchows, loops and axles, despite being on a stage instead of an ice skating rink.
When faced with a pessimistic producer, the cast of SpongeBob SquarePants proves an animated cartoon can be a successful musical in "Can You Carry A Simple Toon?" Led by SpongeBob himself, Ethan Slater as a perky red-headed orphan, the cast sang Annie's "NYC" amid a flurry of Times Square characters, including Spider-Man and the Naked Cowboy.




Chicago powerhouse Lana Gordon, backed by the Easter Bonnet singers, shared an emotional rendition of Benj Pasek and Justin Paul's Academy Award-nominated anthem "This Is Me" from The Greatest Showman.
In a number representing Broadway Cares affiliate organization Dancers Responding to AIDS, loyal supporters Caleb Teicher & Company shared the world premiere of Hullabaloo Today, inspired by the energetic fun of choreographer David Winters and his work on the 1960s variety show Hullabaloo.
Come From Away, Kinky Boots, Waitress and Off-Broadway's A Letter to Harvey Milk participated in this year's bonnet parade, which highlighted a few more of the shows that fundraised this season. The parade also featured a bonnet honoring the work of the 140 volunteers of Broadway Cares' Bucket Brigade.
A special presentation by Broadway Cares' affiliate organizations – Broadway Green Alliance, Broadway Serves and R.Evolución Latina – featured passionate activists representing each of the organization's missions to empower change and their communities.


The Easter Bonnet Competition also included a spirited tribute to all the national touring productions, set to Donna Summer's "She Works Hard for the Money." The number featured 22 dancers and was choreographed by Richard J. Hinds.
This year's Easter Bonnet Competition opened with a high-energy production number, in which original La Cage aux Folles stars David Engel, Drew Geraci and Jennifer Smith explained the origins of the competition to SpongeBob SquarePants' Brynn Williams. With help from Greg Kamp, A Bronx Tale The Musical's Adam Kaplan and Hamilton's Sydnee Winters, they shared how Easter Bonnet began in 1986 when the La Cage aux Folles cast held an informal competition to raise money during the early days of the AIDS crisis. The number was written and directed by Billy Hipkins and co-directed and choreographed by James Kinney. Music direction was by Ted Arthur, music arrangements by Michael Carmine Di Bianco and orchestrations by Adam Michael Kaufman. Wigs and Cagelles makeup design by Bobbie Clifton Zlotnik; makeup by Brandon O'Brien and Zlotnik; costumes by Ricky Jay Yates.
The show concluded with Once on This Island's Hailey Kilgore singing a show-stopping and awe-inspiring rendition of the Easter Bonnet Competition anthem, "Help is on the Way," written by David Friedman with a new arrangement by Ted Arthur.
This year's Easter Bonnet Competition was hosted by John Cariani and Ari'el Stachel from The Band's Visit; Lilli Cooper, Gavin Lee and Ethan Slater from SpongeBob SquarePants; Bongi Duma and Nhlanhla Ngobeni from The Lion King; Erika Henningsen and Taylor Louderman from Mean Girls; Lea Salonga from Once on This Island and Taylor Trensch from Dear Evan Hansen.
A Letter to Harvey Milk cast members Adam Heller, Evan Pappas and Cheryl Stern celebrated the 47 Broadway, Off-Broadway and national touring productions that raised money for Broadway Cares during the six-week fundraising period but did not present a bonnet.
Special guests Caissie Levy and Patti Murin from megahit new musical Frozen introduced the esteemed panel of judges that selected the best presentation award winners on Tuesday.
This year's judges were Zach Adkins and Christy Altomare from Anastasia; Major Attaway from Aladdin; Alison Luff and Paul Alexander Nolan from Escape to Margaritaville; Ashley Park and Kate Rockwell from Mean Girls; and Charlie Stemp from Hello, Dolly!. Also joining the panel were Nicole LaFountaine and Gracie Miller, who won their judging spots by bidding on exclusive VIP packages at the 31st Annual Broadway Flea Market & Grand Auction in September.

Broadway Musicals
Top Fundraiser
Hamilton
$402,083
1st Runner-Up
Hello, Dolly!
$315,562
2nd Runner-Up
Dear Evan Hansen
$265,336
3rd Runner-Up
The Book of Mormon
$199,587
Broadway Plays
Top Fundraiser
The Play That Goes Wrong
$84,504
1st Runner-Up
Angels in America
$76,226
Off-Broadway Plays and Musicals
Top Fundraiser
Jersey Boys
$63,784
1st Runner-Up
Avenue Q
$42,955
National Tours
Top Fundraiser
Hamilton – Angelica
$330,876
1st Runner-Up
The Book of Mormon – Jumamosi
$264,901
2nd Runner-Up
Aladdin
$200,000
3rd Runner-Up
Wicked – Munchkinland
$196,107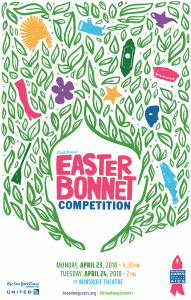 Since the Easter Bonnet Competition began in 1987, the event has raised $80.9 million for Broadway Cares/Equity Fights AIDS.
The Easter Bonnet Competition was directed by Kristin Newhouse with Arabella Powell serving as production stage manager, leading a team of 10 expert stage managers. Ben Cohn was music supervisor, Ted Arthur was music director and Charles Gordon was orchestra coordinator. Lighting design was by Timothy Reed and sound by Alain Van Achte.
Easter Bonnet Competition is sponsored by The New York Times and United Airlines.




Photos by Monica Simoes and Allison Stock
Video by Reel Time Video Production; highlights video edited by Mo Brady



This Year's Program
Back to Top