Christmas Eve Makes Wishes Come True at Holiday Hunkfest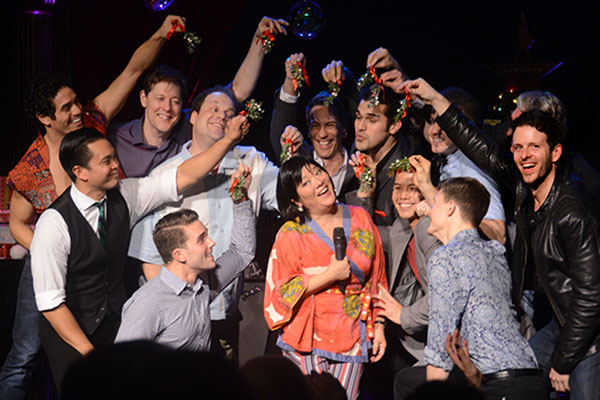 The incomparable Ann Harada returned to spread holiday spirit along with some of Broadway's leading men at Christmas Eve's Holiday Hunkfest, a one-night-only benefit December 14, 2015.
Harada stepped back into the iconic character of Christmas Eve, the hysterically inappropriate yet sincere therapist fromAvenue Q she originated on Broadway. In an audaciously entertaining evening of song and dance Harada reinterpreted Broadway and classic holiday tunes with the help of a bevy of Broadway hunks.
Each year, Christmas Eve asks Santa to grant her one holiday wish: to sing with Broadway's hunkiest men. Apparently Christmas Eve had been just nice enough – or just naughty enough – to get her wish and he graced her with a dozen hunks to share the stage with.
Sylvia's Robert Sella helped bring out Christmas Eve's inner Liza Minnelli with an energetic "Money" from Cabaret, complete with German accent and piles of money being thrown into the audience.
Joel Perez, currently featured in Fun Home, exposed Christmas Eve's romantic side, forgotten somewhere in the '80s, with a melodramatic performance of "I Know Him So Well" from Chess.
John Bolton from Broadway's Dames at Sea, wanted to sing a song from The King and I and Christmas Eve would only agree if she got to play the tough Asian emperor. Bolton, swiping the Christmas tree skirt, reappeared as Anna Leonowens dressed in an impressive 19th century gown to show the emperor how it's done with some impressive polka moves and a passionate kiss.
Christmas Eve revealed that Michael Rupert, Tony Award winner for Sweet Charity, was her first Broadway crush. So on a night where fantasies come true, Rupert arrived onstage for a delightful duet of "Love Song" from Pippin.
Christmas Eve and Telly Leung, currently starring in Allegiance, praised the diverse casting being seen on Broadway and sang Irving Berlin's memorable "You're Just in Love" from Call Me Madam.
Joe Carroll, who appeared with Harada in Broadway's Cinderella, surprised Christmas Eve by bringing his guitar to the stage. Excited, Christmas Eve revealed her own tiny, toy piano, perfect for a romantic recreation of the Once love song, "Falling Slowly."
Jose Llana, recently featured in The King and I, shared his dream of playing a non-Asian character on Broadway. In a rolicking interpretation of Chicago's "They Both Reached for the Gun," Llana channeled Billy Flynn with Christmas Eve as the puppet doll Roxy. Dan Horn and Kevin Munhall, Christmas Eve's dancers for the night, joined the number as the court reporters.
Horn and Munhall also helped Christmas Eve show off her moves with a sizzling "Lucy and Jessie" from Follies.
Avenue Q alumni shined brightly at the hunkfest. Jordan Gelber, who originated the role of Christmas Eve's husband Brian, joined her for a rendition of "I Remember It Well" from Gigi. Howie Michael Smith, accompanied by the beloved closeted gay Republican puppet, Rod, arrived to sing an assortment of holiday favorites mixed in a Broadway style.
Smith stuck around to fulfill Rod's dream of meeting Aladdin's Adam Jacobs. Like magic, Jacobs appeared to sing "In My Life/A Heart Full of Love" from Les Misérables as Christmas Eve and Rod shamelessly explored his toned, shirtless physique.
Harada briefly stepped out of character to showcase her impressive alto with a gentle "Have Yourself a Merry Little Christmas." To close the show she brought all her guests back to the stage for a festive "All I Want for Christmas is You."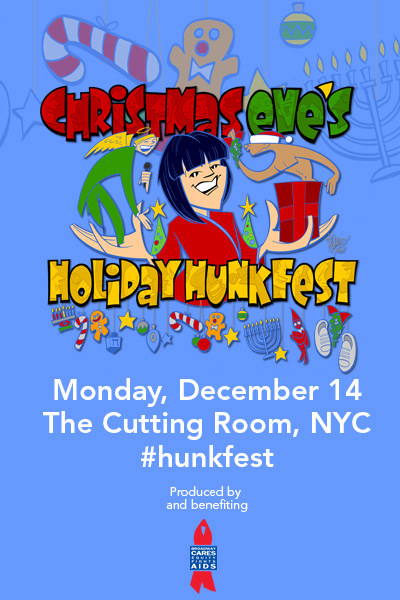 Christmas Eve's Holiday Hunkfest was performed at New York City's The Cutting Room. It was directed by Alan Muraoka with choreography by Darren Lee and music direction by Gary Adler.
Harada originated the role of Christmas Eve in both the Broadway and London productions of the Tony Award-winning Avenue Q. Most recently, she appeared in the Off-Broadway superhero show Brooklynite. Harada also was featured on Broadway in Cinderella, 9 to 5, Les Misérables, Seussical The Musical and M. Butterfly; in the Off-Broadway hit Love, Loss and What I Wore and in George Street Playhouse's production of God of Carnage. She also was featured in The Actors Fund productions of Chess and Hair. Her solo concert was featured in Lincoln Center's American Songbook series in 2014. Her recent TV work includes Redheads Anonymous, Linda the stage manager on Smash, Admission, It Could Be Worst, 30 Rock, The Big C, Lipstick Jungle, Rescue Me and The Electric Company.
Photos by Monica Simoes
Back to Top