Easter Bonnet Competition Celebrates Resilience of the Theater Community
The theater community rallied together once again with spirited skits, dynamic dance and brilliant bonnets as Broadway Cares/Equity Fights AIDS' Easter Bonnet Competition returned. The performances celebrated six weeks of Red Bucket appeals that raised $3,601,355 for meals and medication, health care and hope for those who need them most.
The production featured one-of-a-kind performances created especially for this 34th edition of the Easter Bonnet Competition and 17 meticulously handcrafted bonnets.
The Easter Bonnet Competition is the culmination of six weeks of Spring Fundraising efforts by company members of Broadway, Off-Broadway and national touring productions. The efforts play a crucial role in Broadway Cares' National Grants Program, which supports health care, counseling, meals, medication and emergency financial support in all 50 states, Washington D.C. and Puerto Rico.
The total amount raised by shows and supporters across the country, the top fundraisers and the best bonnet design were announced Tuesday by Annaleigh Ashford, Jessica Chastain, Josh Groban and Lea Michele.
This year's top overall fundraising award went to & Juliet, which raised an impressive $231,536.
"To see this level of excitement from old friends at long-running productions and new friends from this season's smash hits reminds us all of the joy we share when everyone comes together in community," Broadway Cares Executive Director Tom Viola said. "Every year we marvel at this beautiful ecosystem keeping performers insured, healthy and treated with dignity and respect in times of crisis while also providing vital social services for those most in need across the country. We couldn't have revived and renewed a tradition like Easter Bonnet Competition without the dedication of our 207 Bucket Brigade volunteers and everyone onstage, backstage and behind the scenes who eagerly participated. We are so grateful to be back."
The award for best presentation went to the cast of The Lion King, who presented a number that took a heartwarming look at the interior life of a young couple. Cast members India Bolds-Browne and Malcolm Miles Young danced fellow castmate Ray Mercer's profound piece, set to the spoken word poetry of Shanessa Sweeney. The number cleverly referenced some of the most widely known Broadway shows exclusively written by or starring Black artists. The show's bonnet, made by Kenneth Griffin, skillfully integrated an afro wig to create a beautifully abstract structure worn by cast member Lindsey Jackson.
First runner-up for best presentation went to The Phantom of the Opera. Alumni cast members parodied the harrowing romance between Christine Daaé and the Phantom in a humorous skit set in a New Jersey nursing home haunted by the Geezer of Music. Returning to sing the music of the night were Raissa Katona Bennett, Cris Groenendaal, Katharine Heaton, Scott Mikita, Howard McGillin and Nick Wyman. The bonnet paying homage to the show's 35-year run on Broadway was created by Aaron Carlson, Jena Goldberg, Addie Gerber, Haley Tynes and Lizzy Ghent.
The award for best bonnet design went to Chicago. Created by Patrick Rinn and the Chicago wardrobe department, the bonnet was an elaborate double feature that honored the closing of The Phantom of the Opera and the ascension of Chicago to status of longest currently running show on Broadway. Chicago cast member Ryan Lowe embraced his operatic male soprano vocal stylings to counter fellow cast member Mary Claire King's jazzy tones in a unique mashup of Andrew Lloyd Webber's "Think of Me" and John Kander and Fred Ebb's "Nowadays."
Broadway Cares also recognized the brilliant work of three legacy bonnet designers: Philip Stoehr, who created this year's opening number bonnet; Ricky Jay Yates for the bonnet of the national tours; and Billy Hipkins for his towering Ghost Light bonnet, which honored the time theaters were otherwise dark during the pandemic.
The Easter Bonnet Competition is a longstanding Broadway tradition that celebrates fundraising efforts for Broadway Cares/Equity Fights AIDS. Each year, bands of volunteers and cast members in theaters across the country join the time-honored tradition of in-theater #RedBuckets fundraising. Through inspiring onstage appeals, lively poster and Playbill signing parties and coordinated in-theater donations, the theatrical community onstage, backstage and in the audience play a part in supporting those most in need across the country and around the corner.
Alfred Uhry's Parade transformed into a welcoming Pride parade confronting the wave of anti-drag and anti-trans legislation being enacted in several states. Featuring Broadway cast members and notable NYC drag queens, revised lyrics to the show's opening number proclaimed, "Praise those who fight for the kid with a story/For our proud and valiant friends/Stand together to the end." The show's prideful, butterfly-adorned bonnets were created by Sarah Marie Dixey.
In a hilariously self-deprecating skit, the cast of Bad Cinderella turned the tables on reviewers critical of the show by flipping Alicia Keys' "Girl on Fire" lyrics into an anthem of positivity. They sang, "This show is on fire … bad reviews can shove it 'cause the people love it" as they unveiled an incendiary dumpster-fire bonnet, designed by Dav Burrington and Nora Fisher.
The cracklin' company of A Beautiful Noise, the Neil Diamond Musical presented a comical piece in which Will Swenson's Diamond is encouraged by a music industry head to include Pinocchio, Robin Hood and a gang of Shrek characters in his song "I'm a Believer" to appeal to younger audiences. The show's fire-breathing dragon bonnet was created by Melissa Joy, Noelle McMillin and Cj Baptista.
The company of Hamilton exuberantly danced to "Another Day of Sun" from La La Land in a spirit-lifting, sun-kissed dance choreographed by cast member Thayne Jasperson. The number featured a luminously stunning golden bonnet and gown, created by Anna Kate Spears, that lit up the stage.
The company of Chicago cleverly applied cast member Ryan Lowe's operatic vocal stylings in a Phantom of the Opera and Chicago mash-up duet with fellow cast member Mary Claire King.
Kimberly Akimbo's youthful company appeared as a struggling show choir when Bonnie Milligan, as her show character Aunt Debra, encouraged the unpopular group of kids to let their freak flag fly in a clear nod to Shrek. The teenagers accept themselves "suspenders and all" before the emergence of a bonnet complete with roller skates and a glittery helmet, created by Rebecca Heroff, Renee Levine Furphy, Dawn Marcoccia, Reed Neal and Karen Zitnick.
This year's Bonnet Parade included bonnets from Little Shop of Horrors, created by Teddy Yudain, Shane Lacoss and Aaron Arnell Harrington and worn by Harrington; Six, created by House of Valentine and worn by Alexandra de Suze; and Some Like It Hot, created by Jeff Johnson-Doherty and worn by J. Harrison Ghee. The parade also included a touching tribute to Starlite Deli, Broadway's favorite sandwich shop which is closing this month after 39 years when its beloved owner Jung Min Kim retires. The Starlite bonnet was created by Stacey Galloway, Jaime Samson and Cynthia Boardman and worn by Doug Shapiro.
The show's opening number featured James Jackson Jr. and Sonya Balsara as Broadway porters, working to unload the heavy baggage of everything Broadway has been through since the pandemic – from seemingly unending COVID tests to the challenges of keeping shows open. Special guests included Jeigh Madjus and Jackie Hoffman. The number was written and directed by Billy Hipkins with choreography by Alex Sanchez and costumes by Stacey Stephens.
Bonnie Milligan closed out the show with an electrifying performance of "Help Is on the Way," the longtime Easter Bonnet Competition anthem written by David Friedman.
National touring productions were honored with Jamie Cullum's jazzy cover of My Fair Lady's "I Could Have Danced All Night." Conceived and choreographed by Lainie Sakakura, with costumes by Jeffrey Wallach, the piece focused on the challenges of a life on the road and featured real-life families heading out on tour and the joy of reuniting
Broadway Cares/Equity Fights AIDS affiliate organizations Broadway Green Alliance, Broadway Serves and R.Evolución Latina created beautiful bonnets featured in a number that also included modern dance and a narrator describing the impactful missions and initiatives of each organization, especially during the pandemic. All three bonnets were constructed by Joe Napolitano.
Dancers Responding to AIDS, a program of Broadway Cares/Equity Fights AIDS, was represented by Parsons Dance with "Balance of Power." The number featured an eclectic mix of dance styles and strength moves in a thrilling duet by Zoey Anderson and Croix DiIenno.
This year's Easter Bonnet Competition was hosted by Christian Borle and J. Harrison Ghee, Victoria Clark, Micaela Diamond and Ben Platt, Bongi Duma and Lindiwe Dlamini; Kimberly Marable; Stark Sands; Will Swenson and the current queens of Broadway's Six, Bella Coppola, Leandra Ellis-Gaston, Zoe Jensen, Taylor Imán Jones, Nasia Thomas and Hailee Kaleem Wright.
Special guests Carolee Carmello, Arian Moayed and Brandon Uranowitz introduced the esteemed panel of judges that selected the best presentation award winners on Tuesday.
This year's judges were veteran Broadway producer and Broadway Cares Trustee Barry Brown, Kevin Cahoon and Caroline Innerbichler, director and choreographer Wayne Cilento, Jordan Dobson and Linedy Genao, Tovah Feldshuh, Elijah Rhea Johnson and Paulo Szot.
And returning to his position behind the Voice of God microphone was longtime Broadway Cares friend and champion David Masenheimer.
This season's top fundraisers:
Broadway Musicals
| | | |
| --- | --- | --- |
| Top Fundraiser | & Juliet | $231,536 |
| 1st Runner-up | The Phantom of the Opera | $223,274 |
| 2nd Runner-up | Moulin Rouge! The Musical | $198,586 |
| 3rd Runner-up | Wicked | $169,445 |
| 4th Runner-up | Funny Girl | $166,178 |
Broadway Plays
| | | |
| --- | --- | --- |
| Top Fundraiser | A Doll's House | $176,480 |
| 1st Runner-up | Pictures from Home | $86,373 |
Off-Broadway Plays and Musicals
| | | |
| --- | --- | --- |
| Top Fundraiser | Little Shop of Horrors | $54,441 |
| 1st Runner-up | The Play That Goes Wrong | $43,198 |
National Tours
| | | |
| --- | --- | --- |
| Top Fundraiser | Wicked – Munchkinland | $204,090 |
| 1st Runner-up | Hamilton – Philip | $112,731 |
| 2nd Runner-up | Frozen | $96,348 |
| 3rd Runner-up | Six – Aragon | $94,008 |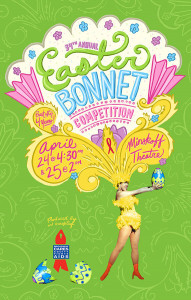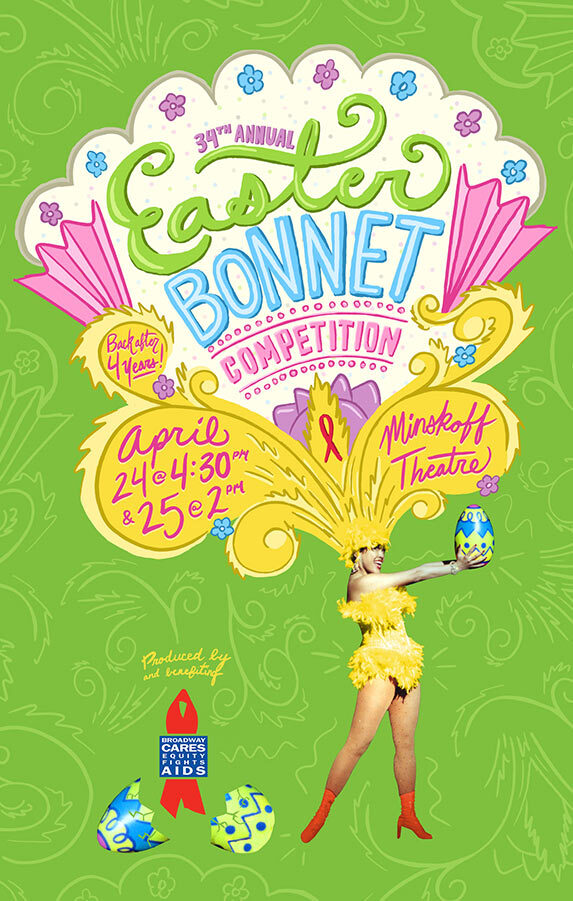 This year's Easter Bonnet Competition was presented at the Minskoff Theatre, home to Disney's The Lion King. The show was directed by Paul J. Smith, with Mahlon Kruse serving as production stage manager, Ted Arthur as music supervisor, Chris Gurr as music director and Charles Gordon as orchestra coordinator. Sound design was by Greg Reif; lighting design was by Jessica Creager.
Since the Easter Bonnet Competition began in 1987, the Spring Fundraising efforts have raised $95.3 million for Broadway Cares/Equity Fights AIDS.
Easter Bonnet Competition is sponsored by The New York Times.
This year's program
Back to Top