Easter Bonnet Competition Raises A Record $4,250,542
The staggering grand total raised during the 27th Annual Easter Bonnet Competition was rivaled only by the voluminous array of talent that graced the stage for two memorable performances featuring a slew of Tony, Oscar and Emmy winners and nominees – and more than 200 of the best actors, singers and dancers in New York.
Grammy Award winner Cyndi Lauper, four-time Tony Award winner Harvey Fierstein and two-time Academy Award winner Tom Hanks were on hand to announce the final tally of $4,250,542. The grand total, which was the result of six weeks of intensive fundraising for Broadway Cares/Equity Fights AIDS by 47 Broadway, Off-Broadway and national touring companies, eclipsed the previous record of $3,734,129 set in 2007.
The Easter Bonnet Competition ended in two shows April 22 and 23, 2013, packed with comedic skits, original songs, spectacular dances and 19 intricate, custom-made bonnets.
The company of Kinky Boots took top honors for best presentation. Dressed head-to-toe in brightly colored, hooded unitards, they delivered a light-hearted, interpretive dance set to Lauper's classic hit "True Colors," complete with a gravely voiceover from Fierstein and a surprise appearance by Lauper wearing the show's bonnet. Lauper is the composer and lyricist of Kinky Boots; Fierstein wrote the book.
The orphans of Annie and paperboys of Disney's Newsies teamed up for a dance-and-rap rumble to resolve who could lay claim to being the ultimate Broadway show about New York. The scrappy, energetic number earned them a runner-up nod for best presentation.
For the first time in Easter Bonnet history, two bonnets tied for the special design award. Disney's The Lion King and Spider-Man: Turn Off the Dark shared the honors. The Lion King bonnet, designed by Ilya Vett, featured an intricately sculpted, smoke-breathing lion's head which capped the company's interpretive song-and-dance take on what their long-running show might look like 45 years from now. Spider-Man's cast paid homage to the new acrobatic, circus-themed revival of Pippin. Their winning bonnet was an elaborate, bedazzled circus tent that lit up to reveal a complex spider's web with flashing spiders. Worn by Broadway Spider-Man Reeve Carney, the bonnet was created by Sonya Wysocki with Shannon McDowell, Mikey Piscitelli, Danny Mura, Kyle Stewart, Kyle O'Connor and Christel Murdock.
The 27th edition of the show, presented to a standing-room-only audience filling the Minskoff Theatre, home to The Lion King, started with a comedic admission that this year's event was being staged several weeks after Easter. But that didn't matter because the Easter Bonnet Competition is a holiday all its own on Broadway. Three-time Tony nominee Marin Mazzie led a talented ensemble of singers and dancers celebrating the "holiday," with surprise appearances by Ann Harada and Seth Rudetsky. The number was directed and choreographed by Al Blackstone, with music direction and arrangements by Ben Cohn and lyrics by Rudetsky.
The Easter Bonnet performances featured moving songs, dynamic choreography and amusing parodies. Watch the opening number.
A special dance tribute honored the hard-working, long-traveling national touring productions that help fundraise in cities across the country. The number, choreographed by Courtney Young, included gigantic, custom bonnets created by company members from the national tours of Les Misérables and Mary Poppins.
An original song written and performed by Wicked's F. Michael Haynie provided the soundtrack for a stirring piece by the company of Wicked, choreographed by cast member James Brown III, in honor of the victims of the Sandy Hook Elementary School shooting last fall. The emotional performance marked the moment between the joyful innocence of youth and when that innocence is lost in tragedy.
Mamma Mia! cast member Blake Whyte wrote and performed with an onstage band his original piece dedicated to children and families at Ronald McDonald Houses across the country. He was joined by 16 of his cast mates who danced an exciting blend of contemporary and hip-hop choreography.
Performing for Dancers Responding to AIDS, a program of Broadway Cares, dancer Jennifer Chicheportiche of MOMIX received a rousing ovation. Chicheportiche floated across the stage, continuously spinning with her floor-length, crystal-beaded headdress rising and falling and creating living art with each turn.
For many of this year's other presentations, laughter was the medicine of choice.
The cast of Rodgers + Hammerstein's Cinderella, led by stepsister Ann Harada, lampooned the stream of onstage marriage proposals that have become commonplace during the show's curtain calls. Veteran performer Christine Pedi and her cast mates in Chicago delved into all the things that happen inside an actor's brain in that split second when they can't remember their next line.
Once production assistants Eric Love and Ryan McCurdy shared their backstage version of Tony nominee Steven Hoggett's choreography for their show's Act I closer, "Gold," which they argued was inspired while Hoggett cleaned his home. The cast of Avenue Q made several appearances throughout the show in a series of hilarious – but essential and genuine – safe sex "Puppet Service Announcements." And the company of the most recent limited-run revival of Cat on a Hot Tin Roofamusingly speculated on a musical return for the show as "CATS! on a Hot Tin Roof."
A sharp-tongued encore appearance by Don Richard and Jennifer Cody as "Officer Lockstock and Little Sally" left few on Broadway unscathed from their biting humor. Even Broadway's adorable Annie, Lilla Crawford, and her dog Sandy, who both made a special appearance, couldn't escape attention.
Tony nominee Jessie Mueller closed out each day's show with a memorable and stirring rendition of the Easter Bonnet anthem, "Help is on the Way," written by David Friedman.
Special bonnets also were presented by Broadway's Ann, proving everything is bigger in Texas, especially Ann Richards' hair; the hit holiday musical A Christmas Story, featuring star John Bolton feeding the show's two adorable canines bites of turkey bonnet; and Broadway Green Alliance, showing how recycled and upcycled elements can be just as beautiful as anything else.
Hosts for the shows included two-time Tony winner Katie Finneran from Annie and Billy Porter from Kinky Boots; Tony winners Victoria Clark and Harriet Harris from Rodgers + Hammerstein's Cinderella; Christopher McDonald and three-time Emmy Award nominee Peter Scolari from Lucky Guy; Tony nominee Robert Cuccioli from Spider-Man: Turn Off the Dark and Judy McLane from Mamma Mia!, Ron Kunene and Tshidi Manye from The Lion King; and Shalita Grant from Vanya and Sonia and Masha and Spike, Andy Karl from Jersey Boys and Mark Nelson from Off-Broadway's My Name is Asher Lev.
This year's top Broadway fundraising award went to Lucky Guy, which raised $301,549.Other winning fundraisers were:
Broadway
First Runner-up: Wicked – $244,431
Second Runner-up: The Book of Mormon – $232,260
Third Runner-up: The Phantom of the Opera – $172,435
National Touring Shows
Top Fundraiser: The Book of Mormon – Latter Day Company – $278,054
First Runner-up: Wicked – Munchkinland – $273,637
Second Runner-up: Wicked – Emerald City – $241,030
Third Runner-up: The Book of Mormon – Jumamosi Company – $188,621
Off-Broadway
Top Fundraiser: Avenue Q – $33,426
First Runner-up: My Name is Asher Lev – $33,149
Since the Easter Bonnet Competition began in 1987, the event has raised more than $53 million for Broadway Cares. Last year's event raised $3,706,085.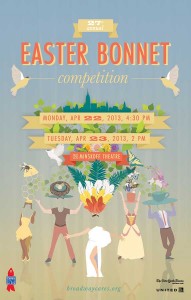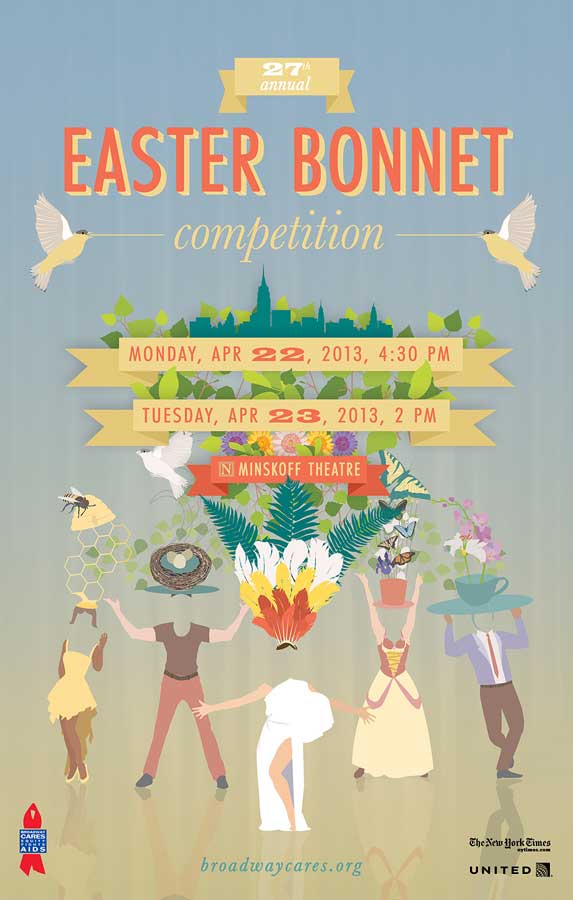 This year's Easter Bonnet judges were introduced by two-time Tony winner Nathan Lane and Tony winner Andrea Martin. The judges included two-time Tony-winning costume designer Gregg Barnes, choreographer Josh Bergasse, Grammy Award nominee Deborah Cox, Tony winner Cady Huffman, Jujamcyn Theaters' executive vice president Paul Libin (who also is president of Broadway Cares/Equity Fights AIDS' Board of Trustees), Tony nominee Constantine Maroulis, Emmy winner Holland Taylor and Michael Urie. Also joining the judging panel were Hollis Stern and Peg Wendlandt, who won their spots by being high bidders on exclusive VIP packages at the 26th Annual Broadway Flea Market & Grand Auction in September.
The Easter Bonnet Competition, directed again this year by Kristin Newhouse, is the culmination of spring fundraising efforts for Broadway Cares/Equity Fights AIDS by company members of Broadway, Off-Broadway and national touring productions. Participating shows ask audience members for donations as they exit the theatre and often sell autographed posters, Playbills and other unique, show-specific keepsakes to help raise money.
The Easter Bonnet Competition is generously sponsored by The New York Times and United Airlines.
Photos by Danny Roberts, Monica Simoes and Tomas Vzala
This year's program
Back to Top