Easter Bonnet Competition Sets All-time Fundraising Record


Records were shattered and inspiring, comical and soul-stirring performances were shared at the 33rd annual Easter Bonnet Competition, which raised $6,594,778, the highest amount ever for a Broadway Cares/Equity Fights AIDS event.
The record-breaking number was raised by 69 Broadway, Off-Broadway and national touring productions and was announced April 23, 2019, by Bryan Cranston, Jeff Daniels, Glenda Jackson and Kelli O'Hara. The previous record was $6,379,572, set in 2017. Since the Easter Bonnet Competition began in 1987, the event has raised $87.5 million.
This year's Easter Bonnet Competition, which celebrated six weeks of spring fundraising, took place on April 22 and 23 at Broadway's Minskoff Theatre, home to Disney's The Lion King. The production featured unforgettable performances and 20 one-of-a-kind, handcrafted bonnets. Check back for photos and videos of the event.
This year's top overall fundraising award went to the Hamilton – And Peggy tour, which raised $513,734. Hamilton creator Lin-Manuel Miranda made a surprise appearance to accept the award.
Cranston, Daniels, Jackson and O'Hara also presented awards for best presentation and best bonnet design.

The award for best presentation went to the cast of Off-Broadway's Fiddler on the Roof – in Yiddish, which asked the question, "what if other Broadway classics were translated into Yiddish?" Their answer was a side-splitting medley of the Yiddish versions of The Book of Mormon, Chicago, Dreamgirls, Hamilton, Legally Blonde, South Pacific, West Side Story and Wickedi, culminating with the show's legendary director, Joel Grey, singing "Git op mayn grus tsu Brodvey" ("Give my regards to Broadway") from George M!. The skit was written by cast members Ben Liebert and Adam B. Shapiro, with Yiddish lyrics by Mikhl Yashinsky.
The company of Network was runner-up for a series of vignettes where the UBS news desk was opened for a series of auditions to fill the shoes of legendary anchor Howard Beale. The hilarious and politically charged auditioners included Fred Applegate, Lena Hall, Jackie Hoffman and Sharon Wheatley before Broadway's original Beale, Bryan Cranston, took one more shot at getting "mad as hell" and "not going to take it any more." The "auditions" were written and directed by cast member Nick Wyman, who ultimately wore the Network bonnet.
The award for best bonnet design went to Come From Away. Designed by Melissa Joy Crawford, the bonnet honored Gander, Newfoundland's new-found status as a tourist attraction in the wake of Come From Away's exceptional success. The larger-than-life, illuminated bonnet paid homage to the ubiquitous "Welcome to Fabulous Las Vegas" sign.


The Easter Bonnet Competition is the culmination of six weeks of spring fundraising efforts by company members of Broadway, Off-Broadway and national touring productions. Casts, crews and volunteers at participating shows stood with Broadway Cares' signature #redbuckets in hand at theatre exits to accept donations, in addition to selling signed Playbills, posters and other special treasures.
Among the unforgettable performances at this year's Easter Bonnet Competition:
Celebrating 16 riotous years on and Off-Broadway and the $1.7 million the show has raised for Broadway Cares during its extraordinary run, the cast of Avenue Q mourned their show's closing with a parody set to Semisonic's classic "Closing Time." The number, written by cast member Michael Liscio Jr., foretold the future of our favorite puppets: Lucy the Slut ends up advocating for the legalization of sex workers, Gary Coleman opens an orphanage for unemployed child actors and the Bad Idea Bears join the Trump administration.
In a riff on the classic "Now That's What I Call Music!" compilation CDs, the ensemble of The Cher Show added the Goddess of Pop's signature flair to a bevy of pop and musical theatre standards in "Now That's What I Call Cher!" The comical covers ranged from Beyoncé to Britney to Broadway's Chicago, ultimately revealing a glittering, feathered mohawk bonnet that would make designer Bob Mackie proud. The bonnet was worn by Jarrod Spector, the show's Sonny Bono.
The cast of Come From Away offered a Newfoundland version of Ragtime's opening number, bringing together Gander natives, the Come From Aways plane people and the tourists now flocking to Newfoundland in light of the show's success. The number, created by Richard J. Hinds and Sharon Wheatley, started with a voiceover introduction by NBC News veteran Tom Brokaw, who's referenced in the show.
The cast of Aladdin used Burt Bacharach's "What The World Needs Now Is Love" as a soundtrack to honor those we've lost to and those living with HIV/AIDS. The tribute was punctuated by Aladdin star Jonathan Freeman, the original Jafar both in film and on Broadway, who shared the deeply personal story of losing his partner to HIV/AIDS during the early days of the epidemic. The number was directed and choreographed by cast member Josh Drake.


In Be More Chill's farcical performance, Joe Iconis' master plan to take over Broadway began when people became brainwashed after hearing the show's viral hit, "Michael in the Bathroom." Eventually, even Broadway shows started transforming into Be More Chill as Cher, the Phantom, Evan Hansen and a fun-sized King Kong puppet became transfixed with Iconis' anthem.
In response to today's political climate, the cast of King Kong spoke on behalf of the marginalized in a stirring dance piece accompanied by an electric cover of P!nk's "What About Us?" Cast member Mike Baerga directed and choreographed the number.
Inspired by the beauty in art and the natural world around us, the cast of Frozen shared an empowered rendition of Children of Eden's "Spark of Creation." Cast members gathered flowers and glimmering twigs in their uplifting dance piece, bringing them together onstage to create their luminous bonnet. The number was directed and choreographed by cast member Donald Jones Jr.
NEWSical the Musical star and Easter Bonnet favorite Christine Pedi hilariously lamented the state of the environment in NEWSical's "Mother Nature." She belted, "I guess we can't have nice things, like water and air that's clean." The number was particularly appropriate, as Monday's performance was on Earth Day.
This year's bonnet parade featured Kiss Me, Kate, Waitress, Wicked and the national tour of Hello, Dolly!. Broadway Cares affiliate organizations Broadway Green Alliance, Broadway Serves and R.Evolución Latina also presented handcrafted bonnets.
The Easter Bonnet Competition also included a spirited and salsa-infused tribute to all the national touring productions, set to Sister Sledge's "We Are Family." The number featured voiceovers from participating national touring companies across the country and was choreographed by Richard J. Hinds.
This year's Easter Bonnet Competition opened with a dance-driven exploration into what fundraising is like for participating casts, from volunteering time to signing posters and Playbills to the requisite pizza parties throughout the six weeks. The effervescent and dynamic number was peppered with classic Broadway choreography. The number was written and co-directed by Billy Hipkins and directed and choreographed by James Kinney. Music direction was by Ted Arthur with orchestrations by Nick Connors and Adam Michael Kaufman. Costume design was by Stacey Stephens.
Kinney also shared his Birth of the Blues, a jazzy and flirtatious piece performed by Ahmad Simmons and Corey John Snide. The number displayed the pair's impressive athleticism and contagious charisma. The piece, which represented  Dancers Responding to AIDS, a program of Broadway Cares/Equity Fights AIDS, premiered at last summer's Fire Island Dance Festival.
The show concluded with Karen Mason singing the Easter Bonnet Competition anthem, "Help is on the Way," written by David Friedman.


This year's Easter Bonnet Competition was hosted by Micaela Diamond and Jarrod Spector from The Cher Show; Bongi Duma and Tryphena Wade from The Lion King; Gideon Glick, Celia Keenan-Bolger and Will Pullen from To Kill a Mockingbird; Andy Karl and Orfeh from Pretty Woman; and Beth Leavel and Christopher Sieber from The Prom.
The Book of Mormon cast members Stephen Ashfield, Kim Exum and Cody Jamison Strand celebrated the 55 Broadway, Off-Broadway and national touring productions that raised money for Broadway Cares during the six-week fundraising period but did not present a bonnet.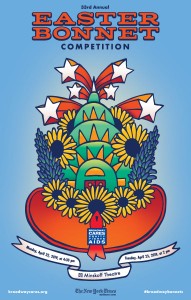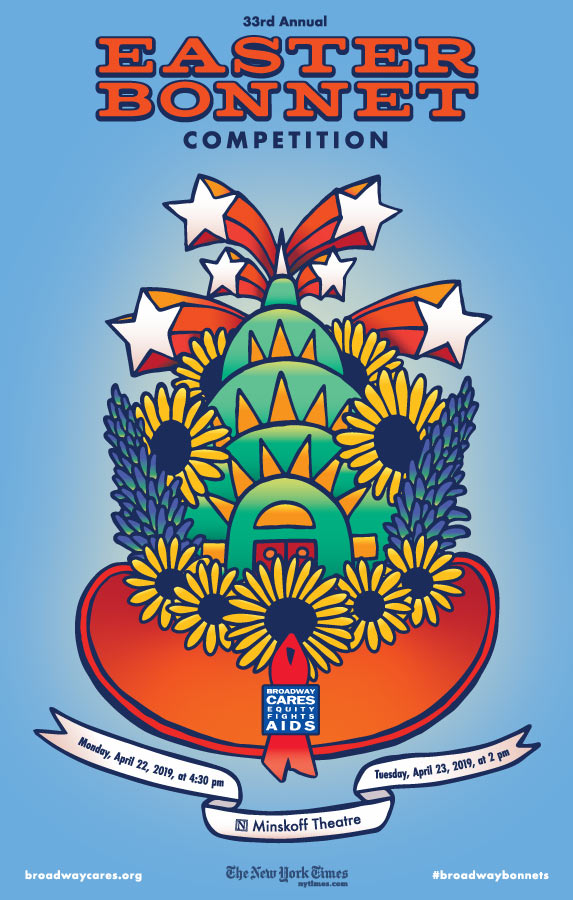 Special guests Jayne Houdyshell from King Lear, Heidi Schreck from What the Constitution Means to Me and James Snyder from Harry Potter and the Cursed Child introduced the esteemed panel of judges that selected the best presentation award winners on Tuesday.
This year's judges were Gbenga Akinnagbe from To Kill a Mockingbird; Samantha Barks from Pretty Woman; Paige Davis from Chicago and host of TV's Trading Spaces; Andrew Barth Feldman from Dear Evan Hansen; Jenny Jules from Harry Potter and the Cursed Child and Ralph Brown from The Ferryman; Patrick Page from Hadestown; Emily Skinner and Teal Wicks from The Cher Show; and Mary Testa from Oklahoma!. Also on the panel were Nathan Noh and Peg Wendlandt, who won their judging spots by bidding on exclusive VIP packages at the 32nd Annual Broadway Flea Market & Grand Auction in September.
Here's the breakdown of the fundraising leaders:
Top Overall Fundraiser
Hamilton – And Peggy
$513,734
Broadway Musical
Top Fundraiser
Hamilton
$325,305
1st Runner-Up
Mean Girls
$238,005
2nd Runner-Up
The Lion King
$191,378
3rd Runner-Up
Wicked
$180,037
Broadway Plays
Top Fundraiser
To Kill a Mockingbird
$196,464
1st Runner-Up
Network
$92,518
Off-Broadway (Plays or Musicals)
Top Fundraiser
Fiddler on the Roof – in Yiddish
$77,283
1st Runner-Up
Avenue Q
$62,396
National Tours
Top Fundraiser
Hamilton – Angelica
$354,035
1st Runner-Up
Wicked – Munchkinland
$337,562
2nd Runner-Up
Hamilton – Philip
$250,435
3rd Runner-Up
Dear Evan Hansen
$213,692

The Easter Bonnet Competition was directed by Kathleen E. Purvis with Arabella Powell serving as production stage manager, leading a team of 11 expert stage managers. Ted Arthur was music director and Charles Gordon was orchestra coordinator. Lighting design was by Timothy Reed and sound by Alain Van Achte.
Easter Bonnet Competition is sponsored by The New York Times
Photos by Curtis Brown and Monica Simoes.



This Year's Program
Back to Top