From Executive Director Tom Viola
November 7, 2020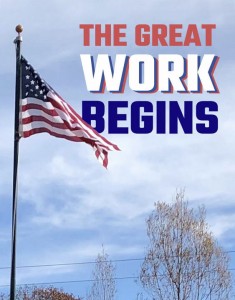 Today, there is finally a hard-won reason for joy and hopeful celebration. After four years of the denigration of empathy and compassion, there is change on the horizon. Now is the time to make sure that our hopes and dreams for the next four years become a reality.
Broadway Cares/Equity Fights AIDS came into being because of a pandemic more than 30 years ago. And now, here we are today, in the midst of another. We face many challenging, uncertain and frightening days ahead. That's especially true for all in our beloved theater community.
Now, it is up to us to make sure that our good intentions become our inevitable future.
There's a flagpole in my yard here in upstate New York. I promised myself I would replace the worn, ripped flag that has been flying atop that pole when there was reason to; when it could reflect a nation's hope and a renewed promise of equal justice, benevolence and embrace for all. Today, a shining new flag flies in the afternoon sun.
I am inspired today by the closing monologue from Angels in America. After months of intense hardship, Prior Walter, the lead character, addresses the audience and says: "The world only spins forward. We will be citizens. The time has come. … You are fabulous creatures, each and every one. And I bless you: More Life. The Great Work Begins."


Tom Viola
Executive Director
Broadway Cares/Equity Fights AIDS



Back to Top