Furry Friends Find Forever Homes at 2023 Edition of Broadway Barks
The cuteness level was set to maximum as Broadway Barks returned to New York City's Shubert Alley with dozens of adoptable four-legged friends being cuddled and coddled by the bounty of Broadway stars and fans who love them.
Twenty-four New York City area shelters and rescue organizations filled the Theater District's Shubert Alley in New York City on July 8 for the 25th anniversary of the annual pet adoption event founded by Mary Tyler Moore and Bernadette Peters.
The event was hosted by Peters and satirist Randy Rainbow, who welcomed Broadway special guests Annaleigh Ashford, Victoria Clark, Josh Groban, Laurie Metcalf, Bonnie Milligan, Bebe Neuwirth, Will Swenson and many more, all appearing with a parade of adoptable pets.
The playful puppies and charming cats, eager to find their forever homes, took the spotlight as the actors introduced the animals available for adoption and urged attendees to fill out applications.
Since its inaugural event in 1988, more than 2,100 cats and dogs have found their fur-ever homes through Broadway Barks.
Clark introduced to the crowd her own rescue, Ollie, a 6-year-old Golden Retriever who found his forever family through one of Broadway Barks' rescue organizations.
"Ollie was very sick when we got him and weighed only 37 pounds," Clark said. "He's gained 40 pounds now and is just a fantastic dog. When you get a rescue, they really know when they've been saved and it means the world to them. He knows how loved he is and he sees your beautiful faces."
Donna Murphy, who adopted her Maltese-Yorkie mix Pippi Shortstockings through the Westchester SPCA, reinforced the message of the day: "Let there be no question about the level of love and integrity and attention that these dogs and cats receive. This event is about finding homes and every animal here deserves a loving home."
Broadway couple Clyde Alves and Robyn Hurder took that message to heart. Alves, who was appearing in New York, New York, introduced an adorable pup named Tommy from Bideawee, one of the rescue organizations. "I was drawn to him because Tommy is the name of my character in New York, New York," Alves said, later noting that his Broadway debut was as Tommy Dijlas in The Music Man. "He's just been chilling in my arms and giving me kisses, which are definitely welcome." The canoodling was so successful that Alves and Hurder adopted Tommy.
This year's lineup of celebrity guests also included Maria Bilbao, Rajesh Bose, Steven Boyer, Kevin Cahoon, Kevin Del Aguila, John Dossett, Andrew Durand, Leandra Ellis-Gaston, Gina Ferrall, Avery Glymph, Adam Heller, Robyn Hurder, Ayana Jackson, Zoe Jensen, Taylor Iman Jones, Carol Kane, Ashley D. Kelley, Sean Allan Krill, McKenzie Kurtz, Mark Lotito, Michael Maliakel, Tatiana Maslany, Marsha Mason, Michael Mastro, Alli Mauzey, Michael McCormick, Howard McGillin, Laurie Metcalf, Bonnie Milligan, Paolo Montalban, Anne L. Nathan, Bebe Neuwirth, Michele Pawk, Linda Powell, Colton Ryan, Angie Schworer, Jennifer Simard, Emily Skinner, Bri Sudia, Will Swenson, Paulo Szot and Betsy Wolfe.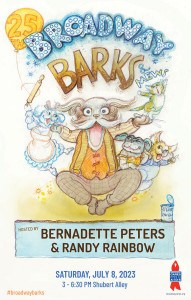 Broadway Barks featured adoptable animals from the following New York City area animal shelters and adoption agencies: 1 Love 4 Animals, Abandoned Angels Cocker Spaniels Rescue, Adopt A Boxer Rescue, The American Society for the Prevention of Cruelty to AnimalsASPCA, Animal Care & Control (ACC), Anjellicle Cats Rescue, Best Friends Animal Society, Bideawee, Bobbi and the Strays, City Critters, Francis's Friends, Hearts and Bones Rescue, Husky House, Linda's Cat Assistance, Little Shelter, Long Island Bulldog Rescue, Mid-Atlantic Great Dane Rescue League, Muddy Paws Rescue, Pet ResQ Inc., SaveKitty Foundation, Second Chance Rescue, SPCA of Westchester, Urban Cat League and Yankee Golden Retriever Rescue.
This year's event opened with a 20-year reunion of cast members from the 2003 revival of Gypsy, which starred Peters. Later in the afternoon, Groban led the cast of the Broadway's Sweeney Todd revival in a playful parody of the show's opening number, redubbed "Sweeney Dog."
Broadway Barks producers were Richard Hester, Patty Saccente and Scott T. Stevens.
Photos by Michael Hull
Back to Top