Hamlen-Palm Series Finds Virtual Life with Classical Conversations
The importance of connection, artistry and the influence of music has been made ever-more clear in the uncertainty of the world influenced by the COVID-19 pandemic.
The Hamlen-Palm Series, a signature collection of intimate house concerts at a dazzling New York City loft that traditionally features celebrated artists and musicians, needed to be adapted for 2021 due to the pandemic.
The series, instead, was presented through three engaging online Classical Conversations. Iconic musicians, arts presenters and supporters gathered virtually to ensure that the tradition of bringing classical performers and music lovers together could continue.



Leading off the series on April 29 were American composers Jake Heggie and Nico Muhly in a captivating discussion led by two-time Grammy Award-winning mezzo-soprano Sasha Cooke.
Cooke has been described by The New York Times as a "luminous standout" and by Opera News as "equal parts poise, radiance and elegant directness." Heggie's composition Dead Man Walking, created alongside the late Terrance McNally, is the most-performed American opera of the 21st century. Muhly is a recipient of commissions from The Metropolitan Opera, Carnegie Hall, Los Angeles Philharmonic, Tallis Scholars and St. John's College, Cambridge, as well the accomplished composer of works for stage and screen, including music for the Broadway revival of The Glass Menagerie and the score for the Academy Award-winning film The Reader.
The trio's specialities proved appropriately paired with Cooke's first question to the composers. As a singer who respects and loves to perform their work, she asked, "What makes a good opera and what makes a good opera composer?"
"I yearn (to write) for the human voice, and it's theatricality, and a character, and a situation, and a conflict or a transformation that's being worked through with words and music. That is my home," Heggie said. "I love storytelling."
Muhly added: "Writing an opera is a multi-tiered process. There's deep technical emotional engagement with collaborators in ways that are sort of unimaginable."
The lively and easy conversation among contemporaries touched on their collective experience of seeing their works performed around the world, how to champion the art form with both new audiences and with those who have followed their careers and how they have found inspiration to both perform and create new work during the challenges posed by an isolating pandemic.



Next up in the series, on May 2, were acclaimed violinist Leila Josefowicz and celebrated composer John Adams in a chat led by Abhijit Sengupta, the director of artistic planning at Carnegie Hall.
Adams, introduced by Étude Arts Founder and Managing Director Bill Palant as the "preeminent composer of our day," is the winner of five Grammy Awards and a prolific composer who serves as both a mentor to the emerging generation of classical composers and an influence on the genre of contemporary music theater. Josefowicz is the recipient of an Avery Fisher Prize and a MacArthur Fellowship Genius Award, and is a passionate advocate for contemporary music. Sengupta, appointed shortly before the pandemic began as director of artistic planning for Carnegie Hall, holds a Master of Music degree in viola performance from the University of Southern California and spent four years as an orchestral fellow with the New World Symphony.
The conversation shed a unique insight into the symbiotic relationship between a composer and a musician. Sengupta, referring to the artists sharing the virtual space with him as the "glitterati of their profession," quickly revealed Adams and Josefowicz as fans of each other, as well as collaborators. Specifically, he mentioned seeing a performance by Josefowicz at the Baltimore Symphony of Adams' work Scheherazade.2.
"I wanted to write a piece specifically for Leila," Adams said about the composition, which conveys the struggle of the title character with her brutal husband and a hyper-masculine world.
"I was incredibly swept up in the movement in the story and the message of this piece," Josefowicz said. "John wrote what courage sounds like."



The final evening in the Classical Conversations series paired two pianists, Emanual Axfrom the classical sphere and jazz musician Fred Hersch, in a captivating conversation led by arts presenter Ken Fischer.
A member of the jazz's piano pantheon, Hersch is a 15-time Grammy Award nominee who continues to earn jazz's most prestigious awards, including distinctions as a 2016 Doris Duke Artist and 2018 Jazz Pianist of the Year from the Jazz Journalists Association. Grammy winner Ax is a widely celebrated pianist who, in response to the pandemic, hosted The Legacy of Great Pianists, part of the virtual Live with Carnegie Hall. Fischer is president emeritus of the University Musical Society of the University of Michigan.
This third edition of Classical Conversations introduced Ax and Hersch to music fans in a more personal way. Fischer asked the artists about how they adjusted to making music during the COVID-19 pandemic, what brings them joy when they are away from the black-and-white keys and what inspired them to become musicians.
"From the time I was 6 or 7, I always improvised," Hersch said. "When playing jazz, it's not just practicing Chopin Études by yourself. You're playing music with people, in front of people, and it's never the same. It's my favorite thing to play spontaneous music with other people."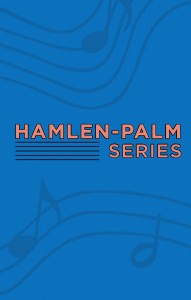 Speaking on inspiration as a young musician, Ax said: "I haunted Carnegie Hall. There was a parade of great pianists every year at Carnegie Hall, and listening to them, in a way, were the best lessons that I had."
In non-pandemic times, the Hamlen-Palm Series presents intimate house concerts in Kevin Roon and Simon Yates' captivating New York City loft featuring celebrated talents in classical music and jazz. Recent performers have included Joshua Bell, Simone Dinnerstein, Emerson String Quartet, Denyce Graves, Lisette Oropesa and Daniil Trifonov.
The series is named for Classical Action founding director Charles Hamlen, who died from leukemia in 2018, and the late financial expert and philanthopist Michael Palm, who dedicated his life to the arts, gay rights and the fight against HIV/AIDS.


✛ 2021 Hamlen-Palm Series Supporters
Back to Top