An impressive $1,482,724 Raised for BC/EFA!
Live In Living Color: Broadway Bares Strips and Sizzles "On Demand"


Chiseled morning show hosts, rock-hard reality show contestants and pumped up politicos took over the airwaves at this year's ratings-raising edition of Broadway Bares, an evening of elaborately staged burlesque production numbers that gave a new meaning to "Bares TV."
Produced by and benefiting Broadway Cares/Equity Fights AIDS, Broadway Bares: On Demand raised an impressive $1,482,724 in two performances on Sunday, June 19, 2016.
Broadway Bares: On Demand featured 198 of New York's sexiest and most talented dancers, entertaining standing-room-only audiences at New York City's Hammerstein Ballroom. The evening was dedicated to the victims, families and friends of last week's Orlando night club tragedy.
For the first time in the event's history, Stripathon, an online fundraiser by the show's cast and crew, was the single largest contributor to the total, raising by showtime a record $612,212.
This year's guest performers included Tony and Grammy Award winner Billy Porter, Olivier Award winner Lesli Margherita, two-time Tony nominee Christopher Sieber, Frankie J. Grande, Daniel Dae Kim, Michael Longoria and NY1 News' Frank DiLella and Roma Torre.
The show also included special "on demand" video appearances by seven-time Grammy Award winner Gloria Estefan, Tony nominee Andrew Rannells, Emmy Award nominee Wendy Williams, RuPaul's Drag Race winner Bob the Drag Queen, Cassandra Peterson as her horror hostess alter ego Elvira and HGTV's Property Brothers, Drew Scott and Jonathan Scott.


The evening followed a fledgling TV network's efforts to turn itself into an audience favorite by asking its stars to drop their drawers and opt for "all nude, all the time."
The show opened with Broadway's Erik Altemus and Morgan Weed as the chirpy and ultimately cheeky morning show hosts of "Crack of Dawn," an inane way to start your day. As the network's executive producer, Margherita decided to address their bottom-basement ratings by tapping into America's salacious fantasies and creating "Bares TV." She proclaimed, "Nudity,that's what will make America great again."
Weatherman Jelani Remy with his sassy trio of "weather girls" and the pole dancing Rommel Pierre O'choa, reporting on the ups and downs of the stock market, joined in bearing it all for the network's new format.
The opening number was choreographed by Nick Kenkel, who returned for the fourth year as director of Broadway Bares. The opening was written by Hunter Bell and Wade Dooley with music by Matt Sklar and lyrics by Amanda Green.
Broadway Bares: On Demand ultimately laid bare every iconic genre of television, from classic "As Seen on TV" exercise infomercials to a sexy sweet treat of a cooking show, from late-night horror flicks to strong and do-it-yourself shows.
In her search for higher ratings, Margherita sent one of her inquiring cameramen into the locker room for some undercover footage of the championship Bears baseball team. As the hard-bodied team steamed up the stage in a heart-pounding all-male number dubbed "Bases Loaded," cameraman Zach Frank was ultimately discovered by team MVP Josh Drake and stripped of his camera – and his clothes – by the none-too-shy baseballers. The number was choreographed by Kellen Stancil.


Politics became much more interesting when hunky Adam Perry and sultry Ericka Hunter turned "Debate This" into a presidential boxing match, backed by each candidate's scantily clothed campaign workers. The hard-hitting number was choreographed by Charlie Sutton.
Home improvement took a decidedly sexy turn in "Nailed It" as handyman Judah Frank helped home decorator Mark MacKillop get in touch with his stronger side. Choreographed by Michael Lee Scott, the number proved that do-it-yourself shows are the most entertaining when you work with an extra set of hands.
To celebrate the fast rise in ratings, the new "Bares TV" celebrated with its own singing reality competition. The finale of "Bares Idol," choreographed by Jim Cooney, found YouTube celebrity Grande awarding the crown to the strapping Adam Roberts, who quickly found himself stripped of his clothes – but not his title. Dressed in silver-sequined thong, Roberts celebrated as the full Broadway Bares: On Demand cast joined him onstage for an electrifying end to the show.


Other numbers that paid homage to the sizzling small screen included ¡Daytime Dramatico!," staged by Kenkel, which gave an over-the-top look at the already melodramatic world of telenovelas. Holly James played a soap opera diva on the fictional series "The Young and the Rhythmless," unable to dance until her inhabiitions are stipped away with each piece of clothing she sheds.
A wildly popular medieval fantasy epic got the Broadway Bares treatment as "Throne Games" pitted a warrior and servant in an aggressive physical battle over the attentions of a powerful dragoness in choreography by Eamon Foley. Her exotic dragons were portrayed by three aerial artists spinning high above the runway staged by Ryan Lyons.
As stormy weather moved in, "Bares TV" reporter Lawrence Alexander was sent out into the elements to cover a severe thunderstorm that sent him writhing out of his business suit in passionate choreography by Brice Mousset. The "Soakin' Wet" weather elements were performed by a team of eight aerialists, staged by Baresfavorite Armando Farfan Jr.
"Get Pumped" featured a battle of "As Seen on TV" exercise options, with aerobics battling the Thigh Master before the Shake Weight took over. Featuring Ariana DeBose, Hope Easterbrook and Amaker Smith, the high-octane number was choreographed by Laya Barak.
Chef Nicole found extra help in the kitchen as she whipped up "Sweet Treats," in a number choreographed by James Harkness. Helped by six sexy sous chefs, Nicole Spencer dished out ingredients and whipped off her clothing in a decidedly sensual "taste test."
A toy makers' fate was in the hands of its new fashion doll as "Stock Tip" explored how a trio of company executives learned a lesson in marketing. Choreographed by John Alix, the number featured Whitney Sprayberry as the doll who found friends and empowerment in women of all shapes and sizes.
In a parody of late-night horror flicks, complete with an introduction by Elvira, "Scared Stiff," choreographed by Sidney Erik Wright, found an unsuspecting group of coeds haunted, hunted and disrobed by classic scary movie villains.


Kim, currently starring in Broadway's The King and I and a veteran of TV's Lost, made a cameo appearance with Margherita who cajoled Kim into losing his T-shirt and revealing "Love is Love" painted on his chest. DiLella and Torre, hosts of NY1's On Stage theatre show, both "auditioned" to be "Bares TV" news anchor, with Torre landing the job after agreeing to be more "nude and balanced" than DiLella.
Closing each performance, Sieber led the show's famous "rotation," where the entire cast danced freestyle to encourage individual appreciation tips from the audience. This year's rotation raised an additional $22,621.
This year's top Stripathon fundraiser was Ricky Schroeder, who raised a remarkable $21,500. He was closely followed by Ariana DeBose, raising an impressive $16,116 – setting a record for most money raised by a woman in Broadway Bareshistory. Rounding out the top five were Ben Ryan with $16,000, Ed Stanley with $13,347 and Madeline Reed with $12,661.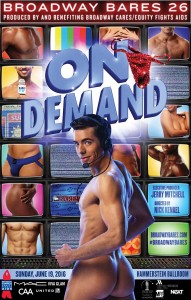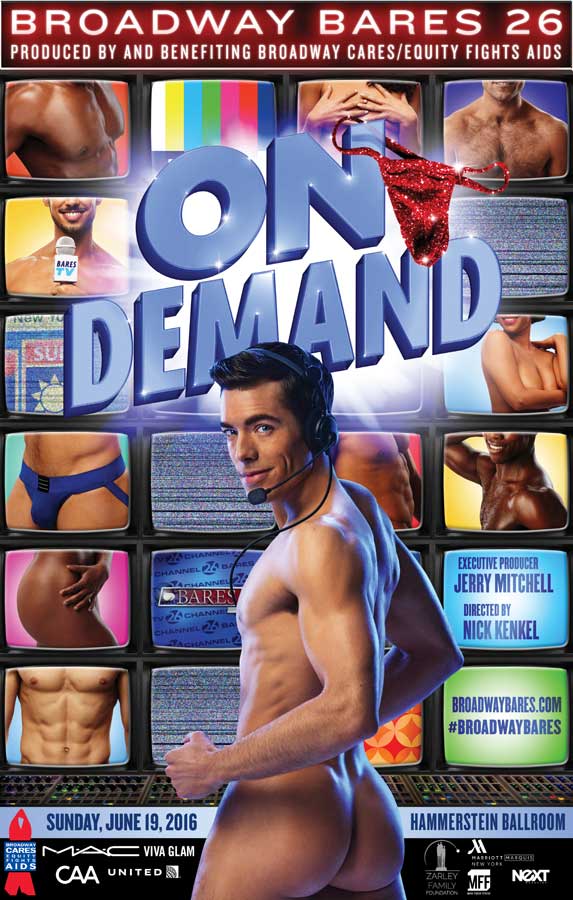 Broadway Bares: On Demand was produced by Broadway Cares/Equity Fights AIDS, led by Producing Director Valerie Lau-Kee Lai and an extraordinary staff. Production Stage Manager Kathleen Purvis led a team of 33 stage managers with more than 700 other volunteers behind the scenes to create the show. Paul Miller served as lighting designer; Nevin Steinberg handled sound design; and the show's scenic designer was Jason Lee Courson. Hunter Bell wrote the show's book. Aaron Hamilton served as assistant director.
Presenting sponsor M∙A∙C VIVA Glam delivered a $300,000 check, presented by Jennifer Balbier, M∙A∙C senior vice president of global product development and M∙A∙C AIDS Fund board member. Balbier also saluted the extraordinary skills of more than 70 M∙A∙C makeup artists who volunteered to create the show's incredible looks.
Broadway Bares was created by Tony-winning director and choreographer Jerry Mitchell in 1992 as a way to raise money to help those diagnosed with HIV/AIDS. In its first year, Mitchell and seven of his friends danced on a New York City bar and raised $8,000. To date, Broadway Bares has now raised $15.8 million for Broadway Cares.
Photos by Darren Bell, Billy Bustamente, Kevin Thomas Garcia, Ryan Mueller, Matthew Murphy, Daniel Roberts, Matthew Stocke, Jonathan Tichler and Evan Zimmerman
Video by Reel Time Video Production; highlights video edited by Mo Brady
This Year's Program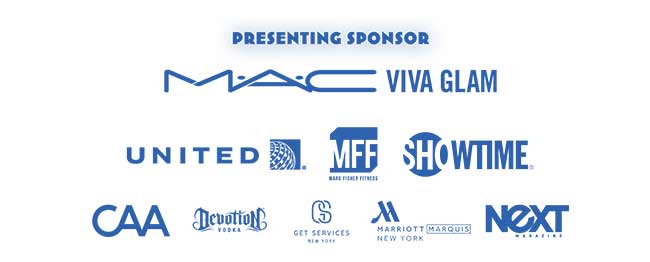 Back to Top