Red Bucket Follies Breaks Records and Celebrates Broadway Community


Equality, inclusion and joy permeated the performances at this year's poignant and record-breaking Red Bucket Follies. The show celebrated six weeks of enthusiastic fundraising by 67 Broadway, Off-Broadway and national touring shows for Broadway Cares/Equity Fights AIDS.
Red Bucket Follies, which was held December 3 and 4, 2018, raised $6,113,301 for Broadway Cares, the highest fall fundraising total in Broadway Cares' 30-year history. The record was announced Tuesday by Cherry Jones, Christopher Sieber and Michael Urie. The special guests also presented the awards to the top fundraisers and best performances across the two afternoons.
The company of Kinky Boots took top honors for best onstage presentation. In its number, Kinky Boots bid a farcical farewell to Broadway before the hit show closes this April after six unforgettable years. Dressed in their "True Colors," a rainbow of head-to-toe spandex bodysuits, the cast performed a punchy parody of the Frank Sinatra classic "My Way" as they lamented hardships of saying goodbye to a Broadway show.
The runner-up was the company of Frozen, presenting a radiant dance piece, choreographed by Donald Jones Jr. The number celebrated community and acceptance, set to VV Brown's "What We All Need Now More than Anything is to See People Enjoying Each Other."


This year's opening number celebrated Asian-American actors on Broadway and commemorated the 60th anniversary of the groundbreaking Flower Drum Song. Stars from the 1958 Broadway production, 1961 movie and first road company joined actors from the 2002 revival company and the first national touring company for a once-in-a-lifetime reunion. The performance honored the depth, breadth and decades of barrier-breaking experiences provided to theater audiences by Asian actors. In all, more than 40 Asian performers joined in the onstage celebration, which featured Sandra Allen, Marcus Choi, Ali Ewoldt, Ericka Hunter, Alvin Y. F. Ing, Baayork Lee, Telly Leung, Jose Llana, Jodi Long and Ashley Park. The number was directed and choreographed by Alex Sanchez and conceived by Leung and Lainie Sakakura.
Sharing the turmoil and strength of women speaking their truth to power, The Lion King's India Bolds, Rosie Lani Fiedelman and Pia Hamilton presented a stirring and emotional dance set to recordings from the Senate testimony of Anita Hill and Dr. Christine Blasey Ford. The powerful performance, choreographed by Ray Mercer, closed with the resonant statement, "It's time to listen to women."
The cast of Hamilton performed an original dance to "Cheering for Me Now," the latest of Lin-Manuel Miranda's monthly viral "Hamil-drops." Set to lyrics by Miranda and a melody by the legendary John Kander, the piece displayed Alexander Hamilton's reaction to the accolades thrown upon him, acting as a love letter to New York City. Cast member Karla Puno Garcia choreographed the piece.


Wicked cast member Steven Skeels shared a touching performance of his original song "Beautiful Boy," dedicated to those who've lost their lives to HIV/AIDS. Fellow cast members Josh Daniel Green and Chris Jarosz performed an elegant and affecting dance, mirroring the devastating experiences and emotions explored in the song. The piece was choreographed by Charlie Sutton.
The cast of Chicago traded their traditional Fosse flair for energetic, uplifting tap dance, choreographed by Beth Nicely, set to hit pop songs "Survivor," "Shape of You" and "Bang Bang."
Honoring those who lost their lives in Pittsburgh's Tree of Life synagogue shooting in October, the Off-Broadway cast of Fiddler on the Roof – in Yiddish, led by their legendary director Joel Grey, shared a heart-rending performance of "Sabbath Prayer."  The number concluded with 11 cast members holding lit candles, commemorating the 11 individuals who died in the tragedy.
Avenue Q's Rod fulfilled his RuPaul's Drag Race dreams when he and his castmates presented "Q Better Work." Set to "Don't Even Know It" from the West End hit musical Everybody's Talking About Jamie, the number exploded in a parade of puppets in their most delightful drag looks as Rod celebrated his fierce newfound passion. The number was written, directed and choreographed by John Bantay.
NEWSical The Musical's Christine Pedi displayed her impressive range of riotous impressions when she performed Pippin's "No Time at All" as a bevy of Broadway icons, from Elaine Stritch to Cher, Ethel Merman to Bernadette Peters and every grand dame in between.


To celebrate the hard work of 27 national touring productions that supported Broadway Cares this fall by fundraising, Hamilton's Karla Puno Garcia directed and choreographed an uplifting number set to Otis Redding's "Stand By Me." The dancers, sporting the logos of the national touring shows, ultimately came together to create a red ribbon, which was sewn into their T-shirts. As a tribute to the dedicated volunteers who make the red bucket appeals seasons possible, Chaz Wolcott directed and choreographed a heartwarming piece set to the classic "Put a Little Love in Your Heart."
Seth Rudetsky, host of SiriusXM Satellite Radio's "On Broadway" channel and a longtime friend of Broadway Cares, returned to host the show with his quintessential deconstructions for the 11th time. Rudetsky was joined for one of his classic "deconstructions" by special guest Jennifer Simard, who provided a slightly different perspective on holiday cheer with "Hurt Someone's Feelings Today."
Representing Dancers Responding to AIDS, a program of Broadway Cares/Equity Fights AIDS, Carousel's Ryan Steele performed choreographer Billy Griffin's sultry "Is That All There Is?" The piece premiered at this fall's Hudson Valley Dance Festival.
Here's the breakdown of this year's fundraising champions:
Top Overall Fundraiser
Hamilton – Angelica
$515,152
Broadway Musical
Top Fundraiser
Hamilton
$313,971
1st Runner-Up
Mean Girls
$202,769
2nd Runner-Up
Dear Evan Hansen
$170,061
3rd Runner-Up
The Lion King
$162,109
Broadway Play
Top Fundraiser
The Lifespan of a Fact
$257,653
Off-Broadway (Play or Musical)
Top Fundraiser
Fiddler on the Roof – in Yiddish
$42,053
1st Runner-Up
Jersey Boys
$37,193
National Tours
Top Fundraiser
Wicked – Munchkinland
$324,945
1st Runner-Up
Dear Evan Hansen
$305,412
2nd Runner-Up
Waitress
$231,020
3rd Runner-Up
Come From Away
$216,050

Longtime Broadway Cares supporter and Wicked cast member Kevin Chamberlin led the audience in a moving moment of silence to remember lives lost to and affected by HIV/AIDS.
Other special presenters included Harry Potter and the Cursed Child's Noma Dumezweni, Poppy Miller and Paul Thornley; and Mean Girls' Erika Henningsen, Ashley Park, Kate Rockwell and Kyle Selig.
The panel of judges who chose the best presentation award winners was introduced by Mike Birbiglia's The New One's Mike Birbiglia and My Fair Lady's Norbert Leo Butz and Harry Hadden-Paton.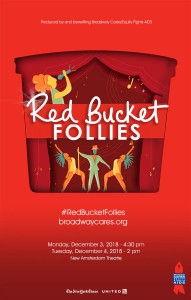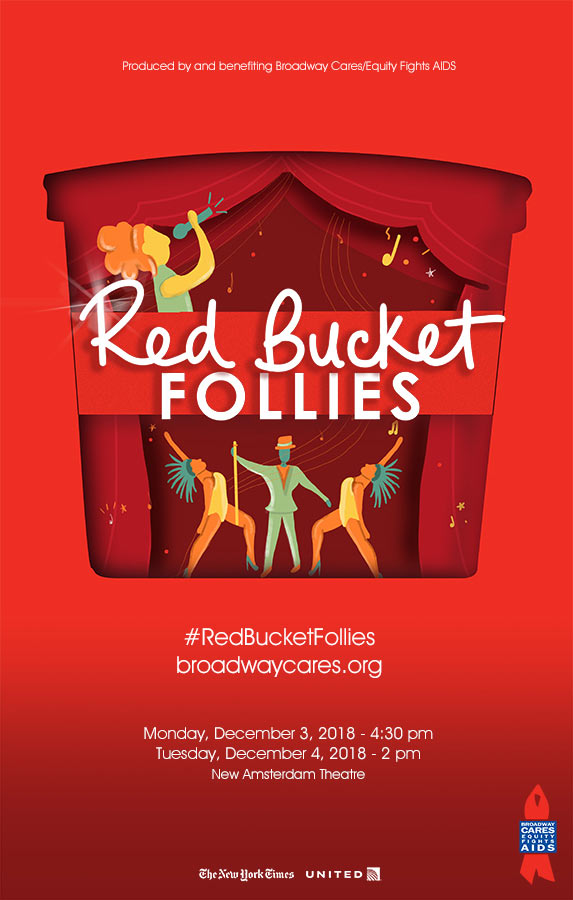 This year's judges were music supervisor Mary-Mitchell Campbell from Mean Girls and The Prom; Ali Ewoldt and Jay Armstrong Johnson from The Phantom of the Opera; the legendary Rosemary Harris from My Fair Lady; Andy Karl and Orfeh from Pretty Woman; Caitlin Kinnunen and Isabelle McCalla from The Prom; Peppermint from Head Over Heels and Nicolette Robinson from Waitress. Also on the panel were Nathan Noh and Peg Wendlandt, who won their judging spots by bidding on exclusive VIP packages at the 32nd Annual Broadway Flea Market & Grand Auction in September.
Gypsy of the Year was directed by Jason Trubitt with Matthew Kurtis Lutz serving as production stage manager, leading a team of 11 accomplished stage managers. Ben Cohn was music supervisor, and Ted Arthur was music director. Lighting design was by Joel Shier with sound by Marie Renee Foucher and Kurt Fischer.
Red Bucket Follies builds on the 29-year legacy of the Gypsy of the Year Competition. Since 1989, Gypsy of the Year raised $76 million to benefit Broadway Cares/Equity Fights AIDS. Red Bucket Follies brings that total to $82 million.




Photos by Curtis Brown, Michael Kushner and Monica Simoes
Video by Reel Time Video Production; highlights edited by Mo Brady
Back to Top