Raises a Record-Breaking $522,870
Sold-Out Broadway Backwards Embraces Solidarity, Empowerment


Equality, solidarity and warmth filled the Al Hirschfeld Theatre on March 13, 2017, when the biggest stars on Broadway proved gender doesn't matter, but love does as they explored and embraced the great songs of musical theatre at the 12th annual Broadway Backwards.
This year's sold-out celebration, where men sing songs intended for women and vice versa without changing pronouns, shattered fundraising records, bringing in an impressive $522,870 to benefit Broadway Cares/Equity Fights AIDS and The Lesbian, Gay, Bisexual & Transgender Community Center in New York City. The show was produced by Broadway Cares.
The evening was hosted by Tony Award winner and longtime friend of Broadway Cares Julie White, who brought her signature sass and wit to the stage. The evening featured 19 comedic, poignant and heart-wrenching numbers, backed by a live, 12-piece onstage orchestra, on the Hirschfeld stage, home to the Tony Award-winning Kinky Boots.
Tony winner Cynthia Erivo brought the house down with a gospel-infused rendition of "Make Them Year You" from Ragtime. Her powerful, show-stopping vocals, backed by the Broadway Backwards ensemble, had the audience on its feet cheering for more in a fitting finale to this year's show.




Four-time Grammy nominee and pop icon Josh Groban, currently starring on Broadway in Natasha, Pierre & the Great Comet of 1812, closed the first act with a stirring version of "Someone Else's Story" from Chess. Groban shared that his first performance for a Broadway audience was a 2003 Chess benefit concert for The Actors Fund. On this evening, he fulfilled his dream of singing this gorgeous ballad.
The audience was invited to leave politics and today's troubles behind for the evening, and instead celebrate the strength of the theatrical and LGBT communities. "Tomorrow we fight," White told the audience. "But tonight, we sing, we dance."
The evening of empowerment kicked off with a high-spirited, tap-happy rendition of "Tap Your Troubles Away" from Mack & Mabel, led by Clyde Alves and the equally rhythmic, rainbow-wearing Backwards ensemble.


Andrew Keenan-Bolger and Jay Armstrong Johnson came together in a giddy, delightful duet of "Sixteen Going on Seventeen" from The Sound of Music. The pair gleefully gallivanted across the stage as a confident Johnson wooed the naive, innocent Keenan-Bolger through a charmingly updated romp through the classic.
While waiting in an audition room, Sierra Boggess became entranced by Aladdin's Kathryn Terza as she warmed up. Inspired, Boggess sang "Kiss the Girl" from The Little Mermaid, in which Boggess originated the lead role.
Bobby Conte Thornton entered an old-school red carpet movie premiere with vintage swagger to perform a sultry rendition of "Buddie Beware" from Anything Goes. Inspired by the iconic water ballets of the 1940s, the men dove into underwater-inspired choreography headfirst as Thornton channeled the legendary Esther Williams to swim across the stage. The song featured a guest appearance from six-time Emmy Award winner and comedy writer Bruce Vilanch.
When Ariana DeBose and Megan Sikora are stood up at prom, the pair flirt through a playful version of "It's De-Lovely" from Anything Goes. After coquettishly dancing about the stage, the pair ended the song with a slow dance and sweet first kiss.


Eric Petersen delivered a hilariously boisterous rendition of "Shy" from Once Upon a Mattress. Interrupting a peaceful reading cafe with his search for his blind date, Petersen's over-the-stop slapstick and lovable goofiness left the audience in stitches.
The evening featured an array of unforgettable solos. Tony winner John Glover honored those we've lost to HIV/AIDS through a heart-warming version of "Hello in There" from The Divine Miss M.
Tony nominee Andrew Rannells gave a sassy and powerful rendition of "Wherever He Ain't" from Mack & Mabel. Having originated the role of Hans in the hit animated film version, Tony nominee and television star Santino Fontana provided a male perspective on Elsa's anthem "Let It Go" from the upcoming Broadway musical Frozen.




Three-time Tony nominee Carolee Carmello delivered a jaw-dropping interpretation of "Pity the Child" from Chess. The incomparable Tony winner Cady Huffman gave an endearing performance of "Real Live Girl" from Little Me, hilariously accompanying herself on the ukulele and euphonium. A beautiful rendition of "I'm Still Here" from Follies was sung by Broadway legend and Tony winner Len Cariou.
Elizabeth Stanley performed a riotous, ribald rendition of what may be the ultimate break-up song, "The Sensitive Song" from Cops: The Musical. Tony Award winner Levi Kreis accompanied himself on the piano in a stirring rendition of "Will You Still Love Me Tomorrow" from Beautiful – The Carole King Musical. Broadway and movie icon Kathleen Turner, held the audience in the palm of her hand with the classic "I've Grown Accustomed to Her Face" from My Fair Lady. The performance marked Turner's singing debut.
The event also featured wonderful duets and trios. Lora Lee Gayer and Rachel York shared a touching rendition of "If I Loved You" from Carousel. Michael Longoria, Dominic Nolfi and Daniel Reichard, three original cast members from Jersey Boys, performed a powerful, beautifully harmonized rendition of A Chorus Line's "At The Ballet."
Stage and screen star Kathleen Chalfant, one of the earliest activists for and a board trustee of Broadway Cares/Equity Fights AIDS, offered her thanks to the audience for their gracious support of Broadway Cares and The Center. She also shared insight into the good work being done by both organizations to collaborate and share resources to make a difference for our friends and neighbors in New York and across the country.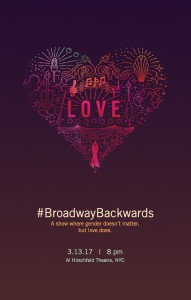 This year's Broadway Backwards ensemble included Beckley Andrews, Andy Baldwin, Mackenzie Bell, Mallory Brophy, Audra Bryant, Adam Chandler, Beth Crandall, Amy Decker, Jon Drake, Aleka Emerson, Eileen Faxas, JP Ferreri, Jerry Gallagher, Kelli Gautreau, Steve Geary, Damon J. Gillespie, Jeff Heimbrock, Abby Jaros, Bryan Hunt, Drew King, Christopher M. Lacey, Robbie Nicholson, Patrick Pevehouse, Kristin Pope, Ricky Pope, Michael Pugliese, Alex Ringler, Adam Roberts, Kelly Sheehan, Jeffrey C. Sousa, Nate Suggs, Kathryn Terza, Clay Thomson and Stephanie Toups.
Broadway Backwards Creator Robert Bartley wrote and directed this year's show, with choreography by Bartley, Penny Ayn Maas, Christopher Rice and Adam Roberts. Mary-Mitchell Campbell served as music supervisor and Laura Bergquist was music director. The creative team included lighting designer Carolyn Wong, costume designers Jess Gersz and Vanessa Leuck and sound designer Matthew Kraus.
What began as a small, grassroots concert performed at The Center in 2006 quickly grew into a highly-anticipated event presented in Broadway's best theatres. In its 12 editions, Broadway Backwards has raised more than $2.9 million for Broadway Cares and The Center.
Photos by Monica Simoes and Jonathan Tichler
Video by Reel Time Video Production; highlights video edited by Mo Brady
✛ View Host Committee
This Year's Program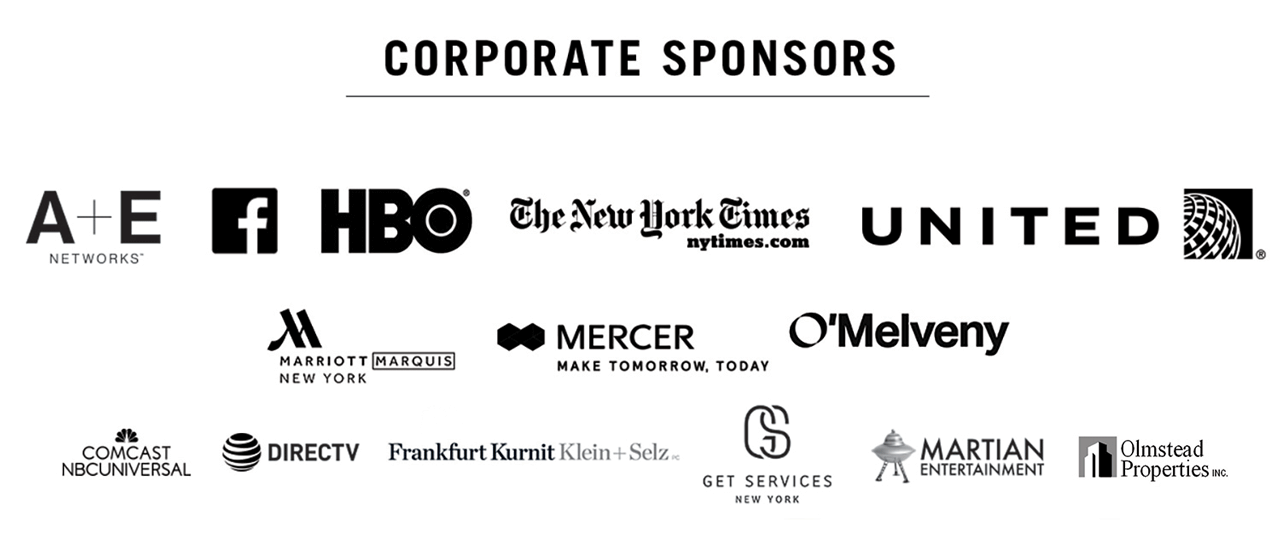 Back to Top