Stars, Insiders and Fans Push Broadway Bets to Break Records

High energy, enthusiasm and a night of incredible fundraising were dealt in spades when Broadway stars, industry insiders and fans raised a record $295,100 for Broadway Cares/Equity Fights AIDS on Monday, May 14, 2018, at the fourth edition of Broadway Bets, Broadway's official poker tournament.
The jaw-dropping total was raised in a spirited evening of Texas Hold 'em poker at Sardi's restaurant in the heart of New York City's theatre district. Broadway Bets gives theatre professionals and loyal Broadway Cares supporters the opportunity to participate in a friendly poker tournament while helping people in need across the country.
The event was a full house with luminaries from across the industry, including actors, theatrical advertising agency executives, theatre owners, producers and professional poker players. Among the stars of stage and screen upping the ante as players were Eric Bogosian, 2018 Tony Award nominee Michael Cera, Josh Charles, Billy Crudup, Richard Kind, Brian Koppelman, Steve Martin, Toby Leonard Moore, Justin Sargent, Kyle Selig, Tony Yazbeck and Rick Younger. They were joined by poker pros Andy Frankenberger and Maria Konnikova.
Stars who did not go "all in" but instead enjoyed Broadway Bets social passes, which included snacks, socializing and blackjack, craps and roulette for prizes, were actors Lilli Cooper, Robert Creighton, Laurie Metcalf and Danny Skinner.
Broadway Bets started with 26 Texas Hold 'em poker tables and 258 card players filling two floors of the iconic restaurant before 10 players perfected their poker faces and reached the championship table.
The ultimate face-off featured Peter Pergola, chief operating officer of The Araca Group, and Thomas M. Cerabino, chairman of Willkie Farr & Gallagher LLP. Surrounded by an energetic, cheering crowd, Pergola was crowned Broadway Bets champion when he bested Cerabino with a pair of kings and an Ace kicker. As winner, Pergola received a weekend at Borgata Hotel Casino & Spa in Atlantic City, NJ, plus two JetBlue tickets.
The final table also featured, in order of finish: Joseph T. Baio of Willkie Farr; Jeremy Hollingworth, playing with Jujamcyn Theaters; professional poker player Andy Frankenberger; Nick Falzon of Disney Theatrical Productions; Lisa Cecchini of Situation Interactive; Amanda Pekoe of The Pekoe Group; actor Richard Kind; and Shannon January, house electrician at the Golden Theatre.


Kind, playfully celebrating at his ninth place finish, proudly proclaimed to the final table, "There's nothing better than what I won! I don't care if you go to Vegas; I'm a winner."
Last year's event raised $286,900. The four editions of Broadway Bets have raised a total of $948,850 for Broadway Cares.
Three of Broadway's hottest, Tony-nominated shows – Carousel, The Iceman Cometh and Three Tall Women – served as the evening's "Royal Flush" Bar Sponsors.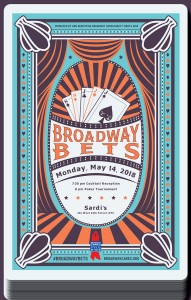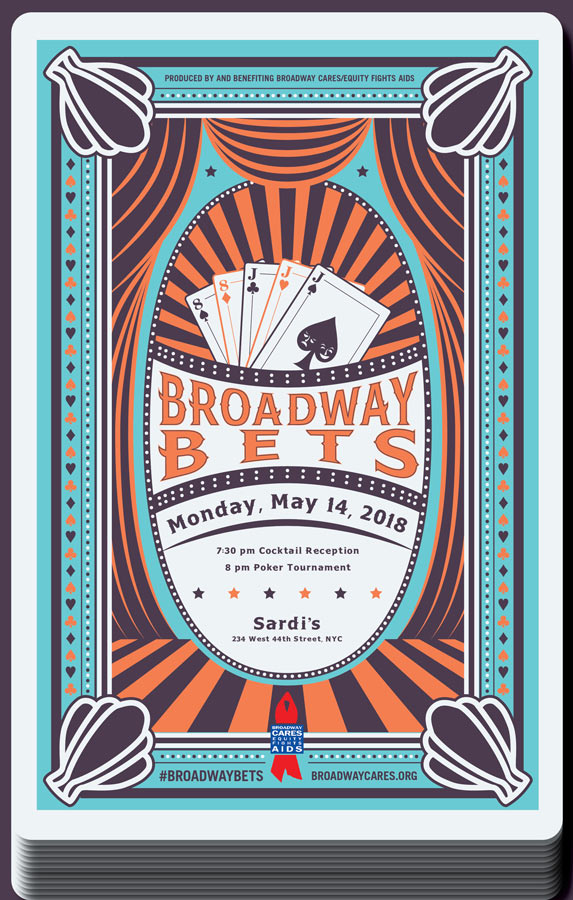 "Full House" table sponsors, who purchased tables for eight players, were AKA, Ambassador Theatre Group, The Araca Group, Entertainment Benefits Group, Foresight Theatrical, Independent Presenters Network, JetBlue, The John Gore Organization (Broadway.com, Broadway Across America), Jujamcyn Theaters, The Nederlander Organization, The Pekoe Group, The Road Company, Road Concierge/ALTOUR, Serino Coyne, The Shubert Organization, Situation Interactive, Sweet Hospitality Group, Ticketmaster and Willkie Farr & Gallagher LLP.
Disney Theatrical Productions, Mean Girls, Show-Score and SpotCo joined the game as "Two Pair" half-table sponsors.
Robert E. Wankel, president and co-CEO of The Shubert Organization and Broadway Cares president, and Paul Libin, executive vice president emeritus of Jujamcyn Theaters and BC/EFA Board of Trustees president emeritus, served as founding co-chairs. Micah Hollingworth of Jujamcyn Theaters, Mark Shacket of Foresight Theatrical and Brett Sirota of The Road Company returned to serve as tournament directors.
Photos by Daniel T. Gramkee
Back to Top