Stream of Songs from an Unmade Bed Brings Fresh Take to Virtual Theater
Tony Award winner BD Wong and videographer Richert Schnorr re-imagined the one-man theatrical show Songs from an Unmade Bed into a pandemic-inspired series of imaginative and artistic music videos benefiting Broadway Cares/Equity Fights AIDS.
Presented as a stream for four days beginning August 10, 2020, the event raised $111,159.
Songs from an Unmade Bed explores the inner musings and romantic life of a gay man living in New York City.
Though the piece premiered in 2005 at New York Theatre Workshop as a reflection of life during the early days of the AIDS crisis, Wong and Schnorr, who are married, gave it new meaning amid the COVID-19 pandemic.
From longing  for a simple night out on the town to missing the New York we once knew, the lyrics resonate today in new, unexpected ways. Each song was presented through a music video, which were filmed in Wong and Schnorr's New York City apartment as they lived in self-quarantine. Schnorr, who also edited the videos, used innovative special effects to create an immersive and unique evening.
Special guests made delightfully irreverent appearances throughout the stream, including Saturday Night Live's Bowen Yang and a bevy of Asian Broadway performers – plus the man pursuing them all – in the socially distanced, cyber-dating romp "The Other Other Woman." The video featured Aaron Albano, Mike Bulatao, Grant Chang, Marc delaCruz, Daniel K. Isaac, Kennedy Kanagawa, Darren Lee, Raymond J. Lee, Telly Leung, Jose Llana, Orville Mendoza, Jeffrey Omura, Matt Rogers, James Seol, Hansel Tan and Alex Wong.
30 Rock's Maulik Pancholy played a thespian consumed by himself on a digital date gone wrong in "Exit Right," and renowned cellist Dave Eggar wooed Wong with his musical ability in "He Plays the Cello."
Special guest hosts Awkwafina, John Lithgow, John Cameron Mitchell, Billy Porter and Keala Settle encouraged donations by sharing stories of the importance of Broadway Cares' work..
The special guests and performers all created their contributions separately from their own homes.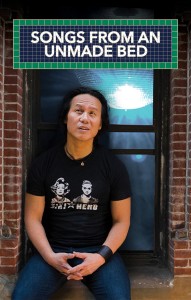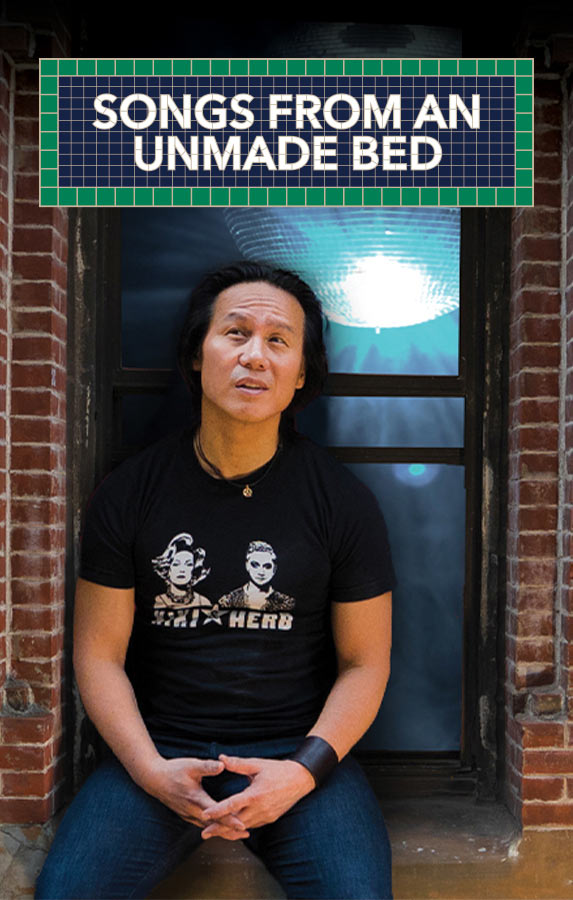 Wong and Schnorr enlisted music director Wayne Barker in San Francisco and recording engineer Jim Morgan in New York to help with the production of the score. Musicians David Michael Garry, Orville Mendoza, Dave Philips, Joshua Samuels and Doug Vannoni all contributed to the score from their respective home studios.
Songs from an Unmade Bed and was created by Pulitzer Prize and Grammy Award-winning lyricist and librettist Mark Campbell with 18 composers: Debra Barsha, Mark Bennett, Peter Foley, Jenny Giering, Peter Golub, Jake Heggie, Stephen Hoffman, Lance Horne, Gihieh Lee, Steven Lutvak, Steve Marzullo, Brendan Milburn, Chris Miller, Greg Pliska, Duncan Sheik, Kim D. Sherman, Jeffrey Stock and Joseph Thalken. The premiere production featured Michael Winther in the solo role with direction by David Schweizer and music direction by Kimberly Grigsby. The original cast recording is on Ghostlight Records.
Back to Top