An Incredible $4,786,239 Raised for BC/EFA!
Surprise Rap, Inspiring Dance Make for Memorable Gypsy of the Year


For the 27th year, the best and brightest Broadway "gypsies" showed off their talent and dedication with funny, dramatic, emotional and thought-provoking numbers at the annual Gypsy of the Year competition.
More than 150 of the most talented singers and dancers in the ensembles of Broadway and Off-Broadway shows performed original dances, songs and skits to the cheers of standing-room-only audiences


Six weeks of energetic fundraising efforts by 54 Broadway, Off-Broadway and national touring companies led to an incredible $4,786,239 being raised for Broadway Cares/Equity Fights AIDS. The grand total was revealed by special guests Michael Cerveris, George Takei and Julie White following two festive afternoons of performances on December 7 and 8, 2015, at Broadway's New Amsterdam Theatre, home to Disney's Aladdin.
Cerveris, Takei and White also presented awards to the top fundraising companies and for the best performances in this year's show.
Seth Rudetsky, the afternoon Broadway host on SiriusXM and co-writer and star of the upcoming Broadway musicalDisaster!, made his eighth annual appearance as Gypsy of the Year 's master of ceremonies. Once again his masterful "deconstructions" of Hamilton, Annie's "NYC" and Barbra Streisand's "He Touched Me" were a highlight of the afternoon.
The company of Kinky Boots took honors for best onstage presentation for a freestyle rap led by the show's newest star, Wayne Brady, and surprise guest rappers Christopher Jackson and Lin-Manuel Miranda from this season's Broadway sensation Hamilton. The trio showed off their improvisational chops, topping each other in a rap based entirely on words spontaneously provided by the audience.




The cast of The Lion King was runner-up with a gripping number created by Ray Mercer. Through carefully staged acrobatic movements set on graffitied wooden boxes and inspired by the spoken-word poetry of cast mate L. Steven Taylor, Mercer cast a cautious eye at society's obsession with social media and self-image.


Gypsy of the Year, opened with the tap-happy journey of a stage manager, played by Ryan Kasprzak, who reluctantly ditches his headset and clipboard to step into the spotlight as a last-minute replacement. He ultimately leads an ensemble of 20 exuberant tappers in an uplifting number, set to Walk the Moon's energetic "Shut Up and Dance." The opening number was directed and choreographed by Al Blackstone, assisted by Morgan Rose, with music direction and arrangements by Ben Cohn.




Several of this year's numbers reflected the unsettling reality of inequality and injustice that has washed the world recently.
Hamilton provided a contemporary and emotionally charged a cappella version of their show's "Wait for It," in tribute to victims of inequality and injustice around the world.
The Book of Mormon cast members, dressed as holiday carolers adorned with red AIDS awareness ribbons, offered a tightly harmonized arrangement of "Smile," made famous by Nat King Cole.
Cast members of An American in Paris, dressed all in white and elegantly accompanied by an onstage pianist and violinist, performed a dream-like contemporary dance, inspired by the quote: "Let peace fall like the first hint of snow covering all things negative, and remind us that change comes with every season."
Several companies offered irreverent, self-reflecting spins on their own shows. The long-running Avenue Q admirably kept its biting humor topical with an emergency cast meeting to update lyrics to some of its best-known songs. Finding Neverlandteased their own show about a boy who never grows up while skewering critics who welcomed the now-hit musical with less than glowing reviews.


Cast members of Les Misérables, longing for the big dance numbers of other shows, reinvented their show as a comically staged "Barricade Ballet." Trip of Love, beset by a rash of illness and injury among its cast, turned to cast member Daniel Lynn Evans to become a "super swing" and perform all the roles of the '60s music lovefest himself.
This year's show also included the cast of Chicago turning lawyer Billy Flynn's signature number, "All I Care About Is Love," into a high-energy funk jam featuring James T. Lane as James Brown, the show's latest celebrity guest star.
The company of The King and I offered a twisted take on the show's "The Small House of Uncle Thomas" by spinning it into a tale of today's presidential politics complete with a dance battle between Hillary Clinton and "the wicked Donald of the greed."
The kids of Fun Home let loose their inner rock stars transforming their show's "Ring of Keys" into a head-banging homage to the just-opened production of School of Rock – The Musical, which had just opened at the Winter Garden Theatre.
Andréa Burns, who's now featured in the new hit musical On Your Feet!, reached back to her days as a standby in Broadway's The Ritz and finally got to perform the Latin-infused send-up of classic hits "Googie Gomez Broadway Medley" on a Broadway stage.
Company XIV's Nutcracker Rouge showcased the ultra sexy "Licorice Boys," five sinewy male dancers in an erotic S&M ballet responding to the operatic calls of a whip-wielding dominatrix.
Gypsy of the Year also included a special number recognizing national touring productions that fundraise. Directed and choreographed by Geoffrey Goldberg, the number followed the national tour companies' fast-paced journey from security at the airport to the stage and after-show collections for Broadway Cares.


A longtime friend and supporter of BC/EFA, two-time Tony winner Judith Light led the audience in a touching moment of silence to remember the countless lives lost and impacted by HIV/AIDS.
Finding Neverland's Laura Michelle Kelly led "We Can Be Kind," a poignant response to the recent escalating unrest at home and abroad, featuring a chorus of kids from the companies of Finding Neverland, Fun Home, The King and I, Kinky Boots, Les Misérables, The Lion King, Matilda The Musical and On Your Feet!.




Jackson and Miranda also joined their Hamilton co-star Renée Elise Goldsberry as guest presenters, while Lesli Margherita from Dames at Sea and Matilda The Musical's Christopher Sieber, in their unique, hysterical way, announced the shows that helped the fundraising efforts but did not appear in the show.
The esteemed panel of judges that selected the best presentation award winners was introduced by Camryn Manheim fromSpring Awakening, Brad Oscar from Something Rotten! and Brandon Uranowitz from An American in Paris.
This year's judges were Philip Birsh, president and chief executive ofPlaybill and BC/EFA's Board of Trustees treasurer; John Cariani and Kate Reinders from Something Rotten!; Veanne Cox from An American in Paris; Alma Cuervo and Ana Villafane from On Your Feet!; Telly Leung fromAllegiance; Actors' Equity Association President Kate Shindle and esteemed Broadway choreographer Sergio Trujillo. Also joining the panel were Lee Perlman and Gary Wendlandt, who won their judging spots by bidding on exclusive VIP packages at the 29th Annual Broadway Flea Market & Grand Auction in September.


Here's the breakdown of this year's fundraising champions:
Broadway Musical
Top Fundraiser
The Book of Mormon
$313,857
1st Runner-Up
Hamilton
$271,666
2nd Runner-Up
Jersey Boys
$264,374
3rd Runner-Up
Beautiful – The Carole King Musical
$168,955
4th Runner-Up
Kinky Boots
$161,242
Broadway Play
Top Fundraiser
The Curious Incident of the Dog in the Night-Time
$78,258
Off-Broadway (Play or Musical)
Top Fundraiser
The Humans
$34,122
National Tours
Top Fundraiser
The Book of Mormon – Latter Day
$344,643
1st Runner-Up
Kinky Boots
$290,339
2nd Runner-Up
Wicked – Munchkinland
$284,399
3rd Runner-Up
Beautiful – The Carole King Musical
$191,901
4th Runner-Up
Newsies
$159,915
Gypsy of the Year was directed by Kristin Newhouse with Jason Trubitt serving as production stage manager, leading a team of 11 expert stage managers, and Ben Cohn as music supervisor. Lighting design was by Philip Rosenberg and sound by Marie Renee Foucher and Kurt Fischer.
Since 1989, the 27 editions of Gypsy of the Year have raised $67.3 million to benefit Broadway Cares/Equity Fights AIDS.
Gypsy of the Year was sponsored by The New York Times and United Airlines.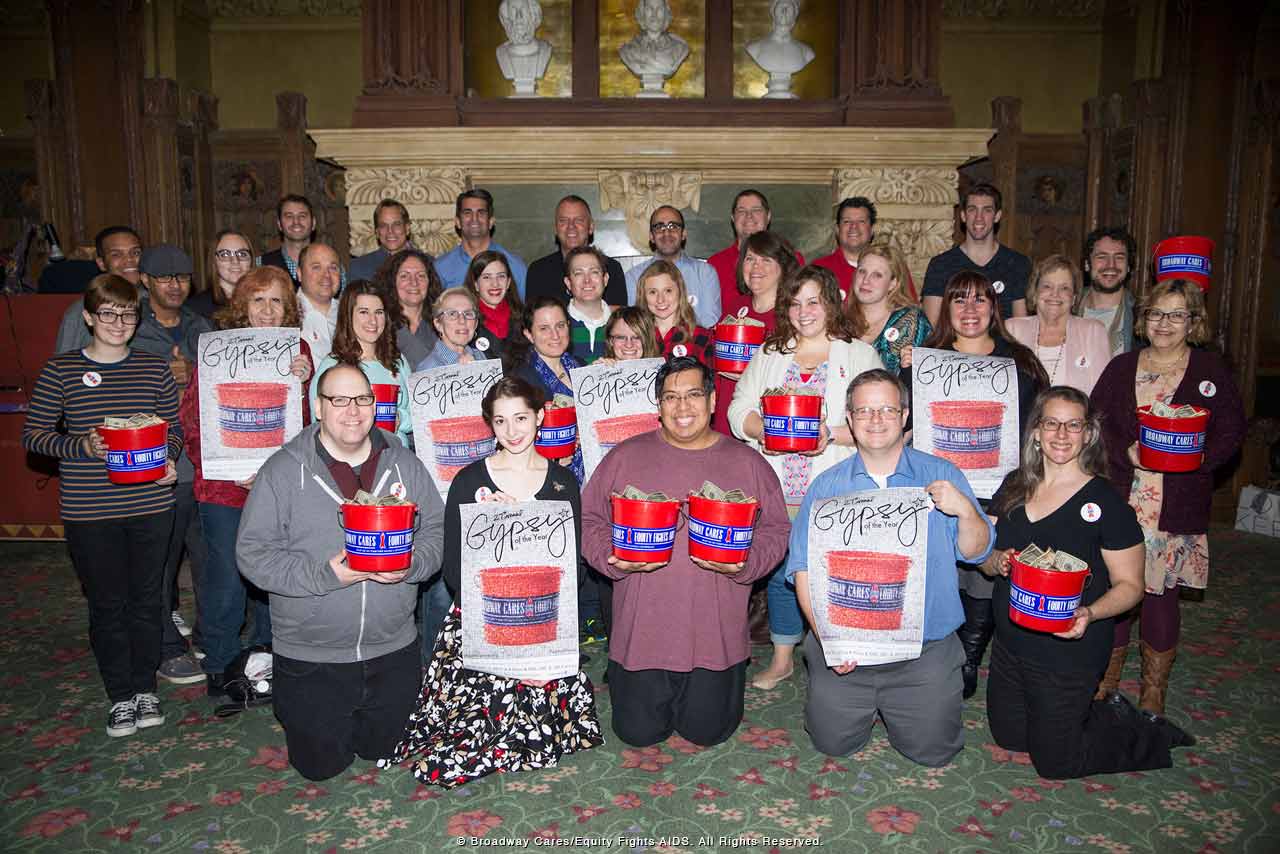 An army of 160 tireless volunteers and Broadway Cares/Equity Fights AIDS staffers enhanced the Gypsy of the Year fundraising efforts this season. They held buckets and sold autographed memorabilia in the lobbies of Broadway and Off-Broadway theatres alongside company members of participating shows. Over the course of six weeks of audience appeals, volunteers filled 3,126 shifts at 785 appeals.
View the program from this year's show.





Photos by Jenny Anderson, Monica Simoes
Videos by Mo Brady, Reel Time Video Production
Back to Top