Broadway Cares/Equity Fights AIDS
What we do together, makes a difference

Providing Lifelines of Support for Those Onstage and Offstage
Throughout the year, for eight shows a week, artists onstage and the unseen theatre professionals offstage entertain audiences across the country. But, when the physical toll of this demanding life sets in or unexpected crises arise, it can be challenging to know where to turn in times of need.
Thanks to Broadway Cares/Equity Fights AIDS' supporters, $6.2 million was shared with The Actors Fund in 2019. This supports the Fund's lifesaving and life-affirming social service programs including the HIV/AIDS Initiative, The Samuel J. Friedman Health Center for the Performing Arts, the Phyllis Newman Women's Health Initiative, the Artists Health Insurance Resource Center, Addiction and Recovery Services, The Dancers' Resource and more. It's a safety net of social services helping everyone in entertainment and the performing arts who are in need, crisis or transition.
The Friedman Health Center, operated by The Actors Fund in partnership with Mount Sinai Doctors, is the only center in New York City focused on the needs of the entertainment and performing arts community. The center expanded in 2019 to include more specialists and general practitioners. This growth was buoyed by annual support of $1.2 million from Broadway Cares/Equity Fights AIDS.
"We're responsive to the needs of the community," said Renata Marinaro, director of health services, national at The Actors Fund. "We're listening and reacting to the demands of our patients. An example is the number of women who have told us they need good gynecological care in this city as well as quick, easy access to it. So that is something we made sure to add, and part of what has fueled this growth at The Friedman."
In addition to a female gynecologist, The Friedman Health Center added a female family medicine doctor this fall, who joins the two existing male primary care physicians. The center also added a dermatologist – with a second still to come, who is in addition to the podiatry and physical therapy services that have been part of the center's expansion.
"Dermatology was very important to us because it's something our community expressed they needed," said Dr. Jason Kindt, medical director at The Friedman Health Center and one of its general practitioners. "Also, sports medicine and physical therapy were key additions because of dancers' and performers' injuries. The center is open to everyone, but we are definitely keeping the needs of performing arts professionals in mind as we move forward and expand."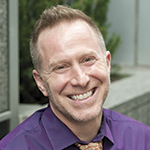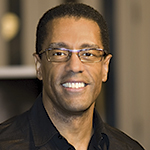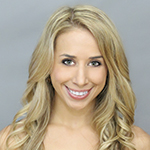 The Friedman Health Center's physical therapist is a former dancer, furthering the deep connection and understanding with the center's patients.
"You can't necessarily stay off of your foot for two weeks when you're a performer," Marinaro said. "We know your job depends on it."
These doctors and specialists exist within the supportive ecosystem of The Actors Fund, offering flexible schedules and comprehensive insurance coverage for professionals in need.
"People go on and off their insurance all the time, so we accept a broad range of insurance," Marinaro said. "If they go from Equity coverage to being uninsured, we can continue to be their medical home. We support people when they're going through these transitions, because it can be a volatile industry. Plus, we're open until 7 pm most nights to accommodate these individuals when they need it."
The Actors Fund also offers wellness events every month that are free and open to the public. Led by experts, recent seminars have covered topics from coping with insomnia without medication to preventing hearing loss in an industry inundated with loud noises and special effects.
Ultimately, The Friedman Health Center, thanks in part to Broadway Cares and its supporters, thrives because its wellness professionals appreciate and respect the craft of those onstage and behind the scenes.
"I did plays when I was in high school, but my love of musical theatre didn't make up for my lack of talent, so I went to medical school," Kindt joked. "I never dreamed I'd get to combine both of my passions. The fact that I am this involved with the theatre community blows my mind. It's truly a dream job for me. I get to work with some of my idols every day."
For Marinaro, her love for the community is driven by how the community inspires her. "They make us laugh, they make us cry," Marinaro said." I have such respect for the work that is done in this community. Musicians, dancers, ushers, everybody in every facet puts in long hours. Their resilience is incredible. And I feel privileged to be able to help them when they need it."
✛ HIV/AIDS Initiative
✛ Phyllis Newman Women's Health Initiative
✛ Artists Health Insurance Resource Center
✛ The Friedman Health Center for the Performing Arts
✛ The Career Center
✛ The Dancers' Resource
✛ Stage Managers' Project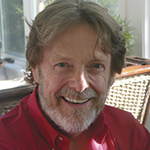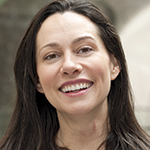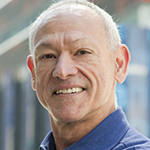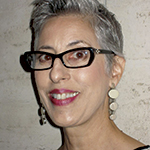 ---
Support for The Actors Fund by Fiscal Year
2019
Support for The Actors Fund
HIV/AIDS Initiative
$2,000,000
The Friedman Health Center For the Performing Arts
$1,200,000
Phyllis Newman Women's Health Initiative
$900,000
Artists Health Insurance Resource Center (AHIRC)
$450,000
Addiction and Recovery Services
$350,000
The Dancers' Resource
$200,000
The Career Center
$300,000
Safe Workplace Initiative
$250,000
Looking Ahead – Paul Libin Center
$100,000
Senior Services
$225,000
The Stage Managers' Project
$50,000
California Wildfires Assistance
$100,000
Miscellaneous
$61,000
The Actors Fund Total: $6,186,000
2018
Support for The Actors Fund
HIV/AIDS Initiative
$2,000,000
The Friedman Health Center For the Performing Arts
$900,000
Phyllis Newman Women's Health Initiative
$850,000
Artists Health Insurance Resource Center (AHIRC)
$450,000
Addiction and Recovery Services
$450,000
The Dancers' Resource
$300,000
The Career Center
$300,000
Safe Workplace Initiative
$250,000
Looking Ahead Center
$100,000
Senior Services
$100,000
The Stage Managers' Project
$100,000
Miscellaneous
$96,575
The Actors Fund Total: $5,896,575
2017
Support for The Actors Fund
HIV/AIDS Initiative
$2,000,000
Phyllis Newman Women's Health Initiative
$850,000
The Friedman Health Center For the Performing Arts
$900,000
Artists Health Insurance Resource Center (AHIRC)
$400,000
Addiction and Recovery Services
$400,000
The Dancers' Resource
$350,000
The Career Center
$300,000
The Stage Managers' Project
$150,000
Miscellaneous
$37,000
Hurricane Relief
$150,000
The Actors Fund Total: $5,537,000
2016
Support for The Actors Fund
HIV/AIDS Initiative
$2,000,000
Phyllis Newman Women's Health Initiative
$810,000
Al Hirschfeld Free Health Clinic
$600,000
Artists Health Insurance Resource Center (AHIRC)
$400,000
Addiction and Recovery Services
$400,000
The Dancers' Resource
$310,000
Actors Fund Work Program / Career Center Stage Managers' Project
$300,000
Miscellaneous
$82,550
Friedman Clinic Capital Campaign
$500,000
The Actors Fund Total: $5,602,550
2015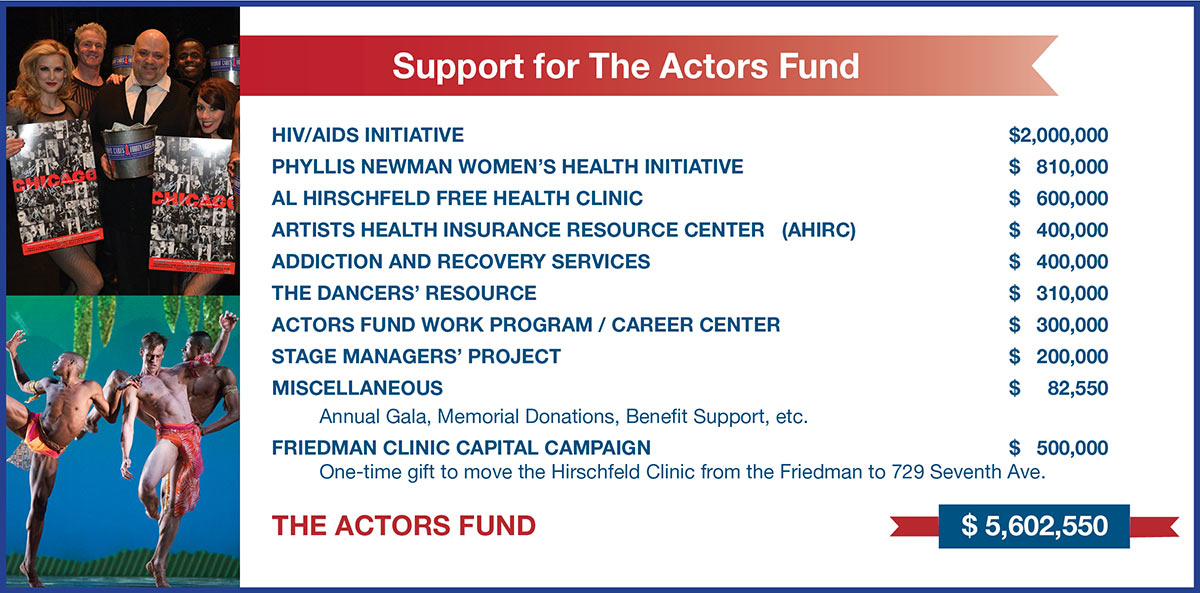 2014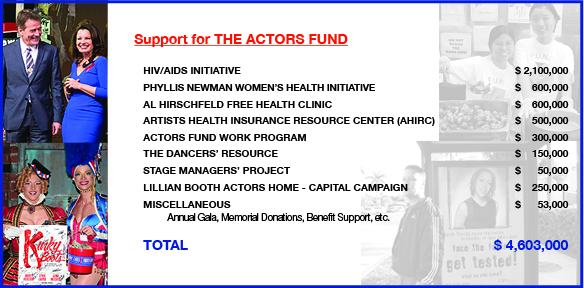 2013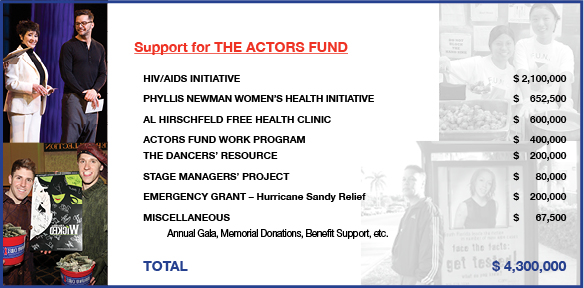 2012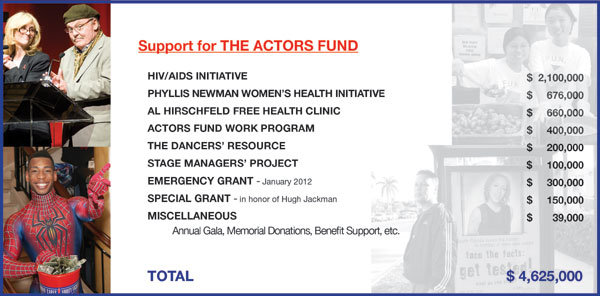 2010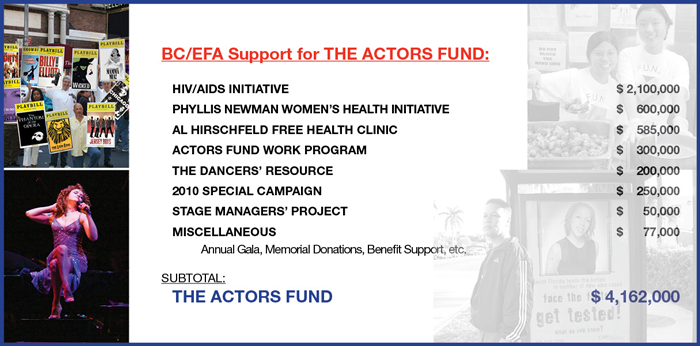 2009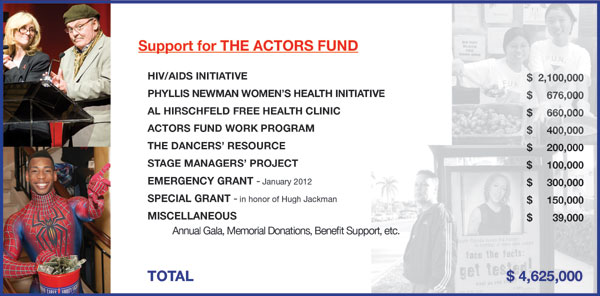 2008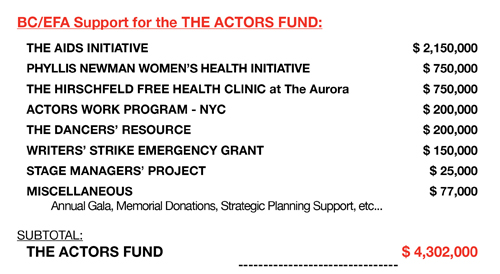 2007
BC/EFA Support for THE ACTORS FUND in 2007:

 THE AIDS INITIATIVE GRANT
$2,105,000
 PHYLLIS NEWMAN WOMEN'S HELATH INITITATIVE GRANT
$570,000
 THE HIRSCHFELD FREE HEALTH CLINIC at The Auraora
$675,000
 ACTORS' WORK PORGRAM – NYC
$200,000
 THE DANCER'S RESOURCE
$125,000
TOTAL SUPPORT:  $3,675,000