The Broadway Bears XIV Raises $103,905
For every bear that ever there was,
Will gather there for certain because
Today's the day the teddy bears have their … auction.
The teddy bears were on display March 6, 2011, for The Broadway Bears XIV, the annual grand auction of one-of-a-kind, museum quality, theatrically costumed and celebrity autographed teddy bears, which this year raised more than $103,000 for Broadway Cares/Equity Fights AIDS.
The 2011 cast of 42 bears once again included characters from current and past Broadway shows, signed by the performers, writers, directors or designers who made them famous.
The evening was highlighted by guest appearances, including two-time Tony Award nominee Christopher Sieber and Reeve Carney, making his Broadway debut this season as Spider-Man.
Broadway, television and film veteran Bryan Batt returned to the microphone as host for the entertaining evening with longtime Sotheby's auctioneer and BC/EFA friend Lorna Kelly leading the crowd in the bidding.
The 14th edition of The Broadway Bears raised $103,905, bringing the event's cumulative fundraising total to a remarkable $1,843,977.
The bears were each painstakingly transformed by hand into some of the most recognizable and memorable Broadway characters by an incredibly talented team of artists and designers. More than 150 enthusiastic participants were ready to bid online, by telephone and, of course, in person as each bear was unveiled.
The top bids for the 2011 auction went to:
My Fair Lady – Eliza Doolittle, resplendent in her pink silk organza dress and hat from Ascot, was designed by Richard St. Clair. She commanded a heavy bidding war that brought gasps from the audience as the bids crept higher. This "loverly" bear, autographed by Julie Andrews, ultimately sold for $14,000.
Into the Woods – The Witch, designed by Ariel Pellman and signed by Bernadette Peters and Stephen Sondheim, may not be good or nice but she was certainly popular, bringing in $6,500 after a friendly bidding battle.
Rock of Ages – Designed by Karl Ruckdeschel and autographed by Rock of Ages' Tony Award-nominee Constantine Maroulis, Drew (aka Joshy J.) urges everyone to "Don't Stop Believin'!" when you press his paw. Joshy brought a final price of $6,000.
Hairspray – Former Link Larkin Richard Blake presented the Link bear designed by Susan Bolt and signed by Matthew Morrison, the original Link on Broadway who's now starring in the television hit Glee. "Matthew really wanted to be here," Richard said, "but he's too busy being the biggest star in the world right now. So here I am." Link sold for an impressive $5,500.
Spider-Man: Turn Off the Dark – Designed by Katie Falk, Spidey's Broadway opening keeps getting delayed and so did his appearance at The Broadway Bears. After three all-in-good-humor introductions were delayed, Spidey finally hit the auction block and brought the house down with a winning bid of $5,250. During the bidding war, Reeve, Broadway's Peter Parker himself, did a pratfall as he begged the audience to bid higher, joking: "Come on! We need to pay for medical bills."
Spamalot – Designed by Amy Micallef and autographed by original Broadway cast member Hank Azaria, Sir Lancelot shined in his bedazzled tunic and codpiece, bringing in $5,000.
Merchant of Venice – Shylock bear, designed by Matthew Hemesath and autographed by legendary stage and film actor Al Pacino, sold for $5,000.
Cats – Cute and cuddly Jennyanydots, designed by Therese Stadelmeier-Tresco and autographed by Broadway's original Jenny, Anna McNeely, charmed her way into everyone's hearts at $4,500.
It may have been a rainy night outside, but inside the stars came out in force to present bears from the shows in which they performed. After a cocktail reception and a preview of the bears, the auction began in true Broadway fashion with an opening number performed by Crista Moore and George Dvorsky, with witty, parody lyrics by Douglas Braverman that highlighted the diversity of all the bears up for sale. Music direction was expertly provided by Michael Lavine.
Christopher Sieber, a great supporter of BC/EFA presented four bears from shows in which he's performed, including Spamalot, Shrek The Musical, Thoroughly Modern Millie and La Cage aux Folles, in which he was about to begin his run.  Christopher presented the Zaza bear with former La Cage star Veanne Cox, who impressed upon the audience the honor of being immortalized as a teddy bear. "I just want you all to know how special it is to get a bear, " she said. "Not every actor gets a bear. I played a man in A Free Man of Color and I didn't get a bear. I was completely naked Off-Broadway last year and I didn't even get a bare bear."
Hair veterans Annie Golden and Anthony Hollock presented the Jeanie bear. Pointing to Anthony, Annie said, "I am then and this is now," referencing her appearance in the 1979 film version of the musical and his role in the 2009 Broadway and 2010 West End revival. With the bidding stuck at $800, Bryan took it upon himself to urge the audience for more. "She even comes with a joint in her pocket. The pot alone costs $800."
Hunter Ryan Herdlicka presented the Madame Armfeldt bear from A Little Night Music. "The more you bid, the more stories I'll tell about Catherine Zeta-Jones." To which Bryan quipped, "Isn't it rich?"
Elizabeth Welch, who was to make her Broadway debut as Christine Daaé in Phantom of the Opera the evening after the auction, offered the winning Phantom bear bidder a backstage tour and a pair of ballet slippers worn in the show and autographed by the show's dancers. "The bear's costume really is exactly like the one I wear in the show, down to the little beads that are so painful to kneel down on."
David Garrison made a surprise visit to the auction to present Serge B. Samovar from A Day in Hollywood/A Night in the Ukraine. "I'm overdressed and I apologize," said David, having just arrived from the opening of Broadway's That Championship Season revival. "Julie went for 14 and Hank went for 5, but I'm here and in a tuxedo. We don't have a codpiece but we have a very large cigar. I will also come over to your house and watch old reruns of Married With Children at 2 am."
A Chorus Line of Bears
Other presenters included Trevor Braun from The Little Mermaid, Paul Canaan from Legally Blonde, Harvey Evans from Barnum, Jeremy Gumbs of The Scottsboro Boys and Lexi Fridell from The Pee-wee Herman Show. This year's bears represented the spectrum of Broadway, from the classics of the Golden Age like Oliver! and Hello Dolly! – presented by Kevin Burrows, who performed in the show – to recent hits like Wicked, The Addams Family and The Lion King.
Rock shows also were well represented this year by American Idiot, Bloody Bloody Andrew Jackson and Million Dollar Quartet.
Not to be outdone by the musicals, the plays of Broadway hit the stage with bears from Fences, The Importance of Being Earnest, La Bête, Lend Me a Tenor, Private Lives and Torch Song Trilogy. Other bears represented Here's Love, Mack & Mabel, Rent, Dreamgirls and My One and Only.
Bryan easily kept the evening moving along with quick wits of humor. "Florence Henderson, Mrs. Brady, signed this dress for The Girl Who Came to Supper – probably prepared by Alice."
Two special lots appeared at this year's auction: a return engagement of A Steady Rain, two bears in the likenesses of Hugh Jackman and Daniel Craig from last season's Broadway hit; and Indian of the Dawn from The Will Rogers Follies. "This character was played by Jerry Mitchell," Bryan said, "the creator of Broadway Bares – not to be confused with this event. This is the one where we keep our clothes on!"Auctioneer Lorna Kelley oversaw the proceedings with her usual wisdom and wit. Lorna has pounded the final gavel at every Broadway Bears auction since the bear bidding for Broadway Cares began in 1998.
Producer Scott T. Stevens gave a huge debt of thanks to all the talented artists and designers who donated their time and energy to create these amazing bears. All in all, it was a "roaring" success.
The Broadway Bears Designers.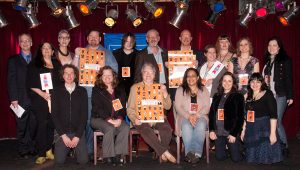 Front row: Richard St. Clair, Robin McGee, Terry Sipress, Norma Bucknor, Kristine Koury, and Ariel Pellman
Back row: Andy Wallach, Therese Stadelmeier-Tresco, Zoë Morsette, Karl Ruckdeschel, Nicolas Putvinski, D. Barak Stribling, Jamie Filippelli, Amy Micallef, Ananda Keator, Renee Mariotti and Katie Falk
Special thanks to photographer Peter James Zielinski whose work is represented on this page.
Back to Top