The Broadway Inspirational Voices Return To Times Square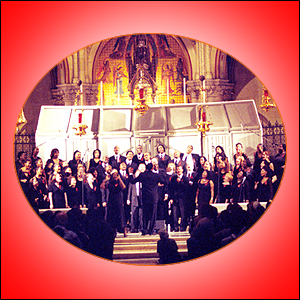 After years away, the Broadway Inspirational Voices sang out in praise and returned to Broadway with sold-out, thrilling performances in the sanctuary of the beautifully restored Church of St. Mary the Virgin on W. 46th Street – just next to the Actors' Equity Building.
Founded and directed by Michael McElroy, the first Gospel Celebration was presented in 1994 in a small church on New York City's Upper West Side with just 11 singers participating. Today this ensemble includes more than 40 performers from such shows as THE PRODUCERS, AIDA, RENT, THOROUGHLY MODERN MILLIE, HAIRSPRAY, THE LION KING, CABARET and BEAUTY AND THE BEAST.
A New York Times article noted recently: "…The Broadway Inspirational Voices has developed a national reputation and is booked year round." The choir has appeared at Rockefeller Center for the arrival of the Olympic Flame, at Yankee Stadium for Mayor Rudolph Giuliani's "Gathering of Remembrance" immediately following 9/11, as well as at the Tony Awards, "My Favorite Broadway" at Carnegie Hall, and for OpSail 2000, where they performed on the aircraft carrier the USS John F. Kennedy for President and Mrs. Clinton.
This year the choir's own outstanding soloists – including Marva Hicks, Billy Porter, Darius de Haas, Clarke Thorell, Virginia Woodruff and Jason Paige – were joined by special guests Stephanie Mills and Inaya Day.
Without question, any performance of The Broadway Inspirational Voices is truly powerful, spirited entertainment and not to be missed.
Special thanks to our sponsors, THE NEW YORK TIMES and The TIMES SQUARE BUSINESS IMPROVEMENT DISTRICT (BID).
Back to Top