Raises a jaw-dropping $6,379,572
Theatre Community Rallies at 31st Annual Easter Bonnet Competition


Broadway's best shared playful parodies, stirred emotions and delivered dance-driven delights at the 31st annual Easter Bonnet Competition, which raised a record-shattering $6,379,572 for Broadway Cares/Equity Fights AIDS. It's the single highest fundraising total in Broadway Cares history.
The staggering number, raised by 57 Broadway, Off-Broadway and national touring productions, was announced by Gavin Creel, Bette Midler and David Hyde Pierce, stars of this season's smash hit Hello, Dolly!. The total, announced Tuesday, April 25, 2017, breaks last year's record-setter of $5,528,568.
This year's Easter Bonnet Competition was presented April 24 and 25 at the Minskoff Theatre, home to Disney's The Lion King. The production featured performances and 20 exquisite, handmade bonnets, created and presented by some of Broadway and Off-Broadway's most popular shows.
This year's top overall fundraising award went to Sunset Boulevard, which raised a jaw-dropping $509,246.
In addition to sharing the fundraising total and awards, Creel, Midler and Pierce also presented awards for best presentation and best bonnet design.


The Lion King won for both best presentation and best bonnet design. Set to spoken-word poetry written and performed by cast member L. Steven Taylor, the cast of The Lion King celebrated unity by highlighting, through dance, African, Asian, Indian and Polynesian cultures important to the show and the cast. The show's elegant bonnet, designed by Mikey Clifton, Matthew Keating, Brenda O'Brien and Ilya Vett, emerged as an elaborate tribute to Mother Earth, "grown" onstage during the number. Watch the performance.
The company of Cats was runner-up with "The Battle of 52nd Street: Cats vs. Hogs," a parody of "Jet Song" from West Side Story. After ending a fictitious rumble between the cats and their 52nd Street neighbors, the groundhogs, a larger-than-life pink pussy hat, appropriately bedazzled in glittering lights, emerged as the company's bonnet. Watch the performance.
Parodying their show's anthem "You Will Be Found," the cast of Dear Evan Hansen shared the tale of a lonesome Easter egg, hidden and never found after this year's egg hunt. The egg finds solace in the accepting arms of the Broadway community, with special nods to a dozen current shows. Watch the performance.
The company of Off-Broadway's Avenue Q brilliantly mixed their trademark humor with topical political commentary, adding a Donald Trump puppet and a blow-up-horse-riding Vladimir Putin to their cast of fuzzy characters. Performing the show's hit song "For Now," the cast reminded the audience that "except for death and paying taxes, everything in life is only for now."
In a serious turn to shine light on gun violence plaguing communities, the cast of A Bronx Tale The Musical shared the moving, original rock song, "Put the Guns Away," written by cast member Rory Max Kaplan and his father, Kip Kaplan. Throughout the number, the cast solemnly placed candles on the brim of their bonnet, honoring the lives lost to senseless gun-related tragedies.
Sheryl Lee Ralph, currently appearing as Madame Morrible in Wicked and the star of the movie Sister Act 2, joined her Broadway castmates in an energetic '90s-inspired dance and gospel choir number dubbed "Sister Act 2.1."
The cast of Chicago turned Rent's "Seasons of Love" into a tribute to their show's 20 years on Broadway. In "Seasons of Jazz," Chicago cast members shared milestones from the longest-running American musical's 10,512,000 minutes on Broadway.
Sunset Boulevard performed a satirical skit in response to the proposed defunding of PBS. With cast members portraying PBS mainstays Alan Cumming, Audra McDonald and Oscar from Sesame Street, the trio was less-than-thrilled to learn the network would stay on the air but as the "Powerful Bigly Station."
Four cast members from Tony-winning Best Musical Kinky Boots came together in perfect harmony to sing Johnny Mercer's "Dream" and share, through offbeat monologues, their own whimsical dreams.
Set in a psychedelic dream sequence reminiscent of the show itself, the cast of Natasha, Pierre & the Great Comet of 1812, delivered a trippy medley of parodied songs from Broadway classics 1776, Assassins, Big River, Cabaret, Chess, Fiddler on the Roof, Hair, Of Thee I Sing and Ragtime. The number featured stars Denée Benton and Josh Groban.
The Play That Goes Wrong cast members Rob Falconer, Dave Hearn and Charlie Russell celebrated the Broadway, Off-Broadway and national touring productions that raised money for Broadway Cares during the six-week collection period but did not present a bonnet. The trio performed a riotous parody of Gilbert and Sullivan's "Modern Major General," in which they took just 102 seconds to hilariously sing the names of the 45 shows contributing to the record total.
John Mulaney and Nick Kroll, from the fall's smash hit Oh, Hello on Broadway, reprised their curmudgeonly characters of George St. Geegland and Gil Faizon to host the bonnet parade, which honored three shows that created bonnets but did not perform. The "Upper West Side's longest-running bromance" had the audience in stitches with their stand-up before introducing bonnets from The Price, Sunday in the Park with George and Waitress.


This year's Easter Bonnet Competition paid tribute to the tireless volunteers of Broadway Cares' Bucket Brigade with a special number written and directed by Kenny Ingram. The piece featured a diverse cast that included early AIDS activists, Broadway performers and longtime HIV survivors.
As a tribute to the hard-working national touring productions raising money across the country, 22 Broadway dancers relished opportunity to be cast in a national tour. The energetic number was directed and choreographed by James Kinney.
A special bonnet presentation by Broadway Cares' affiliate organizations – Broadway Green Alliance, Broadway Serves and R.Evolución Latina – included an acoustic performance of John Lennon's Imagine by Sam Poon.
This year's Easter Bonnet Competition opened with a high-energy production number, starring Jason Kravits as A Funny Thing Happened on the Way to the Forum's Pseudolus, Marissa Rosen as Annie and Hannah Shankman as Wicked's Elphaba. The trio encouraged the performing community to "give audiences hope," "make them laugh" and "be a light" while standing strong, together, in today's tense political climate. The number was written and directed by Peter Gregus and choreographed by Geoffrey Goldberg. Music arrangements were by Ted Arthur and Ben Cohn, and orchestrations by Adam Kaufman.
The show concluded with The Lion King's L. Steven Taylor, joined by James Brown-Orleans on guitar, singing a soulful and stirring rendition of the traditional Easter Bonnet Competition anthem, "Help is on the Way," written by David Friedman.


This year's Easter Bonnet Competition was hosted by Denée Benton and Lucas Steele from Natasha, Pierre & the Great Comet of 1812; Barrett Doss and Andy Karl from Groundhog Day; Bongi Duma and Tshidi Manye from The Lion King; Gideon Glick and Sas Goldberg from Significant Other and Rachel Bay Jones and Ben Platt from Dear Evan Hansen.
Special guests Patti LuPone and Christine Ebersole from War Paint introduced the esteemed panel of judges that selected the best presentation award winners on Tuesday.
Easter Bonnet Competition's judges were music director Kristen Blodgette from Sunset Boulevard; Jon Jon Briones and Eva Noblezada from Miss Saigon; Kate Burton and Kristine Nielsen from Present Laughter; Ed Dixon from Georgie: My Adventures with George Rose; and costume designer Catherine Zuber from Oslo, War Paint. Also on the panel were Lee Perlman and Peg Wendlandt, who won their judging spots by bidding on exclusive VIP packages at the 30th Annual Broadway Flea Market & Grand Auction in September.
Top Overall Fundraiser
Sunset Boulevard
$509,246
Broadway Musicals
Top Fundraiser
Sunday in the Park with George
$382,780
1st Runner-Up
Dear Evan Hansen
$381,732
2nd Runner-Up
Hamilton
$348,585
3rd Runner-Up
Natasha, Pierre & the Great Comet of 1812
$288,166
Broadway Plays
Top Fundraiser
The Price
$122,114
Off-Broadway Plays and Musicals
Top Fundraiser
Avenue Q
$49,485
National Tours
Top Fundraiser
Wicked – Munchkinland
$348,617
1st Runner-Up
Kinky Boots
$320,581
2nd Runner-Up
Fun Home
$212,314
3rd Runner-Up
Book of Mormon – Jumamosi
$164,799
Since the Easter Bonnet Competition began in 1987, the event has raised $75.2 million for Broadway Cares/Equity Fights AIDS.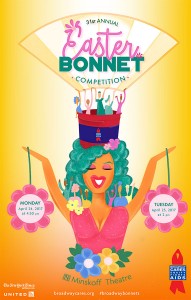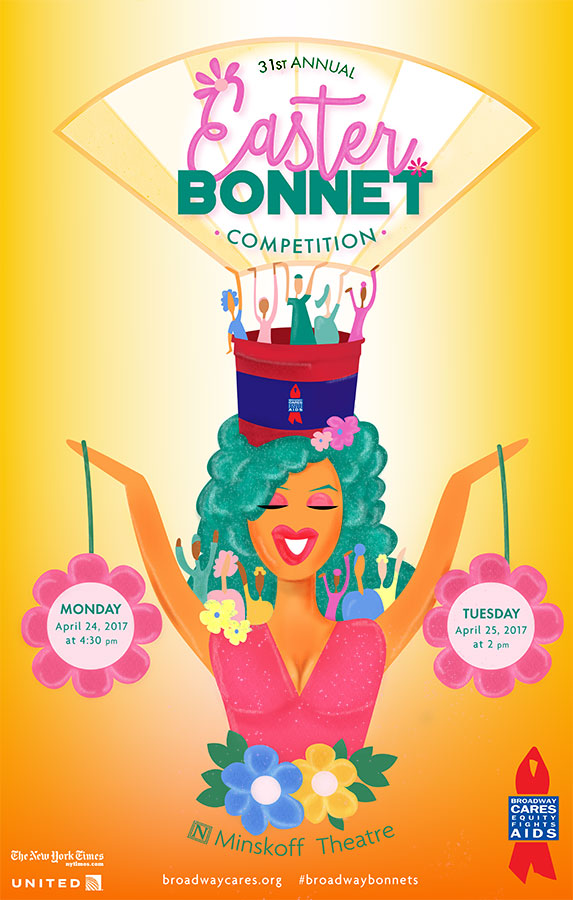 The Easter Bonnet Competition was directed by Bess Marie Glorioso with Arabella Powell serving as production stage manager, leading a team of 10 expert stage managers. Ben Cohn was music supervisor. Lighting design was by Catherine Clark and sound by Alain Van Achte and Greg Reif.
The Easter Bonnet Competition is the culmination of six weeks of spring fundraising efforts by company members of Broadway, Off-Broadway and national touring productions. Casts, crews and volunteers at participating shows stood with Broadway Cares' signature red buckets in hand at theatre exits to accept donations, in addition to selling signed Playbills, posters and other memorabilia. The donations become grants to social service agencies that provide lifesaving medication, healthy meals, counseling and emergency assistance in all 50 states, Washington, DC, and Puerto Rico.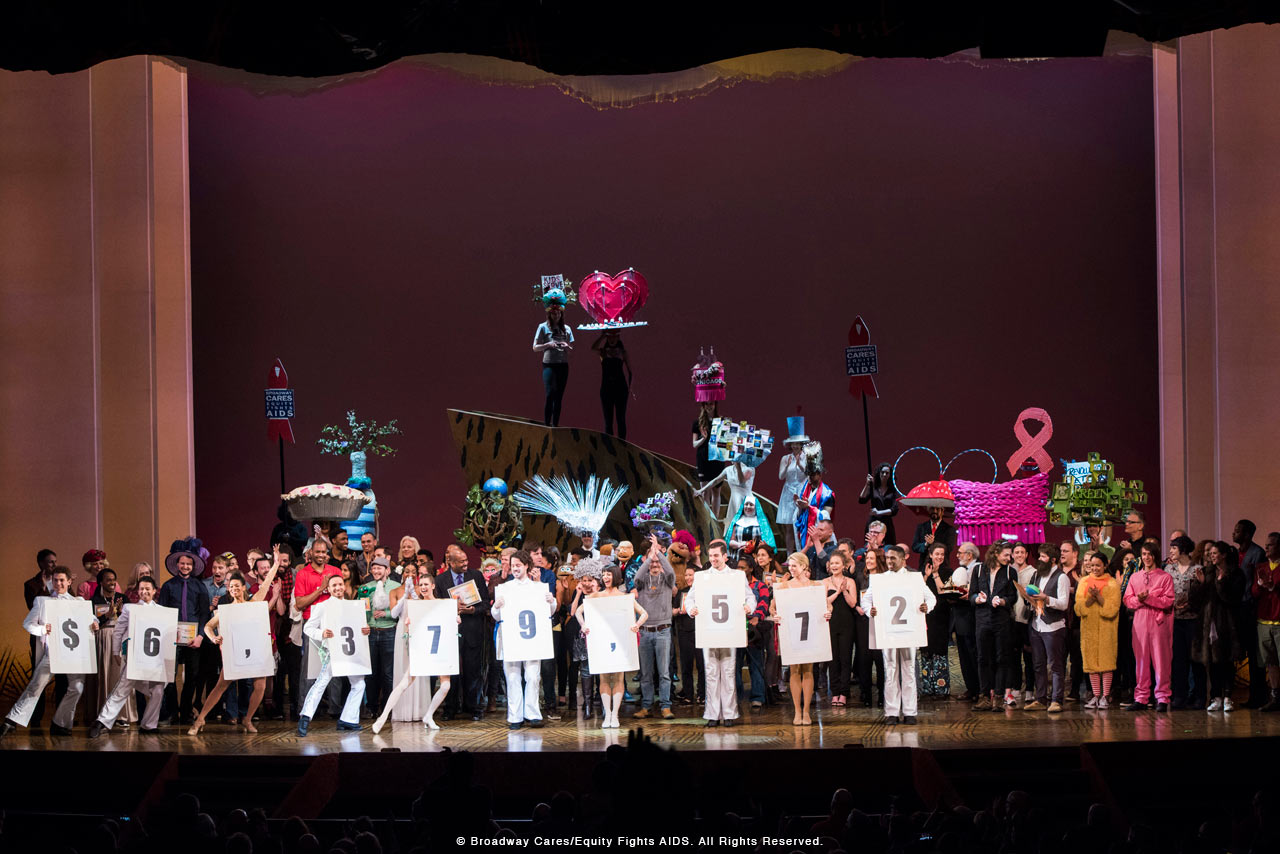 The Easter Bonnet Competition is generously sponsored by The New York Times and United Airlines.
Photos by Monica Simoes and Matthew Stocke
Video by Reel Time Video Production; highlights edited by Mo Brady
Back to Top