Raises a record $5,609,211
Theatre Community's Spirit Shines at 29th Annual Gypsy of the Year


The indomitable and generous spirit of the theatre community – those onstage, backstage and in the audience – shined brightly as the 29th annual Gypsy of the Year competition celebrated six weeks of fundraising work of 56 Broadway, Off-Broadway and national touring companies.
Gypsy of the Year, which was held December 4 and 5, 2017, raised a record-breaking $5,609,211 for Broadway Cares. The grand total was announced by Meteor Shower's Laura Benanti, Keegan-Michael Key, Amy Schumer and Jeremy Shamos. The dynamic foursome also presented the awards to the top fundraisers and best performances across the two afternoons.
The company of Come From Away took top honors for best onstage presentation. The islanders took the audience on a self-deprecating journey through the show's efforts to create choreography for actors not known for their dancing abilities. A final twist to the skit delivered dancing doppelgangers for the original cast members, adding splits, jumps and flips to the show's straightforward choreography.
The runner-up was the company of Aladdin, led by Major Attaway, Juwan Crawley, Angelo Soriano and Deonte Warren. The cast shared their original song from this year's "Carols for a Cure," the theatre community's annual holiday CD benefiting Broadway Cares. The Aladdin cast performed the soul-stirring "Faithful," written by Soriano.
Starting the show with an activist and feminist spirit, this year's opening celebrated the centennial anniversary of women gaining the right to vote in New York state. Led by School of Rock – The Musical's Amadi Chapata, Orange is the New Black's Lea DeLaria, Tony Award winner from The Producers Cady Huffman, Disaster!'s Lacretta and Hulu's Difficult People's Shakina Nayfack, an all-female cast expressed the plight and power of women through time, from brave suffragettes to emboldened "Ladies Who Lunch." The number was directed by Huffman and choreographed by Lorna Ventura.
The cast of Cats gave the adored musical a supernatural twist in "Cats Now and Forever," in which the cats live far beyond their nine lives as feline zombies. Seamlessly melding the music and choreography from Michael Jackson's "Thriller" with iconic melodies from the musical, the cats left a lasting "Memory" before the show closes later this month.
Hamilton's Donald Webber Jr. led a stirring mashup of Tupac Shakur's "Thugz Mansion" and Sam Cooke's "Change Gonna Come." Webber, with six ensemble dancers and guitarist Nate Brown, passionately explored the realities of police brutality and poverty, as well as the hope for a more peaceful and just future.
The cast of Off-Broadway's Afterglow shared "Take Off Your Sunday Clothes," a cheeky parody of Hello, Dolly!'s beloved "Put On Your Sunday Clothes." Comically embracing Afterglow's sensual appeal, the four actors parodied their show by acknowledging and poking fun at their risqué reputation.
The talented young stars of School of Rock – The Musical delivered an amped up version of A Great Big World's "Rockstar." The show's cast of kids played live on drums, guitar, keyboard and bass, just as they do eight times a week at the Winter Garden Theatre.


Charlie and the Chocolate Factory's Kyle Taylor Parker, backed up by the Gypsy of the Year singers, performed a stripped down and soulful rendition of Michael Jackson's Man in the Mirror.
Broadway-to-Off-Broadway transfers Jersey Boys and Avenue Q shared a riotous rendition of an Aladdin classic, "A Whole New World." The zany puppets of Avenue Q welcomed the recently transferred cast of Jersey Boys to their new home at New World Stages with the playful parody.
Chicago's Brian O'Brien, Bianca Marroquín and Leigh Zimmerman riffed with Gypsy of the Year host Seth Rudetsky about the Chicago's 21st anniversary and composer John Kander's recent 90th birthday. The trio celebrated Kander and his writing partner, the late Fred Ebb, whose foundation has donated more than $15 million from the royalties from his catalog to Broadway Cares since his death.
Long-running favorites The Lion King and The Phantom of the Opera payed homage to their respective 20 and 30 years on Broadway with "Hello, Fifty!" Set to the tune of "Hello Twelve, Hello Thirteen, Hello Love" from A Chorus Line, the ditty featuring David Michael Garry and L. Steven Taylor joked about how the shows have been collecting since before audience members were born in a delightful salute to the Broadway stalwarts.
Two-time Tony Award nominee Charlotte d'Amboise shared a special performance chronicling some of her most memorable experiences as a Broadway dancer and star, and a piece entitled "Chorus Semper: Dance Forever" choreographed by Kristine Bendul honored those who paved the way for today's Broadway gypsies.
In addition to the record-breaking Gypsy of the Year overall fundraising total, the $536,777 raised by the Hamilton – Angelica tour is the highest amount ever raised by a national tour. To celebrate that accomplishment and the hard work of 20 other national touring productions that supported Broadway Cares this fall, Chaz Wolcott directed and choreographed a special uplifting number set to Sammy Davis Jr.'s version of "Gonna Build a Mountain." The piece showed the irresistible and infectious power of one passionate actor's efforts in making a difference with Broadway Cares.
Representing Dancers Responding to AIDS, a program of Broadway Cares/Equity Fights AIDS, The Chase Brock Experience performed an excerpt of "Splendor we only partially imagined," an energetic piece exploring the joy in movement and human relationships.
Here's the breakdown of this year's fundraising champions:
Broadway (Musical)
Top Fundraiser
Dear Evan Hansen
$555,196
1st Runner-Up
Hello, Dolly!
$505,869
2nd Runner-Up
Hamilton
$291,091
3rd Runner-Up
Come From Away
$241,382
 
Broadway (Play)
Top Fundraiser
The Play That Goes Wrong
$67,099
 
Off-Broadway (Play or Musical)
Top Fundraiser
Avenue Q
$40,879
 
National Tours
Top Fundraiser
Hamilton – Angelica
$536,777
1st Runner-Up
Aladdin
$300,166
2nd Runner-Up
Something Rotten!
$230,374
3rd Runner-Up
Wicked – Munchkinland
$229,628

Hamilton's Javier Muñoz led the audience in a moving moment of silence to remember lives lost to and affected by HIV/AIDS.
Other special presenters included Aladdin's Attaway; A Bronx Tale's Richard H. Blake, Will Coombs, Bradley Gibson, Adam Kaplan, Jonah Mussolino and Chazz Palminteri; and Come From Away's Chad Kimball, Caesar Samaoya and Sharon Wheatley.
The panel of judges who chose the best presentation award winners was introduced by two of Broadway's funniest stars, Who's Holiday's Lesli Margherita and Aladdin's Don Darryl Rivera.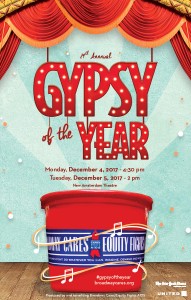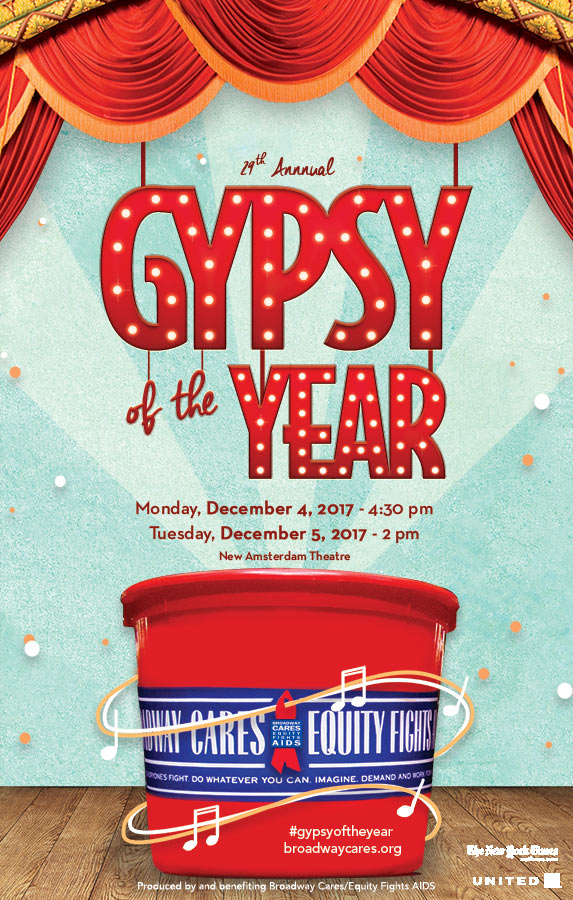 This year's judges were John Bolton and Caroline O'Connor from Anastasia; beloved actors Harvey Evans and Pamela Myers; Noah Galvin and Will Roland from Dear Evan Hansen; Chilina Kennedy and Evan Todd from Beautiful – The Carole King Musical; and Lea Salonga from Once On This Island. Also on the panel were Nicole LaFountaine and Gracie Miller, who won their judging spots by bidding on exclusive VIP packages at the 31st Annual Broadway Flea Market & Grand Auction in September.
Rudetsky, host of SiriusXM Satellite Radio's "On Broadway" channel and a longtime friend of Broadway Cares, returned to host the show with his quintessential deconstructions for the 10th time.
Gypsy of the Year was directed by Jason Trubitt with Matthew K. Lutz serving as production stage manager, leading a team of 11 accomplished stage managers. Ben Cohn was music supervisor. Lighting design was by Craig Stelzenmuller with sound by Marie Renee Foucher and Kurt Fischer.
The 29 editions of Gypsy of the Year have raised $76 million. Last year, 54 participating shows raised $4,492,636.
Photos by Monica Simoes and Evan Zimmerman
Video by Reel Time Video Production; highlights edited by Mo Brady
Back to Top