Up Our Alley Rolls to an Impressive $185,000 Grand Total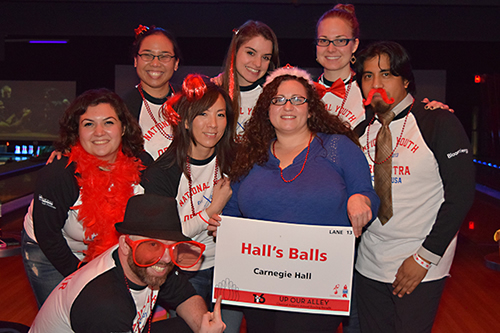 The combined efforts of teams hailing from the financial district to Lincoln Center, from board rooms to backstages across New York City, helped propel the 16th annual edition of Up Our Alley to raise an impressive $185,000.
More than 300 bowlers spent six weeks in a friendly competition to raise as much money as they could by encouraging friends, family and co-workers to donate to their efforts. They gathered November 17 and 18 to celebrate their successes. Since 1999, the 16 editions of Up Our Alley have raised nearly $1.7 million.
The two-night party moved to a new home in 2014, but the change of venue did little to keep the fun – and the fundraising – from swiftly rolling along.
The annual bowling fundraiser set down pins at Bowlmor Chelsea Piers on New York City's west side after a 15-year run at the now-closed Union Square location.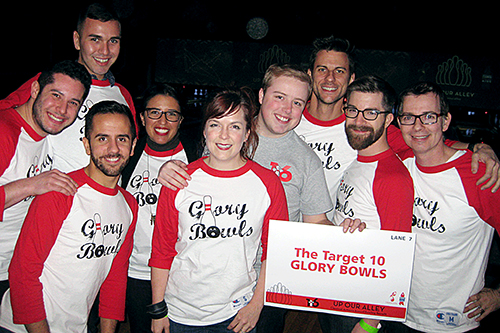 For the fourth consecutive year, the performing arts community joined with teams from the worlds of finance, marketing, television and hotels to raise funds for those living with HIV/AIDS and other critical illnesses.  The bowlers took pride in knowing that their hard work ultimately benefits Broadway Cares/Equity Fights AIDS' grants to more than 450 AIDS and family service organizations in all 50 states.
Among the November 17 participants, the most money raised was $16,520 by Orchestra of St. Luke's. Runner-up was United Scenic Artists with $9,193. The top individual fundraiser was Charles Hamlen from Orchestra of St. Luke's with $10,950. Carl Mulert from Local USA 829 – IATSE came in as Monday's runner-up with $6,000.
Among the November 18 participants, the most money raised by a team was $27,845 by Morgan Stanley. Runner-up was Credit Suisse with $19,291. The top individual fundraiser was Doug Nieters from Credit Suisse with $5,795. Lancelot Esteibar from Morgan Stanley was Tuesday's runner-up, raising $5,345.
Best team name honors went to "Gutterdämmerung" from The Metropolitan Opera and "The Bowled and the Beautiful" from  DIRECTV.
Special thanks to Devotion Vodka for its generosity and for keeping the bowlers spirited.
Back to Top