Broadway Bets Raises the Stakes at Long-Awaited Return
Broadway's most beloved eatery sparkled with big names, esteemed theater insiders and loyal supporters who answered the spirited cry to "shuffle up and deal" at the celebrated return of Broadway Bets, Broadway's official poker tournament.
The evening of Texas Hold 'em poker at the famed Sardi's restaurant raised a record $332,465. The May 22, 2023, event was produced by and benefited Broadway Cares/Equity Fights AIDS.
The full house of players featured leading lights from across the industry, including theater owners, producers, actors, theatrical executives, advertising and marketing leaders and Broadway fans. It was a triumphant return for Broadway Bets, which had been on hiatus since 2019 because of the pandemic.
Among the stars of stage and screen upping the ante as players were Robert Creighton, Christopher Innvar, Ramin Karimloo, Mike Myers, Anthony Rapp, Jarrod Spector and Aaron Tveit.
Other luminaries who gathered in good fun for the event included Robert E. Wankel, chairman and CEO of The Shubert Organization and Broadway Cares Board of Trustees president; Ira Mont, production stage manager and Broadway Cares' first vice president; as well as other members of Broadway Cares' Board of Trustees Brian Moreland, producer; Lauren Reid, president of The John Gore Association; Nick Scandalios, executive vice president of The Nederlander Organization; Mark Shacket, partner at Foresight Theatrical; Charlotte St. Martin, president of The Broadway League; and David Stone, producer.
This year's record pushed Broadway Bets' total fundraising in its six editions past the $1.6 million mark.
The evening started with 28 Texas Hold 'em poker tables and 400 card players and onlookers filling two floors of the iconic Sardi's restaurant in NYC's theater district. It culminated with 10 players perfecting their poker faces to reach the championship table.
The epic final face-off featured Jeremy Hollingworth, partner and president of Cabin Modern (and brother to Broadway Bets co-founder Micah Hollingworth), and Broadway Bets regular Julie Scheer. Surrounded by a crowd buzzing with anticipation, both players went "all in" after several impassioned rounds of play. Ultimately, Hollingworth was crowned Broadway Bets champion when he bested Scheer with a pair of eights and a pair of sevens. As winner, Hollingworth received two first-class, round-trip tickets on United Airlines. Scheer won tickets to see Billy Joel at Madison Square Garden and a Capital Grille gift certificate.
The final table also featured, in order of finish:Taylor Maimbourg, director of ticketing at The Nederlander Organization; Joel Szulc, business manager at Main Street Theater in Houston; actor Jarrod Spector; Paul D'Antonio, director of security at The Shubert Organization; Michael Rego, CEO of The Araca Group; Josh Lerman, SVP at Sony Music Masterworks; Jillian Chaitin, partner, head designer and creative director at Cabin Modern; Tom Cerabino, chairman at Willkie Farr & Gallagher LLP.
The tournament directors were Mark Shacket, partner at Foresight Theatrical, Brett Sirota, co-founder and partner at The Road Company and Alex Wolfe, associate general manager at Foresight Theatrical.
This year's Broadway Bets was made possible by City National Bank, the official bank of Broadway Bets; United Airlines, the official airline of Broadway Bets; bar sponsor Some Like It Hot; and Benefactors Peg & Gary Wendlandt and in memory of Scott Barnes.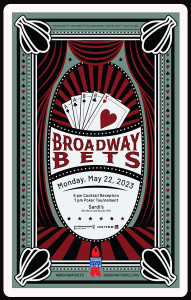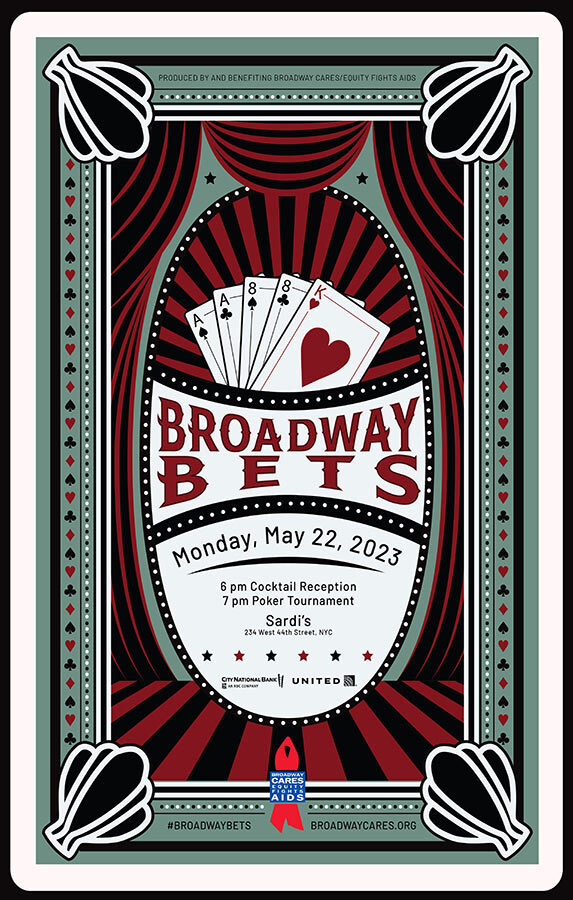 "Full House" table sponsors were Foresight Theatrical, AKA, The Araca Group, The John Gore Organization (Broadway Across America, Broadway.com), Jujamcyn Theaters, The Nederlander Organization, The Pekoe Group, PRG, The Road Company, Serino Coyne, The Shubert Organization, The Sign in Sidney Brustein's Window, Situation, SpotCo and Willkie Farr & Gallagher LLP. "Two Pair" half-table sponsors were BROADWai, Chart Chart Graph (Brian DeVito), Crossroads Live, EBG, The New York Times, RoadCo Entertainment, Sony Music Masterworks and TodayTix Group.
Broadway Bets' founding co-chairs are Paul Libin, executive vice president emeritus of Jujamcyn Theaters and president emeritus of the Broadway Cares/Equity Fights AIDS Board of Trustees, and Robert E. Wankel, chairman and CEO of The Shubert Organization and president of the Broadway Cares/Equity Fights AIDS Board of Trustees.

Back to Top